Russian TV-channel «NTV» in its report about the burial of the «militants» in Slaviansk claimed the funeral procession was attacked by the Ukrainian forces.
«Militiamen were buried today on the northern cemetery of Slaviansk. Those who perished in fights for Slaviansk and Semenovka were laid to rest with three-volley salute from assault rifles. When shots were heard, the Ukrainian forces opened fire on the funeral procession,» — the report stated.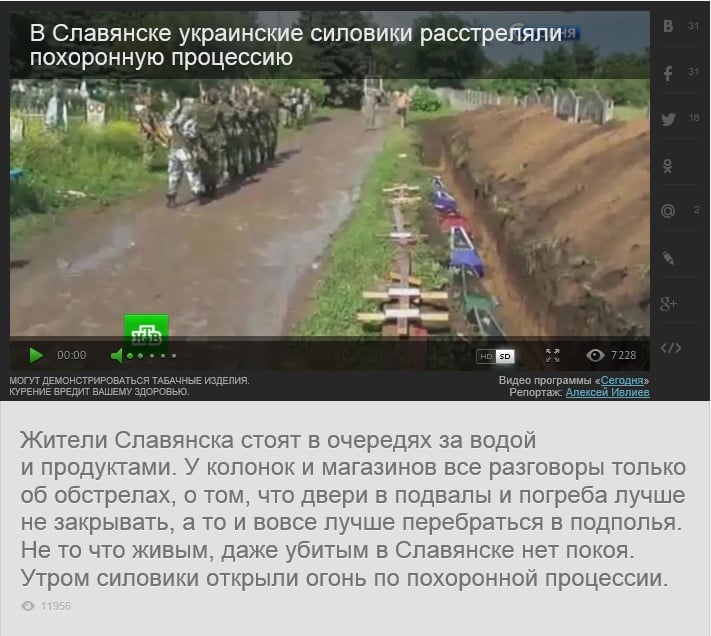 However, the «militants» never reported any fire on the procession. For example, «Igor Strelkov's Summary Report on 11.06.14» states only: «Today 10 militants were buried in Slaviansk. Buried in closed coffins. Ponomarev was "arrested", have to say it was not his first time.» While the gunmen report firefights in other parts of the city. It seems, they served as the source of the gunfire sounds.

Once again, Igor Strelkov (Girkin) is the head of the so-called «militia self-defence» of Slaviansk. In the so-called Donetsk People's Republic he was appointed the «minister of defence».
Watching the full video of the funeral, which had been cut before used in the «NTV» report, one can see that the shooting of the funeral ceremony did not take place. The sounds of gunfire are heard indeed, but it becomes obvious for the viewer that the firing is not at the funeral procession.
https://www.youtube.com/watch?v=sftWT4mPdAM