On the Russian NTV channel today, March 20, 2014 there was news about beating up of unarmed police officers by Maydan activists on the street Khreschatyk.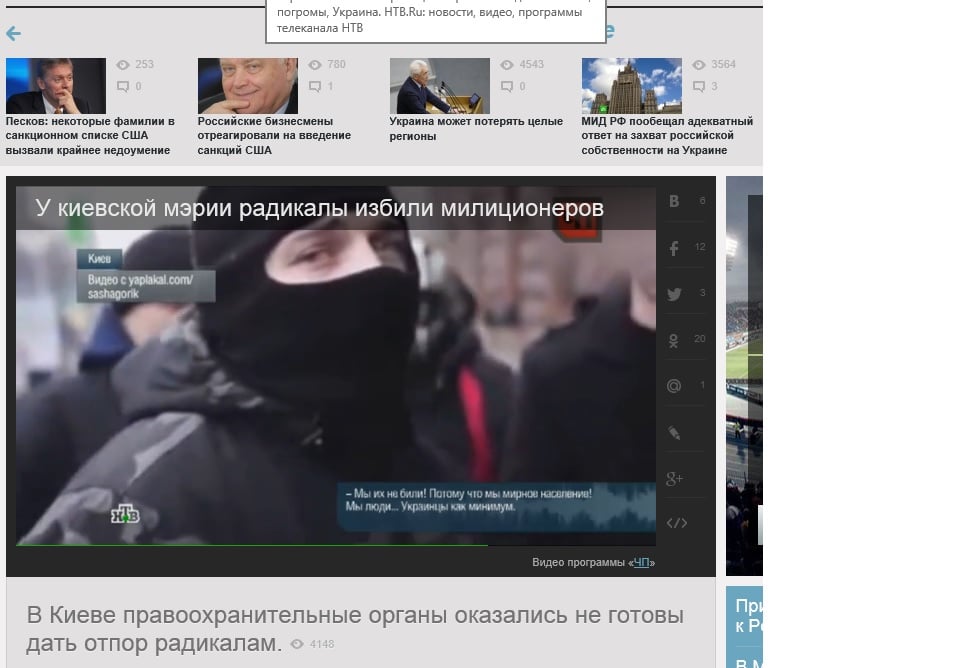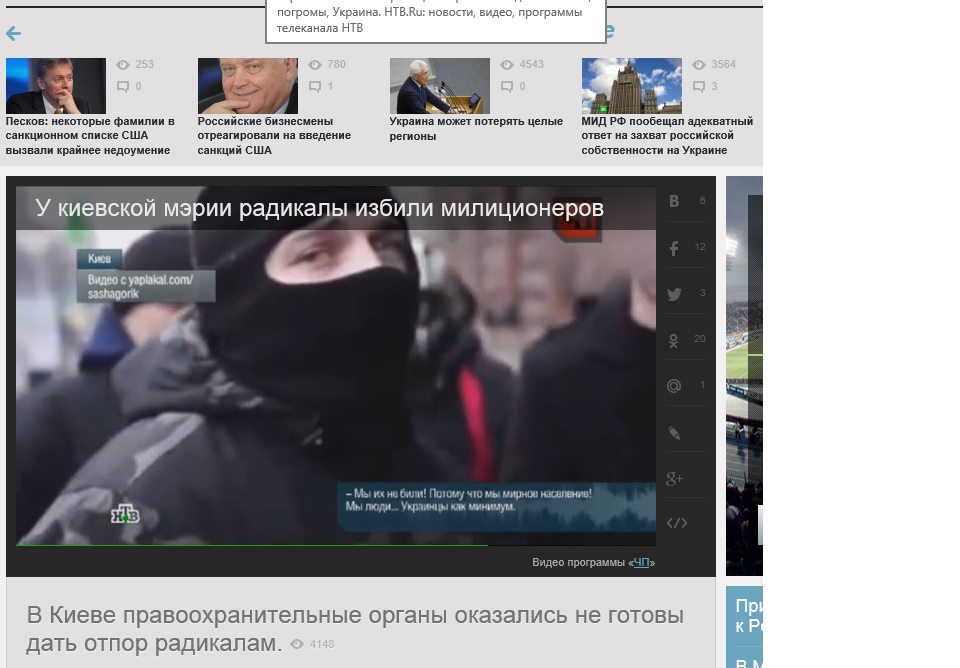 "The police officers were called to the building of the Kyiv mayor's office when it was discovered that people in masks were opening offices in search of valuables. However, at the entrance, the group of immediate response (and then management of the local Department of Internal Affairs) were met by armed thugs. Senior officers timidly tried to persuade nationalists to release the officials. But as a result they have been beaten up, "- the story said.
The news was accompanied by a video that showed that people with balaclava were catching the three law enforcement officers. Those, in turn, according to journalists, "trying to avoid conflict and just were escaping the crowd." Next, the story quoted one of the attackers: "We did not want to beat them, we are peaceful Ukrainian people, we protect our land. But we will beat anyone who tries to step on our heels. "
However, the story does not say that the mentioned event really happened not on March, 20th but on February, 16th. The incident was preceded by a message stating that unidentified individuals in the Kyiv administration were robbing municipal property.
Arrived at the scene, police were expelled and beaten up by members of self-defence forces.
https://www.youtube.com/watch?v=IxAlokBsPuY
Later the press service of Interior Ministry reported hospitalization of two law enforcement officers and the opening of criminal proceedings under Art. 345 of the Criminal Code (the threat of violence against militia officers). "The investigation is complicated by the fact that the attackers were masked. Moreover, they began to strike the law enforcement agencies at a time when investigators simply walked away from the Kyiv state administration. Their backs and heads were beaten with batons. It is difficult to identify the perpetrators,"- the policenoted on February, 17th.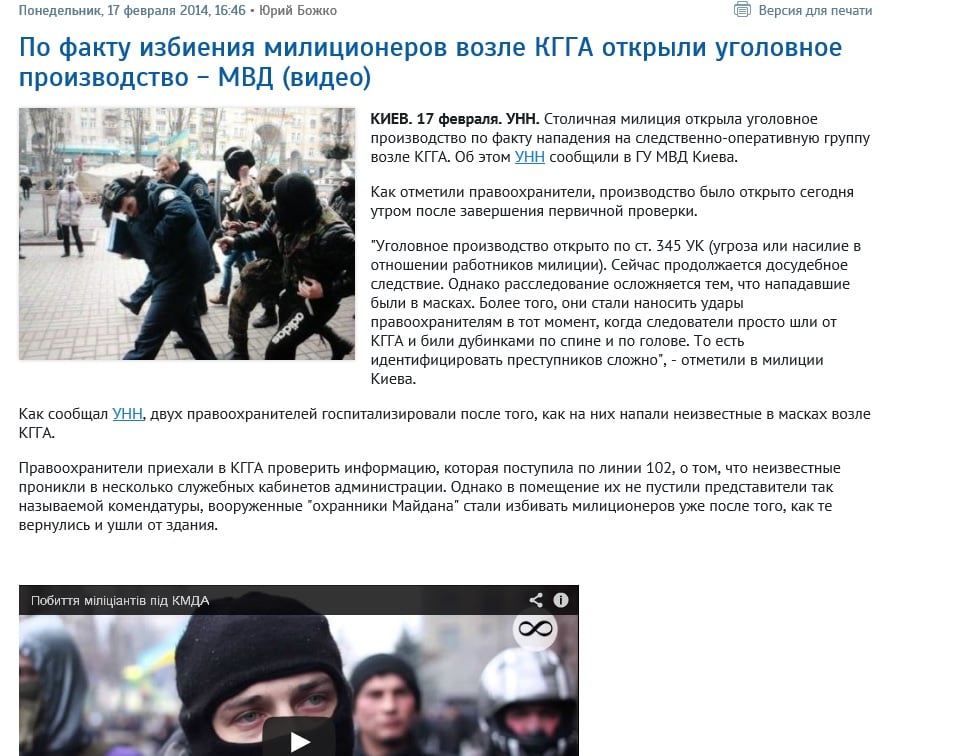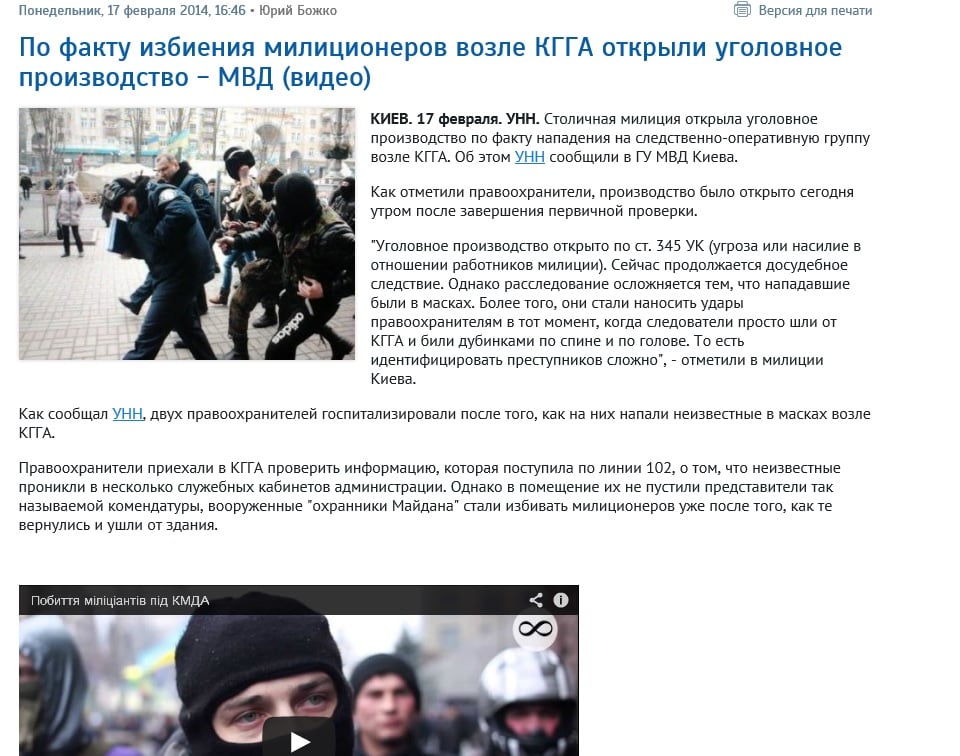 The omission of the fact that the incident did not occur on March, 20th – the day the TV story was on the air – but on February, 16th, gives grounds to speak about trying to escalate the situation by NTV and the desire to demonstrate that the streets of Kyiv are still dangerous to walk not only for police but also for ordinary citizens.