About a month ago major Russian mass media (Russia One, LifeNews, RT, ITAR-TASS and others) informed that the UN had tried to prove that Russia delivered arms to "volunteer corps" in Ukraine and, according to Russian journalists, had failed.
"We did not succeed to gather firm evidences of arms delivery", journalists cited the UN High Commissioner for Human Rights Navi Pillay in support of their statements.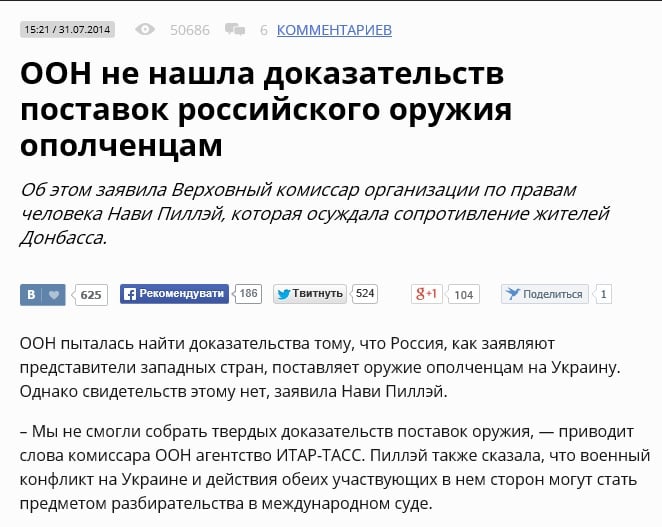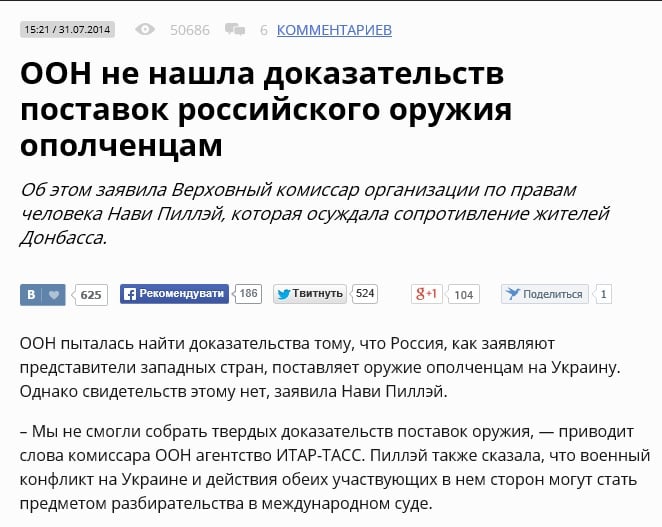 The Office of the UN High Commissioner for Human Rights did not deny that these are Navi Pillay's words. The High Commissioner indeed said this phrase, answering a journalist's question.
However, insulated from the context the phrase did not convey the meaning of the speech at all.
On Friday, August 28, the phrase of UN High Commissioner was explained by the UN Assistant Secretary-General for Human Rights Ivan Šimonović. In an interview with Stopfake.org he said that the Office of the United Nations High Commissioner for Human Rights had never investigated sources of separatists' arms delivery and that is why it did not have any evidences and it could not have any evidences concerning this question.
Šimonović emphasized that this organization did not address such issues. "To conduct such investigations you need a mandate. We have absolutely different functions. We did not conduct any investigations of arms delivery. We detect violations of human rights", he said.
So, the statement that the UN does not have any proofs of Russia's arms delivery is not false, but looks like deliberate manipulation aimed at confirming with an alleged reference to an authoritative source that Russian Federation is not implicated in arms delivery to the separatists of so-called Donetsk and Luhansk People's Republics.
It is also worthy of note that citing the words of the UN High Commissioner for Human Rights Navi Pillay Russian mass media used only one part of her answer. Commenting on the question of Russian arms, she also said that Russian Federation had to try harder to stop the flow of armed killers through "transparent" part of Ukrainian-Russian border.