Applicants' data is encrypted so that they are not persecuted in Russian occupied territories.
Russian and pro-Kremlin publications Politnavigator, DPR 24, news aggregator SMI.Today and others featured stories claiming that university applicants from the Russian occupied Donetsk and Luhansk regions and from Russian annexed Crimea will be met with persecution in Ukraine. These fake stories allegedly stem from a statement made by Ukraine's Deputy Minister of Lubomira Mandziy during the Ukraine 30 International Forum.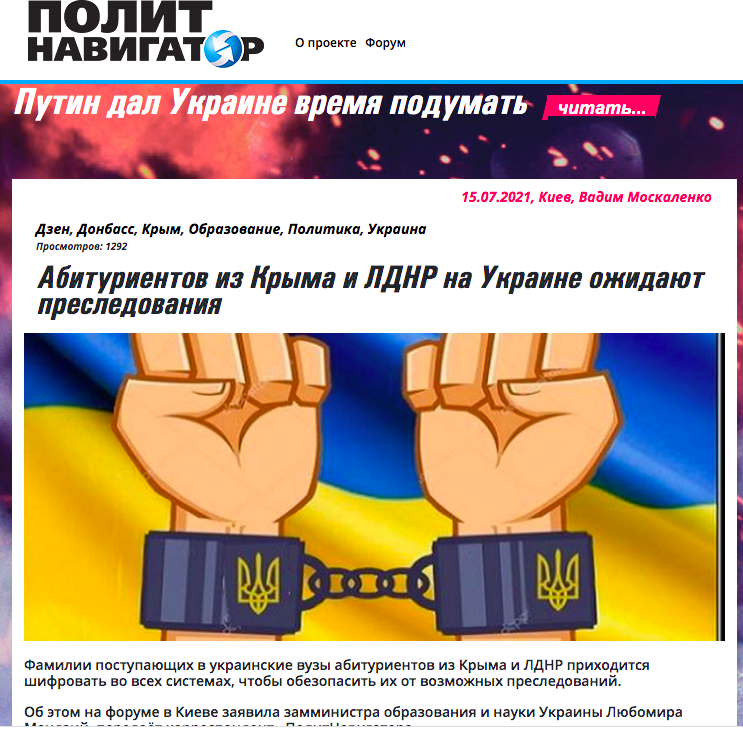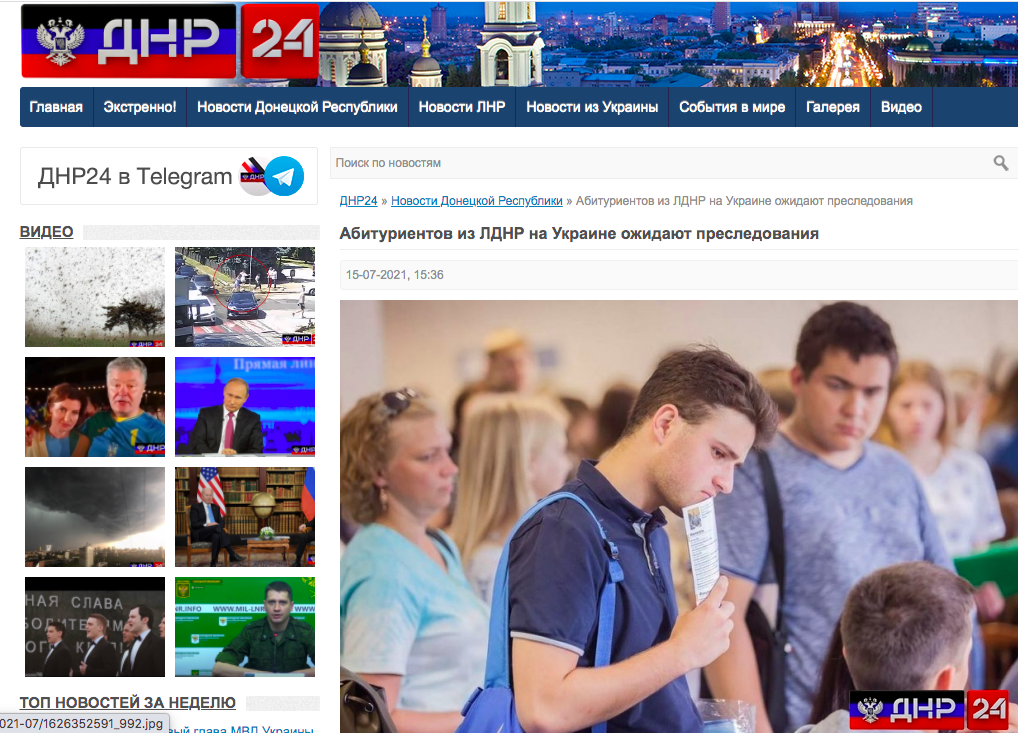 Politnavigator writes that during a Forum session Deputy Minister Mandziy announced that the names of university applicants from Crimea and the self-proclaimed Donetsk and Luhansk People's Republics will be encrypted in all university data bases in order to safeguard them from possible persecution. (The Ukraine 30 Forum is an ongoing discussion platform launched by the Ukrainian government engaging civil society, the international community, experts and politicians on issues and challenges facing Ukraine.)
According to these Russian publications, Mandziy admitted that applicants from occupied territories are supposedly in danger in Ukraine. After describing the required exams applicants who do not have diplomas issued by Ukraine must take for university entrance, Mandziy allegedly said that the applicants' names must be encrypted and not displayed in the general education system. The names are encrypted to "protect the applicants from persecution and everything else" Russian publications claim Mandziy said.
In the Mandziy quote cited by the Russian media, there is no mention of the fact that the names of applicants will be encrypted because they may be persecuted in Ukraine. StopFake fact checkers watched the Deputy Minister's full address at the forum and did not hear her say anything about possible dangers in Ukraine for students from the occupied territories.
StopFake reached out to the chair of the Ukrainian Helsinki Human Rights Union education department Valentyna Potapova to explain the reason for the encryption. Potapova explained that name encryption was being used to protect the students from possible persecution in the occupied territories and not in Ukraine.
"This encryption practice began in 2016 when active hostilities were still going on. The students' names are encrypted so their relatives and children in the occupied territories are not persecuted. We have repeatedly seen that students from the Donetsk and Luhansk "republics" are not allowed to enter Ukrainian territory to take entrance exams. We know that children who pass through checkpoints with Crimea also face similar problems" Potapova explained.