Russian news agency REX published the article "Relentless war in Ukraine" with a picture that had been made 22 years agoduring Nagorny Karabagh conflicts and adding the caption "Relentless war in Ukraine".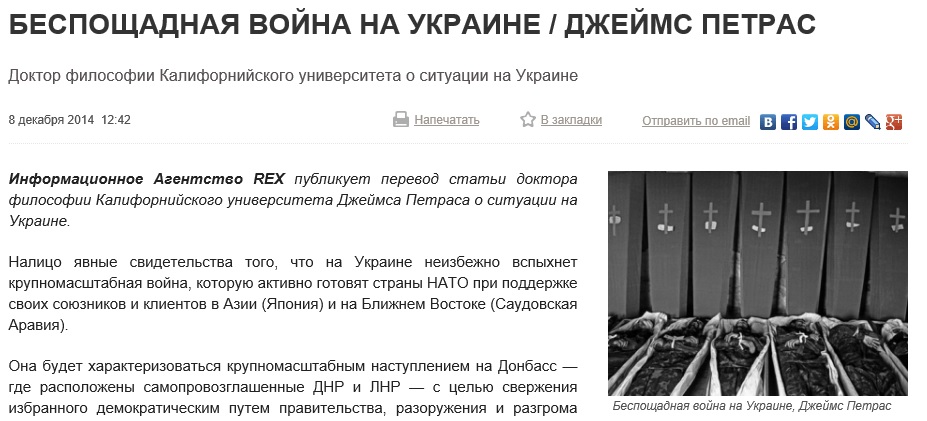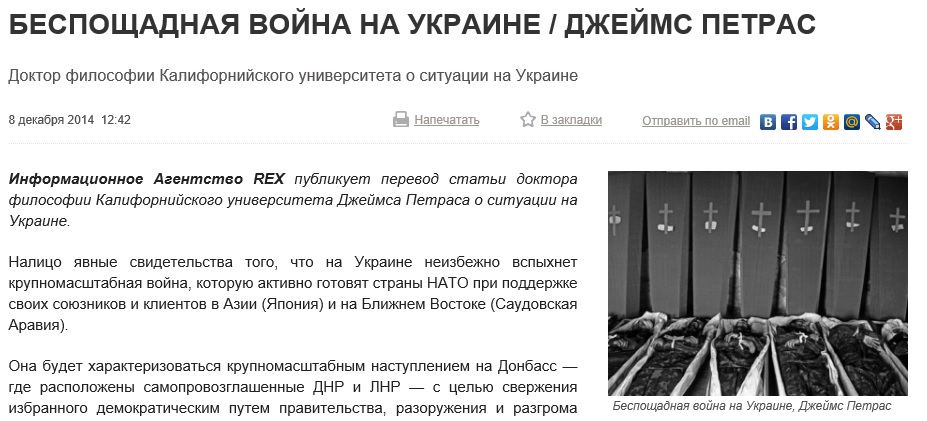 "It is a disgrace when someone uses a picture of deceased Ruben Mangasarian, made in Nagorny Karabagh in 1992 as an "illustration" for an article of some American Professor about Ukraine… it's spoliation, " wrote German Avakian, a famous Armenian journalist Аsekose.am.
English version of the article "Relentless War in Ukraine: "the Last Advance of "NATO" was posted on its author's personal website on 20th of November without any illustrations. November 27 the article gives their permission for a repost on Spanish website  Rebelion.org without any illustrations.
Two days later Russian translation of the article was published on inoСМИ.ru. Though the article had two illustrations by anonymous authors, though with reference to its original Rebelion. Reposts by REX dated December 8 has no references to the sources and also features a fake picture, made in 1992 during Nagorny Karabagh conflict.
As for the "article" of the Professor, it is rather "a blog entry", — it has some conspiracy theory about NATO and its allies against Russia. This is typical for James Petras. He is a well known, Marxist and the author of conspiracy theories, which feature Zionists' plans to conquer the world. He used to declare the US government and mass media are run by Jews. Also James Petras adviced to and supported left-wing world politicians (especially in South America).
We thank EaP Media Freedom Watch for the support in preparing this article.