The photo of empty shelves with supposedly sold-out energy-saving light bulbs was actually taken in a US supermarket at the beginning of the COVID-19 pandemic.
Social media users are sharing images allegedly taken in a UK supermarket. The message on the photo reads: 'Due to high demand, the store is only selling two bulbs per person.' According to the publication, the British are massively buying energy-saving light bulbs as utility prices are about to rise.
'They think energy-saving light bulbs will lower their utility bills in the future —  and bought them all out. This is a shelf in Sheffield,' an article on the propagandist website Ukraina.ru declares. Pro-Kremlin Telegram channels also shared these photos.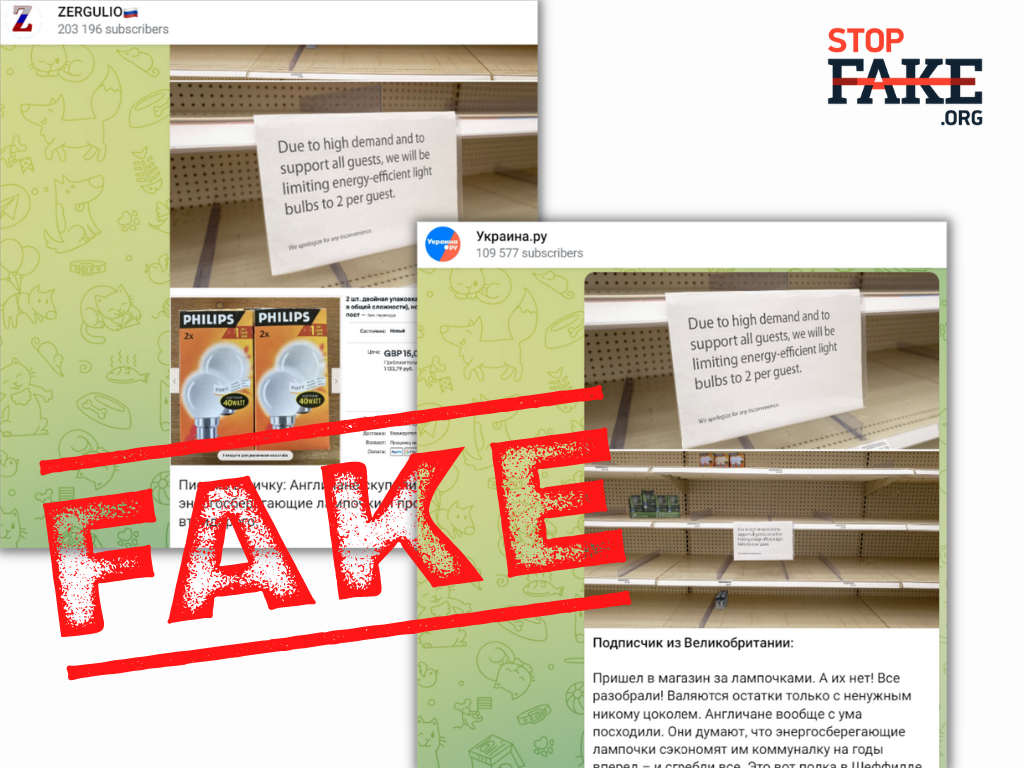 As it turns out, the original pictures were taken in the USA and posted on the popular online resource Alamy, where any user can purchase them. The description says that the empty shelves were photographed at a Target retail store in Contra Costa County, San Ramon, California on March 12, 2020. Photos of the shelves with hand sanitizers and other essential items were already published by the American media Newsweek on March 15.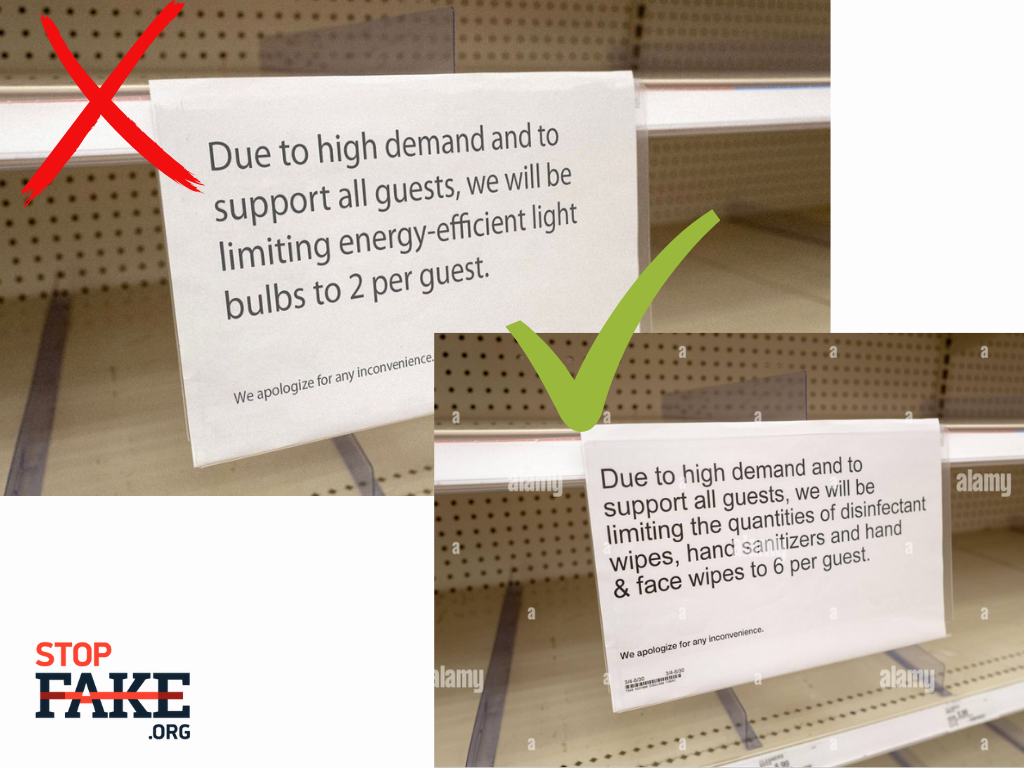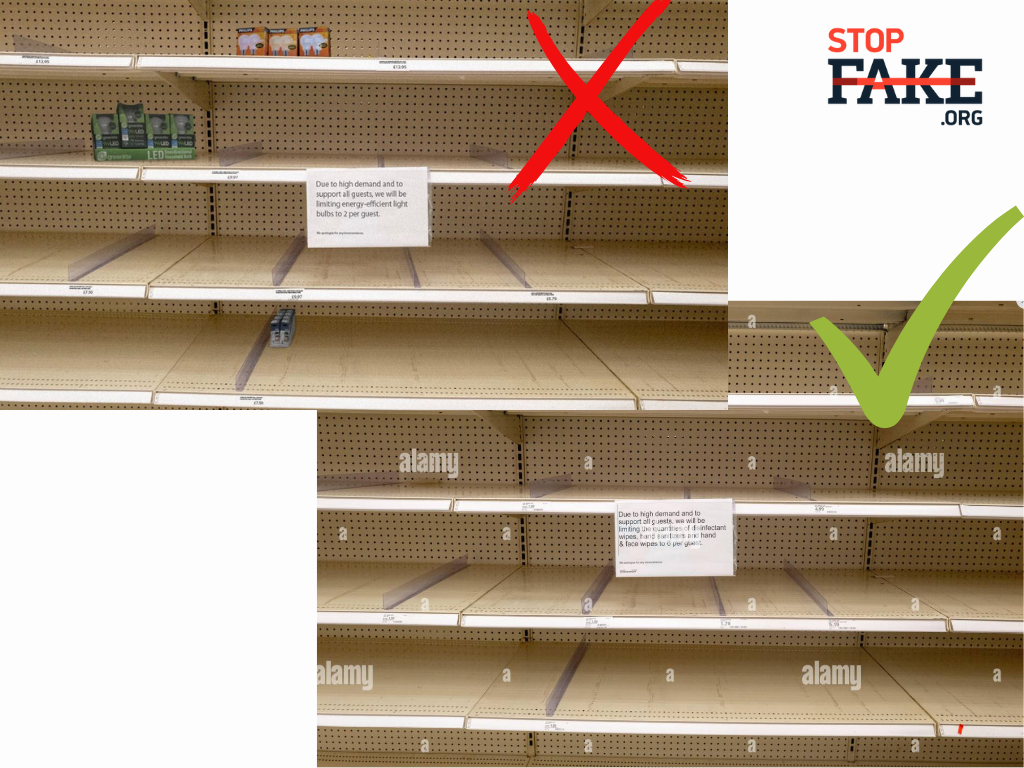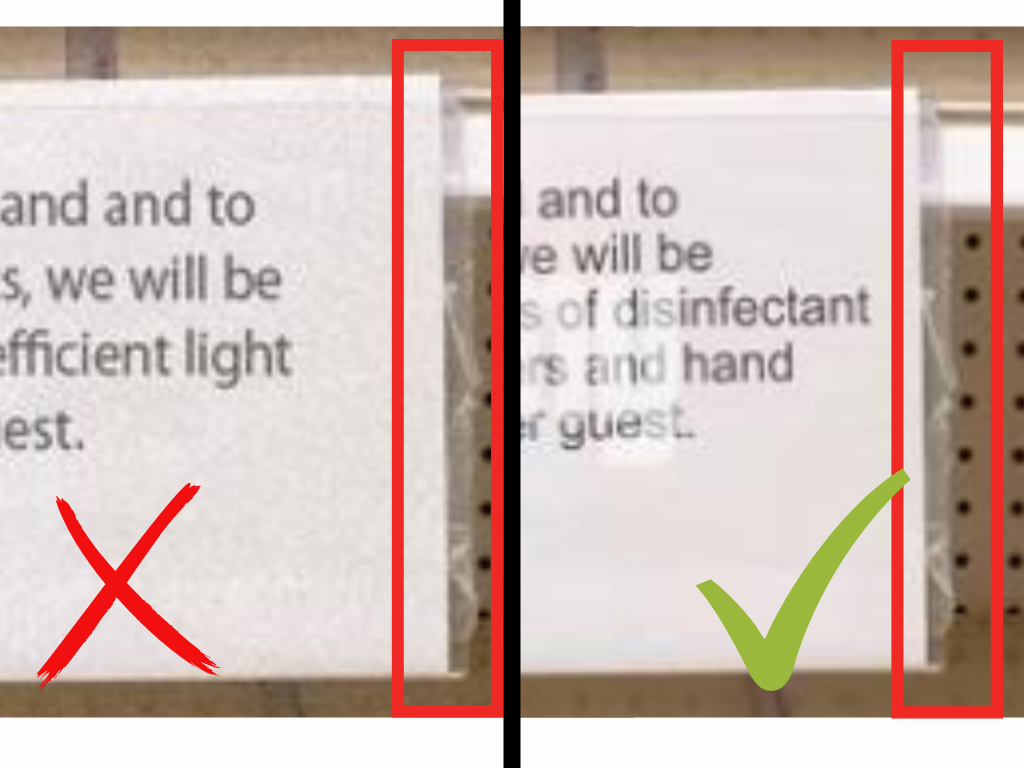 These goods were stockpiled by consumers when the COVID-19 pandemic had just begun. In the original photos, the sign on the shelf says: 'The number of disinfectants is limited to six per guest.' Later the photograph was edited in a photo editor: the text and price tags on the sign were changed and packages with light bulbs were added. But the angle from which the shots were taken, the shelves' location, even the size of the sign and the folds on its margins are completely identical to the photos taken in the USA two years ago.
Russian propaganda is spreading fakes that EU countries are experiencing unbelievable economic difficulties due to the sanctions imposed on Russia. In particular, StopFake debunked a story about a fake German social ad campaign that suggests 'washing only four areas of your body 'to annoy Putin'. Pro-Kremlin's publications constantly spread manipulative information about the reduction of Russian gas supplies causing panic in European countries.