The execution team leaving the Ukraina Hotel under the leadership of Parubiy, February 2014 – that is the caption of a photo that is currently being circulated on social media.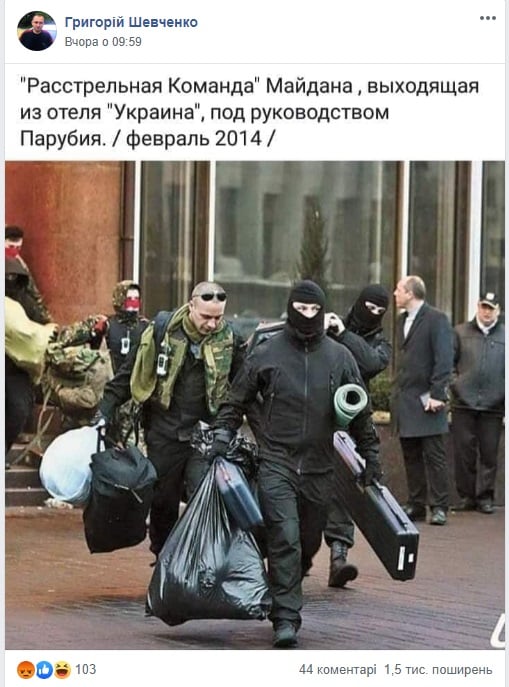 The photograph depicts Andriy Parubiy, then a member of the Ukrainian parliament and supporters of Right Sector, a nationalist group. Pushing the photo in a Facebook post one Hryhoriy Shevchenko claims that it was Parubiy and Right Sector who killed demonstrators during the Maydan demonstrations in Kyiv in February 2014. The photograph, while real, is not at all what Shevchenko claims it is.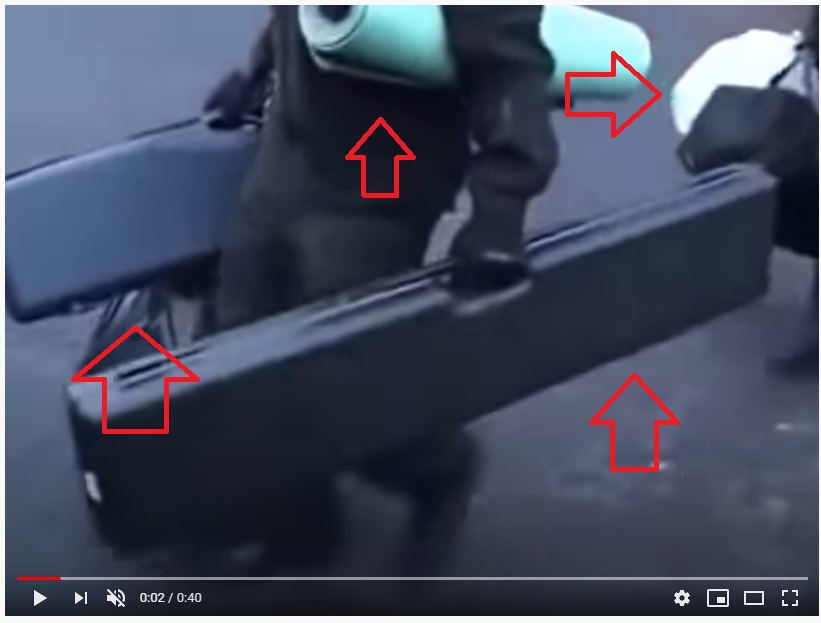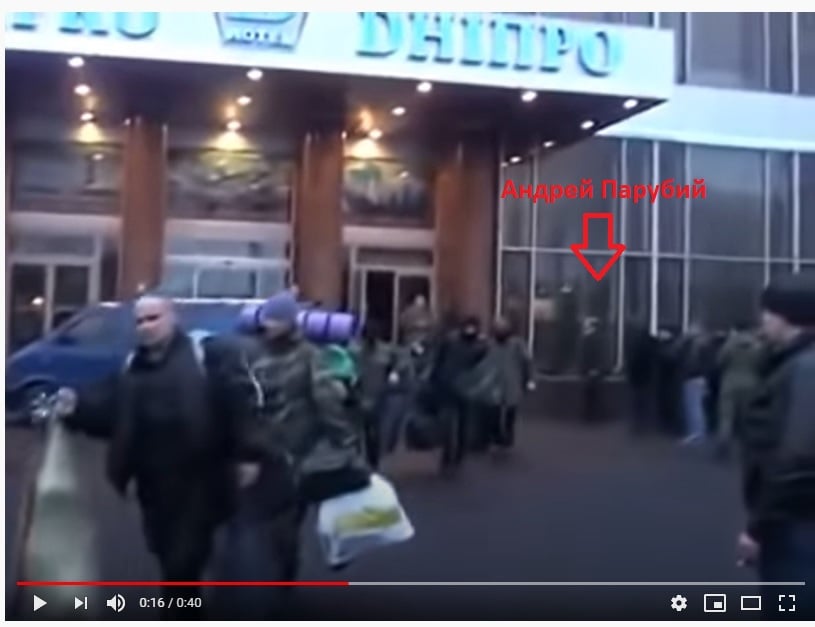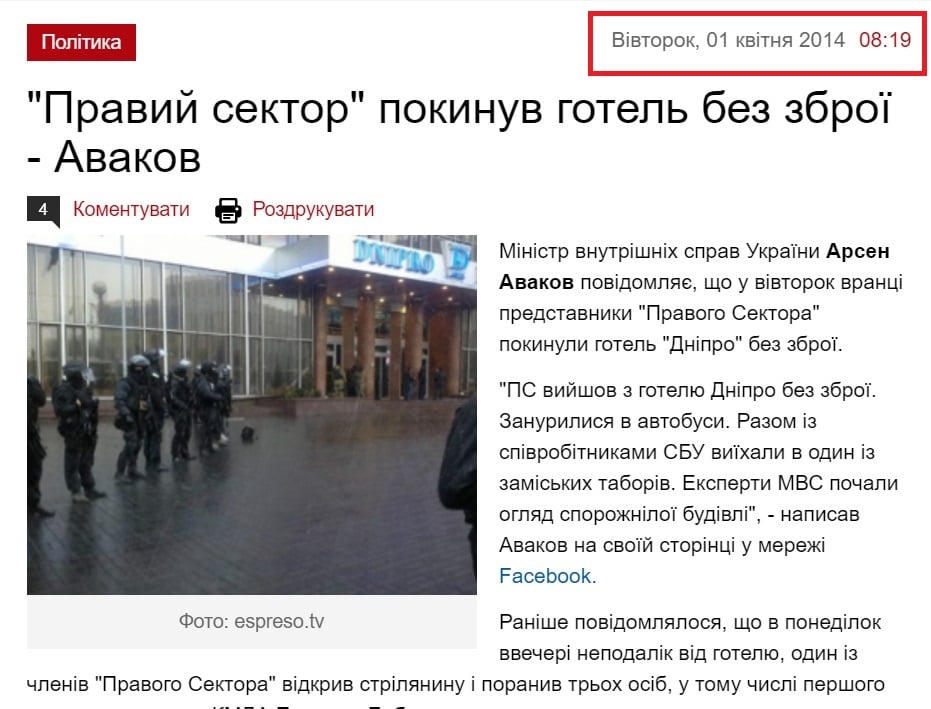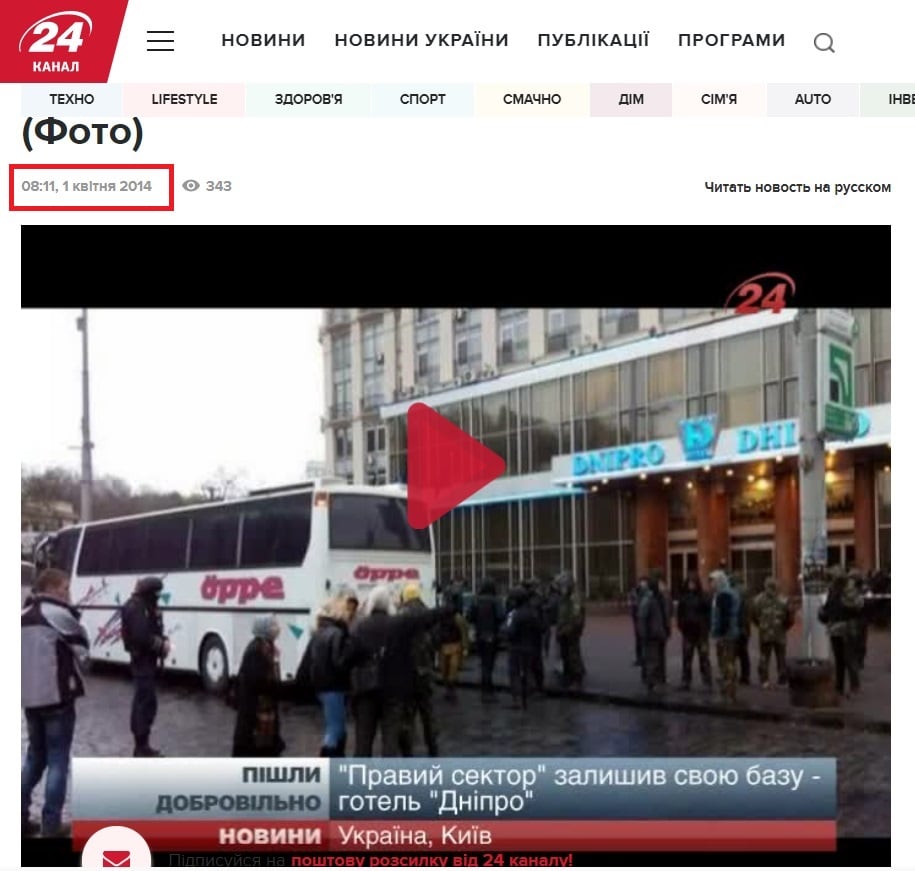 First of all the hotel pictured in the photograph is not the Ukraina hotel, from which some of the shooting was done, but rather the Dnipro hotel, which is located around the corner from the Independence Square, the central Kyiv square where the Maydan revolution unfolded.
StopFake located the video from which the still featured in Shevchenko's post was made showing Right Sector members leaving the Dnipro Hotel. The first frame shows the men portrayed in the still, the second shows Andriy Parubiy and the name of the hotel. Other Ukrainian media also recorded the moment when Right Sector activists left the Dnipro hotel. 
Furthermore, this video and the stills from it are not from February 2014 when many of the killings took place on the Maydan but from April 1, 2014. Many Ukrainian news outlets captured the moment when Right Sector members left the Dnipro Hotel on April 1, 2014.
This is not the first time this fake photo has appeared on television and social media. In 2014 Russian media used this same footage and called the Right Sector members an "execution team". Then they claimed the activists were leaving from the Philharmonic, located 160 meters from the Dnipro Hotel. Our story from 2014 explains why Right Sector could not possibly have fired on Maydan demonstrators in 2014.
In November 2013 the Maydan demonstrations began in Ukraine. They protests were brought on by then President Viktor Yanukovych's decision to not to go through with the European Union Association Agreement. The protests became widespread and continued to grow particularly after the security forces dispersed demonstrators on November 30, 2013, badly beating many Kyiv students. Between February 18 and 20 more than a hundred people were killed in the center of Kyiv. According to Ukraine's Ministry of Internal Affairs, from February 18 through March 2, 17 security officials died in the line of duty.