Thousands of migrants, including women and children, are trapped in cold Belarusian forests while desperately trying to break through the inaccessible border of the strict European Union. This is the scenario that is most acceptable for Russian propaganda, portraying Russia, just like Belarus, as simply outside observers and the only ones who are providing anyassistance. A different scenario is emerging for Ukraine. StopFake rounded up the main disinformation narratives on this topic.
Since November 8, several thousand people from the Middle East have gathered on the border between Belarus and Poland. They are trying to enter the territory of Poland from Belarus. They were transported to Belarus by the state airline Belavia, with the promise of a free path to the European Union.
The dire situation escalates daily, the stalemate is compounded by the cold weather and frosts, with people dying of hypothermia as they desperately attempt to break into Europe.
Battling migrants
Russian coverage of the migrant crisis in Belarus has not omitted Ukraine, speculating on how Kyiv would deal with such a situation on its borders, Russian media has alleged that Ukraine would fight the migrants and defend its border, emphasizing on struggle and destruction. In this vein on November 17 several Russian publications reported on the arrival of members of the National Corps. National Corps volunteers arrive in Poland to fight migrants Ukraina.ru announced, citing an anonymous Telegram social media account as their source for this information.
National Corps activists had circulated statements saying they were ready to help Poles "in countering the Russian Federation's hybrid aggression on the border between Belarus and Poland" but currently there is no information about their arrival in Poland. On November 16 the director of the National Corps central executive Maxim Zhorin said that while members of the Corp were ready to participate in the defense of the Polish border, Corps members would not be standing on the border with weapons and protective shields.
A statement seemingly from of one of Ukraine's armed forces brigades about "destroying migrants" in the event such migrants would breach Ukraine's borders began making the rounds in the media. It turned out the quote was far from accurate; nevertheless it was widely disseminated in Russian and Belarusian media. Russian Foreign Ministry spokeswoman Maria Zakharova contributed towards this as well when she wrote "They have learned to destroy. They're experienced. That's right, Ukraine is not Russia, it's Europe".
Other Russian publications spread the news that "Yarosh called for shooting migrants for crossing the border." Former leader of the "Right Sector" Dmytro Yarosh has always been a scarecrow for Russian propaganda, and Russian media have again resorted to a well-honed theme. In fact Yarosh wrote on his Facebook page that "it is urgent to adopt the Law on Criminal Liability for Illegal Crossing of the State Border as soon as possible," and border violations should be punished, even with fire.  As it turned out, such laws are already in force in Ukraine.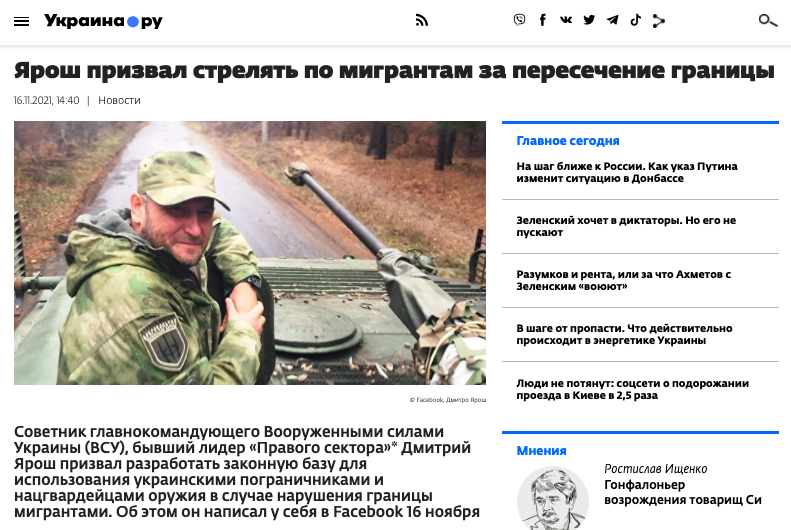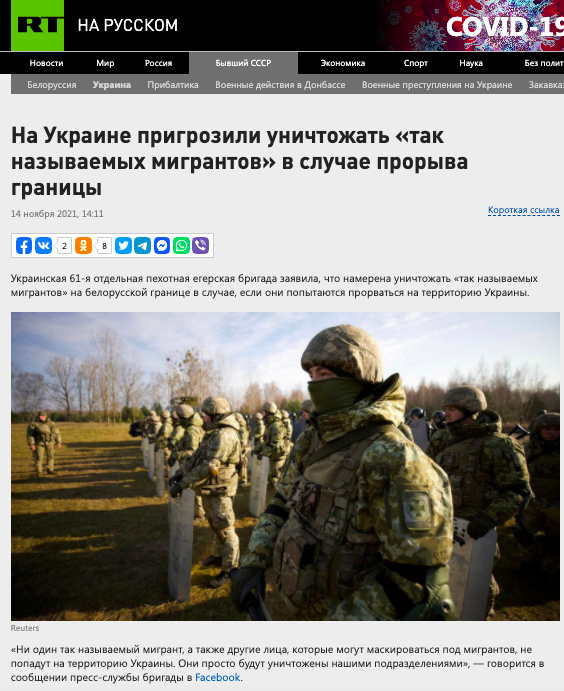 Europe will dump the migrant problem on Ukraine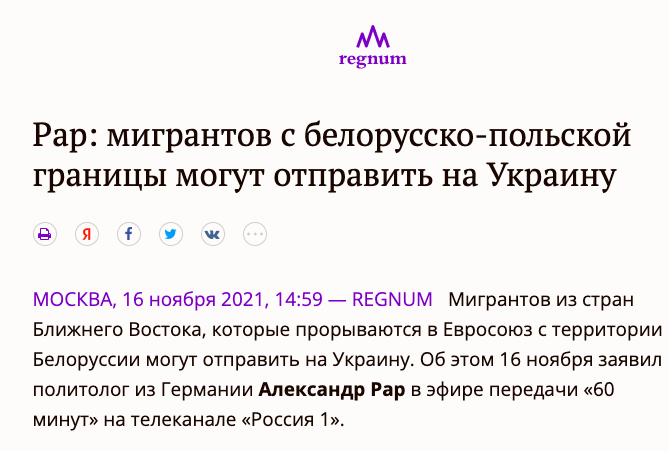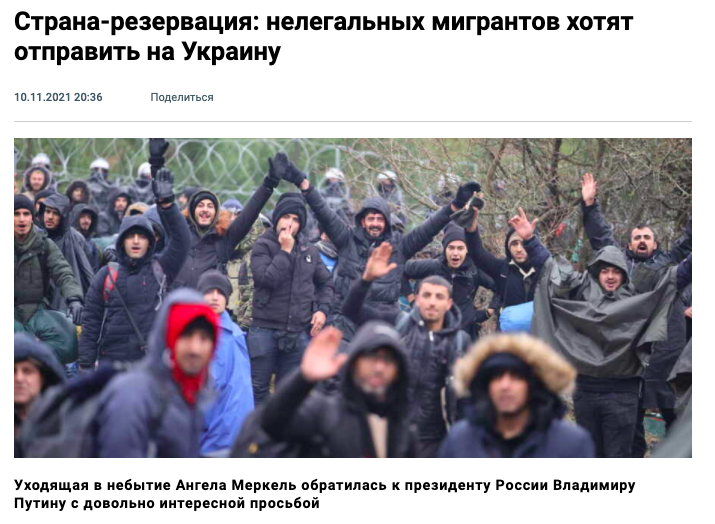 Russian media are also claiming that Europe will use Ukraine as a place to house all migrants.
"Simply put, Germany wants to cut a deal with Ukraine to accommodate tens of thousands of migrants. In 2015-2016 Europe made a deal with Turkey and Erdogan to curb migration flows. The question is will they also flirt with Ukraine or will they simply bend the country to their will?", asks the E-news site.
The entire discussion about housing migrants in Ukraine is based on a statement made by one member of the European parliament, but such a solution is not being considered by anyone. Nevertheless the pro-Kremlin Pravda.ru declared that Ukraine is ready to take in the Belarusian refugees for 10 billion euros.
Just like in Donbas
With the involvement of troops at the border and talks of increased escalation, pro-Kremlin talking heads quickly began speculating about the migration crisis having the potential to turn into an armed conflict, something that is just half a step away. Drawing an analogy with Donbas, pro-Kremlin analyst Rostislav Ishchenko said that such a development would not suit Russia. "Just as Russia will not allow Belarus to be conquered, no one will allow Poland or Lithuania to be taken over – the NATO factor may come into play and the parties can settle the migrant crisis by placing troops on both sides of the border. You can do just like in Donbas, make a truce, keep troops in the field and maintain a frozen conflict situation" Ishchenko said.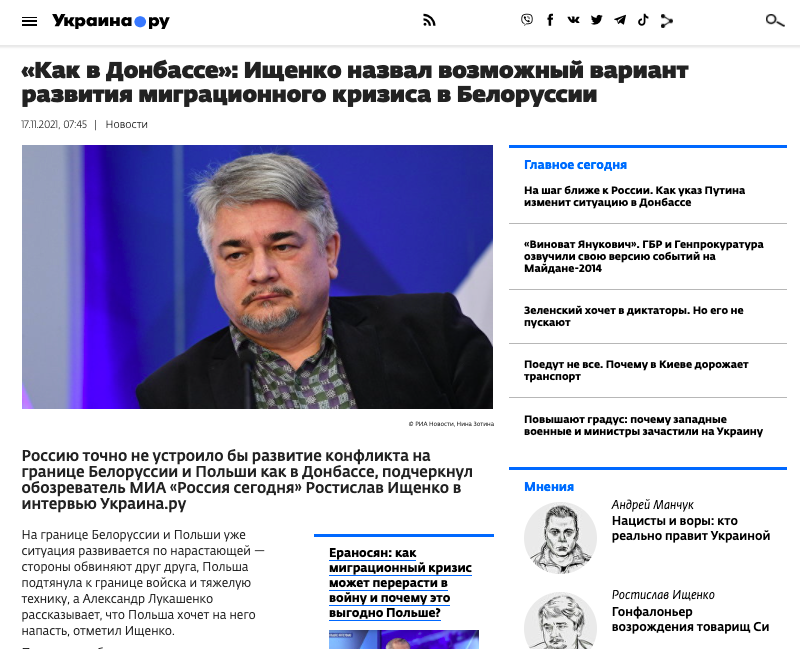 Another theme that pro-Kremlin media advanced in the midst of the current migrants' crisis is that thanks to this situation, Crimea is recognized as Russian. In fact this outrageous claim is based on one single column by the military expert Oleh Zhdanov in which he discusses possible scenarios at the Belarus Poland border and lists Putin's goals, one of which is to force Europe to recognize Crimea as Russian. This is not a secret, but neither is Europe's position that Crimea is an integral part of Ukrainian territory.
Ukraina.ru features a story in a similar vein, claiming that because of the migrant crisis on the Poland-Belarus border Ukraine might lose its visa-free travel status with the European Union. Here again the story stems from an opinion piece that examines the interests that Moscow might try to pursue through the migration crisis.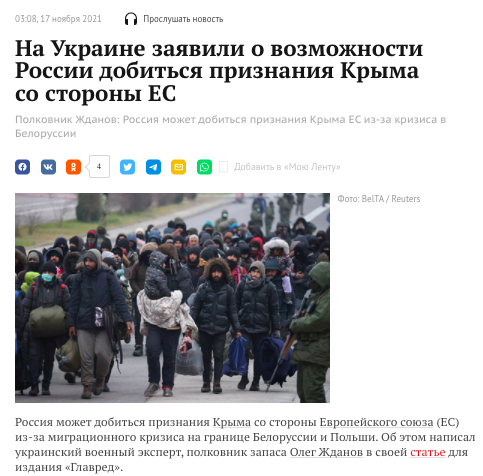 Despite the fact that the migration crisis artificially created by Belarus and Russia does not directly affect Ukraine, judging by the themes generated by the Russian propaganda machine, Ukraine has been given a place in this situation. The Kremlin is rich in ideas and does not care whom and what it will have to use to implement its dark plans and what the collateral damage of those plans might be.
Olena Churanova