On April 22, some Ukrainian media reported that Polish President Bronislaw Komorowski had discussed complications in Ukrainian-Polish relations because of the Law on the Glorification of Ukrainian Insurgent Army (UPA), adopted by the Verkhovna Rada.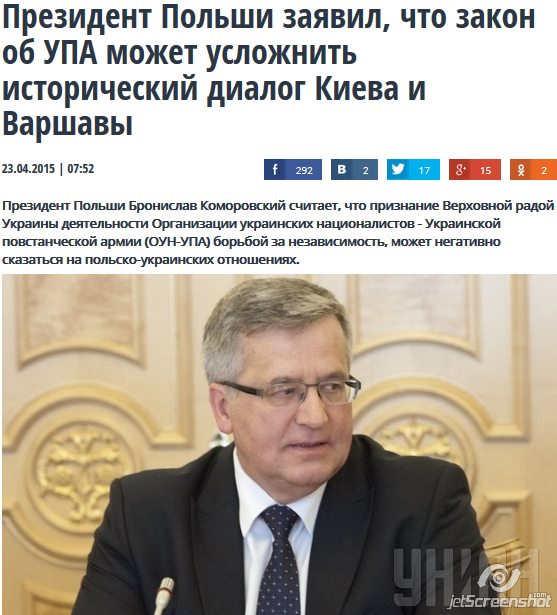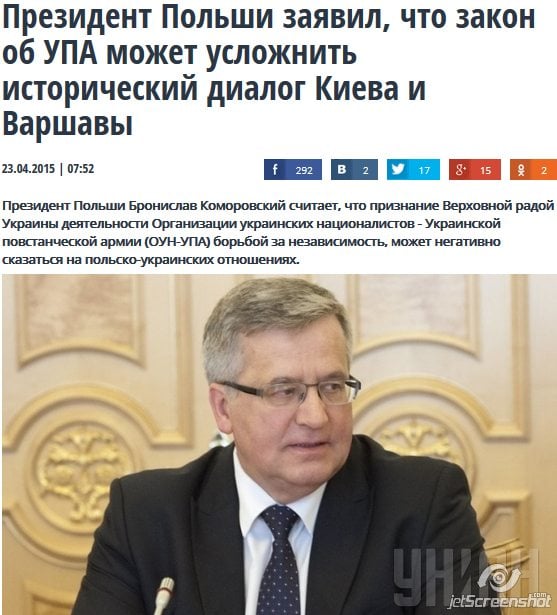 UNIAN, Livyi Bereg and ZN.ua mentioned Russian pro-Kremlin news agency TASS as their source, which had published fragments of the Polish president's interview on the ТВН24 television channel.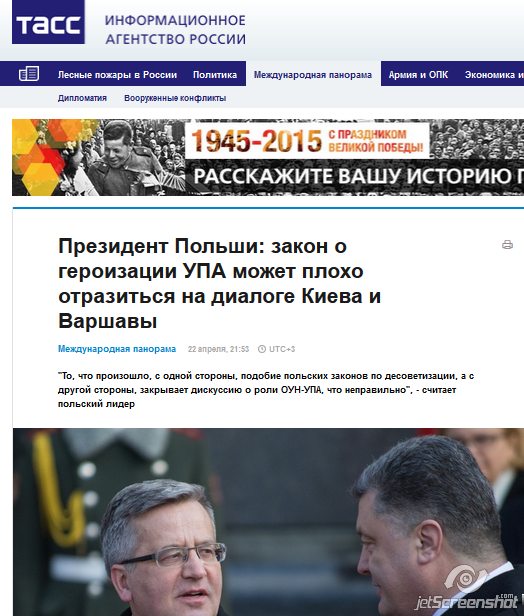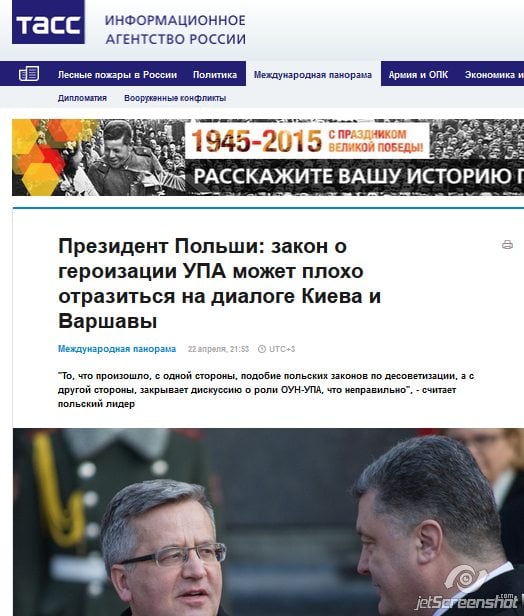 UPA guerillas allegedly took part in the murder of Poles during the Second World War. According to TASS, Komorovski said that the recognition of the OUN-UPA as fighters for independence could unfavorably influence Polish-Ukrainian relations.
TASS cited the Polish President, having changed the original sense of his words and the general context.
"The misfortune of this law is that it prevents any further historic dialogue between the two countries. There could be no reconciliation and resolve of the main issues between Poland and Ukraine without a dialogue. This case is not closed, if we talk about the relations of Poland and Ukraine, but here one should look for a positive solution. […] This law, on the one hand, is similar to the Polish laws of de-Sovietization, and on the other hand, it closes the discussion about the role of the OUN-UPA, which is wrong."
The journalist's actual question was: "What is your attitude to the adoption of the law glorifying UPA bandits, who murdered Poles, after your speech in the Ukrainian Parliament?"
The correct quote of Komorovski is that: "You over-dramatize […] On the one hand, these laws are similar to the Polish laws of de-Communization, these are laws of de-Sovietization of Ukraine, and on the other hand, these laws draw the line in the discussions about the role of the OUN-UPA. And this is not right."
The journalist then asked: "Isn't it a dirty act that the law was adopted just after your speech in the Ukrainian Parliament?" The President responded "no" and tried to explain that the situation was not simple and bilateral relations should be built only on the dialogue. "It happens in politics. The task of the president is to make difficult decisions and to take responsibility for them in the Polish-Ukrainian dialogue. The only defect of this law is that it complicates the historic dialogue," Komorovski said.
The source: Dusia.