Cambodia, Rwanda, Srebrenica…. And now Donbas. According to Russian President Vladimir Putin, genocide is taking place in Donbas. He reiterated this claim once again on December 9 in Moscow during a meeting of the Russian Human Rights Council. RIA Novosti, Argumenty I Fakty, TASS, RBK, Lentais.ru and other Russian media quickly disseminated his pronouncement. If the 1994 Rwanda genocide is known to the world, and the 1995 Srebrenica massacres are well documented, the events in Donbas, according to Putin, "we see well and know" seemingly like a well-documented process. But what exactly is happening and where it is happening, the Russian President has yet to explain.
The Kremlin media's love for the word genocide knows no limits. They usually use this word to describe events that have nothing to do with genocide. Russian media traditionally refer to policy support for the Ukrainian language in Ukraine as a "genocide of the Russian speaking population". According to Russian media Ukrainian President Volodymyr Zelensky also practices "genocide against Russians". Real acts of genocide however, such as the Holodomor famine of 1932-1933 are of little interest to the Kremlin, which sees this tragic event in Ukraine's history as "Russophobia at the heart of identity" and "fiction concocted by a British spy".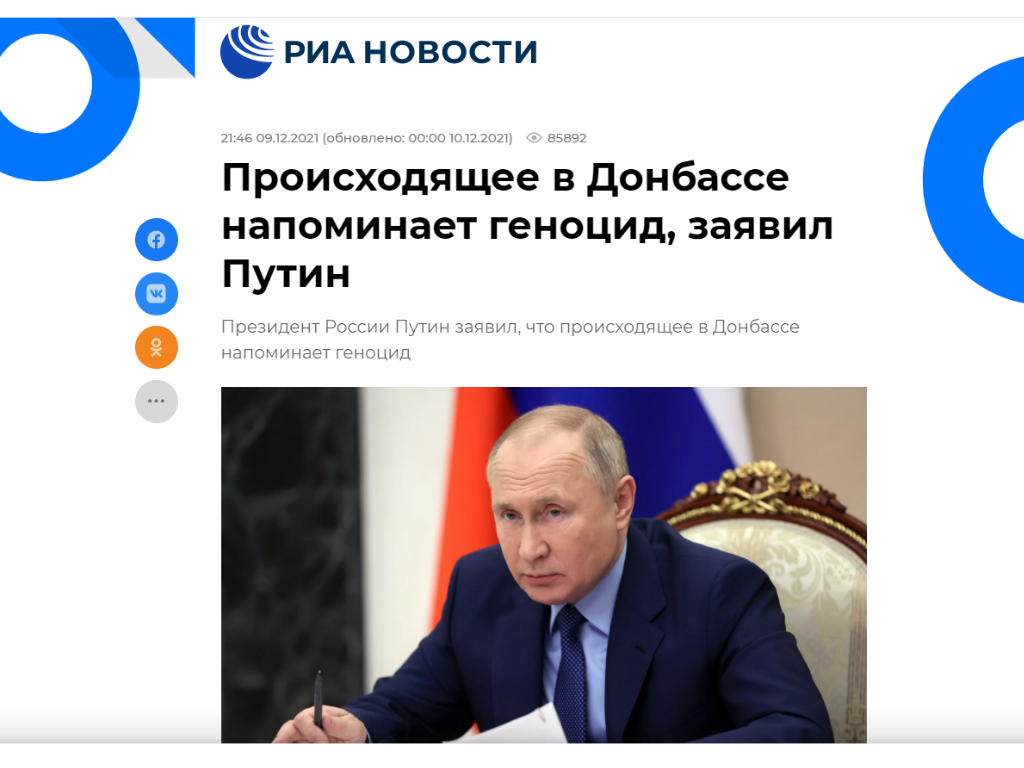 The term genocide was coined in 1944 by Raphael Lemkin, an American lawyer who is called the "father of the UN Convention on Genocide." Lemkin, who was born in Lviv, considered the Holodomor an example of genocide. In 1948, the UN adopted the Convention on the Prevention and Punishment of the Crime of Genocide. The Convention defines the crime of genocide as "acts committed with the intent to destroy, in whole or in part, a national, racial, ethnic or religious group". Lemkin also believed that genocide should be understood as an attempt to destroy not only ethnic and religious groups, but also political ones, and that this term also should include acts of systematic cultural destruction. So, in addition to the disrespect of the Russian media for victims of genocide around the world, Russian media have manipulated the concept of to distort unrelated phenomena and events.
Hearing about genocide in Donbas from the Kremlin is not entirely unexpected, as high-ranking Russian officials and pro-Kremlin media use the word genocide every time, they mention Ukraine. According to Russian propagandists, Ukraine is a fascist state invaded by Nazi units, and where there are fascists, there is genocide.
Although in Russia, a country that positions itself as the number one fighter of fascism, strange things are happening. The Holocaust is not taught in schools. Russia's Education Ministry has removed International Holocaust Remembrance Day – January 27 from its 2021-2022 Calendar of educational events dedicated to state and national holidays of the Russian Federation, anniversaries and events of Russian history and culture. This was announced by Professor Alexander Asmolov during Putin's meeting with human rights activists. And a few years ago during a television contest on the Muz-TV music channel, when asked what the Holocaust was, the Karatygin sisters from Russia's Vladimir oblast (200 kilometers east of Moscow) answered that the Holocaust was a wallpaper glue.
In addition,  recently, the Russian Ministry of Justice has listed a a number of Jewish organizations such as the Saratov Regional Jewish Charitable Center Hasdei Yerushalaim and the Ryazan Jewish Cultural Center as "foreign agents,". Russia is also actively exploiting the subject of fascism in its political interests, for further repression against civil society inside country. All this is happening under the guise of "fighting fascism." Commenting on the recent closure of the Memorial human rights center, Vladimir Putin said that several people whom Memorial had allegedly identified as victims of political repression had "served under the Nazis".
Russia has used the rhetoric of fighting Ukrainian fascists and deterring a Ukrainian genocide from the beginning of its occupation of the Donbas region to justify its actions. In fact, the rhetoric even preceded the occupation. Seven years ago, in September 2014, Russian media was already flooded with "sensational information" about the "crimes" of the Ukrainian military. This alleged "genocide" was used as an excuse for Russia's invasion of the region. In 2017 Russian television programs were filled with claims that "no one in Kyiv wants to reach a peaceful settlement but rather Ukraine is preparing to carry out a genocide in the Donetsk and Luhansk region". This past summer Ukraine was again accused on Russian television programs of orchestrating a "genocide against the population of Crimea by depriving them of fresh water". Imaginary attacks on the civilian population of eastern Donbas, of which Russian propagandists constantly accuse Ukraine's military, is also part of the genocide against the residents of the occupied regions narrative. Last year the Deputy Chairman of Russia's Investigative Committee Alexander Fedorov accused Ukraine of committing genocide against the residents of Donbas. All these accusations are now augmented by claims that Ukraine is trying to also involve US and NATO troops in this alleged genocide.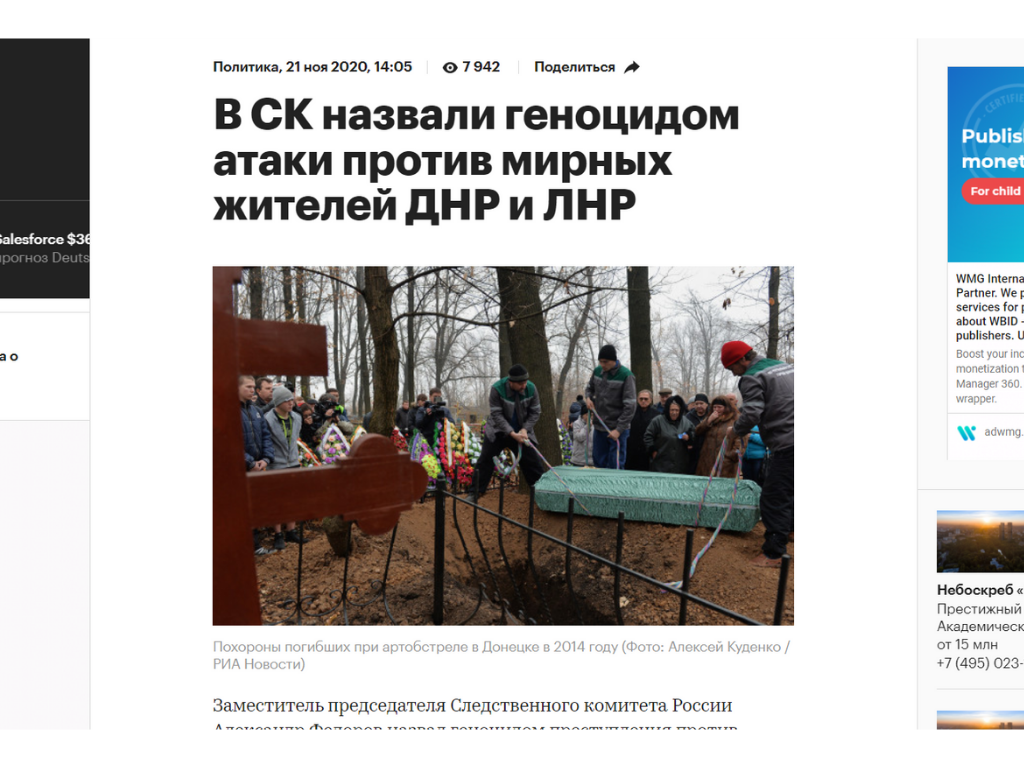 In our recent article The excavated graves of Donbas we wrote that Russian propagandists have long dreamed of finding a "Ukrainian Srebrenica" in eastern Ukraine – this is the terminology that Russian media openly use. The Kremlin is trying to pass communal graves that Ukrainian military allegedly left behind in Donbas as a civilian genocide. Over the last several years Putin has repeatedly said that Kyiv cannot regain control of the occupied territories because it will resort to a new Srebrenica and immediately launch an ethnic cleansing campaign and Moscow will not be able to intervene and protect Donbas civilians as NATO intervened in Yugoslavia in 1999.
"The Ukrainian side is constantly posing the question: give us the opportunity to close the border with troops. Well, I can imagine what will come next. There will be Srebrenica. We have seen how President Zelensky led discussions with nationalists. It is clear who is the stronger there. And what will happen there? And who will lead these nationalists when they enter these territories without providing guarantees to the people?" Vladimir Putin, December 10, 2019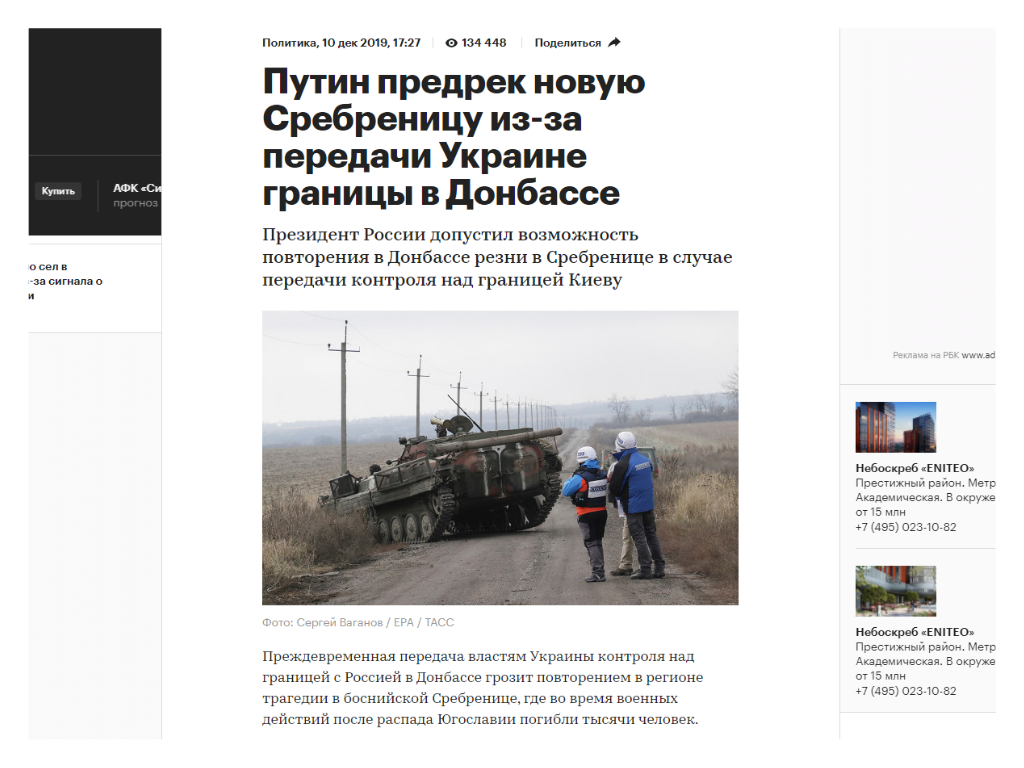 This past autumn Russia began to act with renewed zeal in Donbas. Residents of the occupied territories were involved in Russian elections to the State Duma, Russian passports were distributed en masse, and Putin issued a decree on humanitarian support for the Donbas population. However, no matter what Russia claims about genocide in the territories it has occupied, actual annihilation of people and the region is not taking place on the Ukrainian side of the line of contact. Donbas truly has suffered massive devastation since the beginning of the war.
In 2020 Ukrainian Defense Minister Oleksiy Reznikov noted that prior to the war nearly five million people lived in the Donetsk province and close to two million in the Luhansk region, seven million people altogether. Since 2014 some have left for Russia, others went to Crimea, others left for Ukrainian controlled territories, other still left Ukraine altogether, others stayed. We do not know the exact numbers, Reznikov said.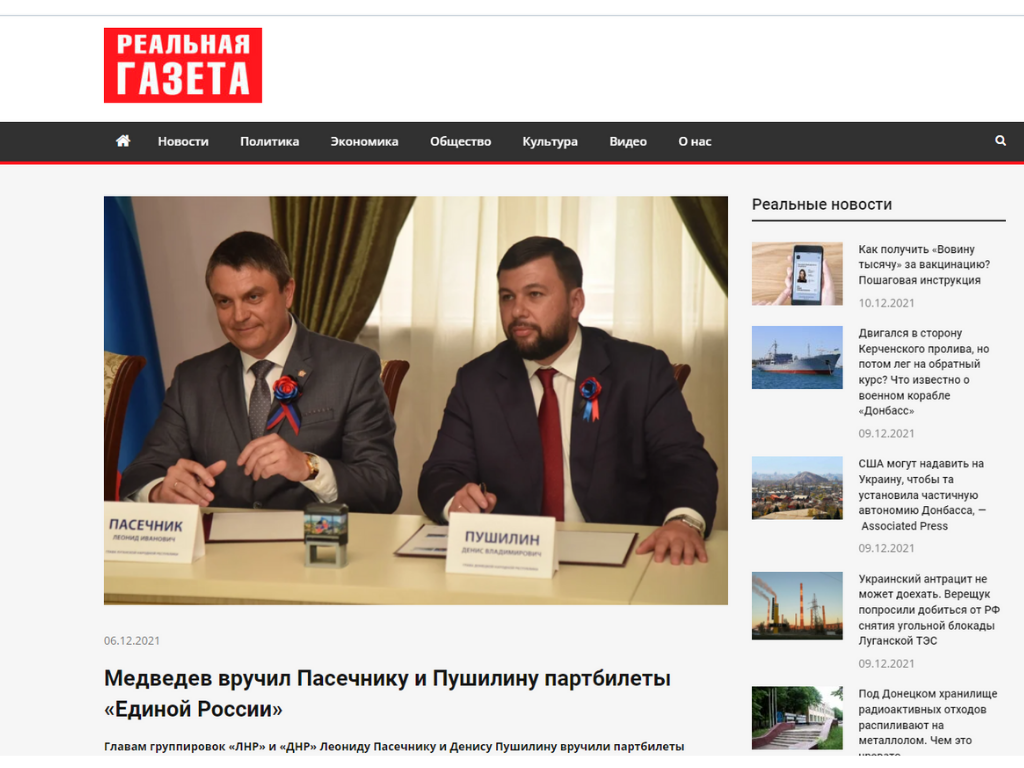 Based on the consumption of water and bread in the occupied territories, UN experts estimate that the population of the Russian occupied Donetsk and Luhansk areas to be 2,8 million. In seven years, the population of this area has halved. Such depopulation of any territory can be compared only to a humanitarian catastrophe and such a huge loss of population of nearly four million is much more telling than contrived genocides. People are leaving occupied Donbas because life there is increasingly more and more intolerable, impoverished, lacking prospects and filled with human rights violations. Compared to 2014 the standard of living has decreased significantly. And all this is happening in a territory that is not under Ukrainian government control but is led by Kremlin appointed governors Denis Pushylin and Leonid Pasichnyk, both of whom were recently accepted into the ranks of Putin's United Russia party. So the question is who is really destroying the population of Donbas?
Oleksandr Zamkovoi