As the anniversary of the Russian annexation of Crimea draws upon us, StopFake presents an interactive rating of Russian fakes about Crimea. Score each fake and determine its place in our rating. We have also prepared a special video digest of the top five fakes about Crimea.
Rate the Most Glaring Fakes About Occupied Crimea
As the anniversary of the Russian annexation of Crimea draws upon us, StopFake presents an interactive rating of Russian fakes about Crimea. Score each fake and determine its place in our rating. We have also prepared a special video digest of the top five fakes about Crimea.
1
Crimean Tatars to Support Putin in March Presidential Election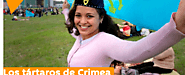 On the eve of Russian presidential elections propagandist media are reporting support for Vladimir Putin from the most unexpected groups. Following in this vein Russian media presented a personal statement from a certain Seitumer Nimetullayev, the chairman of something called the Public Council of the Crimean Tatar People. The only legitimate and recognized group that represents the interests of the Crimean Tatars is the Medjlis, its chairman Refat Chubarov told StopFake that Crimean Tatars are categorically against the candidacy of Vladimir Putin, most certainly do not support him and will not vote for him.
Details here.
2
Ukrainians Visiting Crimea in Droves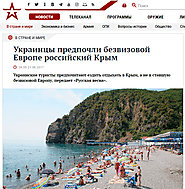 Pro-Kremlin media periodically try to convince their readers that Ukrainians continue to travel to Crimea for vacations, just like they did before Russia invaded and annexed the Ukrainian peninsula. However, web cameras on Crimean beaches and the Ukrainian Border Service tell a rather different story, as fewer and fewer Ukrainians choose to go to Crimea.
More on this story here.
3
World Jewish Congress Recognizes Crimea as Russian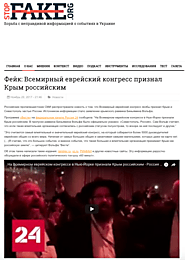 A certain Rabbi from Crimea named Binyamin Volf traveled to New York for a Hasidic gathering, the International Conference of Schluchim. Russian TV portrayed the gathering as a World Jewish Congress. Volf's conference badge read Sevastopol, Russia. Rabbi Volf claimed this was recognition of Crimea being part of Russia. Conference organizers told StopFake they had not made any political statements regarding Crimea. A Schluchim conference is not the World Jewish Congress and a printing mistake on an ID badge is not recognition, in this case Rabbi Volf, well known in Crimea for his pro-Kremlin sympathies, and television channel Rossiya 24 both lied.
Details here.
4
Ukrainians Don't Need Crimea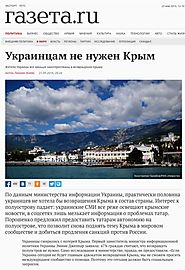 One of the Kremlin's fake narratives is that Ukraine really doesn't need Crimea and Ukrainians don't want the peninsula returned. In a classic and tried and true manner Russian newspaper Gazeta.ru pulled a phrase that a Ukrainian official uttered out of context and declared that Ukrainians don't care about Crimea. But in fact, they very much do. Polls consistently show that a majority of Ukrainians support the return of Crimea to Ukraine. More on that here.
5
Catalonia Recognizes Crimea as Part of Russia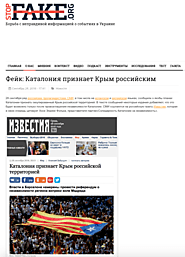 Ever since Russia annexed Ukrainian Crimea, its media have been busy claiming that Italy's Veneto and Liguria regions, Germany's town of Quakenbruck and the Bulgarian parliament have all recognized Crimea to be part of Russia. The Spanish region of Catalonia joined that fake list in September 2016 when Russian media decided that the opinion of a leader of a party that wasn't even in the Catalonian parliament amounted to an official recognition.
Another fake exposed here.
6
Ukraine Drying Up Having Cut Off Water to Crimea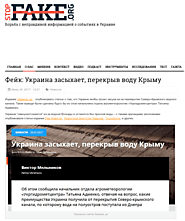 In the summer of 2017 Russian media were clamoring about an imminent drought that Ukraine faced for because it had cut water supplies to the North Crimean water canal, which provides much of the peninsula's water needs from the Ukrainian mainland. Ukraine will self- destruct and be left without water, wailed Russian journalists, claiming an official from the Ukrainian Hydrometeorological Center had said as much. In fact, the official said Ukraine would have more fresh water, not less.
More here.
7
Official American Delegation Visits Crimea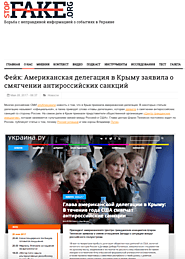 Russian media often report about "official" visits to Crimea, but as it always turns out, none of these visits are at all official. The group that visited Crimea was not an official US government delegation; it consisted of members from the private pro-Russian Center for Citizen Initiatives headed by the Putin fan Sharon Tennison.
More here
8
Ukraine Wants to Exchange Crimea for Transdnistria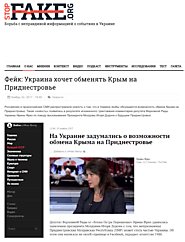 This far-fetched fake was the result of a phrase taken out of context. Ukrainian MP Iryna Fryz was responding to what Moldova President Igor Dodon said about Transdnistria. (Transdnistria is a pro-Kremlin part of Moldova on the border with Ukraine which broke away in 1990. It is not internationally recognized and is notorious for criminality including human trafficking.) Dodon said Transdnistria could become a part of Ukraine or Moldova. Fryz responded on her Facebook page and said Dodon's words could be a signal from the Kremlin about exchanging Transdnistria for Crimea. Ukraine does not trade territories and respected the territorial integrity of other states, Fryz wrote. Russian media treated one MP's comment as a Ukrainian government scenario.
Here are the details.
9
Annexed Crimea Residents Not Eligible for Ukrainian Biometric Passports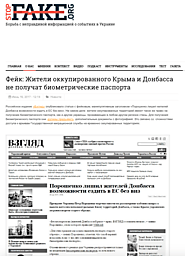 Russian media often write articles to portraying Ukrainian society as deeply divided, the haves versus the have nots. In that tenor Russia's newspaper Vzglyad featured a story claiming that Ukrainian citizens living in the Crimea and Donbas occupied territories would not be eligible for new biometric passports, which are required for visa-free travel to the European Union Schengen zone countries. Ukrainians living in these areas are eligible for the new passports, they must simply provide additional documents to prove their identity and apply for them in un-occupied Ukraine. More on that fake here.
10
Crimea Hosts International Ukrainian Diaspora Congress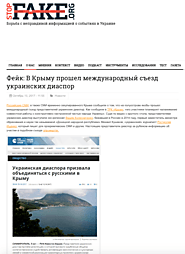 Fake congresses aimed at "creating cooperation between Crimea and Ukraine" are yet another favored Kremlin narrative. In autumn 2017 Russian media declared that an international congress of Ukrainian diasporas had taken place in Crimea. In fact, the so-called congress was a small get-together of pro-Russian politicians led by a former MP from disgraced President Viktor Yanukovych's defunct Regions Party and representatives of the self-proclaimed people's republics in Ukraine's Russian-occupied Donbas.
Details on this fake here.