The website of Russian TV channel REN TV has been using images of victims of the MH17 Malaysian airline disaster to illustrate reports about the alleged discovery of "mass graves" in east Ukraine, Stephen Ennis writes in his article for BBC.
Over the past week, pro-Kremlin media have been full of stories of "mass graves" said to contain victims, including civilians, "tortured", "executed" and "raped" by retreating Ukrainian troops in and around the village of Nizhnya Krynka, 60 km from the insurgent stronghold of Donetsk.
The graves are clear evidence of "war crimes", the Russian media have been saying.
On 25 September, REN TV's website ran a story quoting Russian-backed insurgents as saying that "dozens" of bodies had been discovered in three graves, some with organs removed. It illustrated the story with an image of men carrying what appears to be a body bag.
Four days later, REN TV's website – from which a screen grab was taken, above – reported that "bodies continue to be discovered" in areas that it said had been recently vacated by Ukraine's National Guard. The report contained an image of numerous body bags placed on the ground near to what appears to be a piece of white wreckage.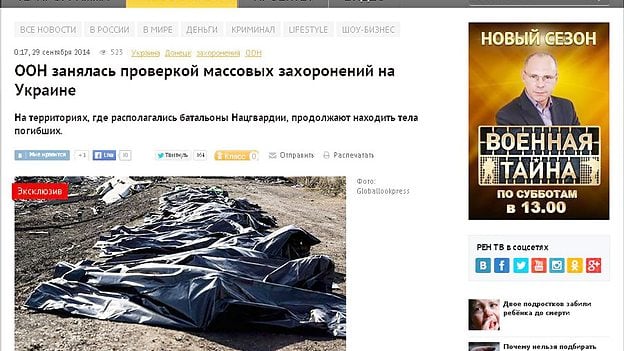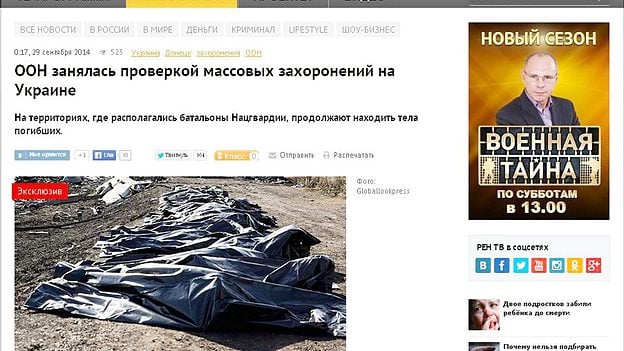 But both of these images were details from photographs that had appeared over a month earlier on the website of the Ukrainian version of the newspaper Argumenty i Fakty in a report referring to MH17, which was downed over insurgent-controlled east Ukraine on 17 July.
The full version of the photographs clearly shows fragments of the airliner's wreckage.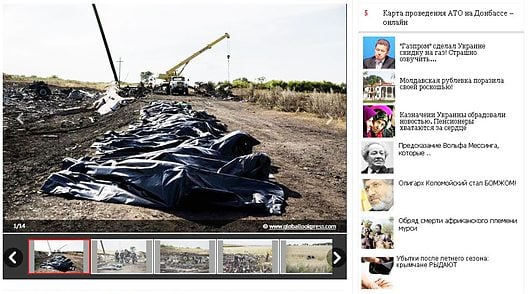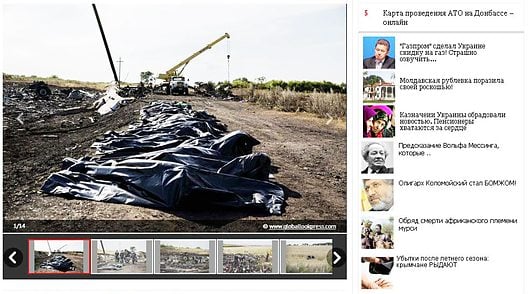 Reality
The second image used by REN TV appears intended to support the reports of "mass graves". The reality is rather different.
An OSCE report on 24 September about the graves mentioned by the Russian media said that two of them contained two bodies apiece. It said that at another site there was a mound resembling a grave marked by a plaque bearing the names or initials of five individuals and suggesting they had been killed on 27 August. There was another inscription saying they had died for "Putin's lies", the OSCE noted.
Russian media reports suggesting that more "mass graves" have been discovered, that the number of victims was much higher or that they had been subjected to torture or other abuses have not been confirmed.
OSCE spokesman Michael Bociurkiw told Deutsche Welle radio on 25 September that a further investigation of the allegations was impossible without a forensic examination. "We do not have a single version about who carried out these killings," he said.
Russian media, though, have been suggesting that the OSCE supports their claims. "3 mass graves found near Donetsk by self-defence forces, OSCE confirms," ran a headline on the website of international broadcaster RT (formerly Russia Today) on 25 September.
Human rights groups, such as Human Rights Watch and Amnesty International, have accused both sides in the conflict in east Ukraine of committing war crimes, including shelling of residential districts and kidnappings.
REN TV is part of the National Media Group (NMG) controlled by Bank Rossiya, whose largest shareholder, Yuriy Kovalchuk, is said to be a close associate of President Vladimir Putin.
NMG was recently in the news when it was announced that the new chair of its board would be Alina Kabayeva, the former gymnast and MP who has been romantically linked to Putin.
By Stephen Ennis, www.bbc.co.uk.