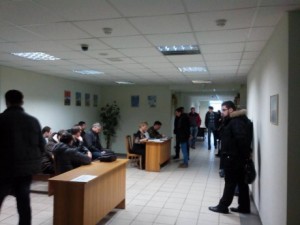 On ria.ru site they posted the news claiming that the appearance in Ukrainian enlistment offices is very low despite the fact that all-Ukrainian mobilization was already announced. And even phone calls from the enlistment office to inductees doesn't make any differences.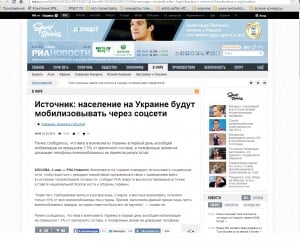 Meanwhile enlistment offices themselves are saying the opposite.
As it was posted on lvivexpress to the house of united enlistment offices of Lviv (the one on Kleparska st, 22) the whole Sunday, the 2th of March, volunteers were coming permanently during whole day. The employees of commissariats said there was never this many volunteers in the whole history of independent Ukraine.
All this while, as officials of Western regional media-center the Ministry of Defense said, the mobilization even hadn't been started. The reason is that the National Security and Defense Council of Ukraine is only consultative authority. And for the official announcement of mobilization the decree of President is needed and its approval by Verkhovna Rada.
The member of Kiev' gothic-metal band 'Inferno', Fritz, posted on Facebook the photo of himself holding a military ID, and said on his Vkontakte page that he was the 3338th in the list of enlistment office of his district.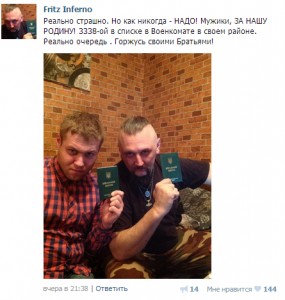 The volunteer Dmitriy also was in enlistment office on Sunday the 2th of March. He was recorded in the queue list and was told that the first group already went on gathering. The volunteer Alexander called to enlistment office of Desnyansky district. As he said, he was asked to leave his phone number and name and was told that many people enroll just like that, by the phone or coming to the enlistment office. They thanked him politely and said to wait for the call.
As Ivan Babenko told on his Facebook page, he came to enroll in enlistment office of Darnitsy district of Kiev and was told that 'mobilization is announced for military personnel and reserve. Civilians are not affected.'

There's already joke in the social networks that 'For the first time in Ukraine. It's inductee who're looking for enlistment offices not, not enlistment offices who're looking for inductees."

As Ukrainian channel TSN said, even before announcement of mobilization by National Security and Defense Council of Ukraine, on Saturday, when doors of enlistment office in Obolon distcrict in Kiev only opened, people started coming. One Facebook post from Andriy Parubiy was enough for that. Post where he told that his assistant was called from enlistment offices with order to be on 8:00 am according to mobilization plan.
And so from the very morning of Sunday the 2th the enrolling of volunteers started. As employee of enlistment office said to "Ukrayinska Pravda", some people where called, but many of volunteers enrolled on their own.
Video with one of the volunteers, Vladislav, posted by 'Ukrainska pravda' on 2nd of March, has alredy almost 100 000 plays.
He came with military ID and passport, as needed. But he was told to wait 5 days till the official mobilization. Enlistment office of Dnestrovsky disctrict also reports about volunteers who came to enroll without a call or agenda..
As military Commissar of Zaporizhia David Moin told zik.ua, enlistment offices in Zaporizka region have mobilized 500 reservists of this area citizens. And they – as he said – would be the ones who will be doing the mobilization of personnel, if the would be announced.