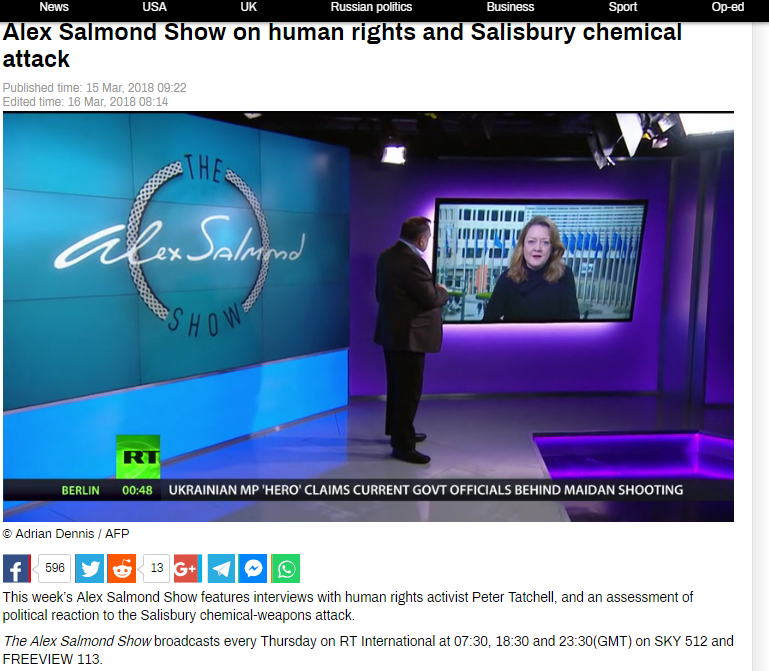 By Sarah Hurst (@XSovietNews), for StopFake

Russia's RT UK channel is now facing 11 investigations from media watchdog Ofcom, following the announcement of the latest three on May 21. Three of the cases under scrutiny relate to RT programmes hosted by former Scottish politicians Alex Salmond and George Galloway. They are interesting for the way they depict various national and international issues, and also because Russia can only benefit from increasing its Scottish audience at a time when a second independence referendum could be on the cards.
Fake tweets
The investigation into Alex Salmond's programme was triggered last December when the former first minister of Scotland and pro-independence Scottish National Party (SNP) leader featured tweets from audience members on the first of his shows that turned out to be from a member of the production team and non-existent accounts. Ofcom is investigating whether the tweets breached its rules on due accuracy. "Over the past week and even before the show has started we've received an avalanche of tweets and emails," Salmond said on the programme. "Can I just say to the media, thanks folks for all the publicity!"
ITV reporter Alan Jenkins drew attention to the fake tweets, one of which said, "When are you getting President Trump on your show?" It was said to be from Twitter user @lastjohn, who was identified by Jenkins as Luisa St John, Salmond's series director. The purported tweets were shown on cards, rather than as screenshots. Another was from a non-existent account @ellalorenR and said, "So why RT?" One of the tweets was simply attributed to "Neil from Miami", and served to demonstrate Salmond's openness to criticism: "I think your show is a huge mistake and reveals a naivety previously only seen in your courting of Donald Trump," it said.
The programme itself, aired in mid-November, included an interview with exiled former Catalan leader Carles Puigdemont, and a commentary from Salmond about the Catalan people's right to vote in their independence referendum without being beaten by police. Since then, Salmond has discussed the Lockerbie disaster and interviewed the Lebanese president and the president of Northern Ireland's Catholic party Sinn Fein. After the poisoning of Sergei and Yulia Skripal he chose to get an "alternative point of view" from regular RT contributor Annie Machon.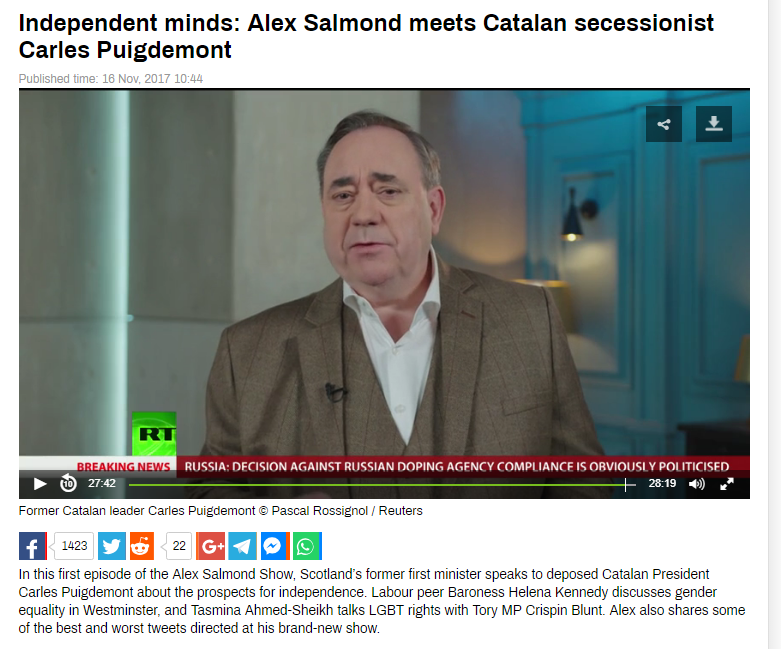 BBC a propaganda machine?
But member of the Scottish Parliament for the SNP Christine Grahame described Salmond's show as "light-hearted" in an interview with ITV in November, despite not having seen it. Alan Jenkins tweeted the interview, in which she said of Salmond, "He's a bit of a devil, isn't he?" She continued: "I think, as long as it's entertaining, frankly, I have no trouble with what he wants to do. He's not a politician any more. I have to say, I'm more troubled with Tony Blair becoming special envoy to the Middle East, which I thought that was a very strange thing to do after taking us into the Iraq war. So on a scale of what Tony Blair did and what Alex Salmond's doing, Alex Salmond is just light-hearted."
"Is it poor judgement to have the show on RT?" the interviewer asked. "We'll see how it pans out," Grahame said. "He says he'll have editorial freedom. If he has editorial freedom it's a message that comes out, not the means, so I'd have to see how it pans out." The interviewer commented: "He may have editorial freedom, but this is still on a channel which is regarded as a propaganda machine for Russia." "Well, one could argue sometimes the BBC is a bit of a propaganda machine, you know, who are we to say?" Grahame replied. Asked if presenting a show on RT was the best use of Salmond's talents, Grahame said, "Perhaps the establishment in the UK hasn't offered him anything."
Skripal scepticism
George Galloway, who was a Labour MP for Glasgow until being expelled from the Labour Party in 2003 for calling on Arabs to fight British troops in the Iraq war, and then became an MP in London for his own now-dissolved Respect Party, also has a regular programme on RT, called Sputnik Orbiting the World with George Galloway (not a joke). Ofcom is investigating two editions of the programme for breaching the regulations on due impartiality: one which discussed the poisoning of the Skripals and the appointment of Mike Pompeo as US secretary of state on March 17, and another that discussed Labour leader Jeremy Corbyn and also the Skripals on April 7.
Galloway set the tone of his programme on March 17 from the outset with the words, "So, President Putin is such a genius that just days before his presidential election and just 100 days before Russia hosts the World Cup, he tries to kill two Russians, one of whom lives in Moscow, and could have been strangled there for nothing with her own scarf! The other of whom could have been killed in a Russian prison, or at any time since. Or later, using a weapon known to have been invented by Russia in England, in public, in broad daylight, for no purpose yet even speculated upon? Pure genius."
Galloway's co-presenter on his programme goes by the single name Gayatri, but in fact she is Galloway's fourth wife, Dutch anthropologist Putri Gayatri Pertiwi, who is 30 years younger than him. She also immediately raised official Russian talking points, commenting, "They say it was a nerve agent called Novichok, or Newcomer, which was developed by the former Soviet Union in the 1980s. Its formula long ago ceased to be secret. Its inventor now lives in the United States. And a version of it no doubt resides in Britain's own nerve agents weapons base at Porton Down, which, as coincidence has it, is just seven miles from the scene of the crime in Salisbury… So, a murder plot, in which nobody yet died, but which has set Britain on a collision course with Russia. It reads like a plot of a spy novel, as indeed it may well be."
"Kremlin spin doctor"
Galloway then asked his guest, "former journalist and Kremlin adviser" Alexander Nekrassov, his first question, again suggesting that the poisoning of the Skripals was staged: "Did this come out of the blue for you? Was this a course of action that you could have predicted? And if you could have predicted it, maybe there's something in that – that this is all a script, this is all a narrative, pre-prepared for some ulterior political motives?"
"Well George, it looks like a badly-prepared provocation," Nekrassov said. "It's like the people behind it didn't really think it through properly. First of all, the target. Now, you mentioned in your opening words that it's strange that they would pick this man who was exchanged in a spy swap, and his daughter, of all people, who came from Moscow, and by the way not the first time she came to visit him. So that particular bit was not thought through at all, and it would be very difficult to explain to anyone who is going to accuse Russia of involvement why they picked these people. So this was a surprise for me," he claimed.
"Now, I was a former spin doctor for the Kremlin," he continued." "The first one, actually, in Russia, and I can tell you, I sense those small things when I see this sort of charade played out. So you can where the problem comes from, and where they will have a hell of a time proving their point. Now, this first thing I said, is the target, wrongly, wrongly chosen, completely. Second point, the assertion that because it's the Novichok nerve agent, that means Russia is behind it. Excuse me, seven miles away is the biggest chemical warfare centre in Europe, Porton Down. Now they have samples of this particular nerve agent, they've had them for years, why, because they need it to produce the antidote. Otherwise you can't do it. We were even informed by some [air quotes] experts in chemical warfare that the antidote was given to Mr. Skripal and his daughter. Which means it was given from Porton Down. So immediately the trail goes not to Russia, but to Porton Down, although, I must say, it might lead to other laboratories, in America, in Europe, well, all over the world. What I have read in the papers, what I have seen on television, goes beyond parody."
In fact, there is no specific antidote for Novichok, only general antidotes for nerve agents. The suggestion that the UK and other countries staged the poisoning of the Skripals as an excuse to blame Russia is beyond ridiculous, since the UK has carried out an enormous and extremely costly operation to treat the Skripals and the police officer who was affected by the Novichok, to decontaminate numerous sites in Salisbury and to investigate the assassination attempt.
Nekrassov, who for inexplicable reasons is regularly invited as a guest on various British TV programmes, has a long track record of saying outrageous things. He has nearly 78,000 followers on Twitter (@StirringTrouble), but his real background and credentials are murky. Today, on the one-year anniversary of the Manchester bombing, an Islamist terrorist attack at an Ariana Grande concert that killed 23 people, he tweeted, "Why are the priests reading from the text at the memorial service to the victims of the #ManchesterArena bombing? How can they not find words from their hearts to talk about the death of so many innocent children? Heartless pricks who have no shame!" Also today he tweeted: "Someone needs to tell Meghan Markle that using her position to plug liberal propaganda, to endear herself to the loudmouthed liberal loons, is no way for a member of the Royal Family to behave. The woman has no idea about royal duty. #monarchy".
Left-wing fellow travellers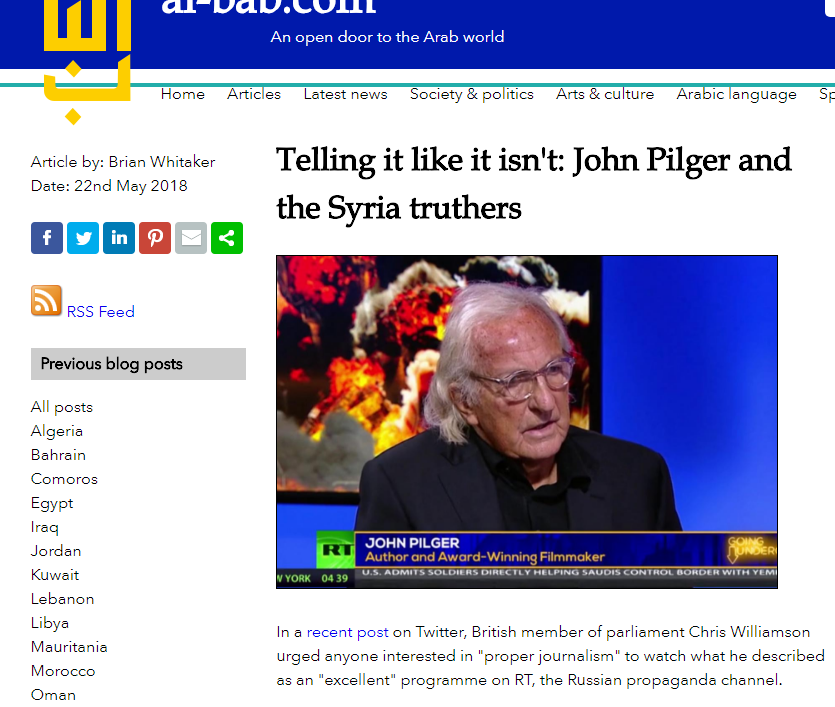 The description for George Galloway's show on April 7 says: "It is not an exaggeration to say that there is a state of crisis in British democracy and in the relationship between the country and its mass media; particularly, state broadcaster the BBC, which everyone in Britain is obliged to pay for on pain of imprisonment." In fact, only households which own a TV must purchase a TV licence, which funds the BBC. The BBC and "MSM" are a favourite target of RT and its fans. On May 5 Labour MP Chris Williamson, who has appeared on MP saying the Skripals were poisoned to distract from Brexit, recommended an RT interview with hard left journalist John Pilger, tweeting, "If you're interested in what proper journalism is about, as opposed to much [of] the stuff that finds its way into the msm, check out this excellent interview with John Pilger." In the interview Pilger repeated the Russian line on the Skripals and also denied the recent chemical weapons attack in Syria. He also denounced "Washington's backing for the Ukrainian regime's neo-Nazis" in an article for the Guardian in May 2014.
On the same programme Galloway's guest talking about the Skripals was David Morrison, who on March 10, 2014 wrote an article for Huffington Post UK called "How William Hague Deceived the House of Commons on Ukraine", complaining that then-Foreign Secretary Hague had "led the House to believe that the Ukrainian parliament, the Verkhovna Rada, had removed President Yanukovich from power on 22 February in accordance with the Ukrainian constitution." And on April 2 this year Morrison wrote on OpenDemocracy.net, "The UK Government has not presented conclusive evidence that the nerve agent used in the attempted assassinations of Sergey Skripal and his daughter Yulia originated in Russia, let alone that the Russian state was responsible for these crimes."
Ofcom doesn't have to spend very much time watching RT to discover fakes, distortions, and an array of dubious characters spreading misinformation. We shouldn't be surprised to see it on RT. But finding the same contributors all over more reputable media outlets is more concerning.
By Sarah Hurst (@XSovietNews), for StopFake