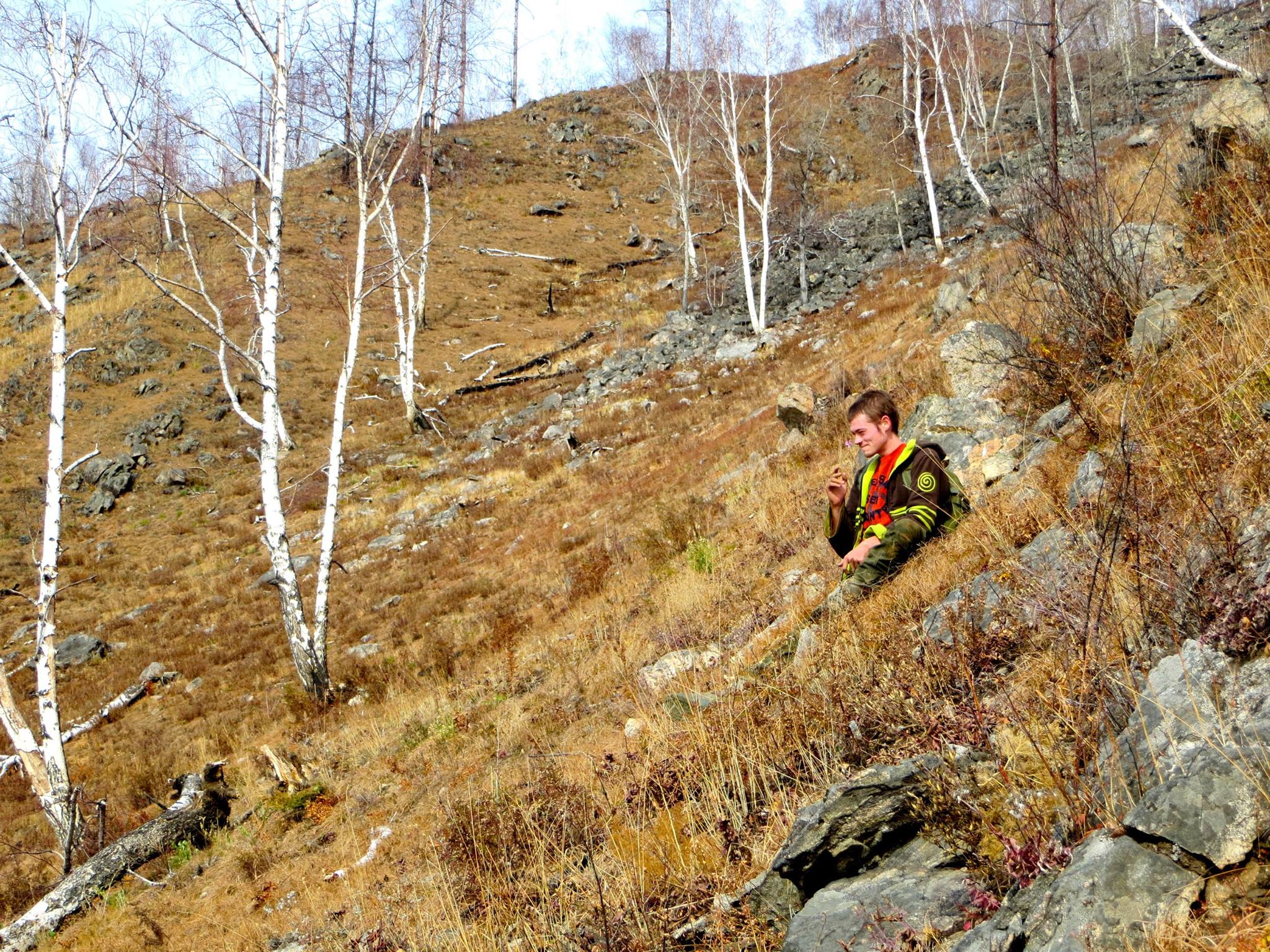 By Sarah Hurst (@XSovietNews), for StopFake

Russian authorities say 25-year-old Colin Madsen from Missouri died from hypothermia in Buryatia under the influence of drugs. His mother, Dana Madsen Calcutt, a doctor, is determined to prove that he was murdered, and has recently received a forensics report that concludes Colin's death was a homicide. US embassy officials say they can't acknowledge homicide as the cause of death unless Russia does this, which is unlikely to happen. But Dana is not giving up on finding the truth.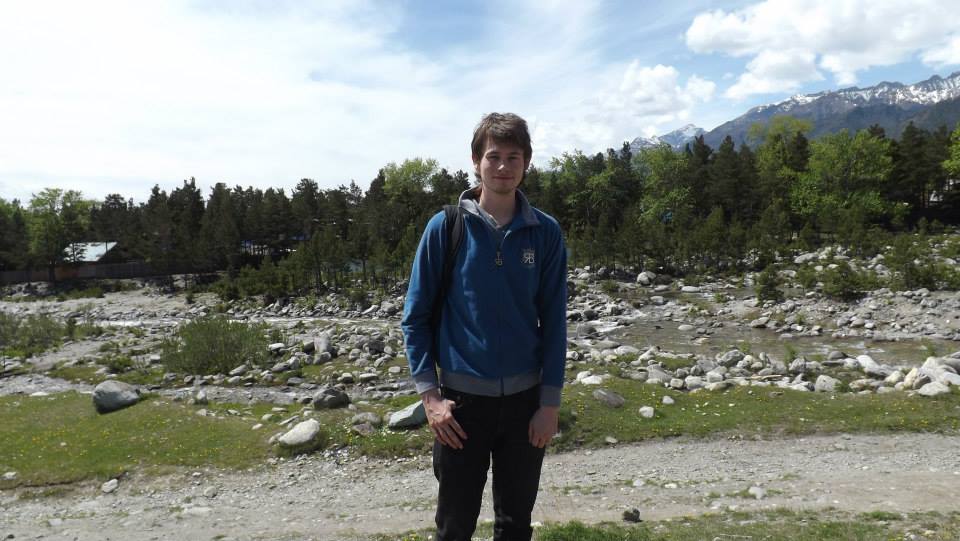 Colin had been studying Russian in Irkutsk and was in Buryatia on a hiking trip with friends. He had hiked in the mountains there before and loved the outdoors, volunteering with environmental groups during his time in Siberia. In the early hours of March 27, 2016, he walked out of the cabin where he and his friends were staying, probably to use the outhouse. He went missing and Dana flew to Russia to participate in the search for him. Colin's body was found eight days later in the woods outside the town of Arshan. His left arm was extended and his fists were clenched.
Police were hostile and rude to Dana when she arrived, trying to get her to agree with her claim that Colin was gay (he wasn't), and refusing to bring dogs into the search. Russian authorities refused to let Dana and US embassy personnel go to the spot where Colin's body was found, calling it dangerous terrain, but the site was 500 metres from an access road and journalists were able to visit it, Dana told Stop Fake. At least 10 men with horses could be seen in photographs of the crime scene. If Colin was murdered, his body could have been brought there on horseback. Dana wonders if red fibres on his shirt could have been from a horse blanket.
Blunt injuries and suffocation
The forensic pathological report on Colin's death written by a Colorado company in June this year concludes that he probably died from suffocation. It notes that there were several blunt injuries on Colin's extremities and head, including two abrasions surrounded by bruising on his scalp, "which cannot be caused by a fall". They were most likely caused by an external force to the head, the report says.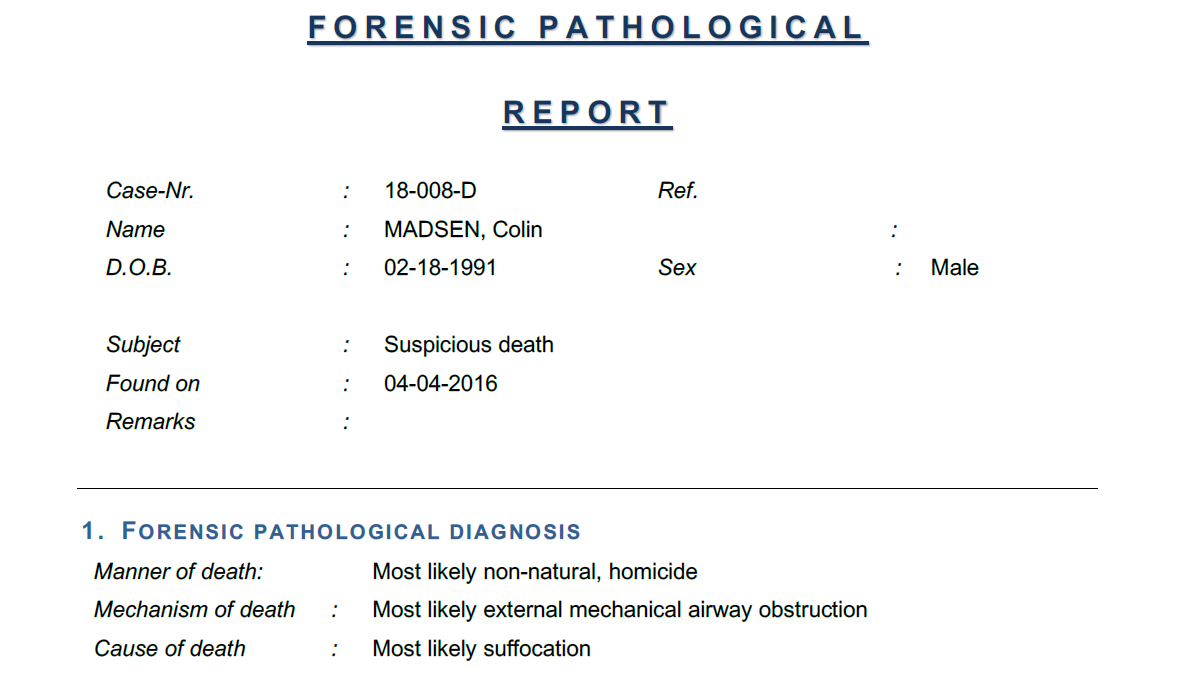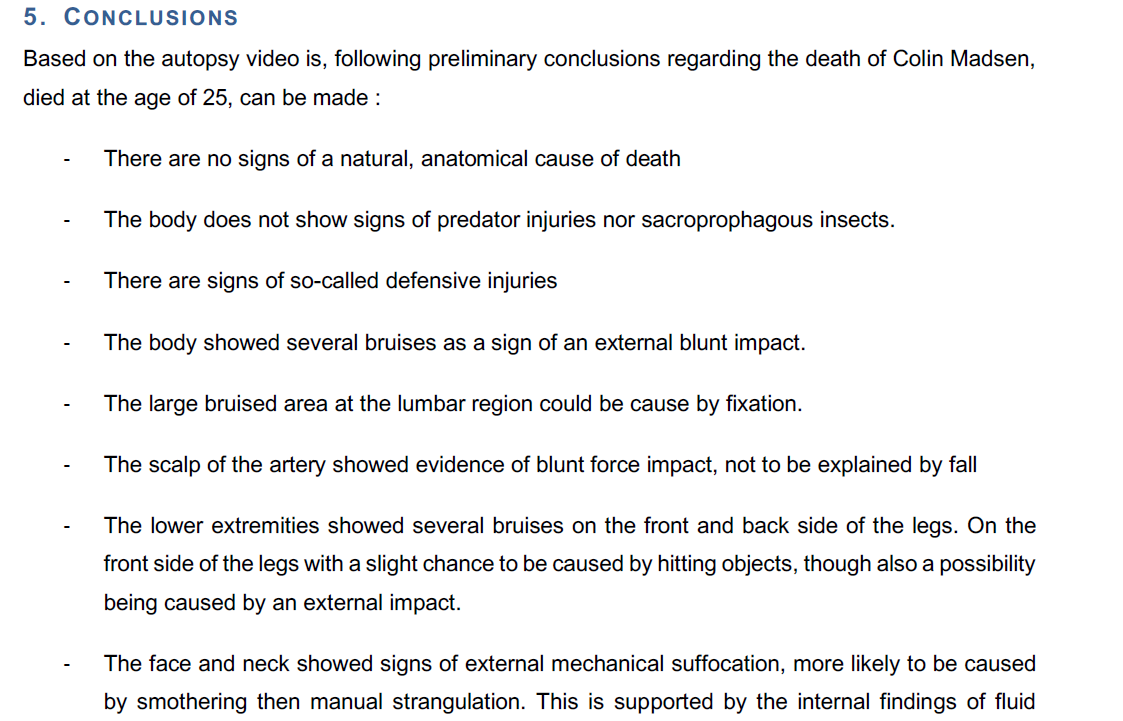 "Furthermore, there are remarkable abrasions on the left ear, which cannot be explained by post-mortem skin dry up," the report continues. "They are sharply bounded instead of more diffuse. Also, there is a suspicion of bruising on the left ear and the skin behind the left ear." The different colourations of Colin's lips and nostrils are notable and point to external mechanical asphyxiation, "like smothering or other external blockage of the airways," the report says. "The lumbar area showed a big bluish discolouration caused by an external blunt force to the body," it adds.
The autopsy video showed no signs of hypothermia or particular damage from predators, which you would expect if Colin's body had been in the woods for eight days, the report says. Nor were there signs of insects and eggs in the body. The pathologists estimated that Colin's body had been in the woods for somewhere between two hours and a day, maximum. They saw no significant decomposition of his internal organs.
A US toxicology report showed that Colin had not taken drugs, as the police claimed. He was found with no socks on and unlaced boots. Colin always wore socks because his boots rubbed on the scars he had from bilateral ankle surgery, Dana said. The police themselves may have killed Colin, she thinks. They gave her Colin's necklace after his autopsy, but the necklace was not on his body in the photographs, and it had two knots in it instead of one when she received it. A woman who claimed to be Colin's best friend, Natasha Yuseva, was allowed into his dorm to pack his things, and to see his body naked in the morgue, while Dana was not. Dana thinks she might have been working for the police.
After Colin's death Yuseva, a musician, posted numerous messages about how much she loved him on his Facebook page and even played a concert in his memory. But one of her messages from April 12, 2016 attacks journalists: "I miss you every single second," she wrote. "Yet, the more I live, the more I believe you are in a much better place now. There's so much rudeness here, so much gossip, so much cheap sensationalism… those fucking journalists eager to seek 'the truth' that will bring them more advertising bucks… god… everyone is just trying to cover their asses, to earn money using your name." Yuseva makes little information public on her own Facebook page, other than a head shot of herself and a picture of a dog and a cat.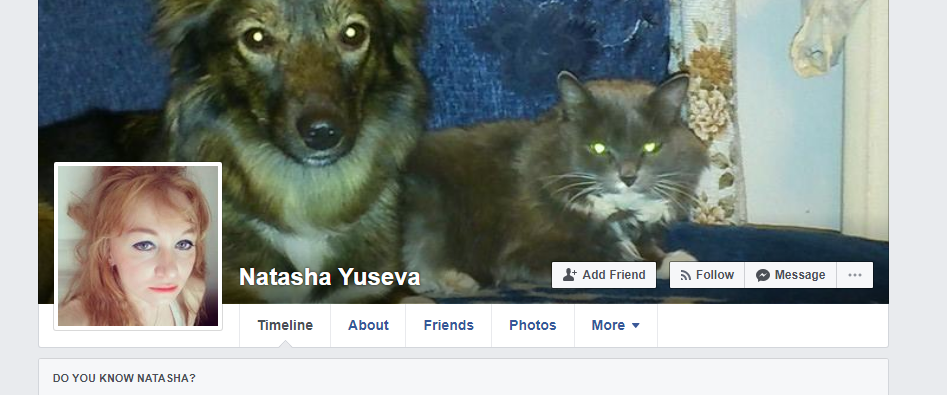 Deaths in custody rife
Police brutality is common in all regions of Russia, with deaths in custody so common that they are nicknamed "Russian Ebola". Last month pro-Kremlin Life News reported that Russia's Interior Ministry was going to investigate its allegations that Buryatia police illegally detained several people and beat them to death. Among them were 26-year-old Erkhete Ayurzhanayev, 24-year-old Alexander Verkhoturov, and 17-year-old Nikita Kobelev. "Local residents say that the brutality is taking place thanks to an internal Buryatia Interior Ministry order that was signed by Oleg Kudinov back in 2014, when he took the post," Life News said.
Kobelev and his friend Dmitri Tutynin were arrested in June 2016, accused of stealing a bicycle. Three police officers were subsequently charged with killing Kobelev, and another two were charged with torturing Tutynin. Drugs charges that had been brought against Tutynin were dropped. The issue of torture in Russian prisons has also come to prominence recently, after a video was published showing guards brutally beating a prisoner in Yaroslavl. Several prison service officials now face criminal cases, including the former head of the prison in Karelia where Putin critic Ildar Dadin was tortured in 2016. Now could be the right moment to demand an investigation into Colin Madsen's case too.
If the US State Department lists Colin's death as a homicide, "it will bring us closer to finding justice for Colin's untimely death and those of others that were murdered before him and those that will be murdered after him," Dana wrote on Facebook on August 4. "I know that Russia must seem far away and not in our immediate concern but this behavior in any country has to be stopped. The only way it will be stopped is if we all fight together to end this corruption and evil."
By Sarah Hurst (@XSovietNews), for StopFake