By Sarah Hurst (@XSovietNews), for StopFake
Last night British police announced that 44-year-old Dawn Sturgess had died in Salisbury as a result of Novichok poisoning. She and her partner Charlie Rowley were hospitalised in critical condition on June 30. Rowley remains in critical condition. The couple are believed to have touched a contaminated item left over from the poisoning of Sergei and Yulia Skripal in March, but the item has not been found and police say they can't guarantee local residents' safety. Russia maintains its denials about any involvement, but is struggling to come up with a convincing alternative theory.
Vladimir Putin's spokesman, Dmitri Peskov, commented cynically: "We offer our condolences in connection with the death of British citizen Dawn Sturgess, who died on July 8 after poisoning by a paralytic nerve agent in the British town of Amesbury, and as before we are deeply concerned about the continuing appearances of poisonous substances on the territory of Great Britain. This poses a danger not only for British people, but also for all other Europeans. The Kremlin doesn't know that 'Russia is somehow associated' with the incident in Amesbury, such accusations would be absurd."
Russia the real victim?
Russia's permanent representative to the Organisation for the Prohibition of Chemical Weapons (OPCW), Alexander Shulgin, gave an interview to Izvestiya in which he suggested that the poisoning of Sturgess and Rowley was timed to coincide with the World Cup semi-finals and Putin's forthcoming summit with Trump. "Recently these kinds of stories have been happening on the eve of important events," he said. "Now we're approaching the final stage of the World Cup and the Russia-US summit in Helsinki. It's difficult to rid oneself of the thought that all this was planned and deliberately put out there to exacerbate the international situation and do damage to Russia's authority and its relations with other countries."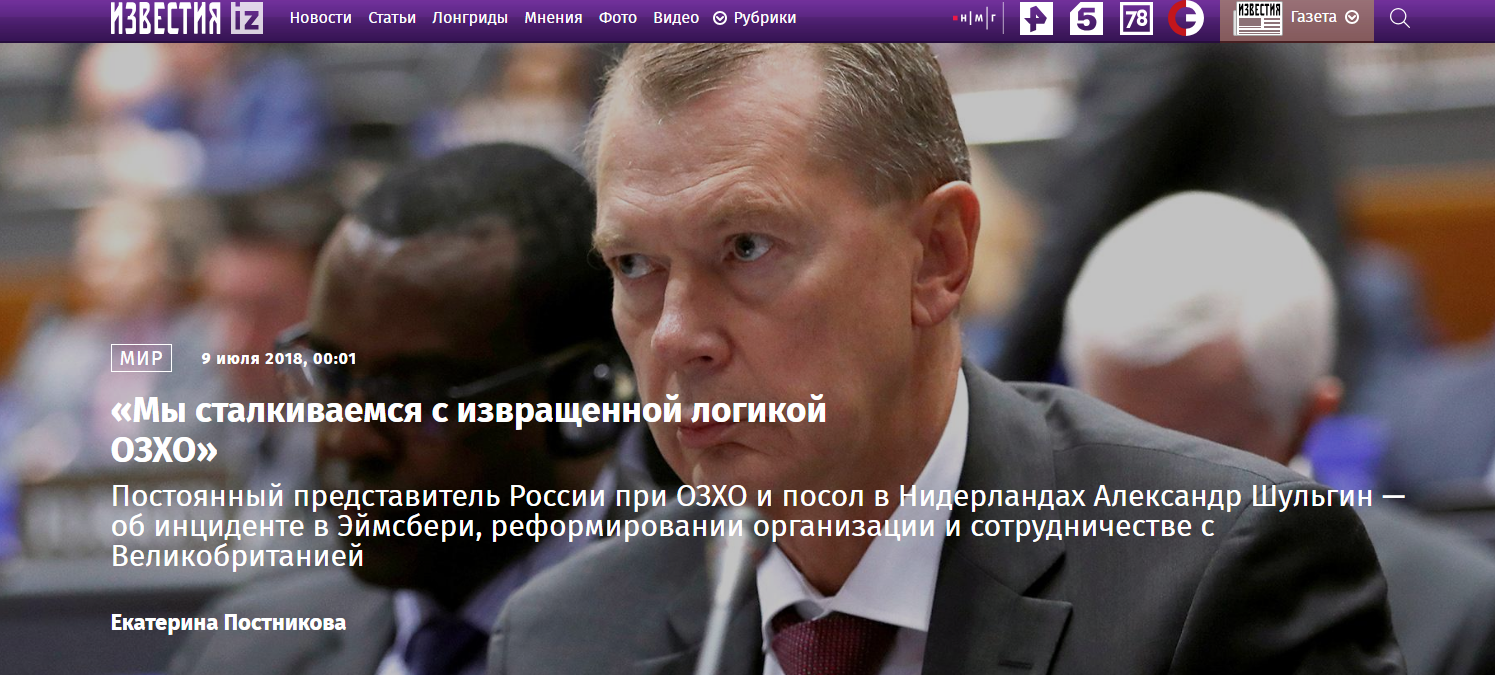 However, Theresa May's cabinet is mired in crisis for another reason: the deal on what Britain wants from Brexit that she supposedly thrashed out at a weekend meeting at Chequers has fallen through, with the minister for Brexit, David Davis, handing in his resignation, closely followed by Foreign Secretary Boris Johnson. May could face a leadership contest or even a general election, with the possibility of Jeremy Corbyn's Labour Party defeating her divided Conservatives.
Russia's leading TV news programme Vesti captioned its report on the death of Sturgess "Provocation in Amesbury" and led with Shulgin's comments. The reporter said that "many experts" doubt that Sturgess and Rowley could have been poisoned by the Novichok four months after the Skripals, and concluded that British police don't seem to be considering the theory that the Porton Down defence laboratory could be the source of the poison (probably because it's ludicrous).
Novichok branding
Treating the whole incident as a joke is another Kremlin tactic, and Russian companies have risen to the challenge by naming products "Novichok". In April an Ulyanovsk Oblast farmer launched a Novichok cooking oil. Now there are also Novichok T-shirts and Novichok beer.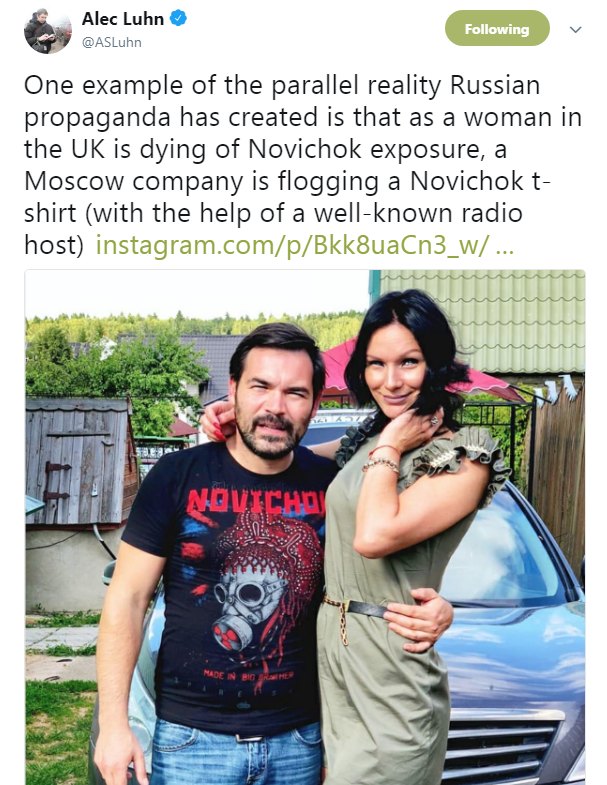 As the Belarusian radio station Euroradio reported, a Russian microbrewery called Alaska manufactures the beer and it is now available on the shelves in Minsk. The advertisement for it says, "The mesmerising taste draws your receptors and consciousness into a paralytic nerve nirvana… Strictly secret. Trump won't be able to prove anything."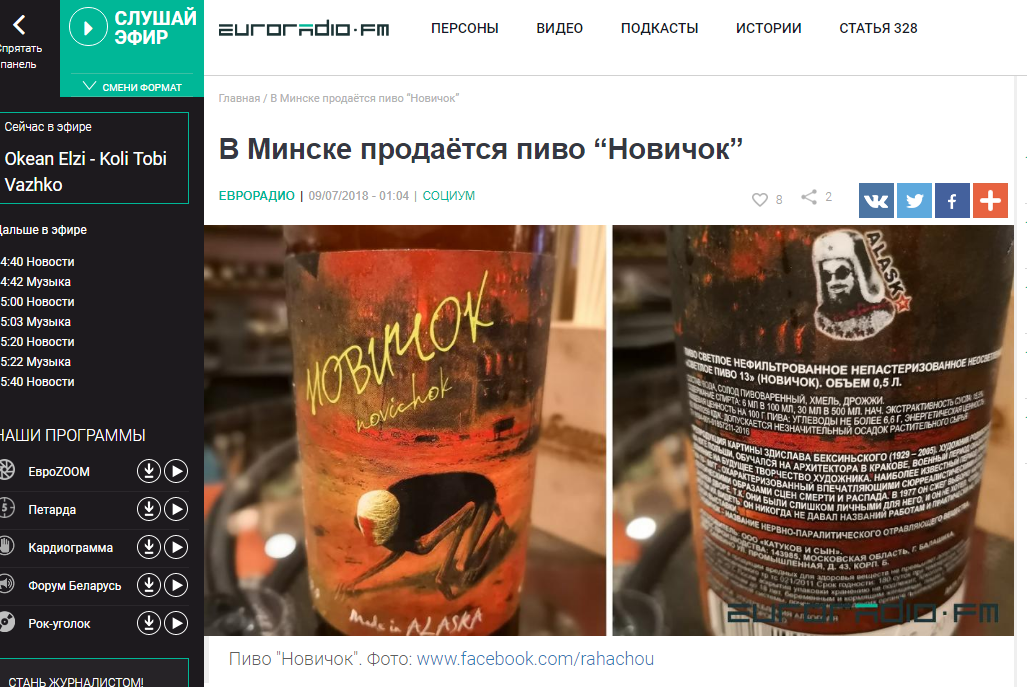 Russian media also plays up the claim that Sturgess and Rowley may have been recovering drug addicts, implying that they could have been poisoned by drugs, and that anyway their lives weren't worth much. As Sputnik author Jon Gaunt wrote on July 6, before Sturgess died, in an article titled "UK needs US and Russia, NOT EU": "Pantomime season has clearly arrived early in the sleepy city of Salisbury. Can you believe the latest twist in the Skripal saga? Now two druggies have fallen ill after picking up a contaminated syringe or vial with the deadly (or not so deadly as it turns out) Novichok." In fact no one knows what kind of contaminated item Sturgess and Rowley touched.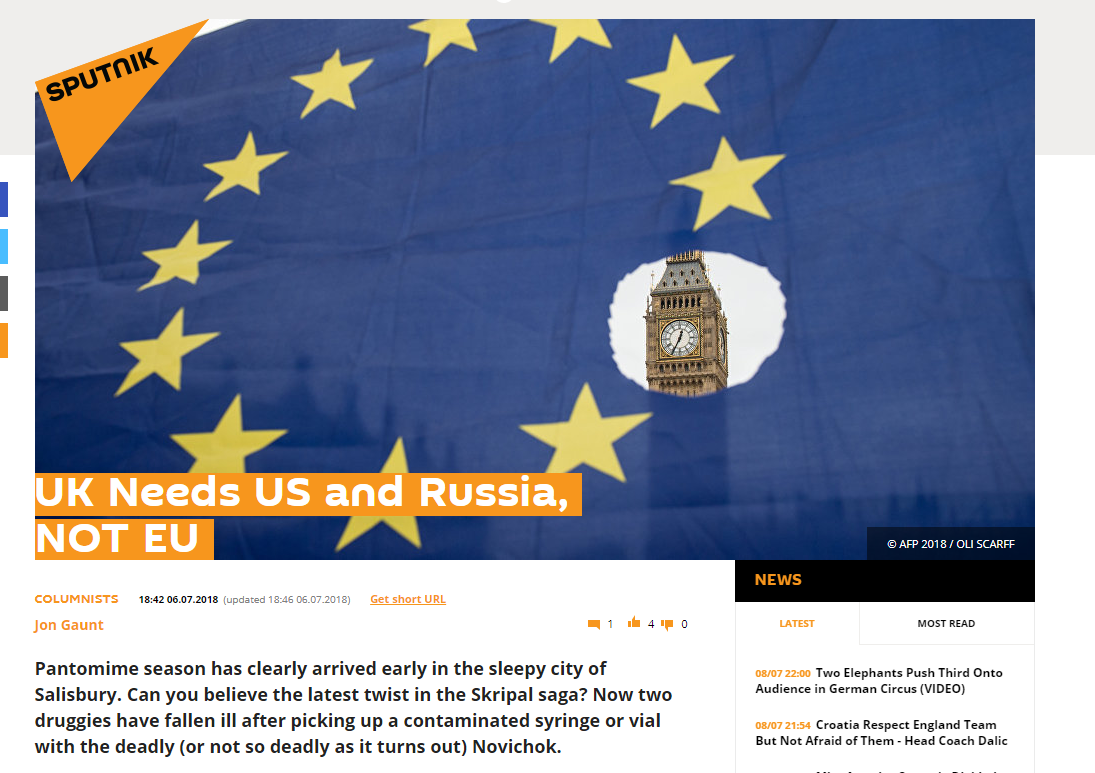 Attacks on critics
RT's response to the death of Sturgess was to attack leading commentators who believe that Putin was behind the Novichok poisonings. In an article titled "British MP, establishment journalists rush for Putin's blood after Amesbury chemical death," RT criticised Labour MP Mike Gapes, who has frequently spoken out about Russian aggression, unlike Jeremy Corbyn. Gapes tweeted, "Sad news that Novichok victim Dawn Sturgess has died. This was a murder of a British citizen as a result of use of a chemical nerve agent produced by the Russian state." RT commented that Gapes "recently got some limelight by urging British parliamentarians against providing any commentary to RT," and added, "Gapes' vitriol was joined by Kremlin watchers from UK establishment media, Russia correspondent for The Telegraph Alec Luhn, and The Guardian's Luke Harding."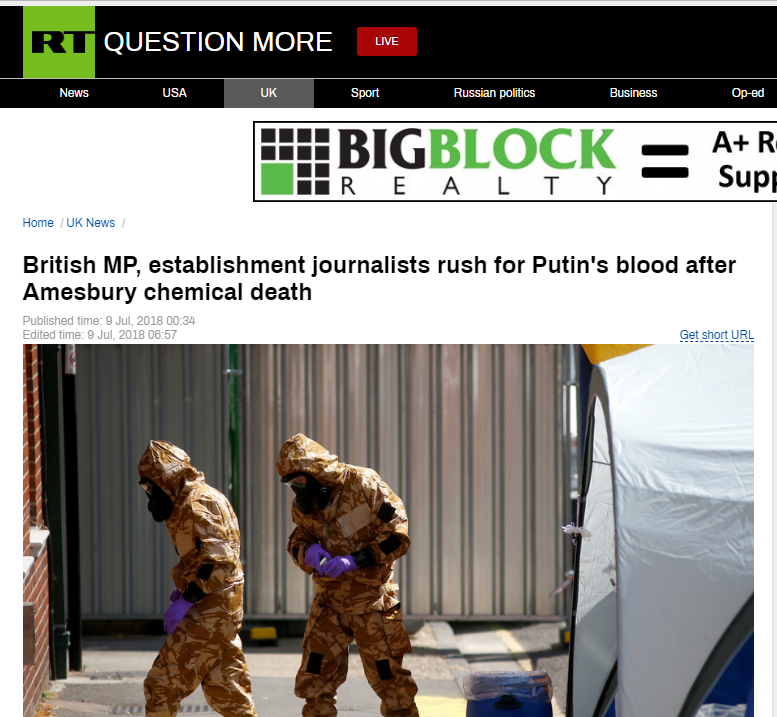 Luhn tweeted, simply stating facts: "Vladimir Putin previously argued that the Russian state couldn't have used a military nerve agent in the UK because the victims would have died. Now one of them has." Harding tweeted: "Dawn Sturgess dies after exposure to #novichok. The circumstances unclear. An utter indifference to collateral damage one of the hallmarks of the #Putin regime and its extra-territorial operations."
Gapes continued to fend off Russian trolls today, asking one called Paddy (@TattyStrat), "A bot with 3 followers. What's the weather like in Russia?" in response to Paddy's comment, "No motive, no evidence, no way Russia involved. Obviously Dawn Sturgess, a heroin addict, was expendable in the hope this pathetic, murderous charade would get more Brits on Govenrments [sic] side. It hasn't worked. So who's next?"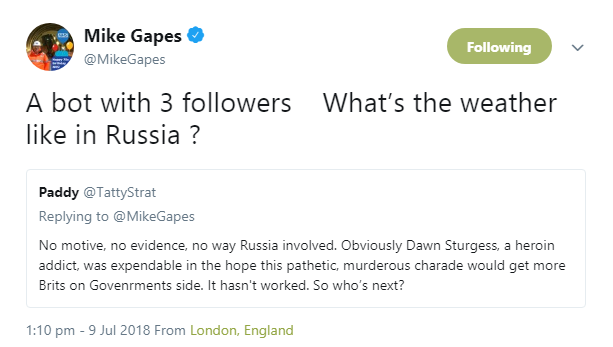 World Cup boycott collapses
Yesterday, just before the announcement of Sturgess's death, RT published a poll asking if British royals and officials should "witness World Cup history" and watch the England-Croatia semi-final instead of boycotting the event because of the attack on the Skripals. Britain is one of the only countries maintaining the promised diplomatic boycott, since the Croatian president has been to Russia and France's Emmanuel Macron plans to go for the France-Belgium semi-final. Out of 5,031 votes at the time of writing, 45 percent were for the royals attending because "Russia's involvement in the Skripal case is not proven," with only 12 percent of RT readers saying the royals shouldn't go.
Russian authorities insist that they want to help with the investigation into the poisonings and are not being allowed to do so by Britain. If they really want to help, they can tell police what the contaminated item is and where it was dumped. Since they have no intention of admitting their involvement in the case, the massive police effort will have to continue in the hope that at some point Salisbury residents can feel safe again. For now, the terrorist attack isn't over.
By Sarah Hurst (@XSovietNews), for StopFake