By Sarah Hurst (@XSovietNews), for StopFake
Russia escalated its long-running hate campaign against the White Helmets Syrian rescue group in response to the evacuation over the weekend of 422 volunteers and their family members to Jordan via the Israeli-occupied Golan Heights. About 300 more have been unable to evacuate due to the fighting in Syria. The UK, Canada and Germany have offered to resettle those who do manage to escape. Russia appears to support the Assad regime's view that the evacuation was a "criminal operation."
Russian diplomatic Twitter accounts and English-language websites bashed the White Helmets ferociously when the evacuation became known. Russia has continuously accused the rescuers of being jihadis and of staging chemical weapons attacks, and these themes were repeated in the latest propaganda surge. "Yesterday #442 White_Helmets militants and their family members were evaquated [sic] from South-West #Syria," Russia's embassy in Israel tweeted on July 23. "At least there is one positive consequence," it continued. "A chance that White Helmets will use chlorine in order to stage a chemical provocation in South-West Syria has decreased."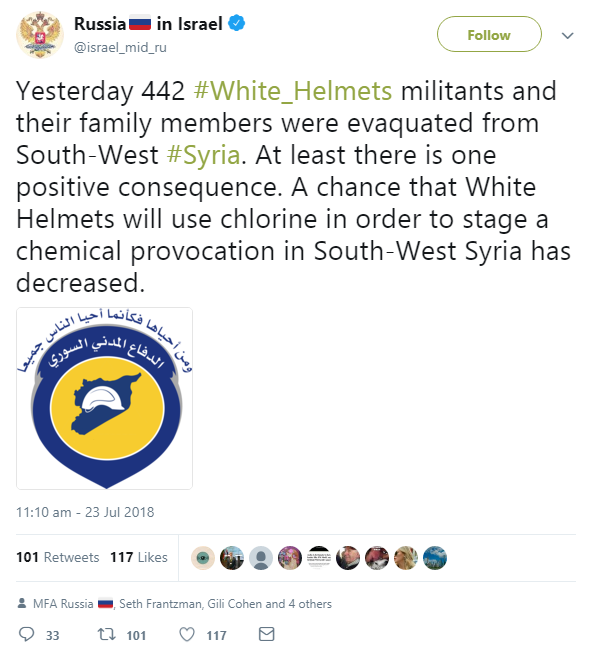 Sputnik ran an article with the headline "Militant Commanders Flee With White Helmets During Syrian 'Evacuation' – Reports" on its website, quoting pro-Assad outlet Al-Masdar News as claiming that at least four militant commanders were evacuated with the White Helmets. Russia considers everyone who fights against Assad to be terrorists.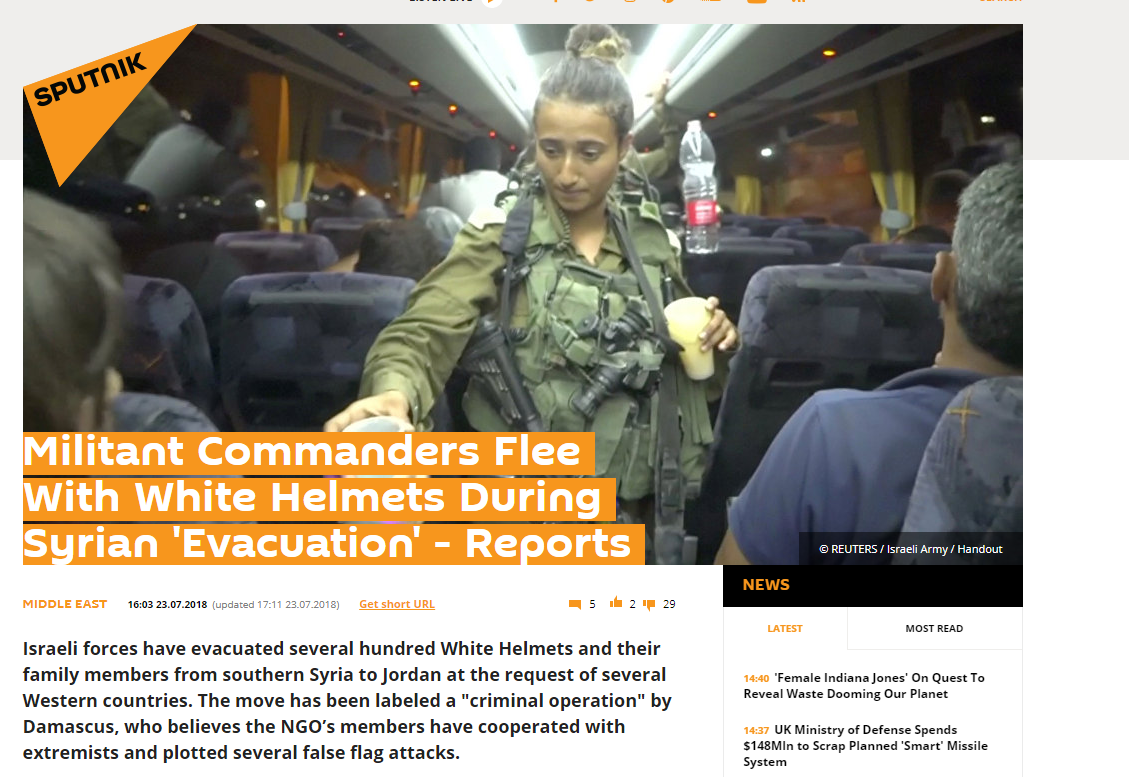 Denouncing Western support
The official statement of Russia's Foreign Ministry about the evacuation does its best to discredit the White Helmets, calling them "pseudo-humanitarians", and continuing: "It is well known that it was the White Helmets who were implicated in the most odious provocations during the Syrian conflict. They acted exclusively in areas controlled by Islamic radicals and concocted outright fakes, which were then used as a pretext to level accusations at the Syrian authorities." The Foreign Ministry accuses the White Helmets of shooting propaganda videos, and concludes, "It is symbolic that the White Helmets chose to flee to Syria with foreign intervention, thus revealing who they really are and demonstrating their hypocrisy to the entire world. As the saying goes, a guilty conscience gives itself away, and these operators clearly showed whose orders they were following and who was funding them."
In fact, the White Helmets' heroism has been recognised by many international organisations. The Netflix documentary "The White Helmets" won the Oscar for Best Documentary Short in 2017. The White Helmets were nominated for the 2017 Nobel Peace Prize by 133 organisations, including Christian Aid, Doctors of the World UK, the Eastern European Development Institute and Islamic Relief UK. Individuals who supported their nomination included celebrities Bear Grylls, Ben Affleck, Damon Albarn, Dave Eggers, Juliet Stevenson and Justin Timberlake. The White Helmets didn't win the prize, but did receive the Right Livelihood Award of 315,000 euros in September 2016 and the Good Housekeeping Women of the Year Award in October 2017. In their acceptance speech the group said that they had saved over 99,000 lives in Syria.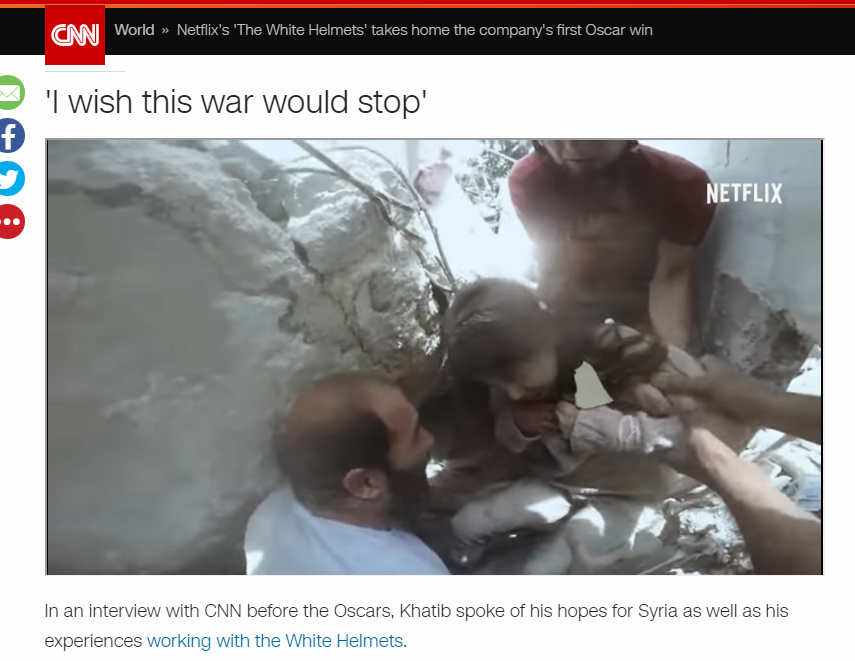 Inciting hatred and fear
In all its claims about the White Helmets being "fake", Russia has only managed to point to one fake video, which the group has already apologised for. In November 2016 there was an internet craze called the Mannequin Challenge in which people posed motionless on a video with music playing in the background.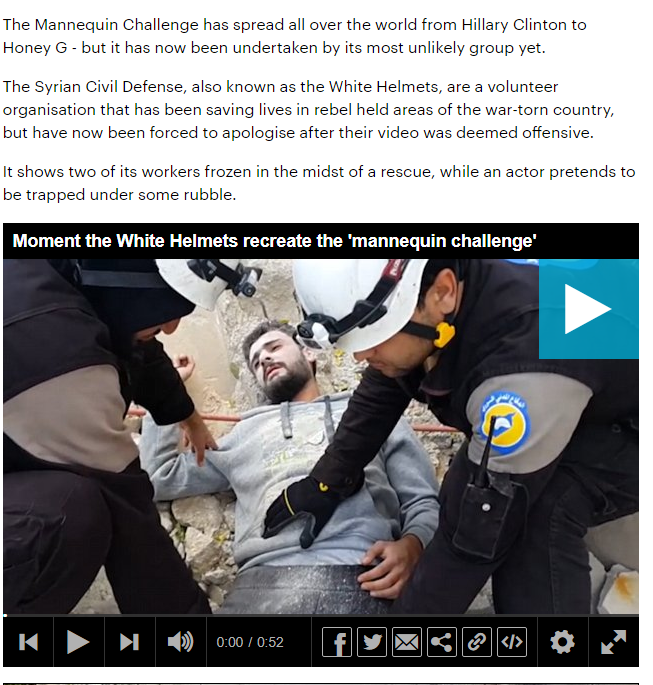 The White Helmets tried to promote themselves by staging a Mannequin Challenge with an actor playing a victim in the rubble whom they were rescuing. When criticised, they admitted the stunt was a bad idea. Yet on July 24 the Russian embassy in the UK tweeted a picture of the Mannequin Challenge (without explaining what it is), stamped with the word "Fake" in red.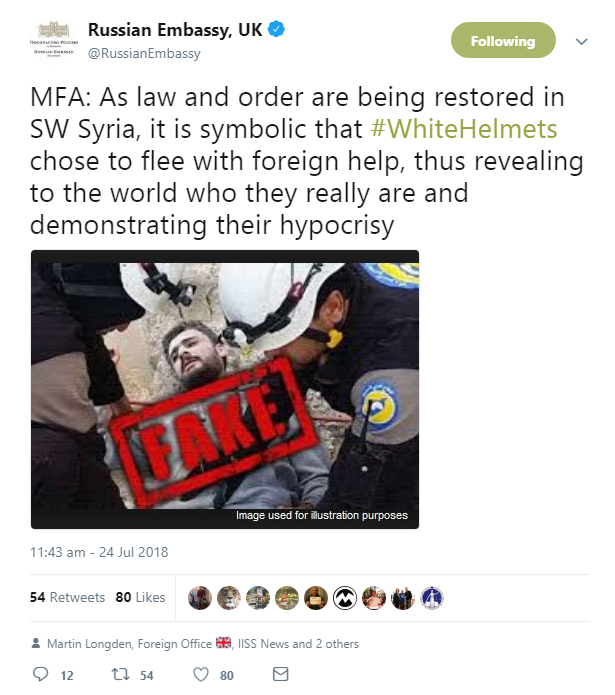 RT quoted a selection of the usual pro-Russian shills in an article titled "'They may be jihadists but they're our jihadists': White Helmets' UK resettlement policy attacked." The quote about jihadists was from a tweet by former British ambassador to Uzbekistan Craig Murray, who constantly supports the Kremlin. Murray criticised the British government's hypocrisy in offering asylum to the White Helmets but not to interpreters who worked for the British military in Afghanistan or Iraq. The point is valid, but there is no discernible sinister motive behind the offer to the White Helmets – it was more a spur of the moment decision in an emergency, and no guarantees have been made as to how many White Helmets will eventually end up in the UK.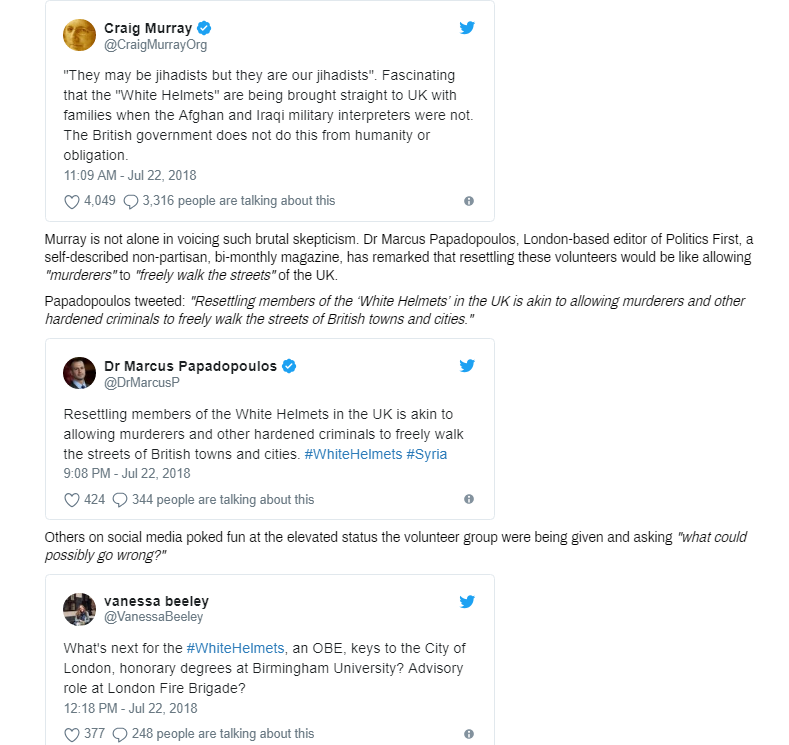 RT also quoted a tweet from one of its favourite Assad-supporting bloggers, Vanessa Beeley, who wrote, "What's next for the #WhiteHelmets, an OBE, keys to the City of London, honorary degrees at Birmingham University? Advisory role at London Fire Brigade?" Her sarcasm is nonsensical, since most countries would be grateful for the White Helmets' rescue skills and experience.
Corbyn connection
Another tweet in the article came from Dr. Marcus Papadopoulos, editor of an outlet called Politics First, who wrote, "Resettling members of the White Helmets in the UK is akin to allowing murderers and other hardened criminals to freely walk the streets of British towns and cities." On his Twitter profile Papadopoulos describes himself as "Expert on Russia/USSR and Former Yugoslavia." In March 2017 he wrote an article for RT titled "The US plan for Macedonia: Keep Serbia down and Russia out." In July last year he attracted national media headlines in the UK when he was photographed at a pizza restaurant in London with Labour Party leader Jeremy Corbyn. The Telegraph's headline was: "Jeremy Corbyn pictured enjoying pizza with controversial pro-Assad campaigner who denied genocide in Srebrenica." Papadopoulos tweeted that he hoped Corbyn would become Britain's next prime minister.
RT included a tweet from another pro-Corbyn account in its article, Pablo Miller's Vest (@WarmongerHodges), which has 9,830 followers and says in its profile, "Far from a bunch of 'loony lefties', Labour under Jeremy Corbyn represent the voice of common sense." The account's tweet said, "So the government have agreed to allow White Helmets to settle in the UK, despite many independent journalists and former UK ambassadors insisting they are made up of jihadi terrorists. What could possibly go wrong?" The account devotes a large amount of its time to denying that Jeremy Corbyn and supporters are anti-Semitic and attacking Israel.
Kenneth Roth, executive director of Human Rights Watch, tweeted on July 23, "Why do the Syrian and Russian government (and trolls) hate the White Helmet rescuers so much? Because they are front-line witnesses to the Putin-Assad war-crime strategy of targeting civilians and civilian institutions in opposition-held areas." This is a great summary of the situation. The question of why some Western commentators are so vitriolic towards the White Helmets and sympathetic towards Putin and Assad still remains to be answered.
By Sarah Hurst (@XSovietNews), for StopFake