By Sarah Hurst (@XSovietNews), for StopFake
The "space nation" of Asgardia attracted global headlines last month when its "Head of Nation", 54-year-old Igor Ashurbeyli, was inaugurated in a gala ceremony at the Hofburg palace in Vienna.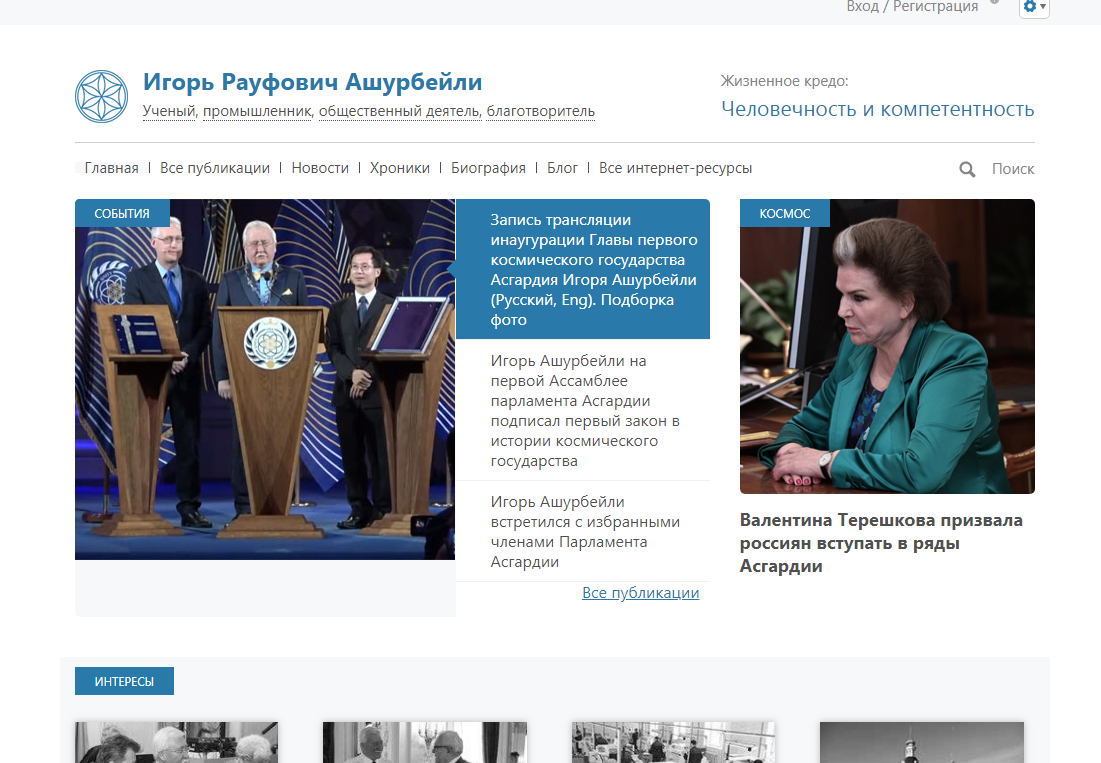 Ashurbeyli was the CEO of Russia's arms conglomerate Almaz-Antey from 2000 to 2011, the manufacturer of the Buk missile that shot down flight MH17 and the S-400 anti-aircraft missiles that Turkey is currently purchasing, to the dismay of its NATO partners. Many of Asgardia's "citizens" who plan to colonise space are Russians, but the organisation is also attracting thousands of disaffected or idealistic people from all over the world.

Asgardia's CEO, Lena De Winne, is a Russian who has worked in the EU and the United States. Its other senior official, Mikhail (Michael) Spokoiny, was born in Odesa in 1955, worked for Almaz-Antey in Moscow, then moved to California and obtained US citizenship in 2009.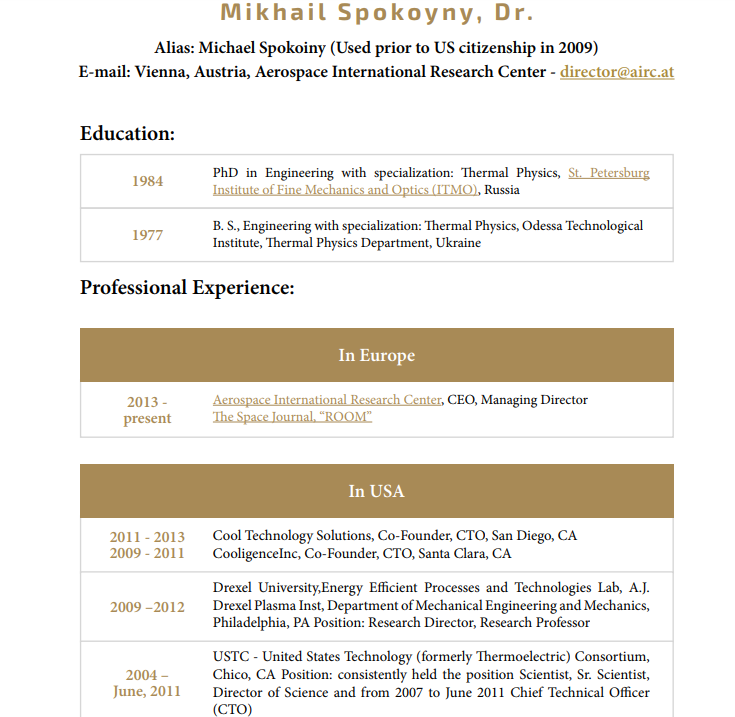 After Donald Trump announced the creation of a Space Force last month, De Winne appeared on FOX News to explain why Asgardia opposes this. "There is an outer space treaty which was initiated in the late sixties, also with America as one of the founding initiators, and the purpose of that outer space treaty was to make sure that there is no war proliferation in space," she said.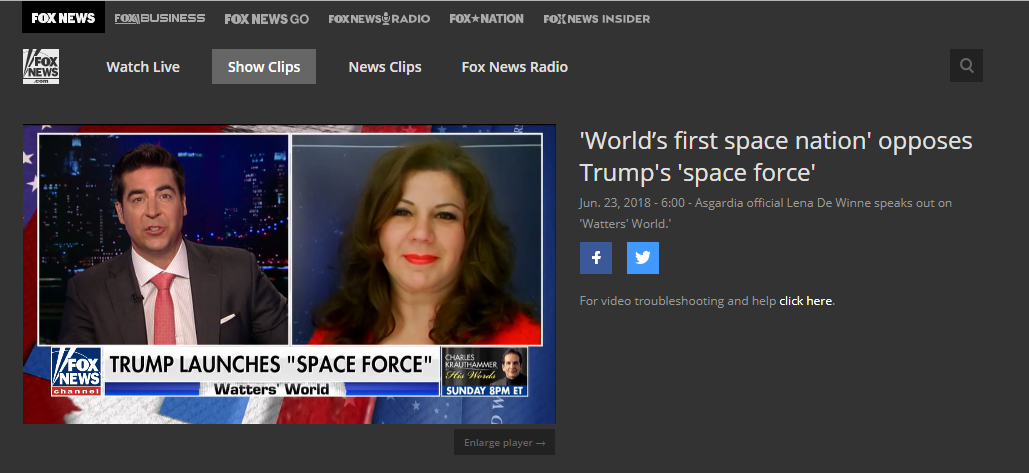 However, in October 2016 at a press conference at the Ritz Hotel in Paris announcing Asgardia's creation, Ashurbeyli said that it would have nuclear weapons to protect Earth from asteroids.
Missiles and Orthodoxy
A year later Ashurbeyli gave a press conference at the Ritz Hotel in Moscow together with De Winne, where he announced that the European Union Intellectual Property Office had confirmed the registration of Asgardia's own cryptocurrency, the Solar. He claimed that Asgardia represented "more than 107,000 citizens of 204 Earthly countries". Ashurbeyli noted that Asgardian women are the happiest because 84 percent of the population are men.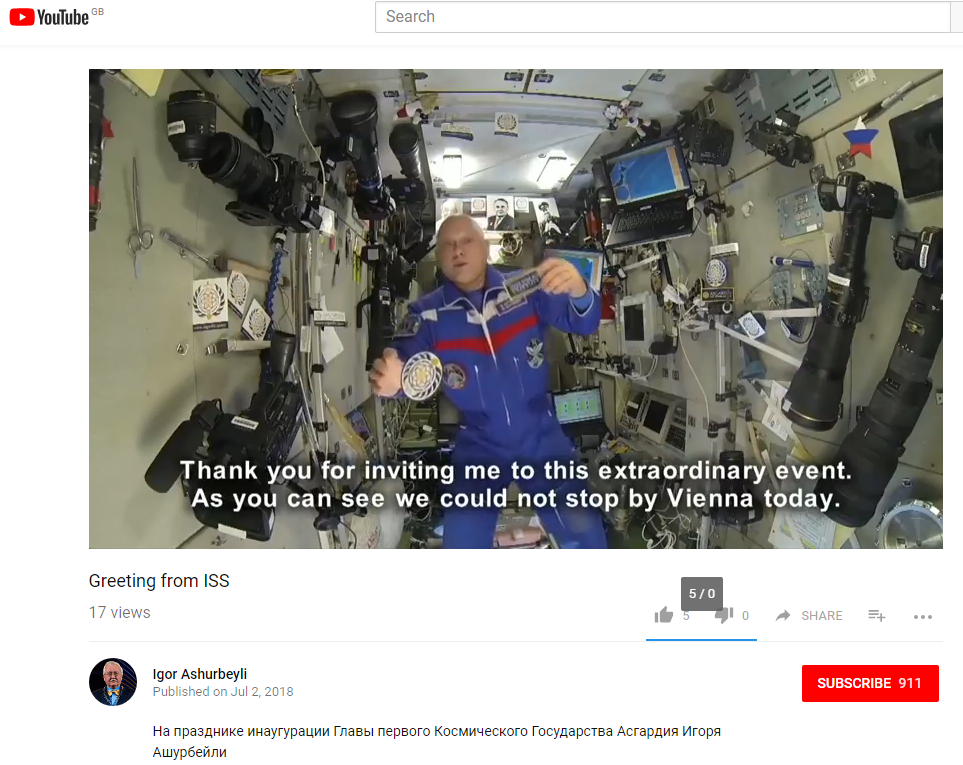 An interview with Ashurbeyli by Meduza in January this year provides some fascinating details about his background and activities. Ashurbeyli still works out of the building that houses Almaz-Antey, and his holding company Sotsium, which has ties to the defence industry, is also based there. Ashurbeyli is proud of his achievements at Almaz-Antey but angry that they fired him: "There's something called the S-400; it's the pride of the whole country. I'm the person who made this missile system happen. Period. And as thanks they showed me the door," he told Meduza.
Like Vladimir Putin (to whom he wrote a birthday message last October), Ashurbeyli is nostalgic about the Soviet era but also a big supporter of the Orthodox Church, building cathedrals and acting as the director of the Imperial Orthodox Palestine Society in Israel, according to Meduza. He thinks Russia should be ruled by a tsar. And somehow he finds time to lead the Party of Russia's Rebirth, which was founded by an old friend of his, former Duma speaker Gennady Seleznev, who died in 2015.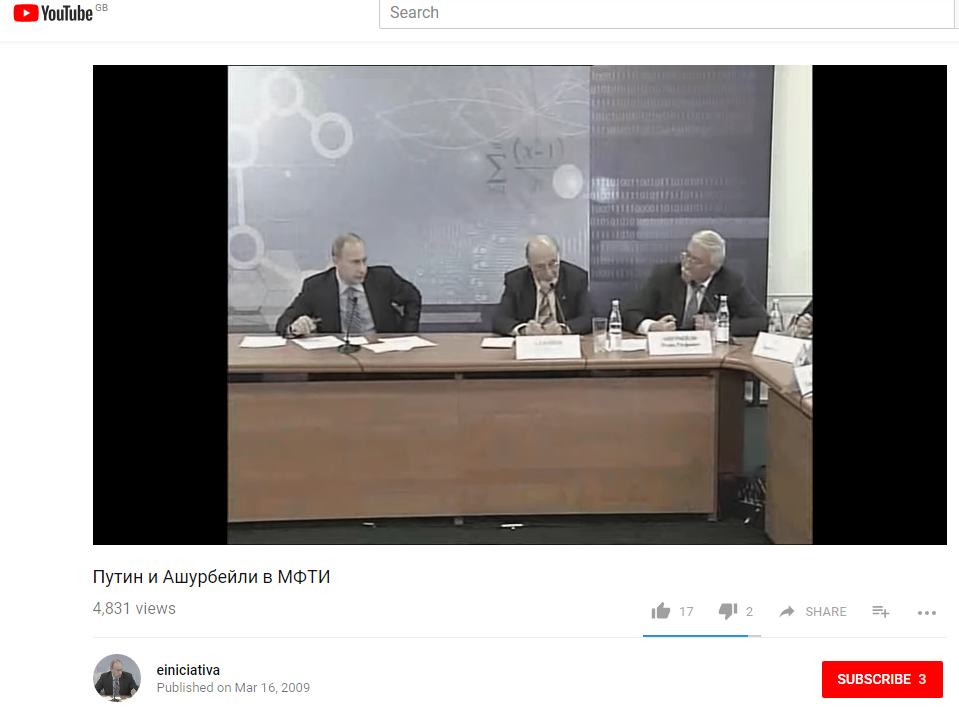 Russians proliferate
Ashurbeyli denies he is trying to scam his "citizens", but Asgardia welcomes donations and also encourages people to buy shares in its joint stock company, Asgardia AG, which is registered in Vienna, where the space nation's headquarters is located.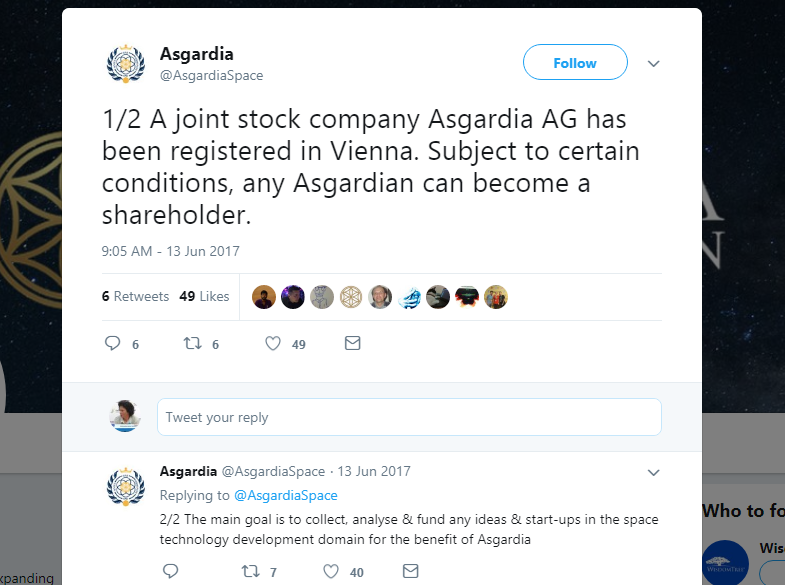 On his YouTube channel Ashurbeyli published interviews with some of the "citizens" who came to his inauguration in Vienna – many of whom were Russian. One was well-known kitsch artist Nikas Safronov, who has painted Putin's portrait and said of the Russian president: "Putin does things that no one before him would have dared to do – except maybe Jesus Christ. I have great respect for Putin."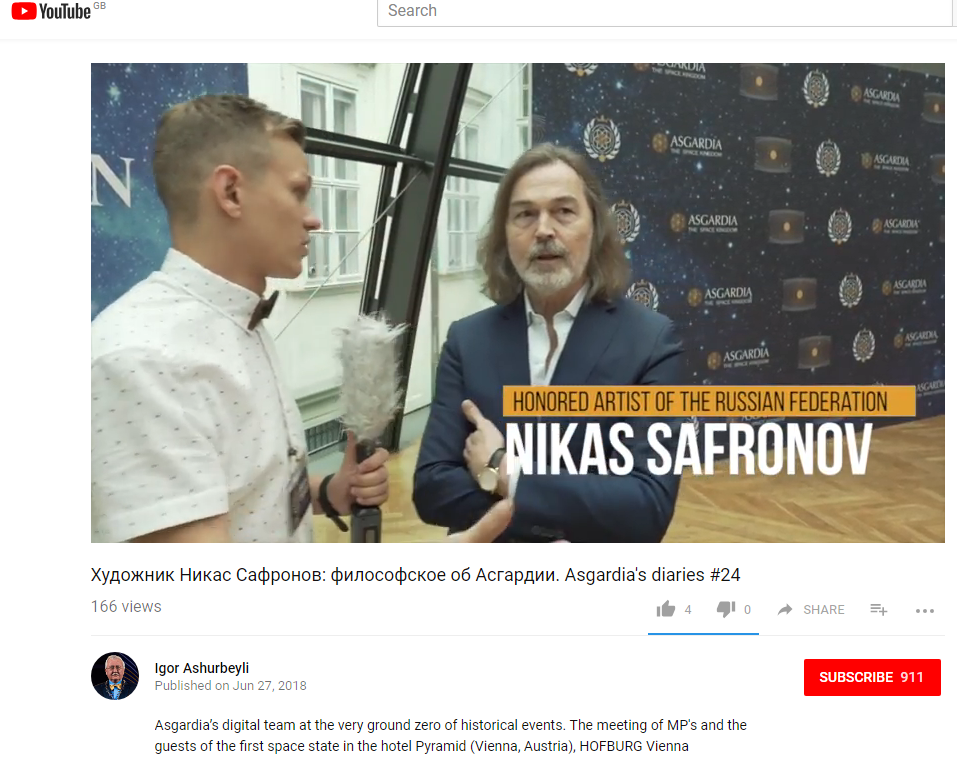 Some of Asgardia's members of parliament interviewed on Ashurbeyli's channel are also Russian. They include cosmonaut Sergei Krichevsky, president of the St. Petersburg-based Musical Olympus Foundation Irina Nikitina, and Aleksandr Fokin, who according to his profile on Asgardia's website is from Chelyabinsk. Ashurbeyli also received a video greeting from a cosmonaut on the International Space Centre to celebrate his inauguration.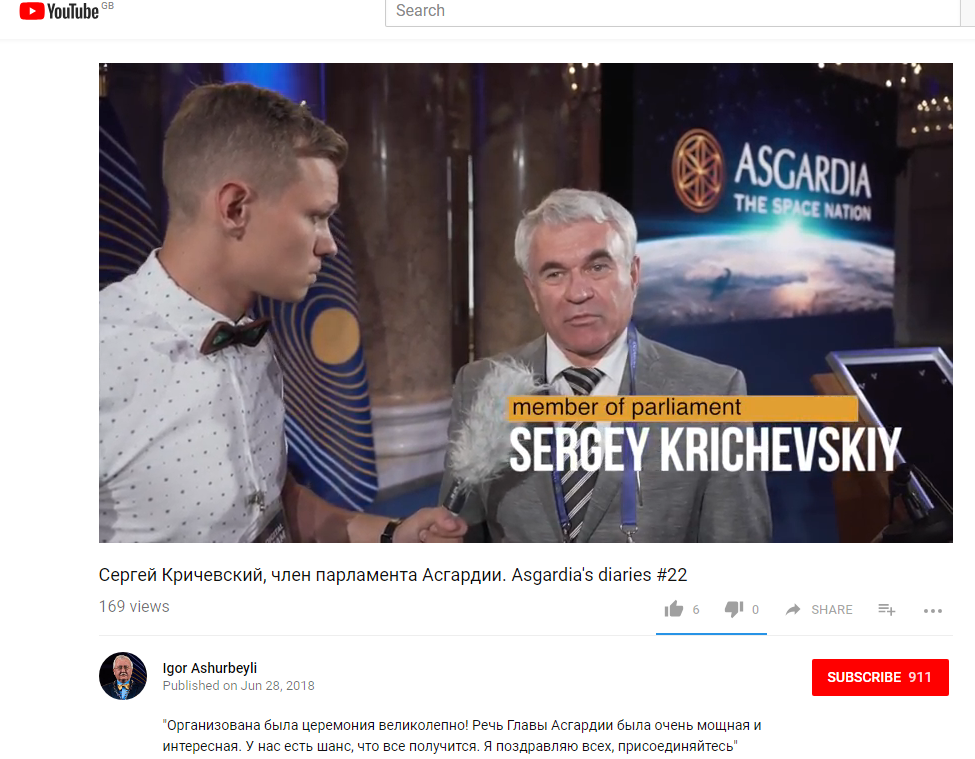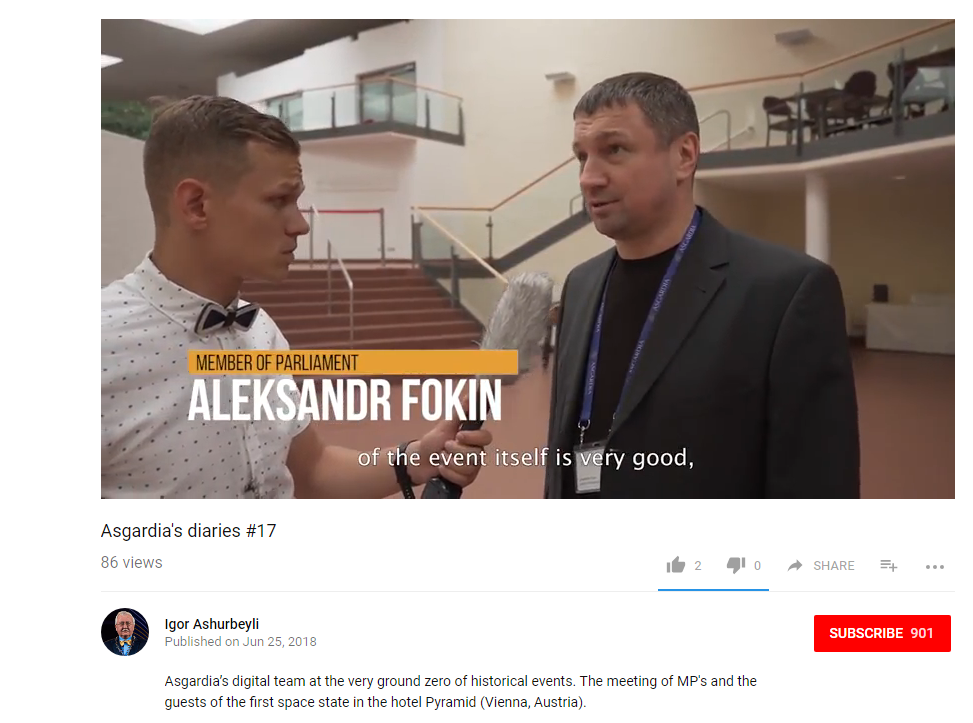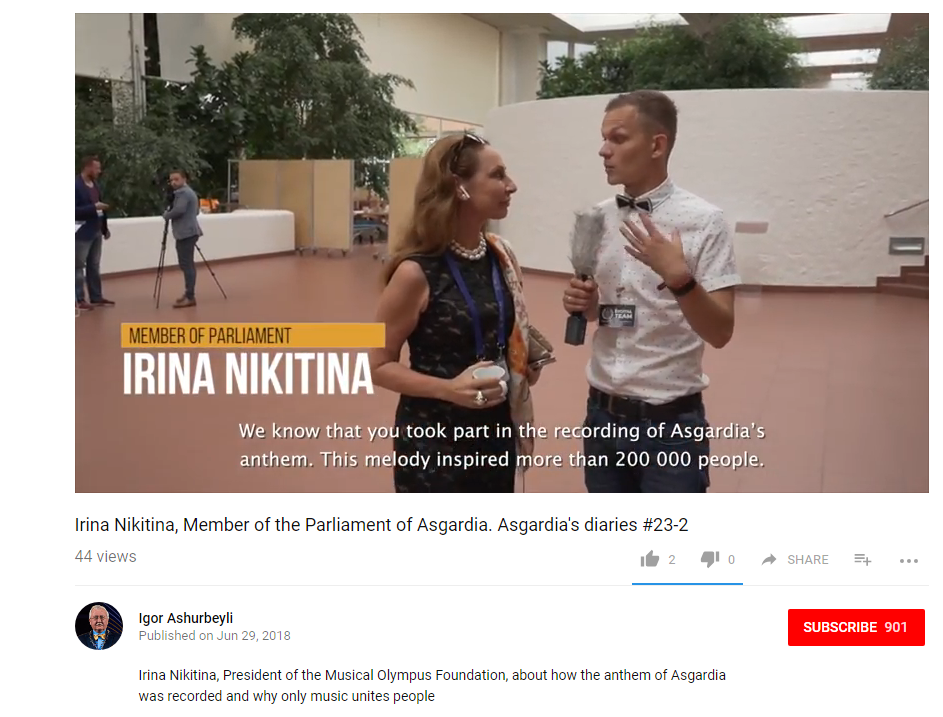 A headline on Ashurbeyli's personal website in Russian from last month says, "Valentina Tereshkova calls on Russians to join the ranks of Asgardia." The first woman in space, now an MP for the ruling United Russia party, writes in a statement: "Although space should remain an arena for global cooperation, I would like Russian citizens to play a leading role as space pioneers in the wonderful future that undoubtedly awaits the first space nation. I'm sure that my letter won't leave anyone who reads it indifferent, and in the very near future the number of Russian-speaking citizens of Asgardia will increase exponentially, as it's in our nation's blood to be pioneers."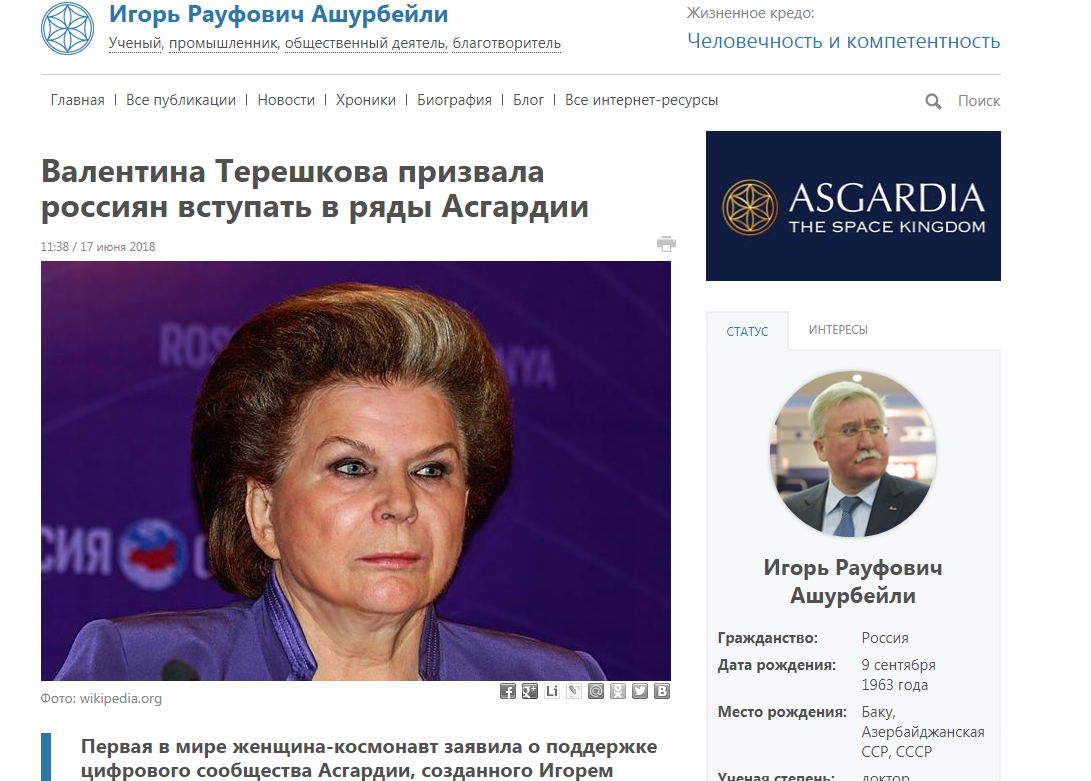 It is hard to escape the conclusion that Asgardia is not just one man's quirky and expensive hobby, but has official Kremlin encouragement as yet another vehicle for boosting Russia's soft power.
Necrophilia
As we know by now, the Kremlin's hybrid ideology, with the ultimate goal of disruption in all spheres, brings together a wide variety of people. On the Asgardia website's forum Shawn Crawford from Canada wrote a post with the title "New terrorist group: they MUST be stopped from entering Asgardia!"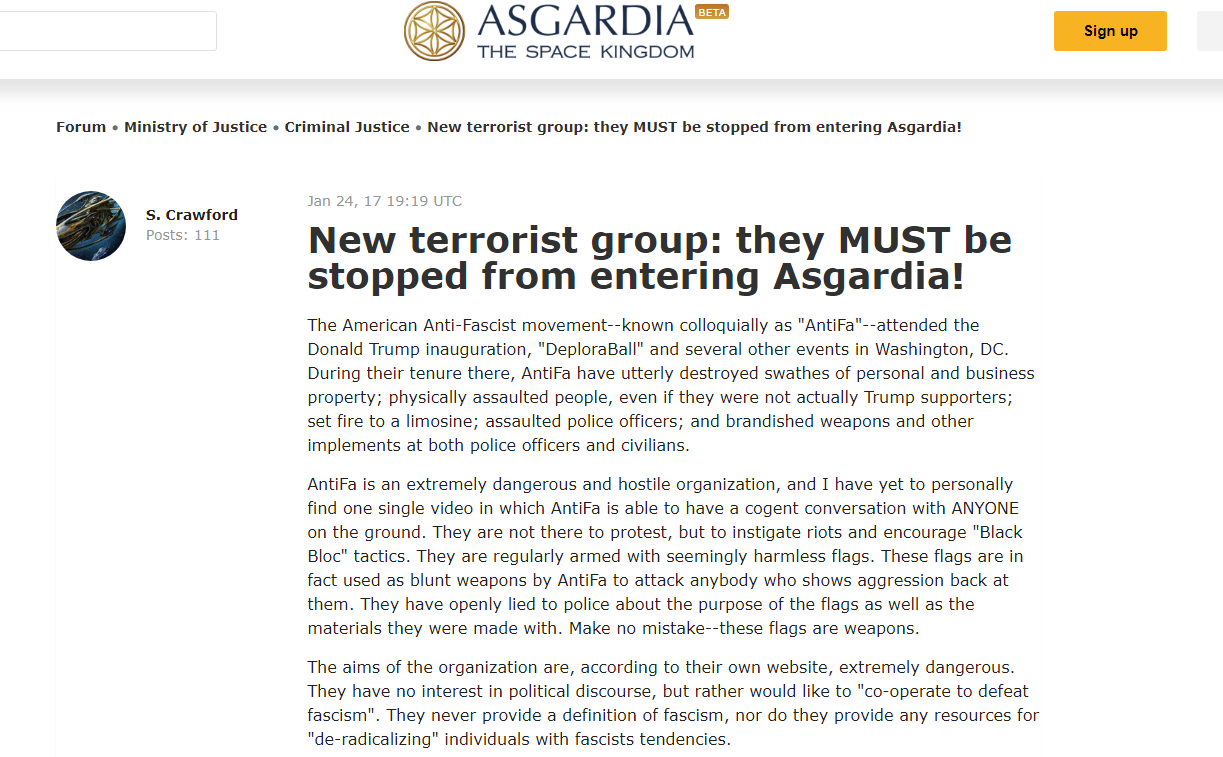 It began, "The American Anti-Fascist movement – known colloquially as 'AntiFa' – attended the Donald Trump inauguration, 'DeploraBall' and several other events in Washington, DC. During their tenure there, AntiFa have utterly destroyed swathes of personal and business property; physically assaulted people, even if they were not actually Trump supporters; set fire to a limosine [sic]; assaulted police officers; and brandished weapons and other implements at both police officers and civilians."
Meanwhile, someone calling himself "Comrade Luke" posted in support of making necrophilia legal in Asgardia. He argued that since a dead body can't feel physical or psychological pain, sex with one is less harmful than sex with a living person. "The dead person is not a person anymore, with a non-functioning brain, unworking nerves, and no blood flowing. A meat puppet. An INANIMATE toy," he wrote. "Having intercourse with a body in private would be as harmless as having intercourse with a tree – for example – in the privacy of one's own back garden."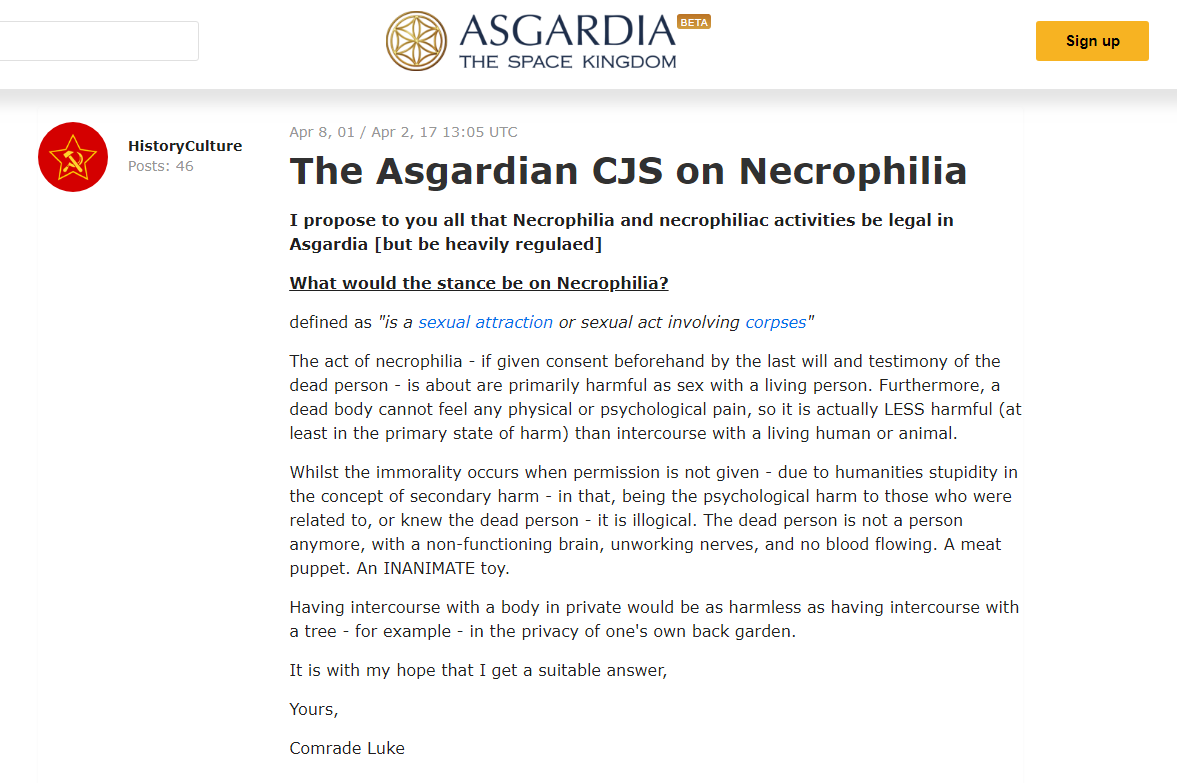 Some of Asgardia's more prominent citizens might want to think twice about who and what they're associating with. Lembit Opik, the son of Estonians who fled Stalin's occupation, is a former Liberal Democrat MP from the UK. At Ashurbeyli's inauguration in Vienna Opik was chosen as the head of Asgardia's parliament. He referred to his experience leading a campaign to monitor meteors that could collide with us as a reason for his success.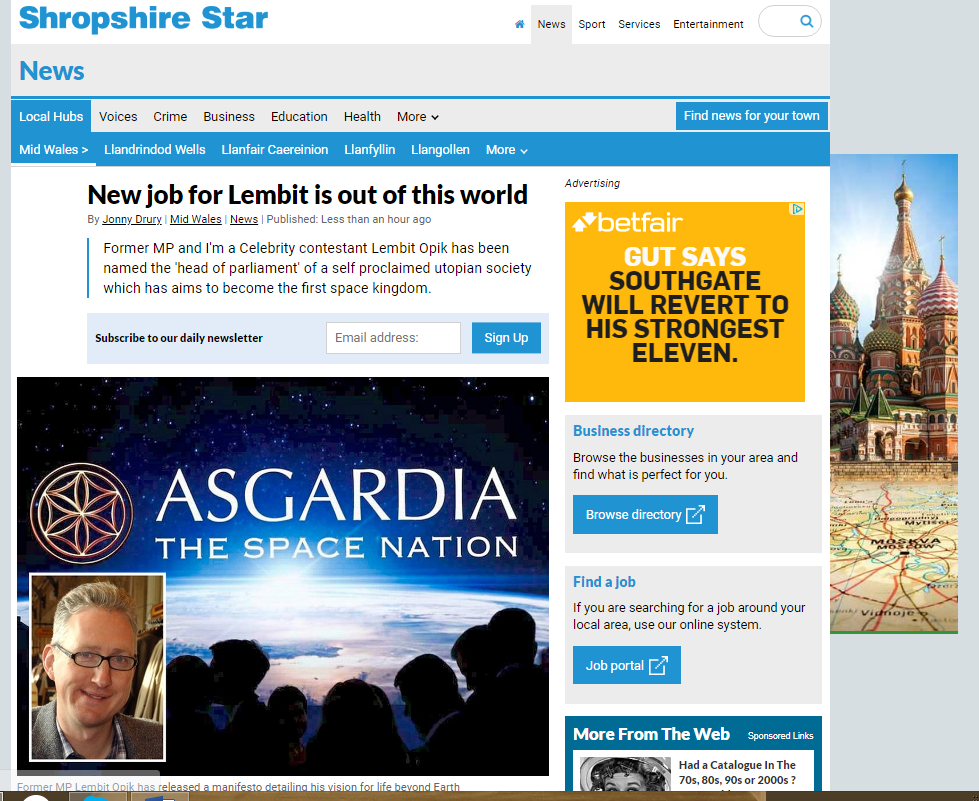 Former Liberal Democrat MP Parmjit Singh Gill is another Asgardia MP, as is current Conservative MP Nigel Evans. Perhaps he will be able to make a great trade deal with Asgardia after Brexit, which he strongly supports.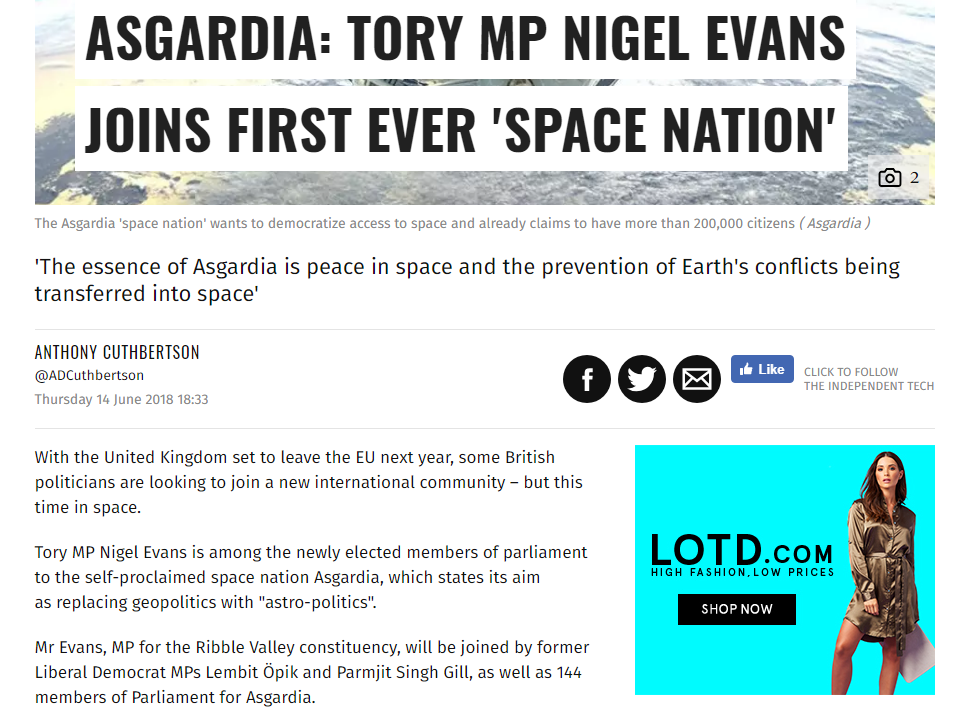 Even without Russian involvement, Asgardia would be a toxic cauldron for fantasists. The Kremlin's looming presence, though, makes it even more worrisome, especially considering the large amount of publicity it has been receiving. The best thing that could possibly happen would be for its citizens to raise enough money to launch themselves on a very long voyage into outer space. A dream come true for everyone.
By Sarah Hurst (@XSovietNews), for StopFake