On March 25, the Russian state television channel Russia-1, in its news program Vesti, falsely reported that the head of the Ukrainian Orthodox Church "had called for killing residents of Donbas." Numerous pro-Russian sites then published articles under similar headlines. The television channel referred to a sermon given by the Patriarch of the Ukrainian Orthodox Church (Kyiv Patriarchate), Philaret, as the source of this declaration.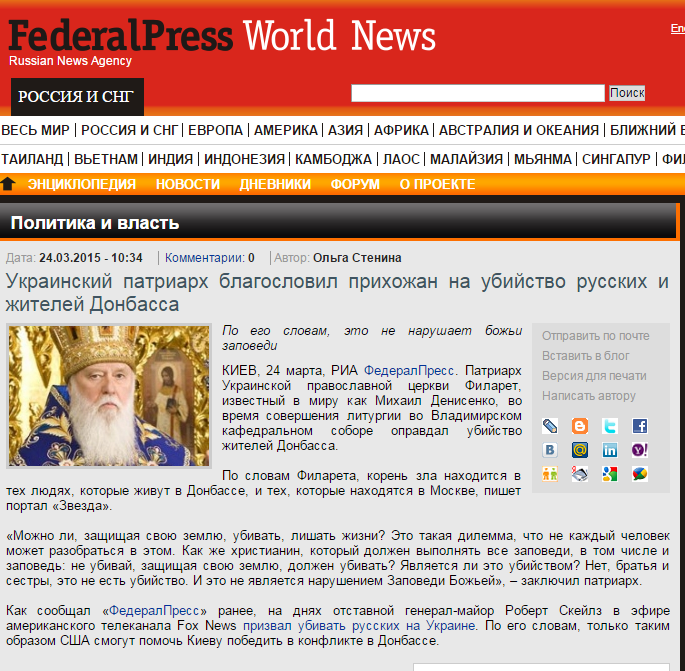 According to the Russia-1 anchorwoman, "in his sermon, Patriarch Philaret declared that it was not a sin to kill residents of Donetsk and Luhansk Oblasts and the commandment 'Thou shalt not kill' did not apply to those people." She also claimed that Philaret had declared that Donbas was not a Ukrainian land.
In fact, entirely to the contrary, in his sermon the Patriarch emphasized that Donbas is Ukrainian land, where Ukrainians have long since lived.
According to the text of the sermon, posted on the site of the Ukrainian Orthodox Church, the Patriarch said the following: "What is the lie of those separatists who are from Donbas? The lie is that they do not admit that Donbas is Ukrainian land from time immemorial. Ukrainians lived and live there. Go to the villages of Donetsk and Luhansk Oblasts. Who do you think locals consider themselves, Russians or Ukrainians, if they speak Ukrainian? They are Ukrainians. And who are separatists? These are people who came from Russia and other republics of the former USSR, of the Russian empire, and settled on Ukrainian lands."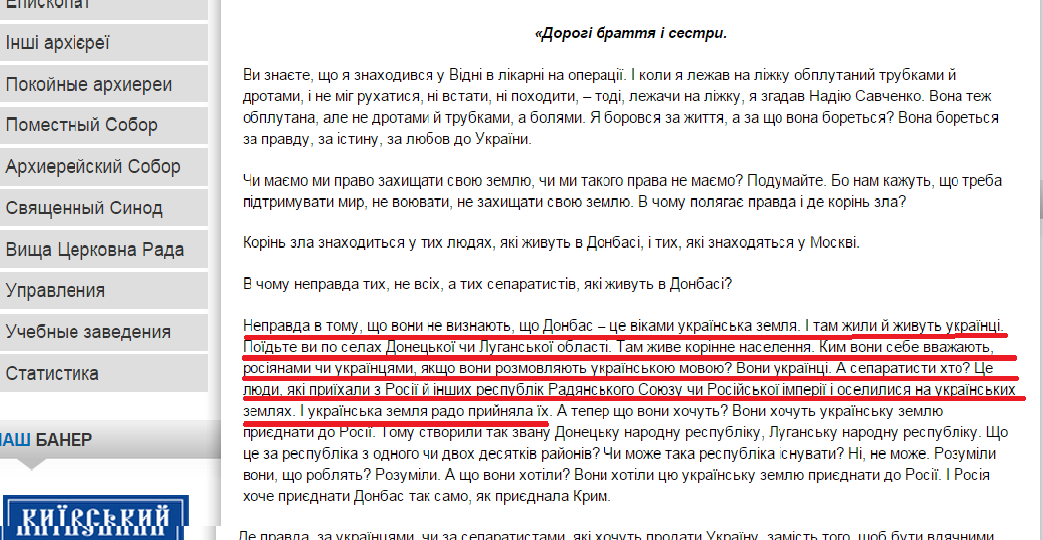 In the version of the Russia-1, Philaret's words were the following: "What is the lie of those separatists who are from Donbas? The lie is that Donbas is not Ukrainian land from time immemorial. And that Ukrainians lived and live there. Go to the villages of Donetsk and Luhansk Oblasts. Locals live there. These are people who came from Russia and other republics of the former USSR, of the Russian empire, and settled on Ukrainian lands."
As we can see, the Russia-1 badly distorted the sense of Philaret's words. Patriarch Philaret did not call for "killing residents of Donbas." He discussed defending native land: "…we do not break the commandment 'Thou shalt not kill' when we defend our land. We do not strive to seize foreign territories, but to defend our land."