Russian media misrepresented an article by Nina Jeglinski published in Bavarian newspaper Mittelbayerische Zeitung by stating that the journalist predicted the forthcoming resignation of Ukrainian President Petro Poroshenko.
On August 23, Russia's RIA Novosti news agency posted an article claiming that Jeglinski had written: "Ukrainians more than once proved that their patience is exhaustible and they are ready to oust their president." Based on this, RIA Novosti then concluded that, according to Jeglinski, Ukrainians would soon force Poroshenko to resign office.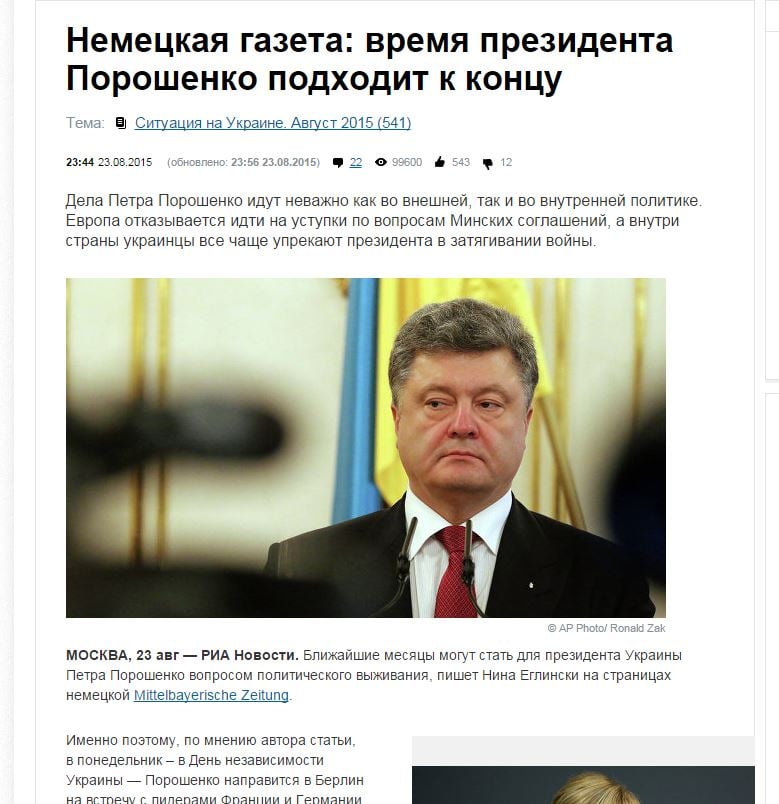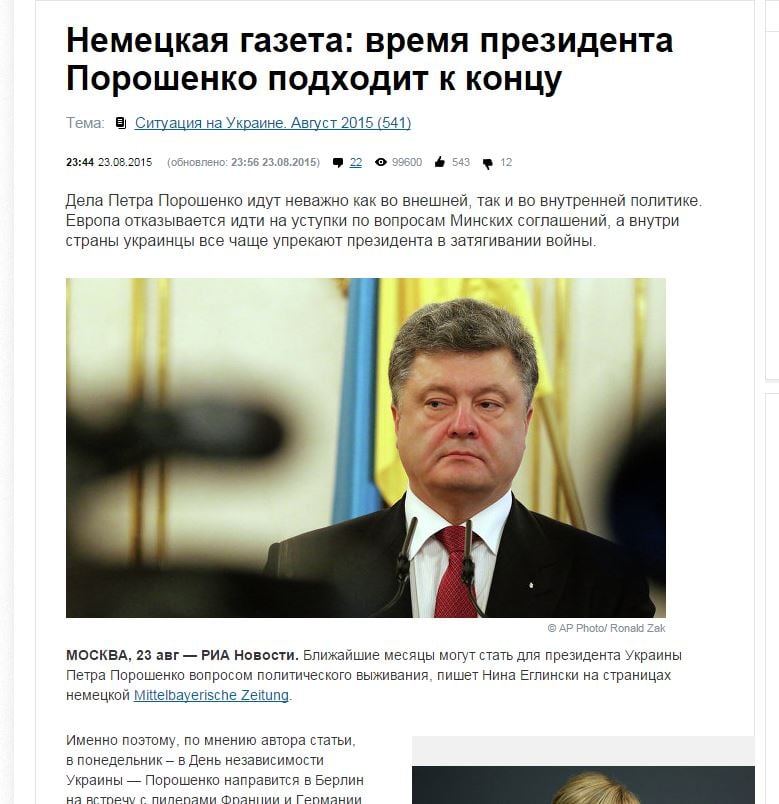 The distortion of Jeglinski's article was then e-posted by such media as Dni24, Nakanune.ru, Zvezda, and others. Some even distorted her words further with such headlines as: "German Mass Media Predicted the Forthcoming Resignation of Poroshenko."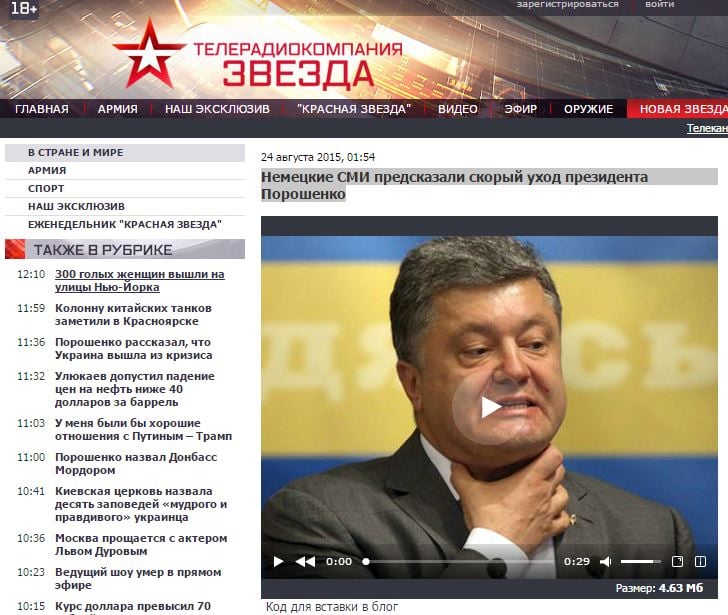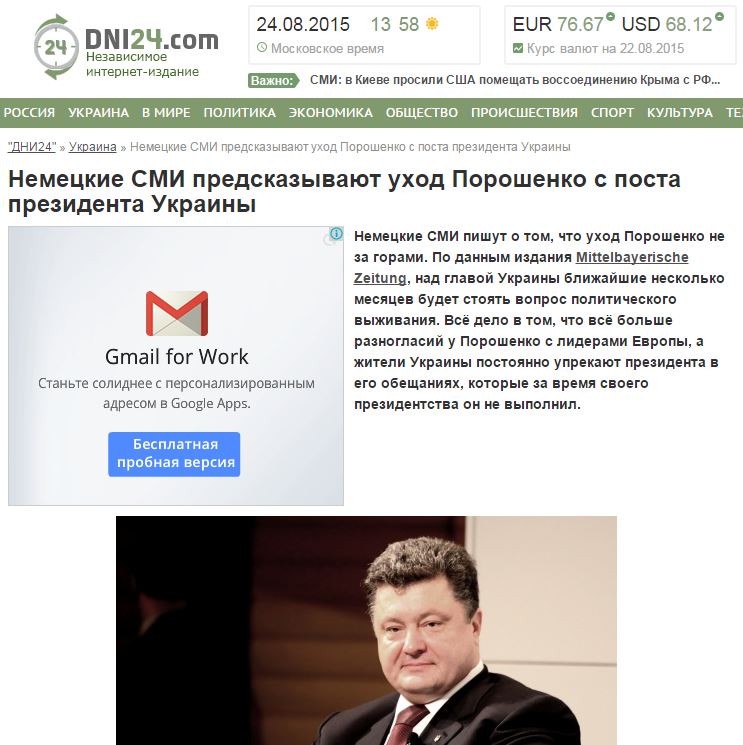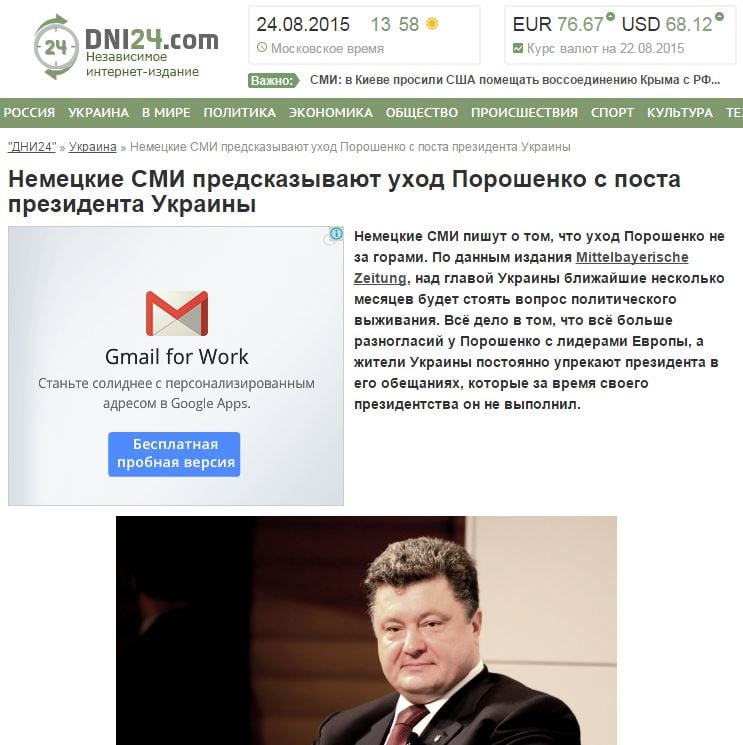 Jeglinski had written nothing about a Poroshenko resignation. Instead, she wrote that Poroshenko is haunted by the memory of the experience of his predecessor, Viktor Yanukovich, who was forced to leave the country.
Here is a translation of what she actually wrote: "President Poroshenko is now under great pressure. Ukrainians more than once proved that their patience is exhaustible and they are ready to expel/change their president. The events that happened in 2014, when pro-Russian President Yanukovich left the state, showing that violence is not alien to Ukrainians."
The phrase "Ukrainians are ready to oust their president," therefore is taken entirely out of context.
Moreover, Jeglinski didn't actually write these words in the article cited by RIA Novosti, but in a thought-piece, entitled "Poroschenko läuft die Zeit davon" (Poroshenko is Out of Time), about the original article and in which she gives here subjective opinion as a journalist. RIA Novosti failed to mention this as well.

The article itself, entitled "Poroschenko – der angezählte Präsident" (Poroshenko – the President on a Clock) tells of the difficulty Poroshenko faces coming to an agreement with Western partners in the months before Ukrainian elections and Ukrainians' disappointment in the ongoing war. There is no mention of his probable resignation.