While Russia denies its military involvement in the conflict in eastern Ukraine, Russian soldiers continue posting proofs of their presence in the Donbas in social networks and do not disdain to make photos near dead bodies. Sometimes these soldiers delete their profiles very quickly. But not all of them. INSIDER brought together the most outrageous cases.
Russian trooper Dmitriy Grytsiuk posts his photos near dead Ukrainian soldiers on his page in the social network VK.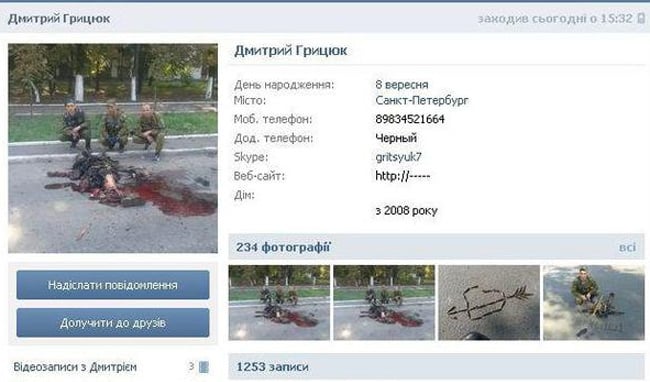 Now these photos are deleted and Grytsiuk's page looks more "humane".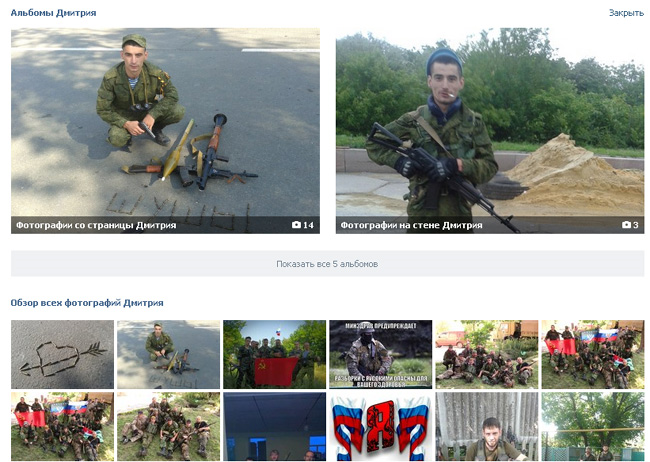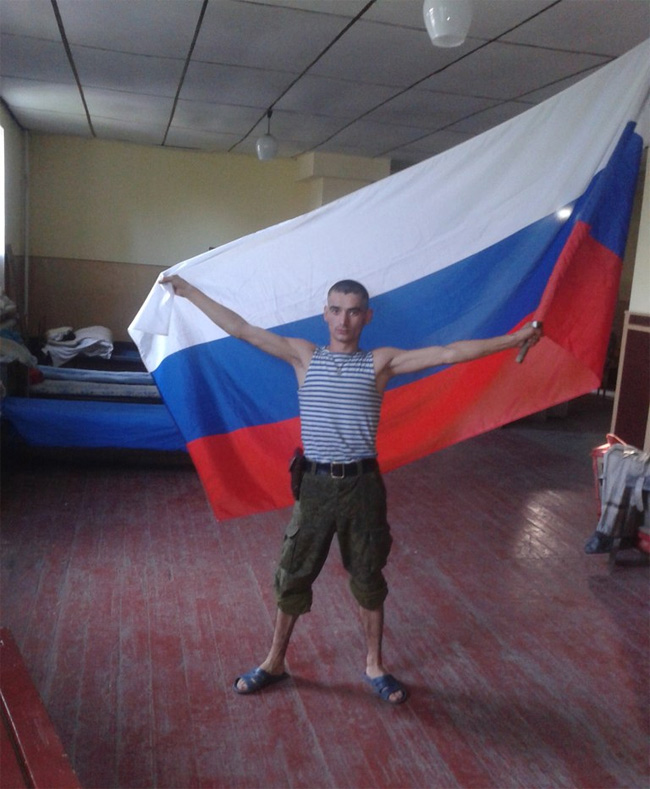 St. Petersburg resident Kirill Rimkus do not disdain to make photos near dead bodies too.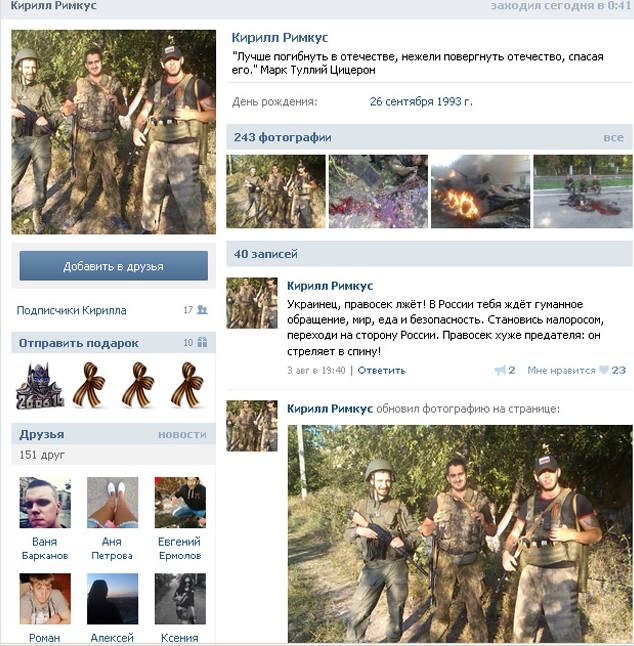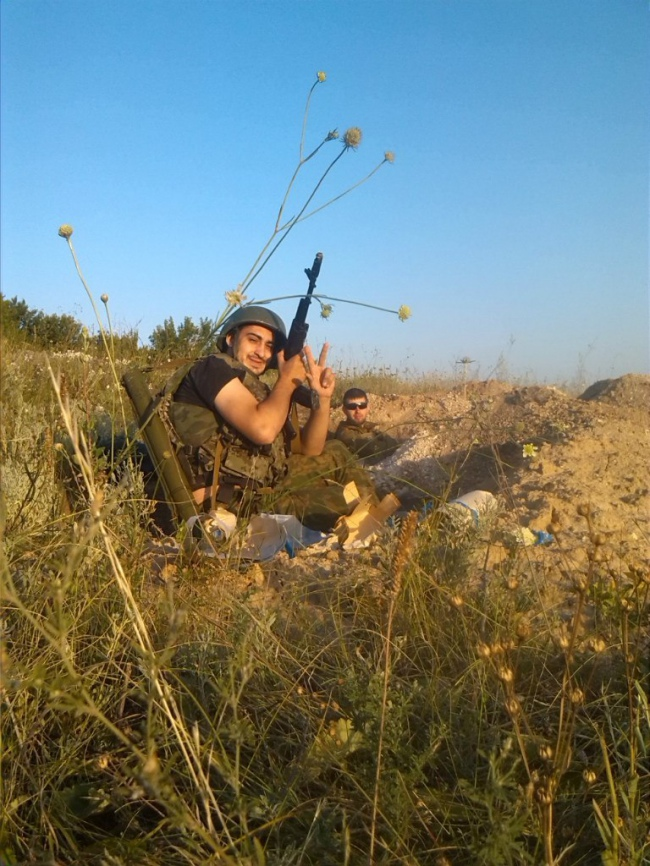 St. Petersburg resident Aleksandr Yurievich, who is fighting along with the militants in eastern Ukraine, reposted on his page bloody photos, accompanied with the musical track "To fry meat".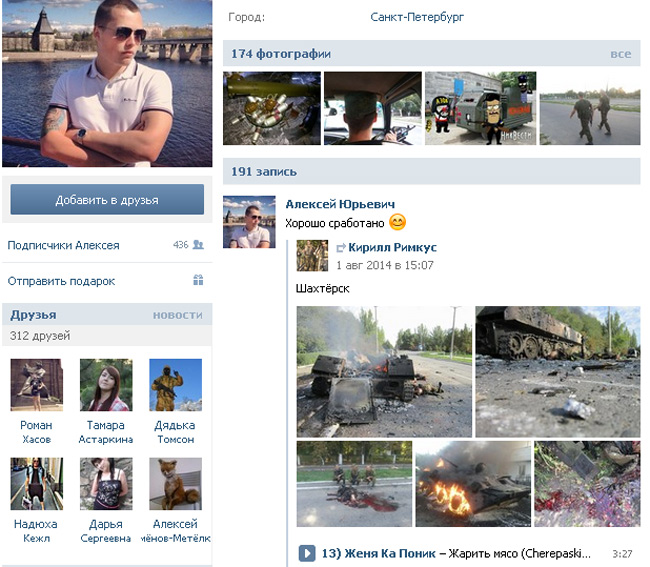 Aleksandr Yurievich holds the opinion Ukraine and Ukrainian people have never existed.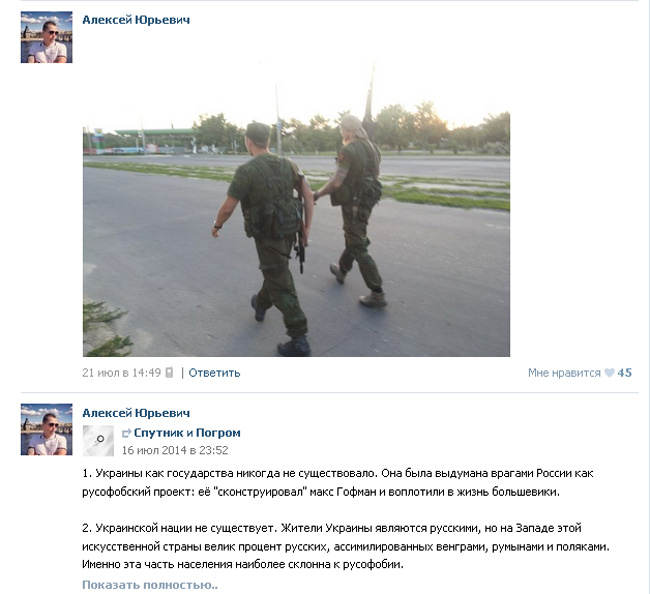 Before this, journalist of Channel 5 Oleksandr Arhat posted on his Facebook page screenshots and photos of Russian terrorists in the Donbas, who betrayed themselves by bragging before their friends in VK that they were fighting "Ukrops" (pejorative for Ukrainians).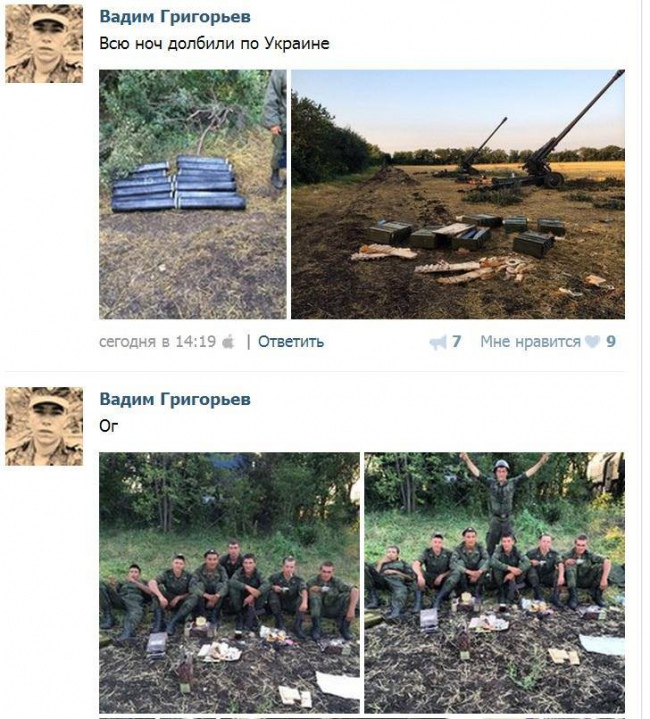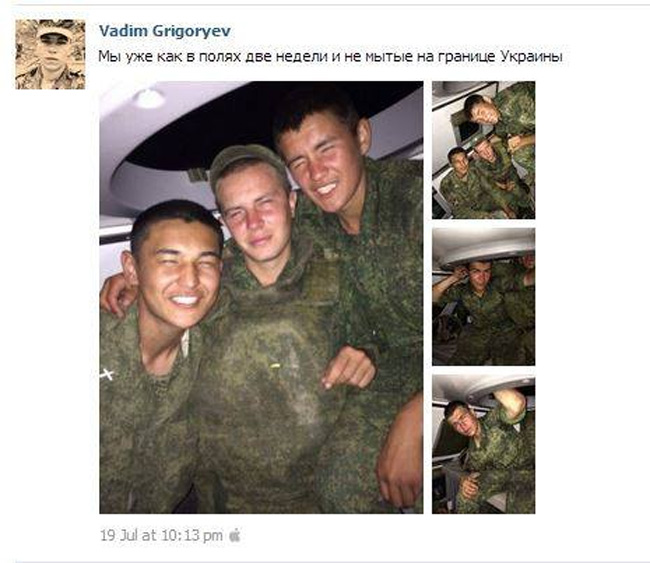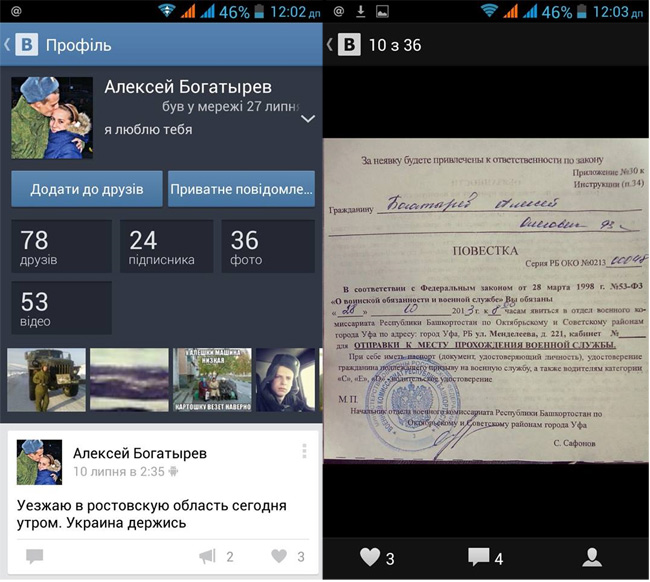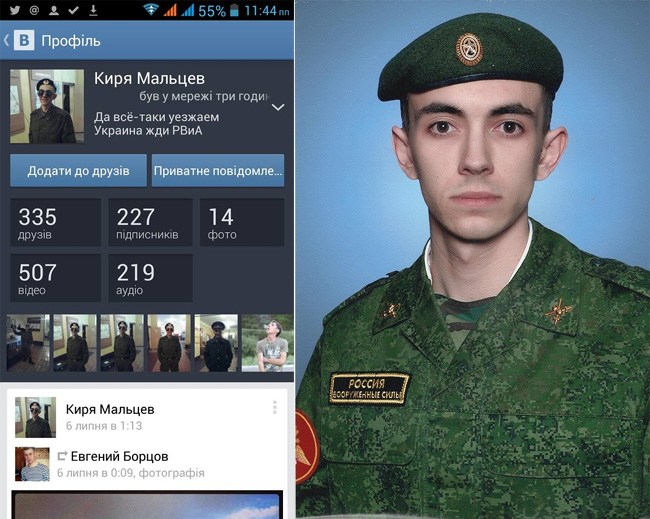 Arhat had gathered links that pointed not to pages of some "volunteers", but to pages of real Russian soldiers of regular army. This fact proves Russia's direct involvement in bloody conflict in eastern Ukraine.
Users deleted all the pages, so it was not possible to find detailed information about their activity.
It is far easier with Russian "volunteers". It is not difficult to find Russian "hired guns" in the Internet; however, it takes quite a lot of time. INSIDER decided to search through special social network groups like "RUSSIAN VOLUNTEERS | DONBASS".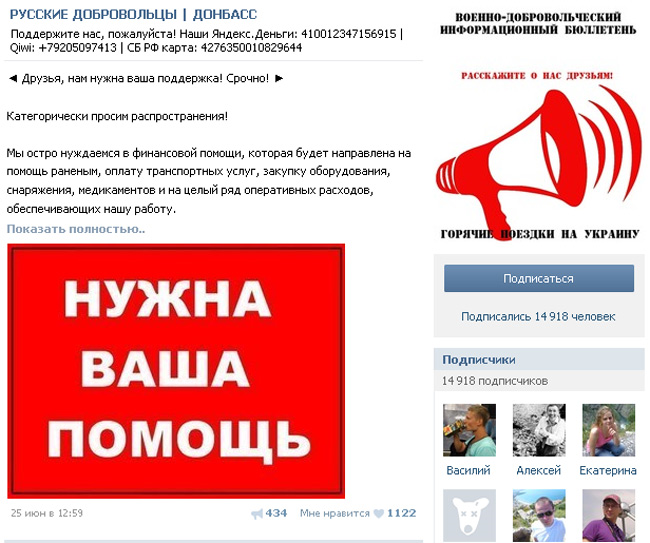 "Hot tours to Ukraine" are proposed to people of "free will" in order to "stop violence of Ukraine occupational government against inhabitants of Donetsk and Luhansk People's Republics". This group has almost 15,000 participants, including 10,000 people from Russia and Autonomous Republic of Crimea.
Administrators of the group assure that their activity is legal and that they only provide assistance for those who ask. Thereafter group participants position themselves as liberators and saviors.
War is the best way to see the world free of charge
Aleksey Umerenko, 31-year old according to his personal information in the social network VK, came fighting to the Donbas from Novosibirsk. Before his trip to the combat zone, he spent some time in Rostov and Crimea.
July 6 a new post "Again on the road" appeared on his page VK. July 9 a post was wordier "Bridges are burnt. I am in Donetsk!:)"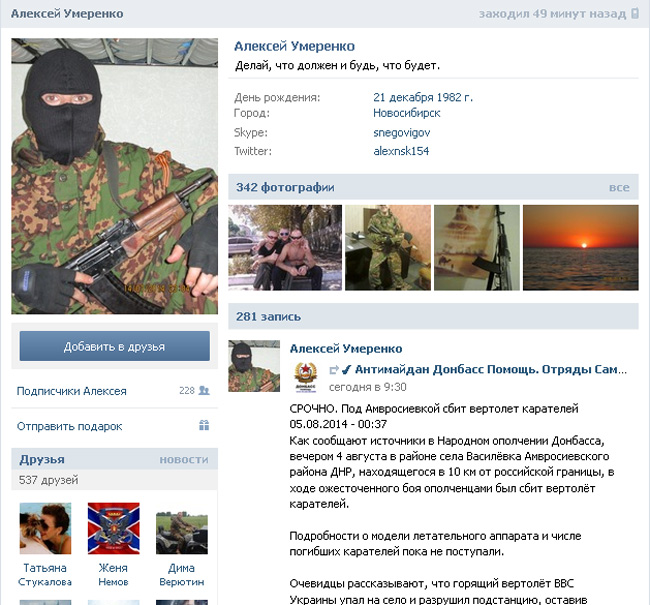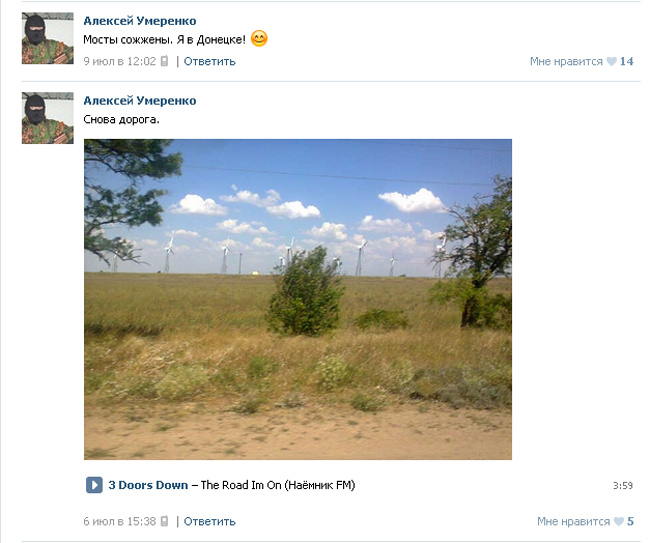 However, probably the most colorful post, which proves that he is fighting against the Ukrainian army in Donbas, is the following: "My friends who write me from Russia! I am in Makiivka and have not more information than you have about events in other places… Particularly here everything is quiet, excluding aviation of Ukrops that sometimes flies over our heads".
On his latest photos, Umerenko is in camouflage, with a gun and a St.George ribbon.
There are his photos with "brothers-in-arms" and a great number of reposts from subscriptions and groups like "NOVOROSSIA/ANTIMAIDAN", "Polite men", "Antimaidan", "Reports from Novorossia volunteer corps" and others on his VK page.
Umerenko's case is noteworthy also for the fact that before going to Ukraine, he and his friend that has the same opinion as he, recorded a video and published it on his Youtube channel on June 11. In this video, they declared a manhunt for the commanders of Anti-terrorist operation.
"You can believe that is a bluster or a joke, but when your commanders start to fall down, all peaceful talks will be rejected. We won't give you a chance as you did not give it to mothers and children of the South-East".
Umerenko and his friend announced that they would pay special attention to the commanders of the "Donbas" and "Azov" battalions.
"And all other well-known persons, such as Avakov, Liashko, Nalyvaichenko. Expect guests", we hear in the end of the video.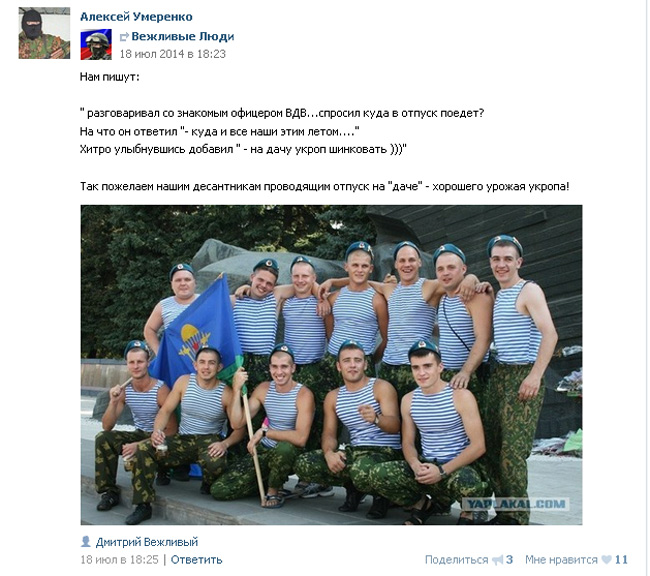 Wobbly man
The next person, who we manage to find, is signed in VK as Mikhail Rikhter aka "Nevalyashka" (eng. – "Wobbly man"). He is 27 and he came to the Donbas from Voronezh. His page has not so much information as the previous one: May 9 there are posts about ancestors who "were fighting for Motherland" and, of course, reposts from subscriptions "THIS COUNTRY CAN'T BE DEFEATED", "Russians do not yield", "RUSSIA, UKRAINE, NOVOROSSIA, BELARUS for ANTIMAIDAN", "THE SOUTH-EAST! RACOONS!"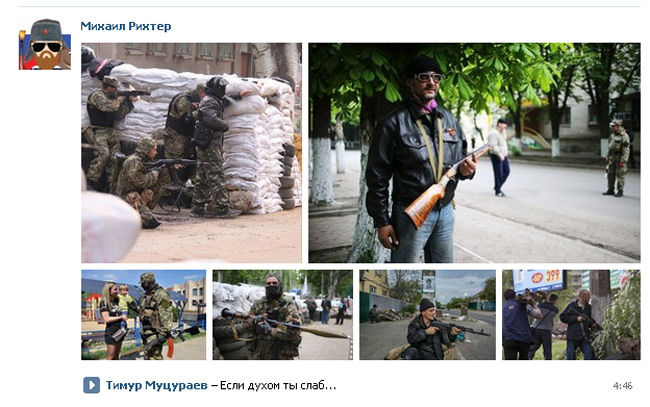 His latest post about survived militants proves that "Wobbly man" is fighting on the East. He comments on this post: "A lad from the infantry fighting vehicle crew, who was considered dead, is alive! He is in a Donetsk hospital, in ф burn unit. Who saved him? Did he manage to get out by himself? They do not know. When we were leaving, he did not show the signs of life at all", wrote "Wobbly man".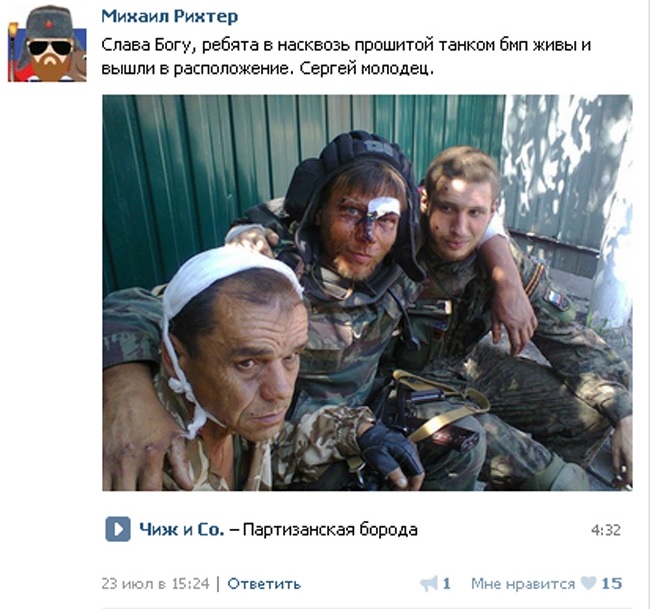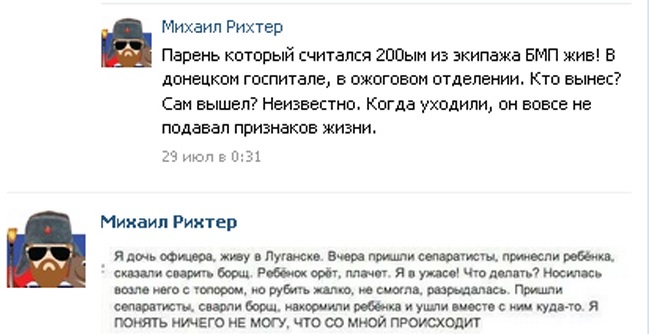 Friends on-line
Then we find pages of 28-years old Igor Perlov from Kostroma and 23-years old Pavel Rusinov from Sochi.
They are friends in VK. Their photos in camouflage with guns and St.George ribbons testify their participation in the conflict on the East, as identification signs in the background give an opportunity to work out the location.
For example, July 13 Perlov publishes a photo with a sign "Snizhne" in the background, and Rusinov makes a photo near the state border of Ukraine.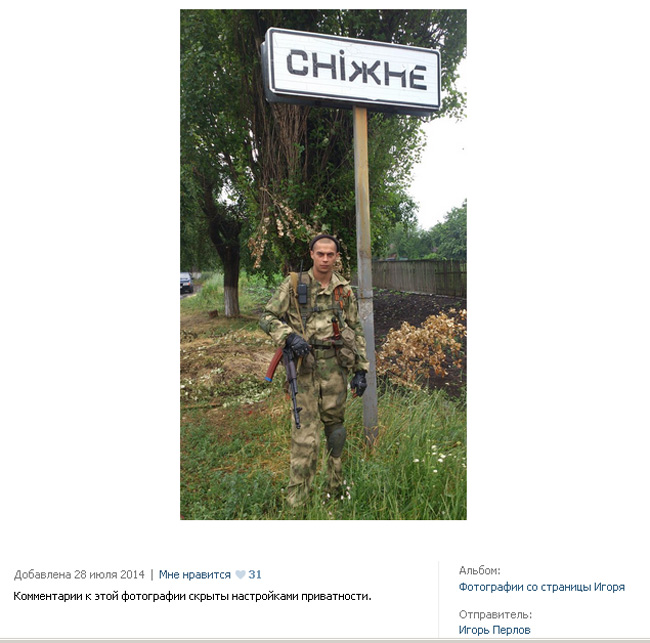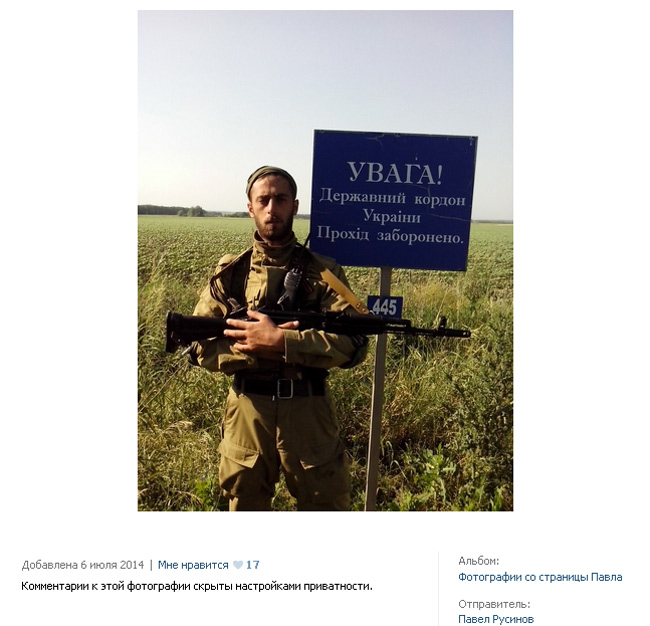 Besides, there are also photos with their "comrades-in-arms" again with guns and St.George ribbons.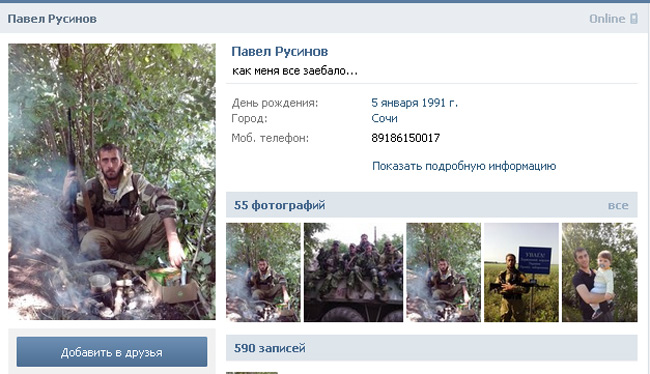 Rusinov also does not forget to congratulate his colleagues from 56th Guards Air Assault Regiment with Airborne Troops Day.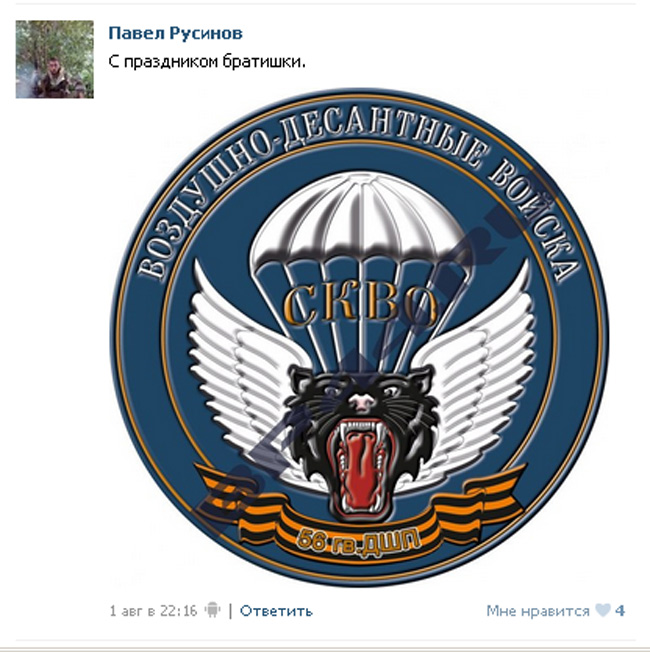 Last money spent fighting with "Bandar-logs"
Some volunteers go fighting to Ukraine literally on their last money.
It seems that Timur Garifullin from Kazan is one of them.
As far back as February 27, he writes on his VK page that he is ready to go to Crimea "in case of emergency": "Hm, in short, if somebody has normal information about 'volunteers' recruitment to Crimea in case of emergency, write me, I will volunteer, fuck Bandar-logs (pejorative for Ukrainians)".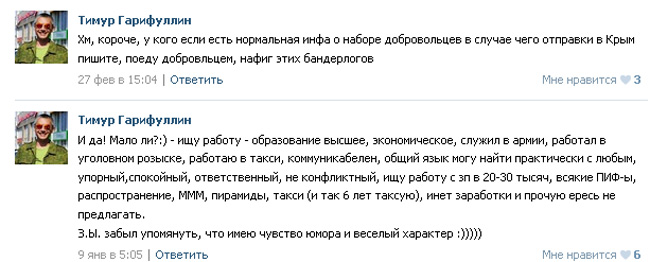 May 16 Garifullin expresses a wish to go to Ukraine again. He is short of money and asked for help.

Either he found necessary money or somebody helped him, but Timur has been to Ukraine, and more than once. His post, in which he says that he goes "there" AGAIN, testifies it: "What's my news? On Wednesday, I am going again there. I would like to give a send-off, but I am short of money. Spare parts and the car go for repairing tomorrow that is why just wish me luck".
In his latest post, he informed that he lived in Cossacks' center. He receives and unloads humanitarian aide, meets refugees.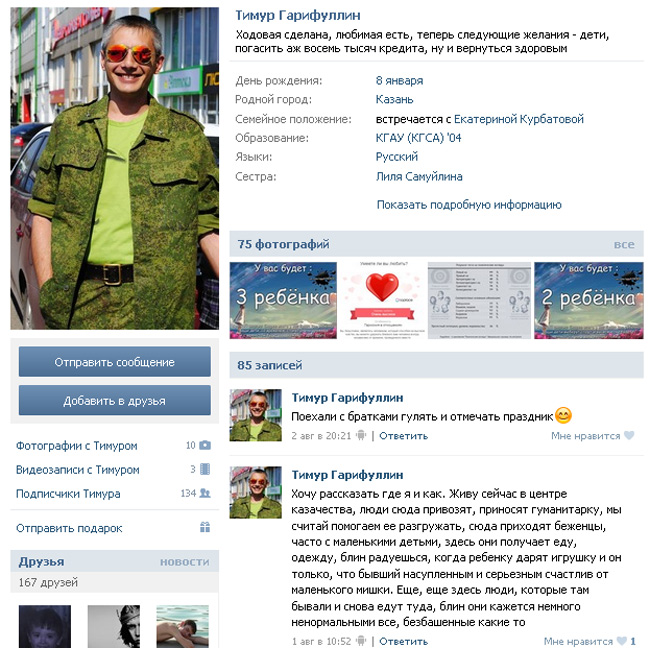 In addition, Russians do not forget to sanctify their participation in the war with God's will, assuring that "angels fight for us".