On October 26 a Dutch appeals court ruled that Ukraine has legal control over a collection of Scythian gold artefacts that were on loan to an Amsterdam museum from Ukrainian museums. Russia annexed Crimea, the Ukrainian Black Sea peninsula in 2014. The court decision rejects Russian claims on the collection and rules that it will not return to the four Crimean museums which loaned them, all of which are now under Russian control.
Russian officials reacted angrily to the court decision, threatening the Ukrainian side, and accusing the Dutch court of a politically motivated ruling. One Crimean politician in particular, Sergey Tsekov, the pro-Russian former member of the Crimean parliament when the peninsula was still an autonomous republics and part of Ukraine, confused the words Dutch with Denmark and accused Denmark of being responsible for this decision. Denmark is not a party to this case and has nothing do with the Scythian artefacts nor the Dutch appeals court.
"I am convinced that we will still find more than one Scythian treasure on Crimean land, and other treasures as well. We still have a lot of secrets on our Crimean land, much has not been discovered and dug up. But we will never bring anything to Denmark, this is a country with which one should not cooperate" Tsekov told the state news agency TASS.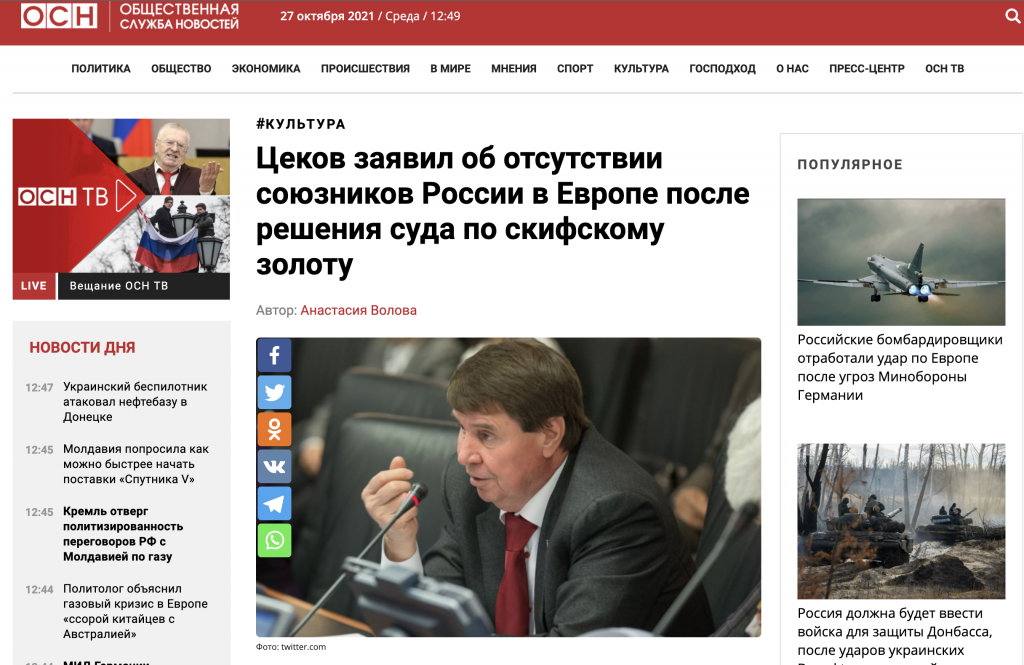 The artefacts from the exhibit "Crimea: Gold and Secrets of the Black Sea" were kept in storage in the Netherlands, and not in Denmark, during the litigation. Ukraine loaned more than 500 gold artefacts from five Ukrainian museums with an estimated value of 10 million euros to the Allard Person Museum in Amsterdam in 2014.
The decision of the Amsterdam Court of Appeals confirmed a similar 2016 Amsterdam District Court decision – despite this, pro-Kremlin media declared the verdict "inappropriate". After the court verdict, the Russian media published an onslaught of news, comments and articles in just one single day: a search for Scythian gold on the RIA Novosti site alone yields more than 50 stories. StopFake collected the main propaganda narratives on this topic.
A Guilty Conscience Betrays Itself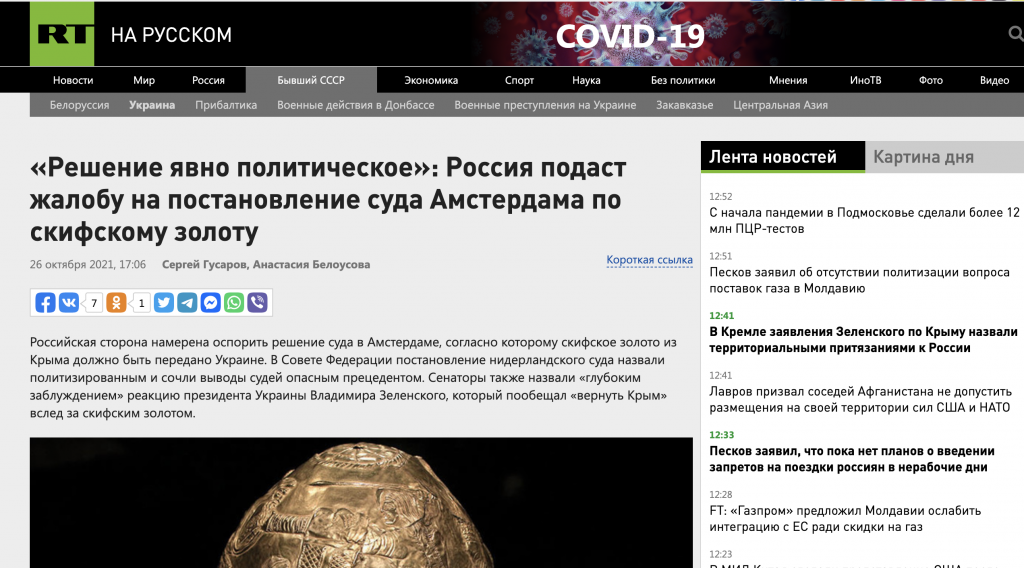 Kremlin "experts" unanimously called the court ruling on the return of Scythian to Ukraine "the theft of the century." Russian presenter Yevgeny Popov, shocked by the court's decision, unexpectedly even switched to Ukrainian. However, he corrected himself soon enough, and launched into a diatribe about the European "theft" of the Crimean collection.
"Our father is Bandera, Ukraine is the mother, and the grandfather is a Scythian, that's it? It is a pity, of course, that Russia temporarily lost its collection – it was simply stolen by the most hypocritical Europeans. But the gold will return, together with Ukraine by the way, just like Crimea returned, and which belongs to Russia forever," Popov consoled the viewers of his 60 minutes program (00:03: 46-00: 04: 05).
Commenting the court's decisions Russian officials used colorful epithets about "raiding", "outrageous seizures" and "the vile redistribution" of Scythian gold.
"Sooner or later we will squeeze them, they are obliged to return what they have stolen … Europe has chosen to support the practice of grabbing what does not belong to Ukraine," said Federation Council member Vladimir Dzhabarov on "Russia 24" television program (02: 02-02: thirty).
"An outrageous, unjust and illegal decision, although not unexpected, given the bias of European courts and their hostile attitude towards Russia and Crimea. In fact this is a fig leaf covering a brazen raider seizure" Sergey Aksionov, the leaders of Kremlin controlled Crimea declared to Russian RT.
From threats and name-calling these same Russian "experts" effortlessly moved into persuasion and manipulation mode, arguing that it is not in Ukraine's interests to "steal" from Crimea and that Kyiv should look to a mutual peaceful future with its neighbor.
"Kyiv's attempts to steal the Scythian gold is straight out of Freud, it reveals the subconscious of the Ukrainian authorities. If Ukrainian authorities really believed that they would return Crimea, it would be easier for them to allow the collection to return home to the peninsula and thereby gain the sympathy of the Crimeans for their nobility and belief in a common future" Federation Council Deputy-Speaker told RIA Novosti.
A Wrong Right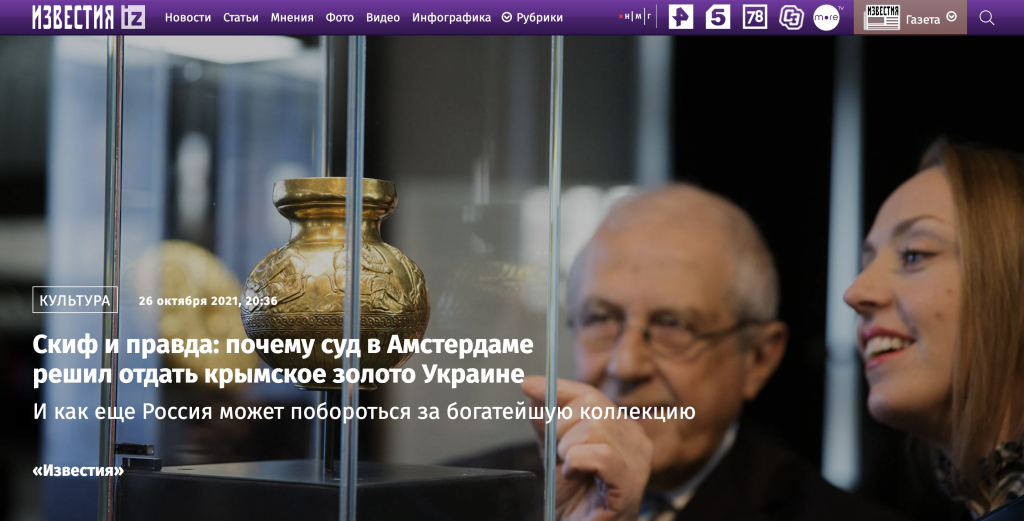 Scores of Russian stories called the Dutch court ruling a new low for the European court system. RT quotes Ruslan Balbek, a pro-Kremlin Crimean Tatar who has been singing the praises of Crimea's new masters since the peninsula was annexed in 2014 who called the decision a collapse of the European judicial system.
"In this situation fleeting political interests defeated independent European jurisprudence. Without a doubt this was done to stab Russia as painfully as possible because these artefacts belong to the Crimean museums, and not to the leadership of post-Maidan Ukraine. I think that today the system we call European court justice simply collapsed" Balbek said.
The Amsterdam court's decision is not a court decision, but a kind of political act, which is very far from the concept of justice, objectivity, legality and impartiality that the courts must adhere to in their decision making," – said former Ukrainian Crimea prosecutor and current Kremlin cheerleader Natalia Poklonska says on the "Russia 1" (04: 17-04: 30) television program.
The newspaper Izvestia called the court decision disgusting and devoid of common sense: "And although we were ready for such a development, this is a vile and disgusting decision that not only violates all rights, but also goes against all common sense: Holland gives the Russian people's treasures to a neighboring state".
Russophobes Prepare for War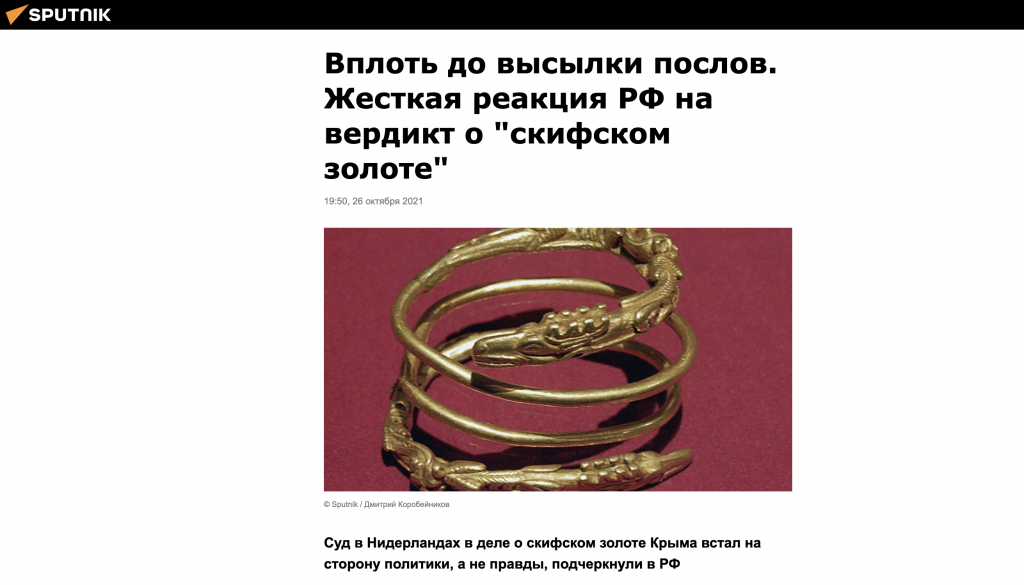 Russian reactions to this event could not do without one of the most beloved narratives of Kremlin propaganda, the West's alleged Russophobia. Russian experts opined about plots against Russia, calling the court decision a cultural raid that has multiplied into Russophobia.
The official state agency Sputnik quoted the head of the State Duma Foreign Relations Committee Leonid Sluckyj who said the court decision was politics and not truth.
"Crimeans continue to be punished for their historic choice to reunite with Russia, and now they have simply been robbed of their national cultural heritage. In transferring the Scythian gold collection, the Amsterdam court sided with politics, and not the truth, " Slutsky said.
Some "analysts" even interpreted the Dutch court ruling in favor of Ukraine as "quiet preparation for war with Russia."
"What is there to think about? They are encouraging, instigating, inspiring Ukraine to war with Russia… And Britain will supply missiles [to Ukraine]," pontificated various "experts" on the Vremya Pokazhet talk show (00: 35: 22-00: 37: 15).
Crimea Is Ours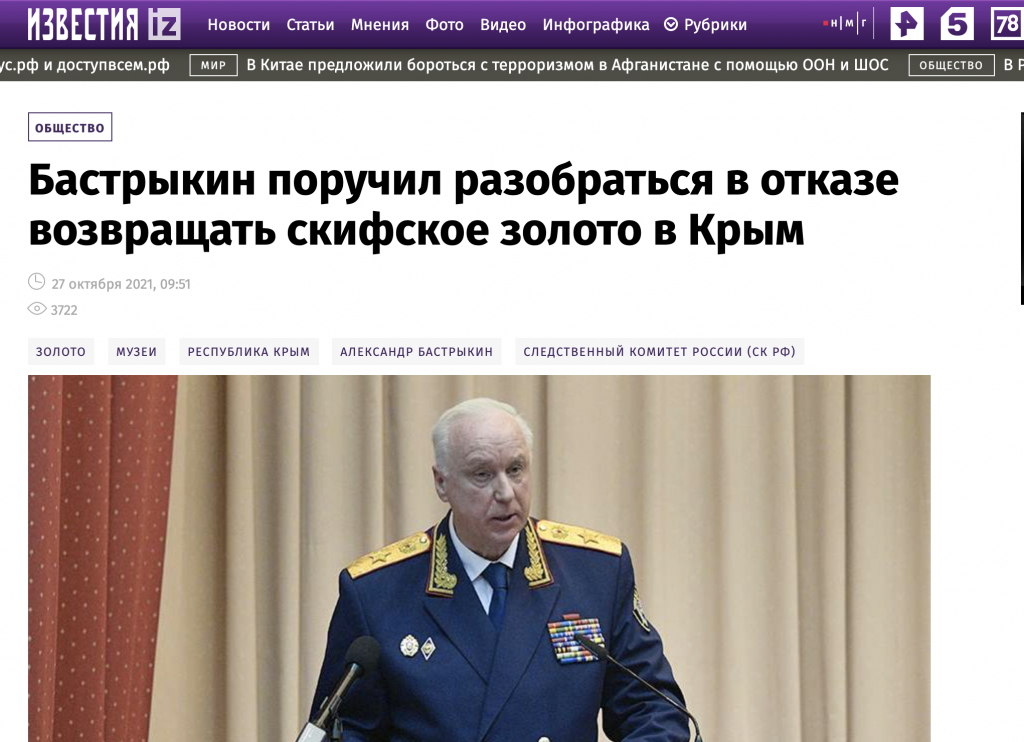 Russian media could not do without bravura speeches about whom temporarily occupied Crimea belongs to. Pro-Kremlin media has used the propaganda thesis "Crimea is ours" for seven years particularly during moments which were not particularly comfortable or beneficial for Russia. "Crimea was not Ukrainian, but the main thing is that it will never be Ukrainian. With or without gold – it will never be Ukrainian. And we don't need Freud for this," various analysts declared to RIA Novosti.
After a wave of hatred and dismissal for Ukraine and "Western values," Russia took action and showed in no uncertain terms that international law means nothing for the Kremlin by launching an "independent investigation" into the non-return of gold to Crimea by its Investigative Committee, the Russian equivalent of the FBI.