Slovakia has refuted Russian claims that S-300 air defense systems it supplied to Ukraine were destroyed.
On April 10 Russian media began circulating disinformation about the "immediate" destruction of S-300 air defense systems that Slovakia supplied to Ukraine two days earlier. Citing Russia's Defense ministry, Russian publications claim that these systems were completely destroyed in Mykolayiv, Kharkiv and later Dnipropetrovsk provinces.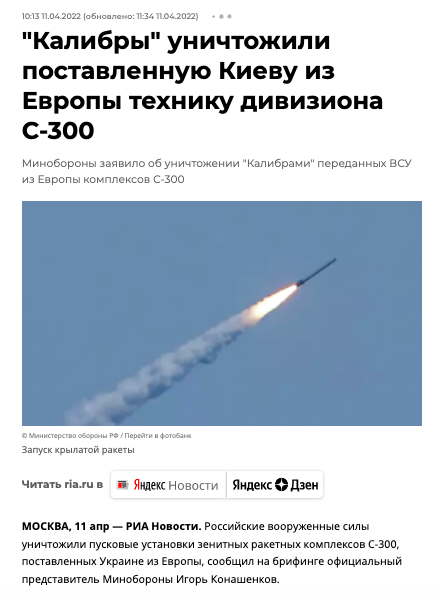 Disinformation about the "destruction" of the S-300 air defense complexes began circulating on Russian media on April 10. Russia's Defense Ministry announced that "the Slovak S-300 was destroyed near Mykolayiv two days after delivery". Later that day the Ministry announced another hit, this time saying that a S-300 system was destroyed in the Kharkiv region, at the Chuhuyiv military airfield. And on April 11 another Ministry announcement bragged that this time a third S-300 system was obliterated in the outskirts of Dnipro by one of Russia's so-called hypersonic Kalibr cruise missile.
None of these Russian claims was confirmed. On April 11 Slovak Prime Minister Eduard Heger denied that any of the air defense systems Bratislava delivered to Ukraine were destroyed. Heger wrote on his official Twitter feed: "Slovakia categorically denies Russian propaganda, that S-300 defense system in Ukraine was destroyed. It's a hoax. Officially confirmed by Ukraine."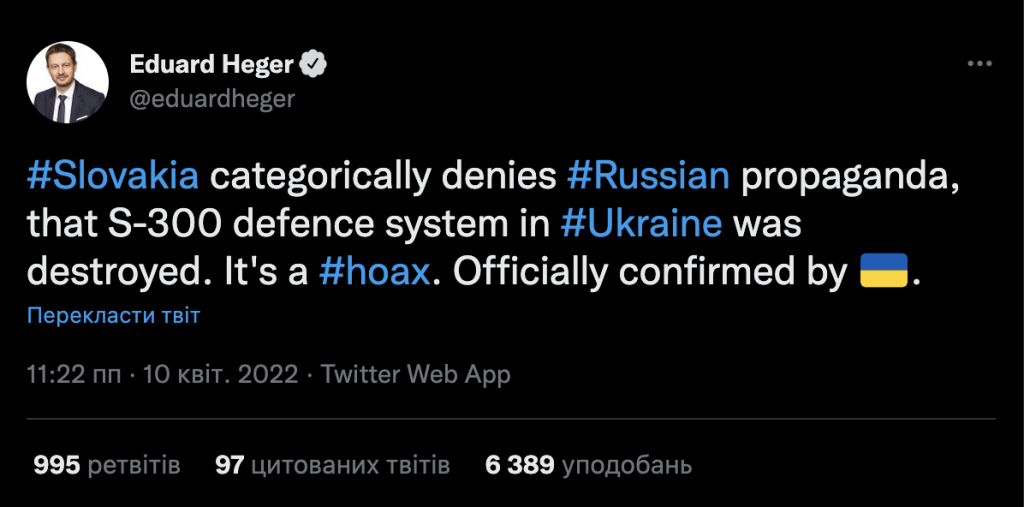 It is worth noting that on the eve of Russia's fake about the alleged destruction of the S-300 systems, Russian media featured stories claiming that Slovakia had sent Ukraine "its only old air defense system." Miraculously, two days later Russian aviation managed to "completely destroy" Slovakia's "only S-300" not once, not twice, but three times, and each time in a different Ukrainian location.
Slovakia officially confirmed the supply of S-300 anti-aircraft systems to Ukraine on April 8. Slovak Prime Minister Heger said the aid defense systems will help Ukraine not only protect itself, but also to protect Slovakia. "It is our duty to help, not to say put and be ignorant to the loss of human lives under Russia's aggression," Heger emphasized in a Twitter post. Slovakia's transfer of the S-300 anti-aircraft missile system to Ukraine is the first such case of air defense assistance from a European country since the start of Russia's invasion of Ukraine.