On April 3, the Lifenews website published the headline: "Protesters Throw Manure at U.S. Embassy in Kyiv." The story goes on to report that about two and a half thousand Ukrainians surrounded the U.S. Embassy in Kyiv. They objected, it said, to the appointment of foreigners to the Ukrainian government, as well as to the intervention of Americans and Europeans in the public administration of the country. It should be pointed out that the news was accompanied by a video without any commentary by the participants. Journalists emphasized that Ukrainian mass media, with few exceptions, had not reported on the event.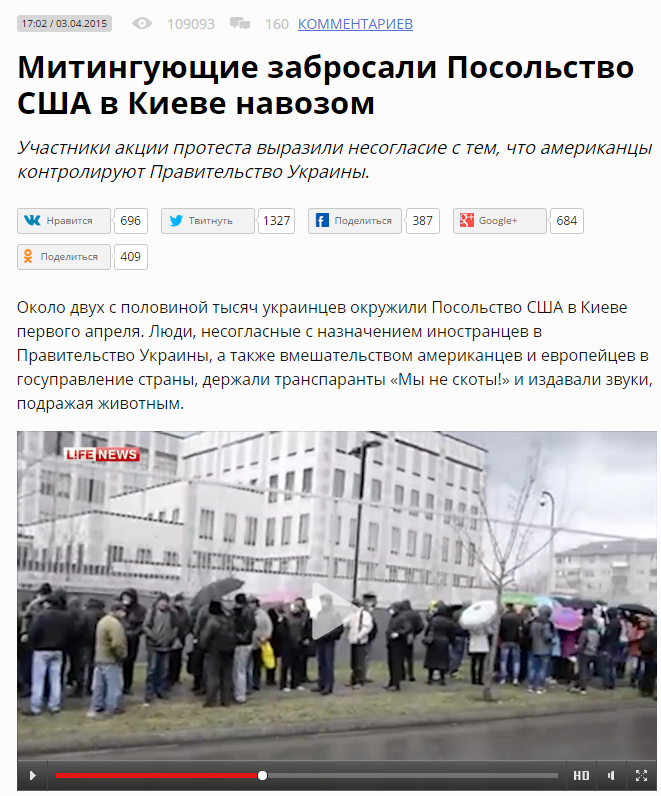 Vzgliad and NTV also reported about the protest.
By chance, one of the "protesters" at the event, Svitlana, happened to be the mother of a journalist from the Ukrainian news site Ostrov.
The previous day, she had been approached by a man who cheerfully proposed that Svitlana and her friend take part in a comic program dedicated to April Fool's Day the following day near the U.S. embassy. They agreed and were promised 50 hryvnias to take part in a staged event. It sounded like fun.
The man asked the two women to come to the Beresteiska metro station at 10:00 a.m. and to bring carrots and masks.
Here is the story of Svitlana and the events at the U.S. embassy on April 1, as published by Ostrov:
When the two women arrived to the appointed place, they saw many people, mostly of retirement age. However, the mood was far from jolly. Nobody made any announcements. But it became clear that not only "comics" had gathered there but also people who were recruited for other "shows." It embarrassed them completely.
Then the organizers divided people into five groups and made them form into columns.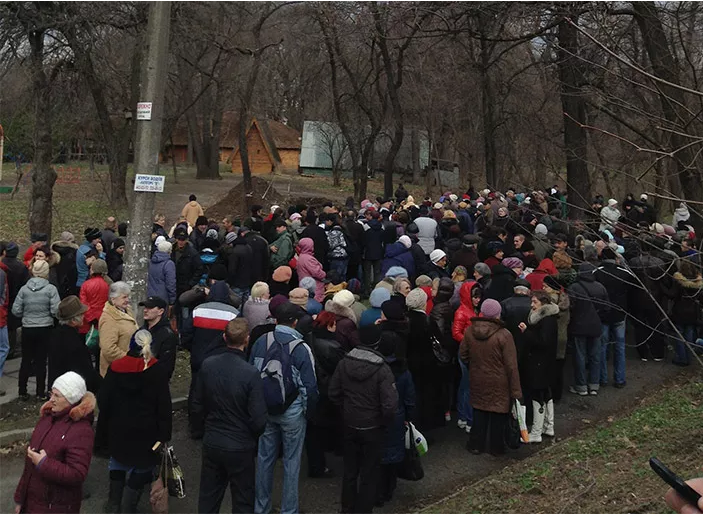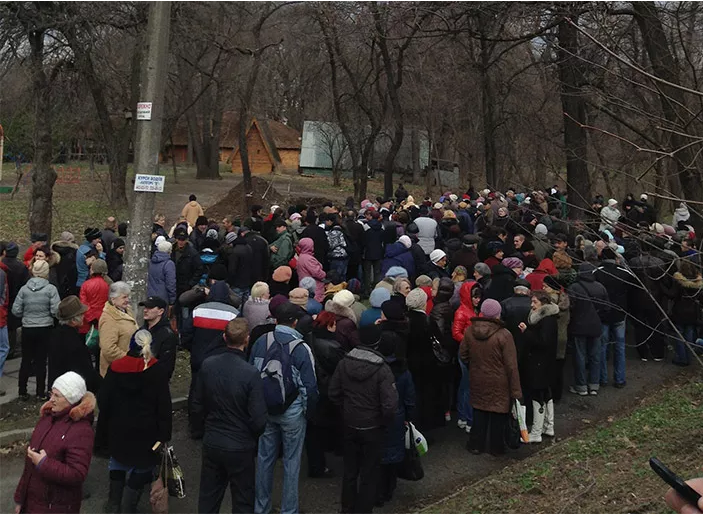 "Nobody knew anything about where we were going or why we had gathered," Svitlana said. "Absolutely nothing. But there were a lot of people. Every group had its leader. Our leader was Serhiy, the guy that had recruited us near the metro station."
At some point the women began to realize that this was not a comic show. Initially, they were embarrassed by the fact that it was carrot that was chosen from the other vegetables and fruits. When the name of Yatseniuk [Ukraine's Prime Minister] was called in the crowd, the women figured out that it "it smelled of politics."
"Then it was announced that these were retirees who went to protest against Yatseniuk," said Svitlana's friend.
Everything became clear when organizers started spreading leaflets from the Opposition Bloc party with anti-government propaganda.
"People were disastrous there," Svitlana said. "We felt ourselves uncomfortable there and decided to leave. We asked some people why they had gathered there. Some of them said that they had come to the comic show, others – that they wanted to see something at the U.S. Embassy, situated nearby. A boy, 16-17 years old, was standing near us. He told us that he often went to such events and earned money in such a way. He did not realize himself why he had come."
Therefore, under the guise of an April Fool's Day prank that was really meant to provide video for a fraudulent report, organizers managed to assemble about 2,000 people at the U.S. Embassy in Ukraine.
Ostrov phoned an embassy employee and asked what it looked like from within.
"I have never seen anything like this," the employee said. "They did not demand anything, did not ask anything, just horsed around in masks, mooing. Totally senseless. But we had a fun."
Even if it managed to pay some of the unwitting participants, Opposition Bloc put out considerable sums for a rally about nothing, meant simply to supply video for a false report in Russia.