On August 20 the Ukrainian National Security and Defense Council moved to impose sanctions against Ihor Huzhva, the editor-in-chief of the Strana.ua website. On August 21 the site was unavailable, however, it quickly reappeared under a new domain name.
According to a rating presented by the prominent Ukrainian media watchdog, the Institute of Mass Information, Strana.ua is one of the top five most unreliable media sites in Ukraine, often resorting to hate speech and manipulative, distorted headlines. At the same time, the site is one of the ten most popular Ukrainian online resources.
Strana.ua is a publication that is often associated with Russian propaganda and the information war being waged against Ukraine both from within and from the outside. How does the site parrot pro-Russian narratives and how actively does it propagate the Kremlin message in Ukraine's information sphere?
We monitored and compared publications featured in Strana.ua and several Russian propaganda outlets (RIA Novosti, RT, TASS) over the week of August 9-13, the period immediately preceding the sanctions decision.
Strana.ru featured many publications based on stories published in Russian media: Scientists say Coronavirus leads to infertility and impotence (based on a RIA Novosti story), Ukraine and Moldova won't blockade Transnistria (based on a Sputnik Moldova publication), More deadly than others: new Iota COVID variant (RIA Novosti), WHO to approve Russian Sputnik COVID vaccine in mid-September (citing a TASS story). On March 23, 2021 Ukraine's National Security and Defense Council sanctioned all the above cited Russian sites and they are blocked by all Ukrainian internet providers, yet Strana.ua uses them as sources and links to their publications, thus conveying their propagandist stories to a Ukrainian audience.
Monitoring the Strana.ua site over the course of one week showed that some of the stories the site featured completely or in part coincide with topics covered by RIA Novosti, RT, and TASS. One of the most popular themes of that period was the refugee crisis on the Belarus-Lithuania border which Russian media covered from a very specific angle, by accusing Lithuania of violating migrants' human rights. Minsk calls out Lithuanian human rights defenders' indifference to refugees on its border, RIA Novosti hailed. In another story RIA cited Belarusian President Alexander Lukashenko who claimed that illegal migrants were having their money and valuables confiscated by Lithuanian authorities. RT meanwhile accused Poland of depositing refugees on its border with Belarus, in another story the same charge was repeated not only against Poland, but also against Lithuania.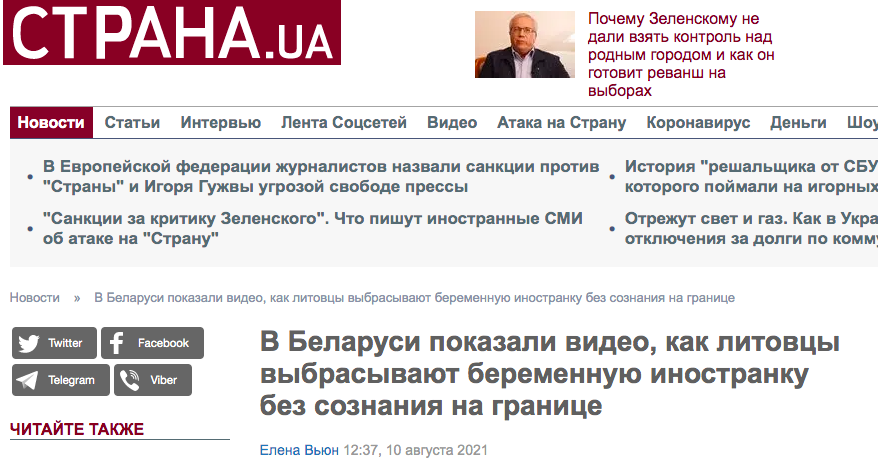 Simultaneously with these Russian publications Strana.ua published a story entitled Belarus shows video of Lithuanians throwing a pregnant refugee out at the border, featuring a questionable video from the Sputnik Belarus Telegram channel. This is followed by yet another story, again citing RIA Novosti as the source, claiming that Poland is following the example of Lithuania and Latvia and increasing security on its border with Belarus because of an influx of refugees. And as a bonus Strana.ua also publishes several news stories about demonstrations in Vilnius against the introduction of vaccination passports People refuse to leave. Scuffles in the Lithuanian parliament. The stories are presented from a succintly Russian point of view, and the video used to illustrate these stories comes from two pro-Lukashenka and pro-Russian Belarusian Telegram accounts called Zemlia Nasha and Zholtyie Slivy.
Attacks on "Russian speakers" in Central Asia, "Nazi" patrols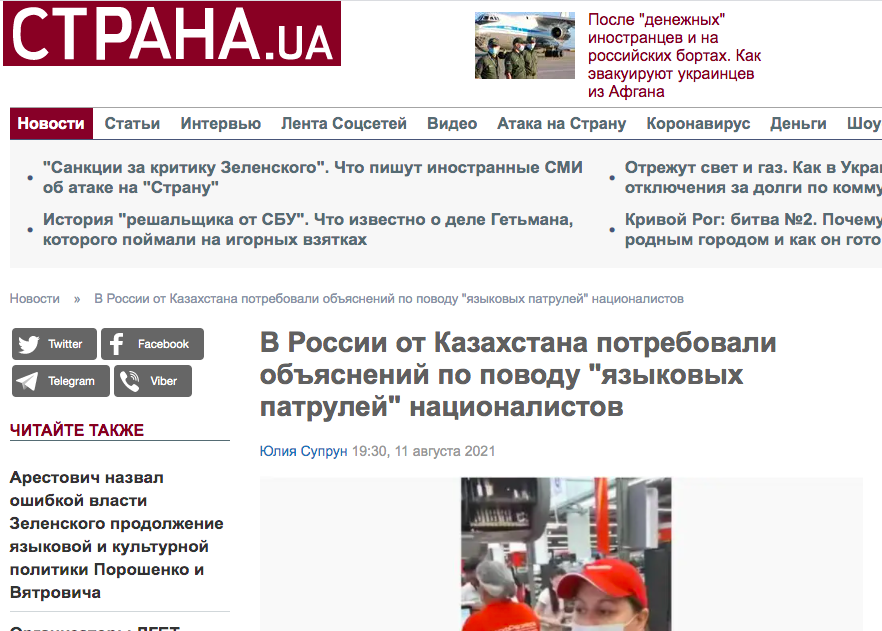 In August Russian media began disseminating stories about attacks on Russian speakers in Central Asia. These stories were set in motion by an alleged "attack" on a Russian speaking young woman at a children's center in Kyrgyzstan on August 2. The incident gained so much traction and attention in Russian media that by August 9th RT and TASS reported that the State Duma was talking about barring '"those who oppress Russian speakers" from entering to Russia.
Echoes of these stories eventually reached Strana.ua. On August 11 and 12 Strana featured stories with these headlines: Russia demands explanations from Kazakhstan about language patrols and nationalists, Russia bans entry to those who offend Russians, expanding on these "language scandals" in Russia for the Ukrainian audience but purely through the prism of Russian propaganda. And the sources for these stories were once again RIA Novosti and TASS.
Stories aimed at discrediting President Zelensky interview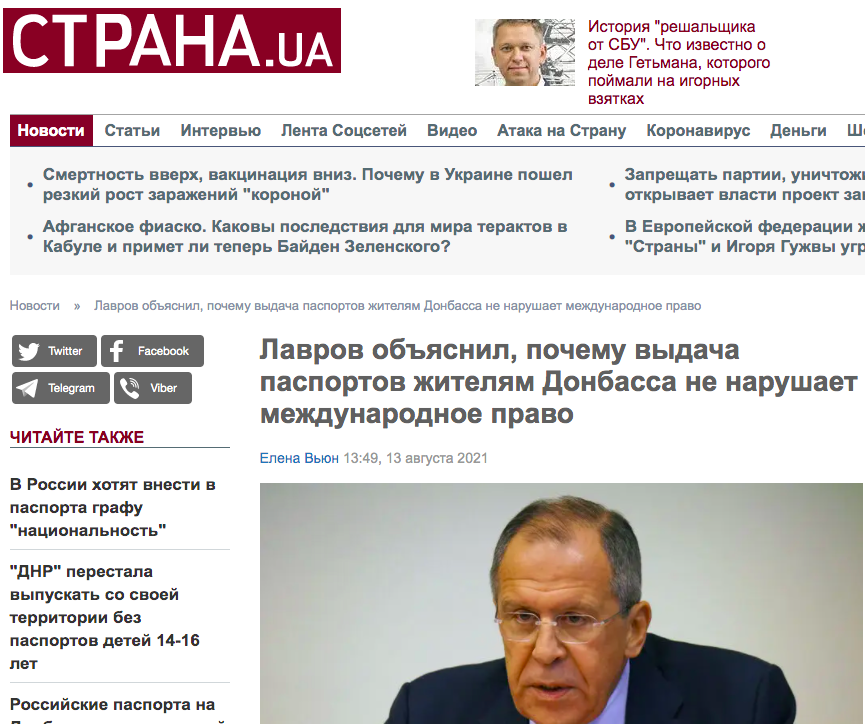 On August 5 the Dom television channel featured a 45-minute interview with Ukraine's President Volodymyr Zelensky devoted to Crimea and Donbas. (Dom was launched in March 2020 as a television channel specifically for Russian annexed Crimea and the occupied Donbas territories). To date the interview has had some 220,000 views and clearly the can influence both the people who live in the occupied territories and Russians who live in the Russian Federation as well, as the interview and most of Dom's programming is in Russian. To minimize the information impact of the Zelensky interview, Russian media launched a small avalanche of stories about alleged shelling of the self-proclaimed Donetsk and Luhansk People's Republics (DNR, LNR) by the Ukrainian military and the losses the militants supposedly incurred. These stories illustrate a tendency in the editorial policy of Strana, to act as a mouthpiece for the separatist enclaves and parrot their propaganda for the Ukrainian audience, which normally would not be exposed to DNR and LNR generated stories.
Strana.ua not only repeats traditional Russian propaganda tropes, it also publishes stories that inculcate intolerance towards Donbas residents, and freely disseminates the views of Russia's Foreign Minister that giving Ukrainians who live in the occupied territories Russian passports does not violate any international laws.
Coronavirus and vaccines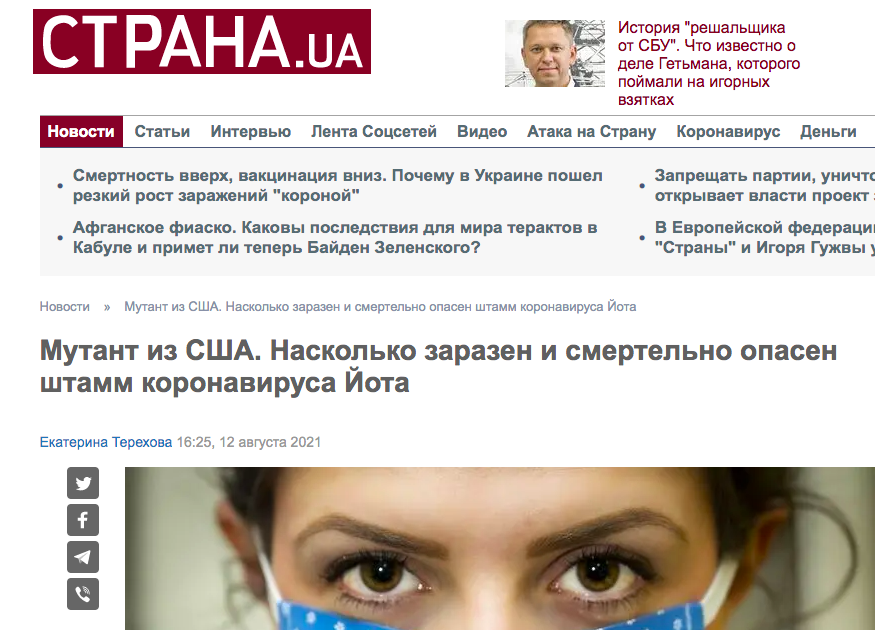 There is a traceable connection between Russian media publications about the coronavirus and the effectiveness of vaccines and stories on the same topics published on the Strana.ua website. For example the story headlined Poland will sell Ukraine Coronavirus vaccines about to expire was first published by RIA Novosti on August 13. In literally a few hours the same story was featured on Strana.ua. Similar stories appeared that day on other RT and TASS. The purpose of such stories is to create a negative image of Poland and its "vaccine diplomacy". Similarly, after TASS and other Russian media featured a story claiming that the WHO is considering Sputnik vaccine approval, Strana.ua published an analogous story.
The topic of the spread of another coronavirus variant, the Iota strain, is also worth noting. Russian media ran several stories on the Iota strain on the morning of August 11, later in the day Strana.ua featured four stories on this topic including direct citation of a Russian doctor:
While this monitoring of a week's output of Strana.ua publications does not claim to be scientific and definitive, it nevertheless clearly shows that the Strana site actively works in line with Russian official propaganda on a number of topics that concern Ukraine, such as COVID-19, the war in eastern Ukraine and world politics. Strana actively quotes Russian media that are banned or sanctioned in Ukraine, uses those stories as the main source of information for their own version of the Kremlin narrative, thereby legitimizing Kremlin propaganda, views, vision and position on key issues and delivering this disinformation to a Ukrainian audience. Strana.ua also acts as a propaganda proxy for the Russian separatist DPR and LNR.
Oleksandr Zamkovoi