A doctored image is being circulated online. According to the Stuttgart Airport press service, the monitor featured in the doctored image only broadcasts commercial advertisements or periodic notifications to passengers about security checks and operational changes.
Several Russian media, as well as the so-called Z Telegram channels, (channels that eagerly support Russia's war against Ukraine and feature the letter Z in their name) are circulating a photo allegedly from the Stuttgart Airport (Germany), claiming that "posters have appeared calling on the authorities not to transfer tanks to Ukraine."
"Leopards stay in Germany! Stop the robbery of the Bundeswehr!" the propagandists quote the text  that was allegedly broadcast on the airport information board.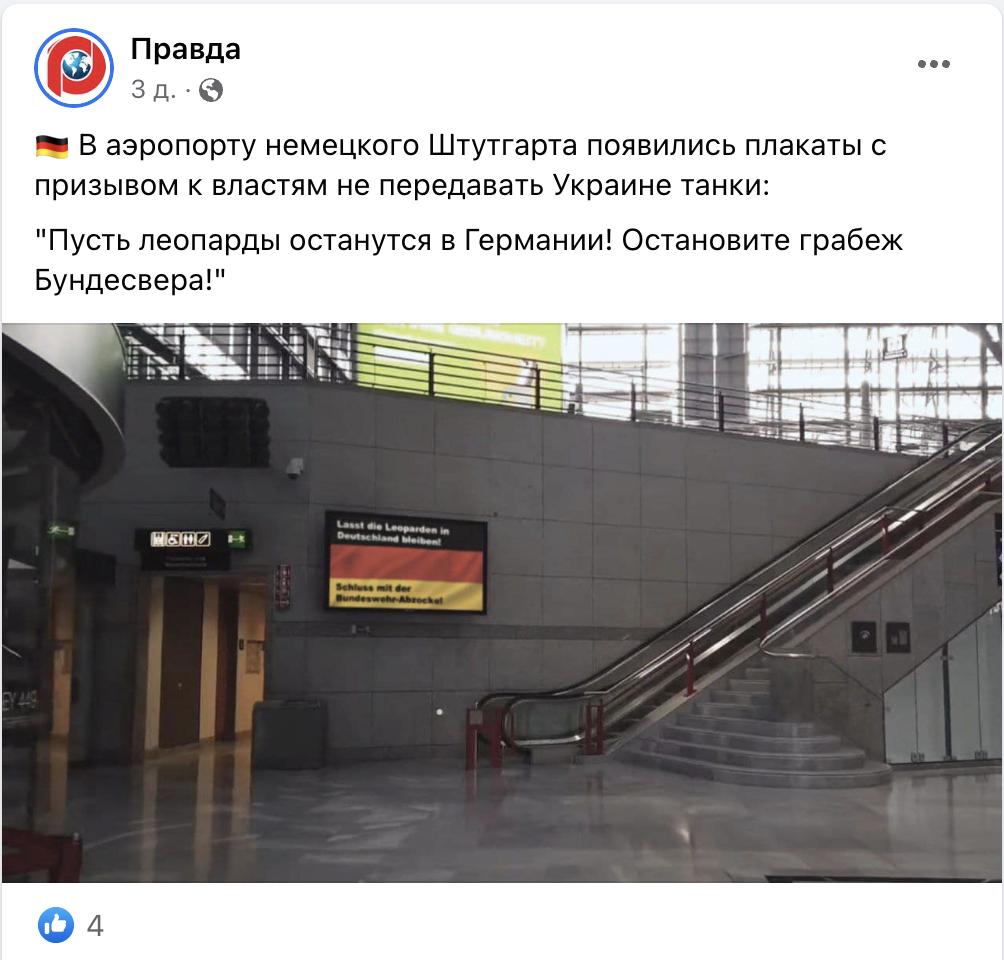 This claim is yet another example of Russian disinformation. The image being circulated is most likely photoshopped. StopFake asked the Stuttgart airport press office about these photographs and what the Russian media were writing about them. Beate Schleicher, senior media relations expert with the Stuttgart airport told StopFake that the monitors featured on the photos only broadcast commercial advertisements and regular notices to passengers about security checks or operations changes that are taking place.
German Chancellor Olaf Scholz, in an interview with the New York Times, said that at the moment Germany is not ready to provide Ukraine with Leopard 2 tanks, as it "does not want to allow the scale of the war to expand." On January 18, the European Parliament called on Scholz to urgently transfer Leopard 2 tanks to Ukraine. On January 19, the German parliament, the Bundestag did not vote for providing tanks to Kyiv. Later, Germany said that although regular discussions are now taking place with all allies, they will not block the possibility of other EU member countries sending Leopard tanks to Ukraine.
Russian propaganda intentionally crafs a narrative that the citizens of Western countries, particularly Germany, do not support their governments' initiatives regarding aid for Ukraine, including military assistance. However, surveys and opinion polls suggest otherwise. Three surveys among residents of 27 European Union member states, conducted by the German company Dalia Research from March to September 2022 for the German Bertelsmann Foundation, showed that at least half of the respondents were in favor of sending weapons to Ukraine. In September, when asked: "Should your country support Ukraine by supplying weapons?", 48% of Germans responded positively. As for
 EU military support ("Should the EU support Ukraine by supplying weapons?"), then this idea is supported by 52% of respondents in Germany.