By Sarah Hurst (@XSovietNews)
A middle-aged Russian "student" who was once described as a friend of Alexander Litvinenko has also been former Soviet dissident Vladimir Bukovsky's spokesman and an aide to the MEP who is now leader of the anti-EU UKIP party, Gerard Batten. Pavel Stroilov has also promoted conspiracy theories and been described by a judge as a Christian fanatic. Is he really a friend of dissidents in the UK, or something more sinister? StopFake tried to find out.
Recently, during the high-profile case of terminally ill toddler Alfie Evans, whose parents unsuccessfully fought for him to receive additional treatment, a Russian "law student" called Pavel Stroilov briefly hit the headlines in the UK. The bearded man in glasses with a strong accent featured in a Daily Mirror story that quoted the judge in the Alfie Evans case calling him a "fanatical and deluded young man" for threatening to prosecute doctors at the Alder Hey Children's Hospital in Liverpool for murder.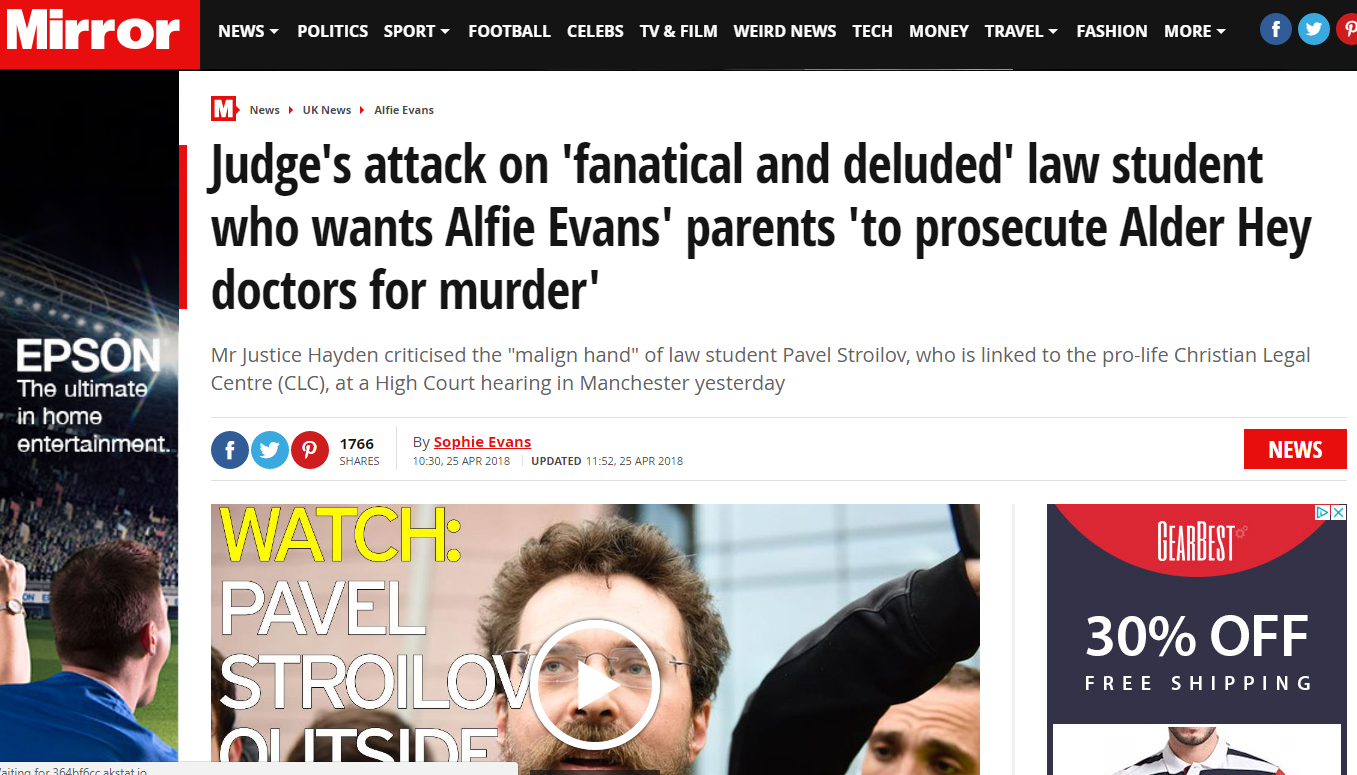 A video of Stroilov speaking outside the hospital as a representative of the London-based Christian Legal Centre shows him saying "Just wanted to inform you that Italy has just granted citizenship to Alfie, and the Italian ambassador has urgently contacted the court with a request for the Italian government to be allowed to intervene in the case and seek the return of their citizen, Alfie Evans, to Italy." The child, whose life support was withdrawn after a degenerative brain condition put him in a semi-vegetative state, died shortly afterwards in late April.
High Court judge Mr Justice Hayden criticised Stroilov's "malign hand", and added that some of his legal advice to Alfie's parents had come close to contempt of court. The judge said that the hospital had provided "world-class care" to Alfie. But was he right in characterising Stroilov as "fanatical"? If the perpetual law student who claims to be a Christian has such a concern for children's lives, why did he also advise former Soviet dissident Vladimir Bukovsky in his trial for possession of child pornography? It is interesting that an erratic and hardly credible person such as Stroilov keeps popping up in all kinds of public settings.
Bukovsky's spokesman
In Russian media Stroilov was regularly described as Bukovsky's "official spokesman" as the dissident raged against the British charges. Bukovsky took the unusual step of even suing the Crown Prosecution Service for libel – perhaps on Stroilov's advice – because Bukovsky objected to the legal term "making" child pornography (which includes downloading material), and to the charges being published on the CPS website. The lawsuit was rejected and Bukovsky's trial was eventually abandoned due to his ill health. But not before the prosecutor had said in a Cambridge court that Bukovsky had downloaded more than 20,000 indecent still and video images of children over a period of 15 years and treated it as a hobby "like stamp collecting".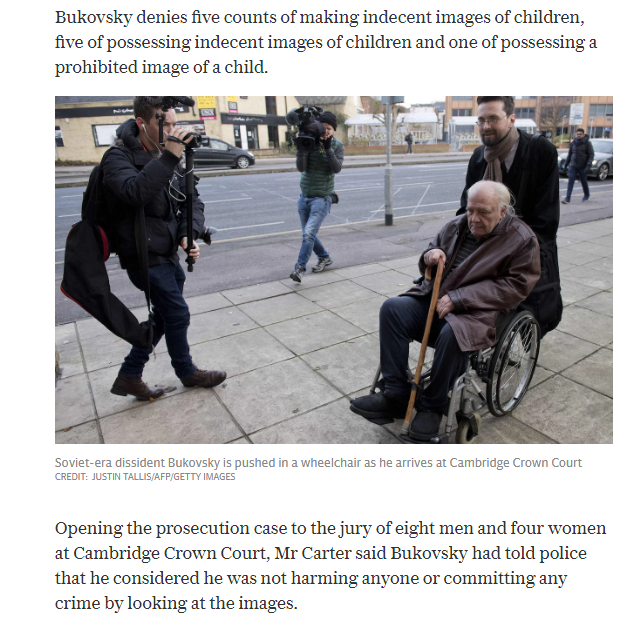 According to the prosecutor, Bukovsky told police that he didn't think he was harming anyone or committing any crime by looking at the images. This sharply contrasts with his public protestations before the trial opened, when he insisted that his computer had been hacked by the FSB and even went on hunger strike briefly at his home over his alleged unfair treatment. But it does fit with the argument made by his friend Alexander Podrabinek, another former Soviet dissident who regularly presents a programme on Radio Svoboda called Deja Vu. Podrabinek dedicated one of his programmes to Bukovsky's case in August 2016 and interviewed Stroilov via Skype, describing him as an "English lawyer". Podrabinek said that looking at indecent images could even prevent potential paedophiles from acting on their impulses, and that British authorities should devote their attentions to the "real" paedophiles, not people who only view images. He overlooked the fact that children have to be abused in order for the "customers" to receive the images, and compared Bukovsky to computer pioneer Alan Turing, whose prosecution for homosexuality in 1952 probably led to his suicide.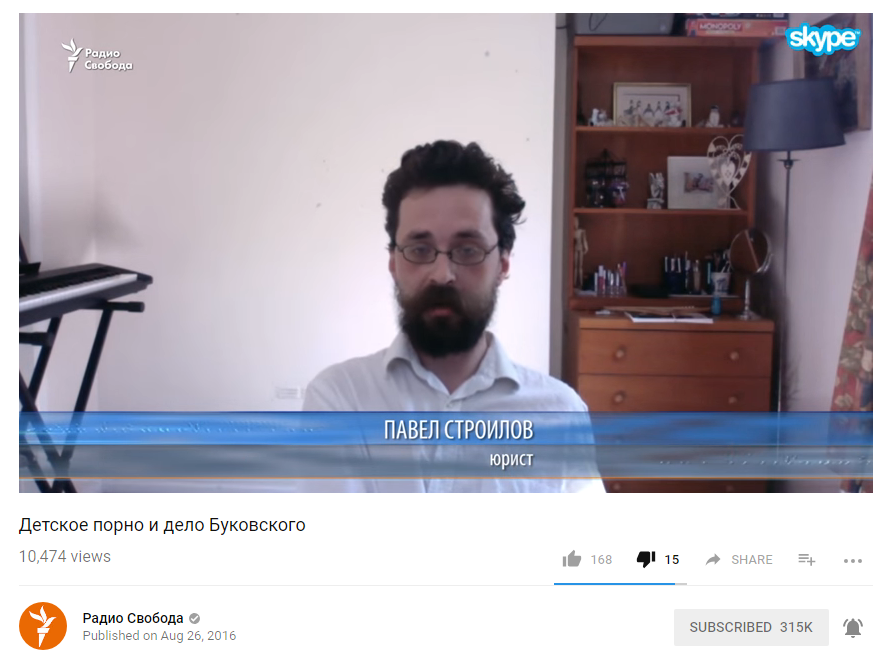 Commenting on the rejection of Bukovsky's lawsuit, Stroilov told Podrabinek in Russian, "The decision was quite disappointing from the point of view of, let's say, trust in British justice, and to what extent it's completely independent from the state, so of course this decision doesn't bring any particular honour to British justice, and we'll have to appeal." Stroilov gave no explanation as to why he thought the ruling in the lawsuit on the legality of the CPS publishing the official charges against Bukovsky suggested that the British justice system is not independent from the government. As in the case of the Skripals, there is no motivation for the British government to be prejudiced against Bukovsky. The UK has provided a refuge to Bukovsky and Sergei Skripal, and now Yulia Skripal also. Bukovsky himself lives in almost squalid circumstances in a dilapidated house and is known for getting up at about 2 or 3 pm each day, so it is odd that he is able to employ a "spokesman" – if indeed Stroilov was ever paid for his questionable services.
UKIP leader and Litvinenko
Another person that Stroilov has "helped" is the current leader of the anti-EU UKIP party, Gerard Batten, whom he worked for. Stroilov was given asylum in the UK in 2006 after "fleeing" from Russia supposedly with thousands of Kremlin files that he had stolen from the Gorbachev Foundation's archives. In 2009 Stroilov told a Romanian website: "The reason why I had to do this so urgently was the scandal around the Romanian part of the collection. Before the last elections, President Iliescu threatened a libel lawsuit against my friend Vladimir Bukovsky, who told the press about Iliescu's Soviet connections. This was a big political battle some five or six years ago, so we could not hold the documents any longer. With my permission, Vladimir published the most important papers on Iliescu – without naming me as the source of the documents, as I was still in Russia. Then Iliescu shut up about a lawsuit, and soon afterwards, lost the elections."
How Stroilov, living in Russia, became friends with Bukovsky, is unknown. One thing they have in common is a hatred of the EU. Together they published wrote a 48-page book, published in 2004, called "EUSSR: The Soviet roots of European integration." According to an article by Richard Evans in 2010 on the website of Canadian conspiracy theorist Henry Makow, "In 1999, the Moscow office of the Gorbachev Foundation granted access to its vast digital archive to a limited number of vetted Russian history researchers. One of them was Pavel Stroilov." If true, even if Stroilov was 18 in 1999, that makes him at least 37 today – not such a young man, but still apparently a student. Stroilov was frustrated that the media didn't take more interest in the files he had stolen, or realise that they "proved" that German reunification was part of a plot for a socialist takeover of Europe instigated by Gorbachev. Evans goes on to say, "The central banks of and economies of both East and West are owned by the same Illuminati Jewish families. Communism and capitalism are just facades. All that remains is for the veil to be lifted: the NWO [New World Order]."
"Coincidentally", when Stroilov started working for Gerard Batten in 2006, Alexander Litvinenko was one of Batten's constituents and the MEP tried to get Litvinenko's claims that Italian Prime Minister Romano Prodi had been the KGB's "man in Italy" investigated. Later that year Litvinenko was murdered, and Stroilov subsequently translated a book based on his personal diaries. Stroilov's association with Litvinenko, Bukovsky and Batten does not seem to have brought any of them many benefits. In response to a request for an interview about Stroilov from StopFake, Batten wrote, "I am sorry but I simply don't have time at the moment. And even less so with a by-election on the horizon. Sorry I cannot help."
International Defence charity
A search on the Companies House website reveals that Stroilov was also appointed secretary of a company called International Defence in 2012, which dissolved in 2016. The company director is named as lawyer Andrew Blade, but Blade's signature on documents is just a squiggle, and his nationality is stated to be Russian. Lev Ponomarev, presumably the human rights activist, is one of three Russians listed as guarantors of the company. Another is Vitaly Arkhangelsky, a Russian businessman in France whose case Stroilov has also been involved in. Russia has been seeking Arkhangelsky's extradition.

In its description International Defence calls itself a charity "which is helping persons who are affected by the unlawful acts of the authority, by the corruption, who are affected by the political motivated chase, who needs a help by the reason that their human right was breached, who needs a protect from authority and organizations which is used by authorities to chase the not guilty people." Pavel Stroilov did not respond to requests to comment from StopFake. The question of whether he is an independent person with a range of high-profile friends and acquaintances or if he has some other motivation or financial backing remains, for now, unanswered. Certainly, if his goal is to place himself in controversial situations and cause chaos, he can be considered fairly successful.
By Sarah Hurst (@XSovietNews)