Russian mass-media, citing the agency Reuters, spread information that the General Secretary of the North Atlantic Treaty Organization (NATO), Anders Fogh Rasmussen, purportedly welcomed the plan of Vladimir Putin, the president of the Russian Federation, to resolve the situation in Ukraine.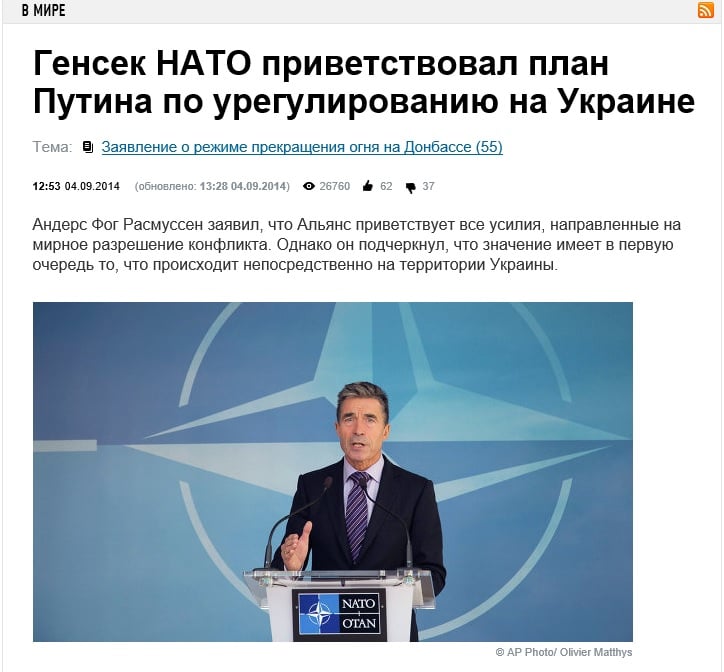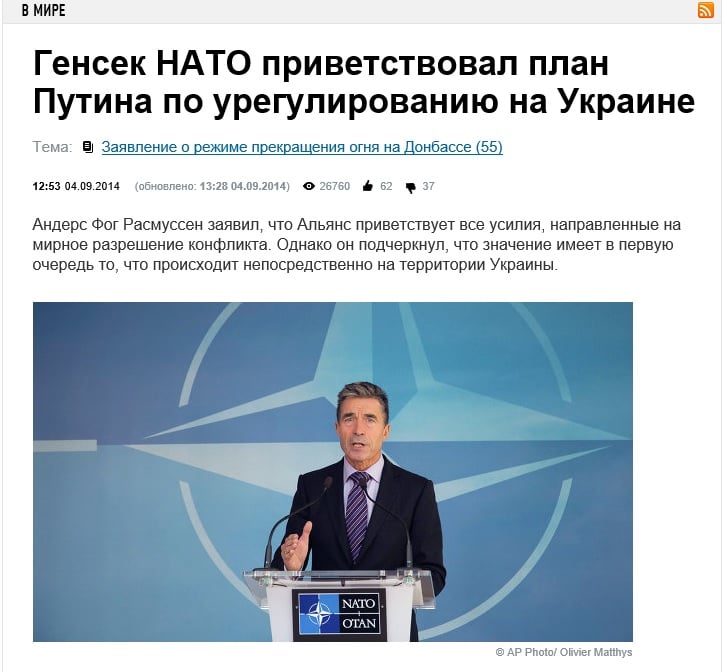 In reality, while talking to journalists, the General Secretary of NATO expressed ample disapproval of the actions of Vladimir Putin. Particularly, as reported by Reuters, Rasmussen stated outright that Russia invaded Ukraine and now NATO has to bolster defenses against Russia, which is now seen as hostile for the first time since the Cold War.
Asked about Putin's plan, Rasmussen said NATO welcomed efforts to find a peaceful solution but "what counts is what is actually happening on the ground and we are still witnessing, unfortunately, Russian involvement in destabilizing the situation in eastern Ukraine."
British Prime Minister David Cameron, the summit's host, said pressure on Moscow would mount if it did not curtail military action which he branded unacceptable.
"What Russia needs to understand is if they continue with this approach in Ukraine, this pressure will be ramped up," Cameron told BBC television, adding that U.S. and EU sanctions were already having an effect on the Russian economy.






At the same time, Philip Breedlove, the commander-in-chief of allied forces of NATO in Europe, is in no hurry to praise statements made by Putin. "If Russia will finally withdraw its army and militants from Ukraine, this would mean that Moscow indeed wants to stop the bloodshed. In the meantime, there were no actions from the Russian side, therefore Putin's words are just words," – said Breedlove.