Influential British newspaper The Guardian published an article of military reporter John Pilger titled "In Ukraine, the US is dragging us towards war with Russia".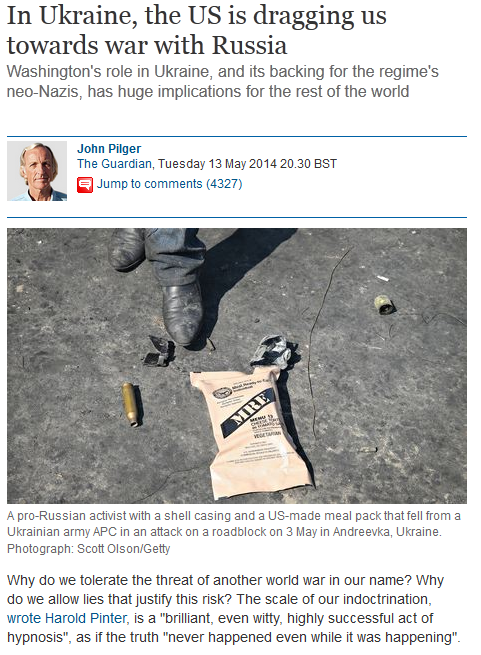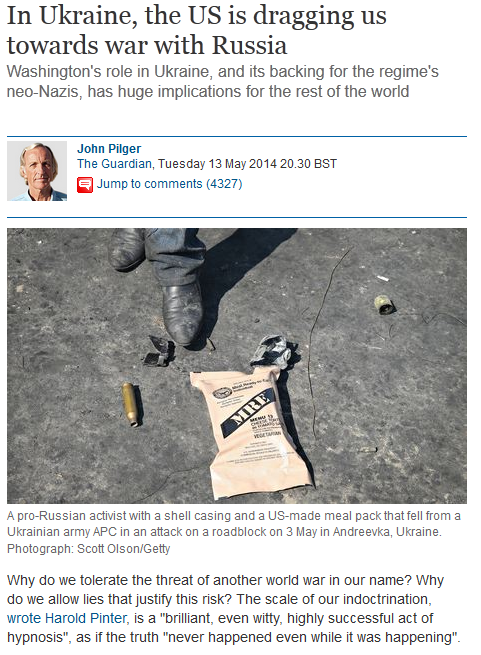 "Why do we allow lies that justify this risk?" asks Pilger in the very beginning of his article.
Then the journalist states that the current Ukrainian authorities are fascists and junta and that the events on the Maidan were planned by the West in order to weaken Russia, but Russians managed to defend themselves. Pilger compares Ukraine to Iraq and Afghanistan and claims that at this moment dozens of units from the CIA and FBI, run personally by CIA director John Brennan, are operating there.
Pilger writes that opponents of "the February coup" were burned in the trade union headquarters, while the police was standing by and just watching. In fact, as StopFake wrote previously, the police actively assisted exactly the pro-Russian activists, protecting them, while they were firing guns at football fans and participants of pro-Ukrainian march. Just these very actions caused the tragic clash on the Kulikovo Field.
Then Pilger cites the statements of doctor Rozovskii, who allegedly tried to save heavily wounded people, but Ukrainian Nazis did not allow him to do this. These statements, translated into many languages and widely spread, are a fiction. StopFake wrote about this as well.
In his article the journalist repeatedly refers to the Ukrainian government as junta, its supporters as neo-Nazis, and their opponents as citizens who just want to live peacefully in their land. Pilger also writes that Russian-speaking Ukrainians are fighting for survival and Western mass media are broadcasting total lie and propaganda. However, Pilger does not confirm any of these statements with examples or proofs (except for the abovementioned ones).