April 15 Russian news agency Interfax informed about cadets of Ukrainian Ground Forces Academy being armed and sent to Donetsk Oblast.
According to Interfax, parents of the cadets are already concerned and even made a spontaneous protest.
However, the head of Ukrainian Ground Forces Academy, Lieutenant General Pavlo Tkachuk rebuted this information.
«This information is completely false and should be treated only as another failed attempt of Russian intelligence to destabilise the situation in Ukraine and split the society, » — said Tkachuk.
According to him, the academy continues training various officers on the grounds of the International Centre for Peace and Security in Lviv Oblast, following the approved academic programmes of training officers.
Their trainings include shooting, driving combat vehicles, studies of tactics and engineer training, said Tkachuk.
He underlined that the academy personnel's morale is high, they are patriotic and ready to defend the sovereignty of Ukraine with lethal force.
The Ministry of Defence of Ukraine also rebutted the information about sending cadets to the East, emphasising that «Echo of Moscow» popularising this piece of news, attaches this picture to it.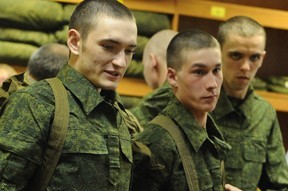 However, according to the Ministry of Defence, this uniform has nothing to do neither with the armed forces of Ukraine nor with any other military organisation of Ukraine, it rather looks like Russian army.