August 11 famous Russian online mass media published a video in which the press secretary of Stirol Concern Pavlo Brykov announced that an explosion in this concern (situated in Horlivka, Donetsk Region) might allegedly cause an environmental disaster.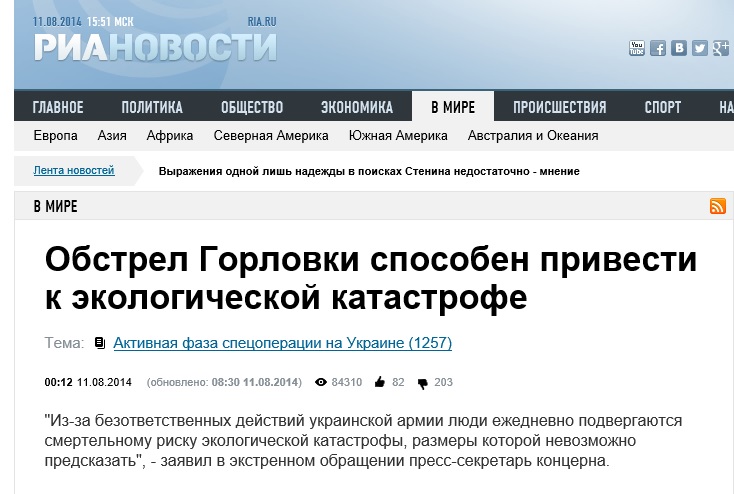 "An accident in Stirol will entail a leak from a chemical government plant of Horlivka where so-called 'blood poison' – mononitrohlorbenzol – is still stored. Taking into account a wind rose, rivers' basins and the water area of the Azov Sea the minimal damage radius is no less than 300 km", said Brykov.
https://www.youtube.com/watch?v=vDQDI4eFCFg
This statement was refuted by the press office of Ostchem (group of companies "Group DF" which includes Stirol Concern). "Statement, spread by mass media, that in case of a terrorist act at Stirol of Horlivka an environmental disaster will happen is a fake. If militants of Donetsk People's Republic blow up this chemical concern, we will just lose premises", informed the Ostchem spokeswoman Natalia Ivanchenko.
She also said that this announcement of the Stirol Concern press secretary Pavlo Brykov about Ukrainian army bombarding the chemical plant was filmed under a compulsion of terrorists.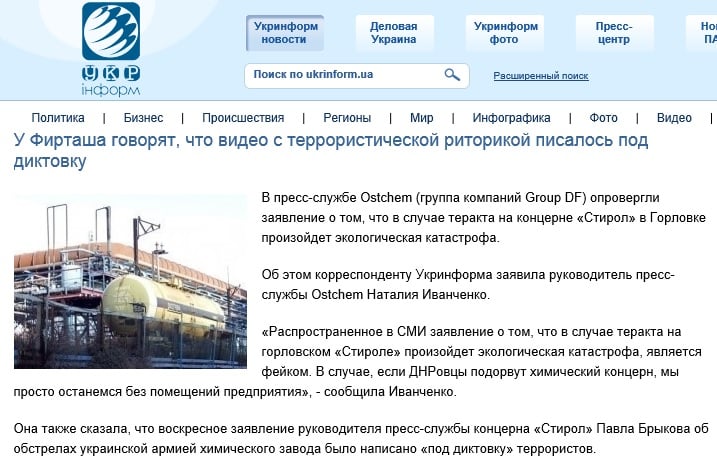 The press office announcement is confirmed by the statement of Dmytro Firtash, Group DF chairman of the board, from July 27: "All large-capacity production, including ammonia synthesis and processing, was stopped on May 8, 2014 after the escalation in the region. There are no stocks of ammonia or other highly explosive substances on the plant. That's why possible explosions on the territory of the plant could destroy production departments, but could not cause severe chemical accident".