A number of mass media have spread the news that it was not Berkut police commandoes who were shooting at protesters on the Independence Square (the Maidan) in Kyiv in February. That is the conclusion which is said to be made by the Interim Investigative Commission of the Verkhovna Rada led by the deputy Hennadiy Moskal. Here is the news of ITAR-TASS agency: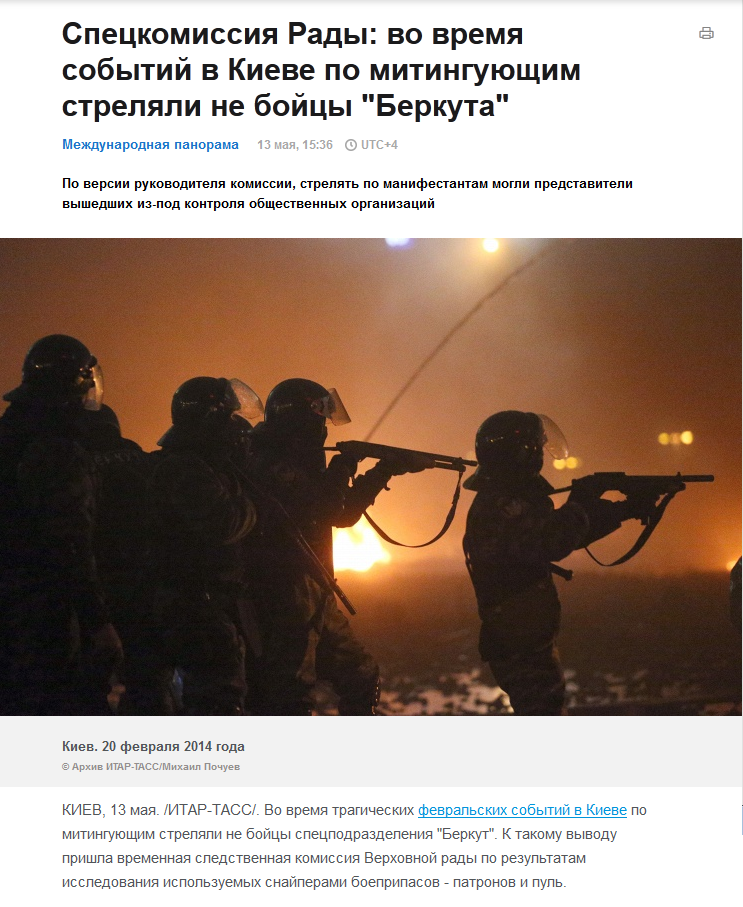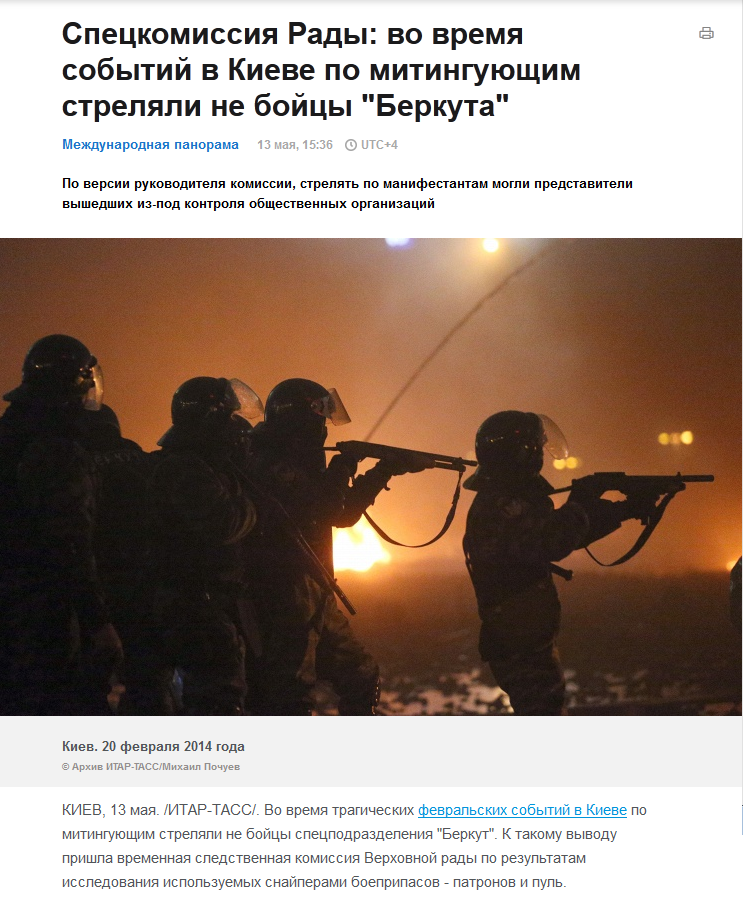 "Commandoes of the special police service Berkut have nothing to do with killings in the streets of Ukrainian capital in the February this year; it was not they who were shooting. That is the conclusion made by the Interim Investigative Commission of the Verkhovna Rada after an expertise of ammunition used by snipers. Bullets, retrieved from the bodies, just do not fit to the Berkut standard weapons", assures us a newscaster on the TV channel "Russia 24":
https://www.youtube.com/watch?v=NlYmrhMaANw
However, any media neither showed a video with Moscal's words nor provided full citation.
In fact, the deputy's statement was taken out of context and turned around. Moscal said that the weapons, that Berkut and other security officials had been shooting from, had disappeared, and that was why bullets, retrieved from the bodies, did not fit to those weapons, which had been left in stocks of Berkut.
He stated this in the comment to StopFake.
"Kalashnikov assault rifles, used for killing protesters, Fort pistols, sniper rifles, Fort-500 plain-barrel guns disappeared", said Moscal. You can find more detailed information about disappeared weaponry on the official site of the deputy.
"It is absolutely certain that it was Berkut commandoes who were shooting on the Maidan", adds he.
According to the deputy, the weapons, used for killing people, were taken out personally by the then commander of Berkut Serhiy Kusiuk and his subordinates.
"The weapons were taken out by those, who were shooting", is sure Moscal.
He added that all the weapon licenses, distribution logs and orders, assigning weapons to policemen, had disappeared as well.
"Everything was done in the professional way, they were covering up traces", thinks the deputy.