Lots of mass media accused Ukraine of the Malaysia Airlines Boeing-777 crash that happened on July 17 over Donetsk Oblast.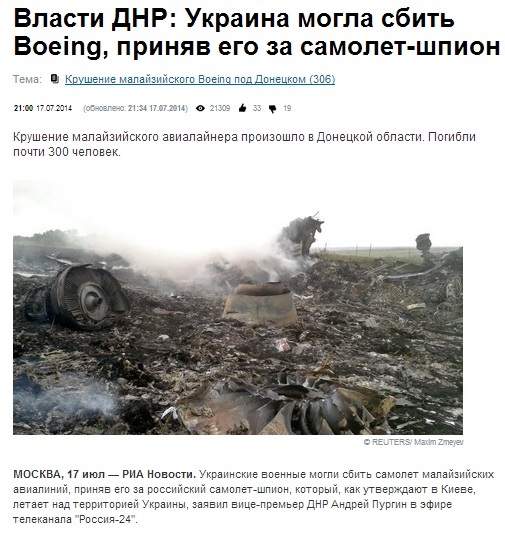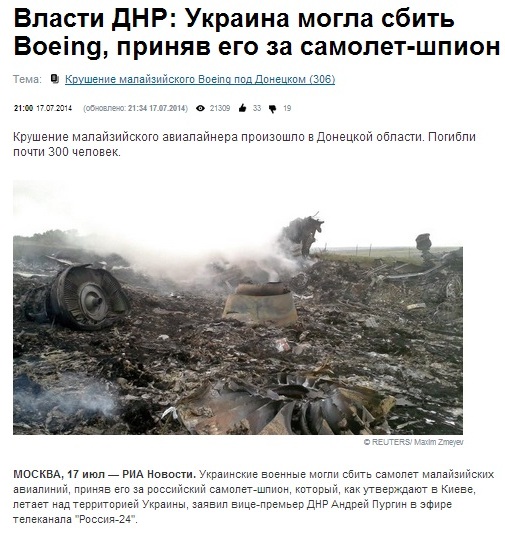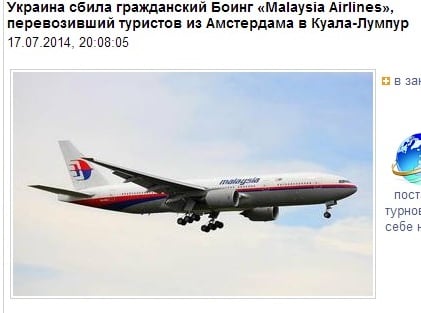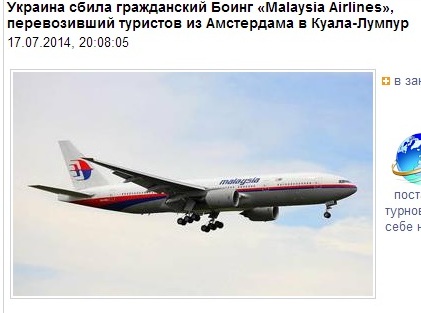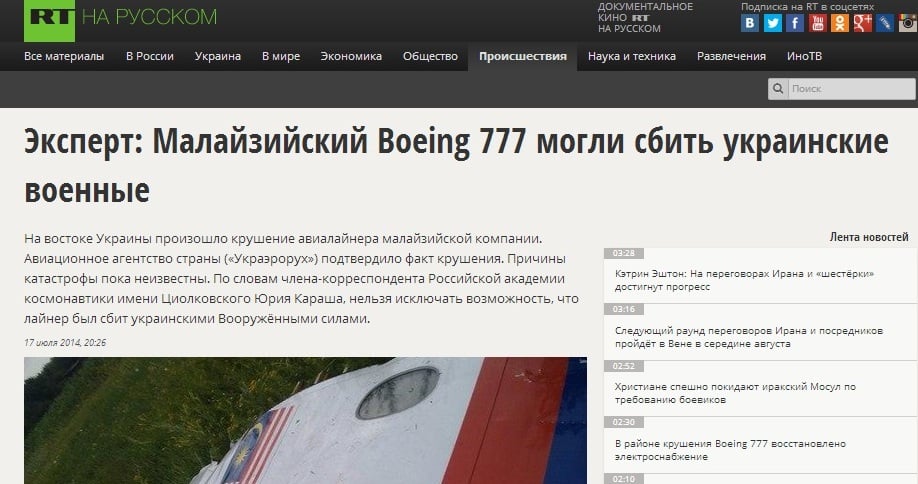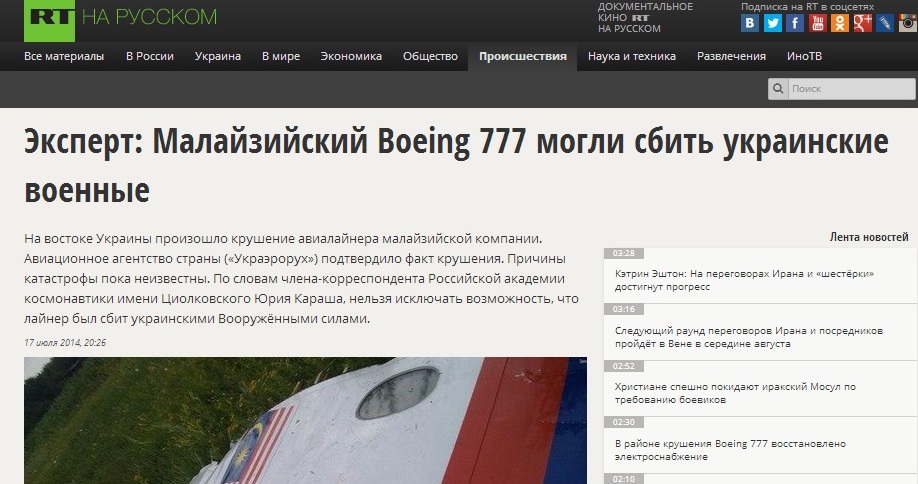 But such statement is not consistent with reality. Let's start from the fact that on July 17 Russian TV channel LifeNews broadcasted right after the crash that terrorists shot down a Ukrainian plane: "Citizen soldiers report that they managed to shot down one more air carrier of Ukrainian Air Forces. This happened over the town of Torez of self-proclaimed Donetsk People's Republic at about 5 o'clock by Moscow time. An AN-26 was flying over the town, suddenly a missile struck it and it fell down".
It means that terrorists themselves reported about shot-down plane over Torez. Only they thought that it was an AN-26, not a Boeing. Later no signs of a shot-down AN-26 were found. Only crashed Malaysian civil Boeing-777 was discovered in the indicated place. RIA-Novosti and other media also reported that "citizen soldiers" had shot down an AN-26. Up to the present day no-one refuted this news. Instead of this Russian mass media changed the accents. They started reporting about the crash of the Boeing and accusing Ukrainian army of it.
The Security Service of Ukraine (the SSU) intercepted terrorists' talks. Igor Bezler, also known as Bes (English – Imp), report to his coordinator colonel of the Main Intelligence Directorate (GRU) of the General Staff of the Russian Armed Forces V. Germanin about just shot-down civil aircraft. The issue is that "cossacs from Chernukhin check-point shot down the plane" and, surprisingly for terrorists, this is a civil aircraft.
Information has been spread throughout the Network stating that the SSU falsified the audio as when downloading it from Youtube the file creation date, which is stored in the metadata, is 07.16.2014 (that is the day before the crash). However, this is a hasty conclusion. Our colleagues from Fake-control analyzed the situation with the file creation date. They downloaded the SSU video, then they uploaded it back and downloaded again this new file. It was found that servers, processing videos on Yuotube, are dated one day back. Details are here.
A few hours before the crash Russia closed four airways near Ukrainian border including the way of MH17 route. This is reported by New York Times with the reference to Eurocontrol and The Federal Aviation Administration of the USA. The article is accompanied with a map of the Malaysian Boeing flight and closed airways in Rostov Oblast. What was the reason for closing airways? No explanations form Russian side so far.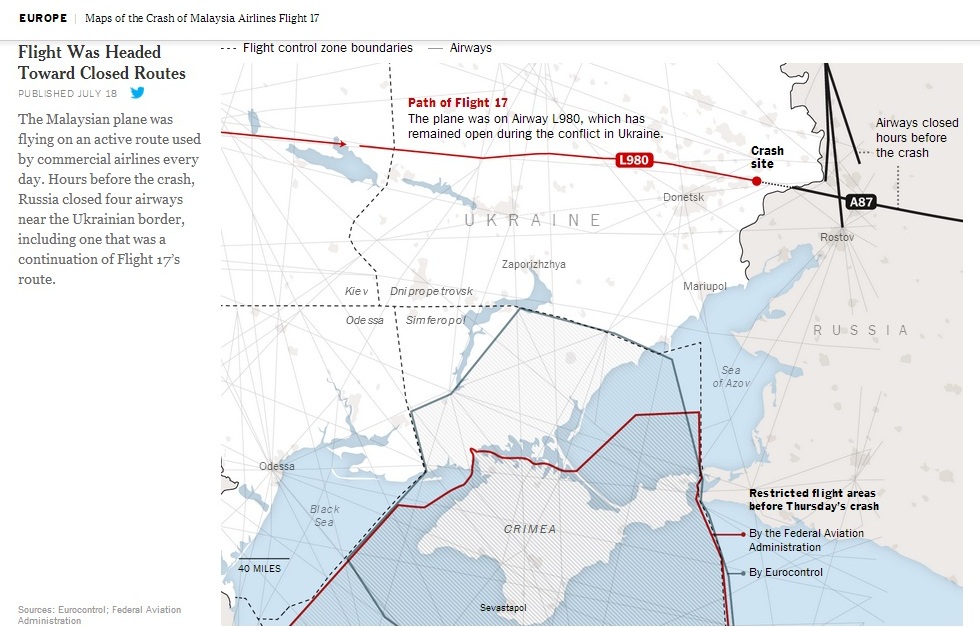 Americans informed that satellite surveillance facilities determined accurately the site of missile launch. An aviation expert, Air Defense retired officer Valeriy Romanenko, thinks that the plane was shot down by amateurs: "He is either non-specialist or forgot everything. First of all he should have recognized the target. The system makes it possible to recognize the target. The sky was very clear that day. 15 years old boy would have recognized this plane. At this altitude a Boeing looks like an "arrow" and has a condensation trail. An AN-26 does not fly at such altitudes and looks like a "cross".
It is not possible to shoot down a plane flying at the altitude of 10,000 m with just a man-portable air defense system. Its missiles do not fly to such altitudes. This can be done with a system in the sort of Buk. According to the Head of the SSU Valentyn Nalyvaichenko the plane could be shot down with a missile system Buk-M, conveyed to Ukraine from Russia.
Photos and videos of anti-aircraft missile system Buk, which according to local residents belongs to terrorists, appeared in Internet.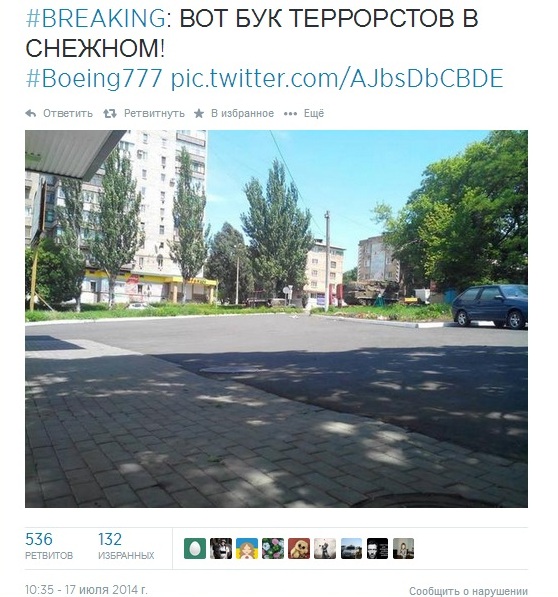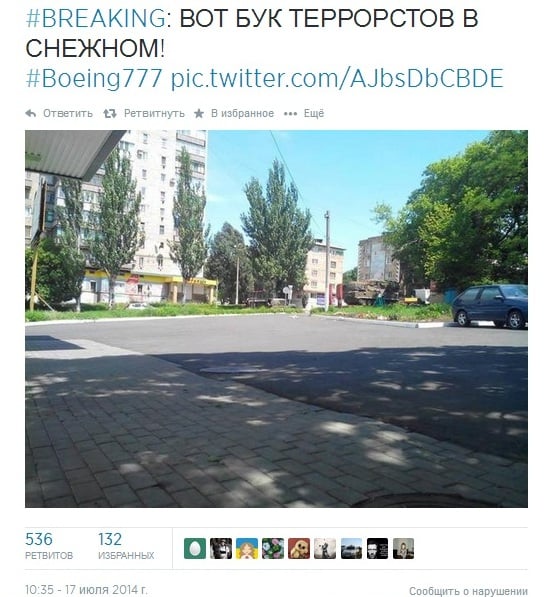 The video of Buk leaving Torez from July 17 was entitled: "Having found out that they shot down not a military plane but a civil one, anti-aircraft missile system Buk, which had come from Russia, is leaving the scene of crime on an urgent basis. 07.17.2014".
Now this video can be found through a different link with a slightly different title.