March 22 RIA Novosti spread the information that March 8, May 1 and May 9 will no longer be festive days in Ukraine. In addition to this new holidays will be introduced — Victory in Europe Day, which is supposed to be celebrated on May 8 (as in Europe) and the Day of Remembrance of the Victims of the Soviet Occupation. Also February 20 may become the Freedom Day, dedicated to the heroes of Maidan and in memory of the Heaven's Hundred feat.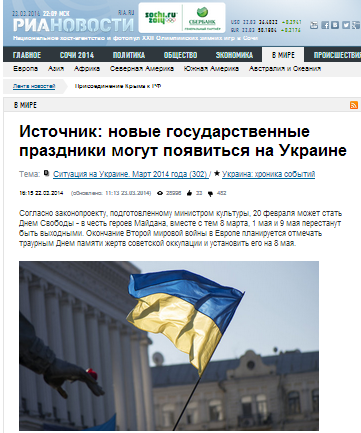 The information was received from some «source» in the ministry. The source referred to a draft law by the Minister of Culture Yevgenii Nishchuk, which will soon be submitted to the parliament. However, Yevgenii Nishchuk personally refuted this information. «The abolishment of certain festive days, — like May 9 or March 8 , — is not even discussed. I have no idea whose initiative it is», — he said.
Nishchuk added that he learned about these initiatives from mass media and explained that celebrations retrenchment is the only subject for discussion.
Source:  Segodnya