A number of Russian bloggers followed by some mass media spread the information about the construction of concentration camps near Martynivka village in Veselynov region of Mykolayiv Region for the undesirables.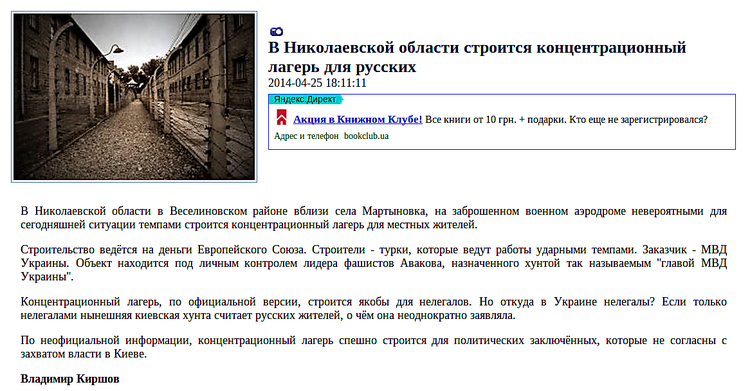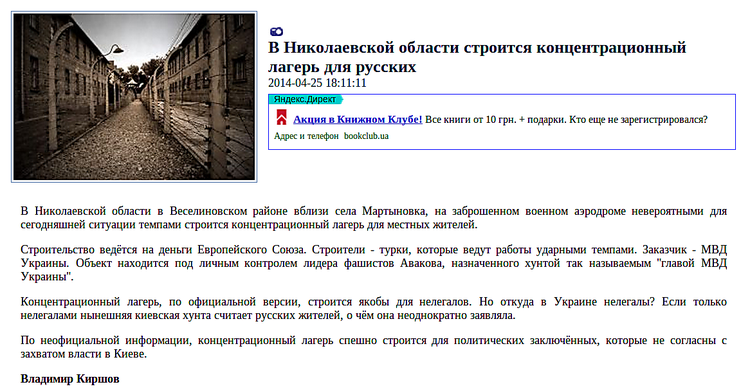 This information became so popular on the Internet that on April 28 2014 the Ministry for Foreign Affairs of Russia expressed its concern on the matter:
«We are deeply concerned about the information spread by mass media about the construction of large temporary detention centres for thousands of persons in Ukraine, supposedly for illegal immigrants. Ukraine does not have that many illegal immigrants, while the buildings being construct, according to mass media, remind of Nazi concentration camps. It pushes to question if the Kyiv regime is going to use them for locking up the dissenting people of South East Ukraine. »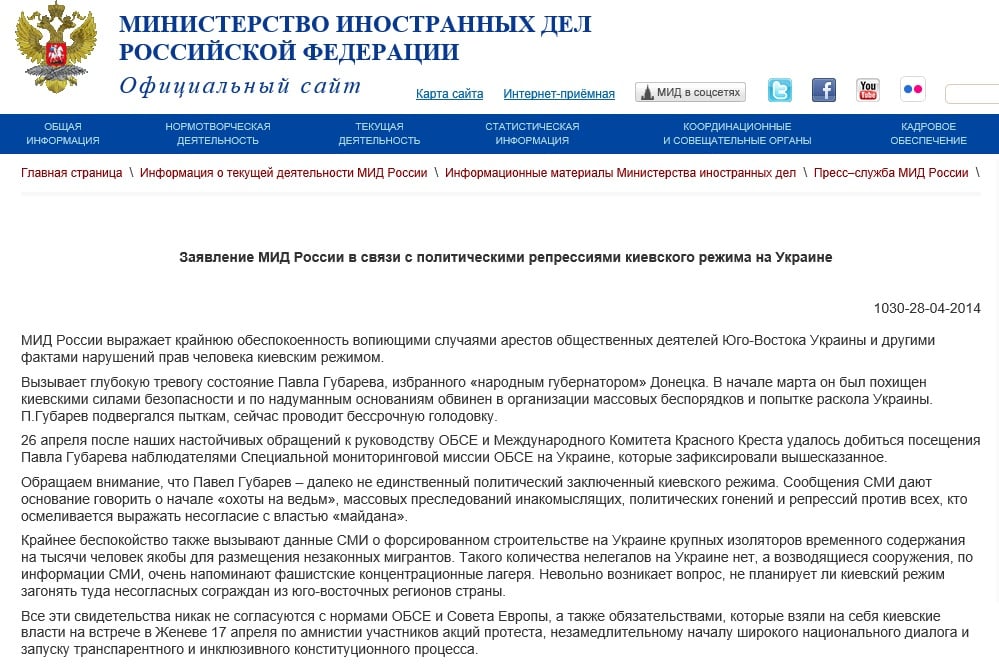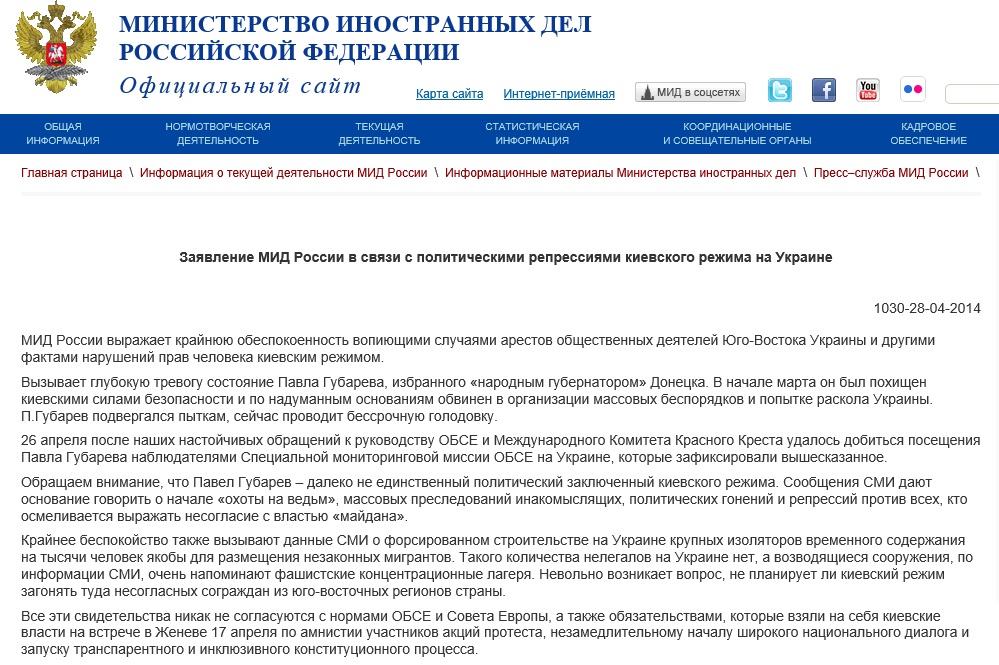 This information is not true. Representatives of Ukrainian authorities have rebutted it:
«The Ministry for Foreign Affairs and the Department of Immigration and Citizenship consider it necessary to officially clarify that in September 2009 Ukraine and EU started a collaborative project «Re-admit », which involves construction of two temporary detention centres for illegal immigrants — in Donetsk and Mykolayiv Regions. Each of the centres will be able to host up to 100 illegal immigrants at a time.
Currently the Department of Immigration and Citizenship has two facilities to host illegal immigrants: in Volyn and Chernihiv Regions. These facilities can host up to 165 and 208 persons and are situated near western and northern borders of Ukraine
Construction of similar centres in Donetsk and Mykolayiv Regions will allow reducing the cost of delivering the illegal immigrants caught in eastern and southern regions of Ukraine to the detention facilities.
It should also be noted that these facilities are only for aliens and stateless persons who broke migration laws and are subjects to compulsory deportation from Ukraine. »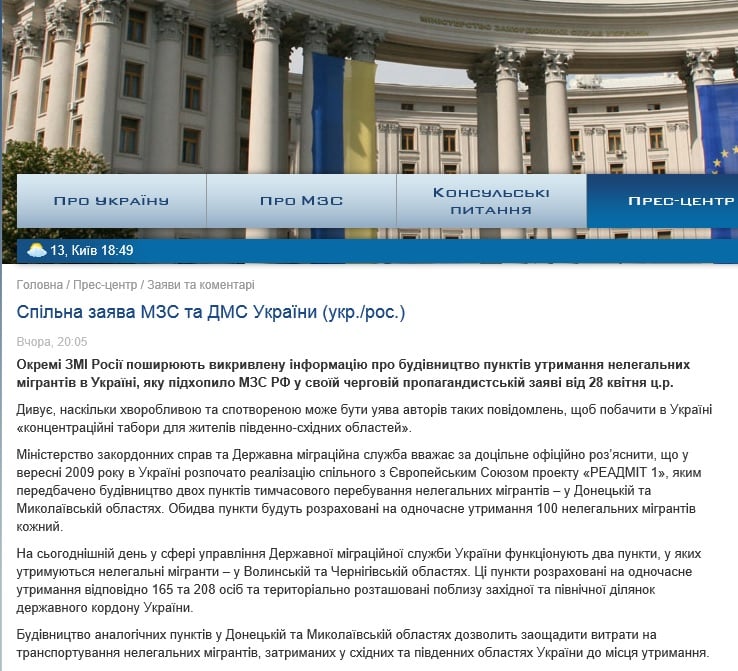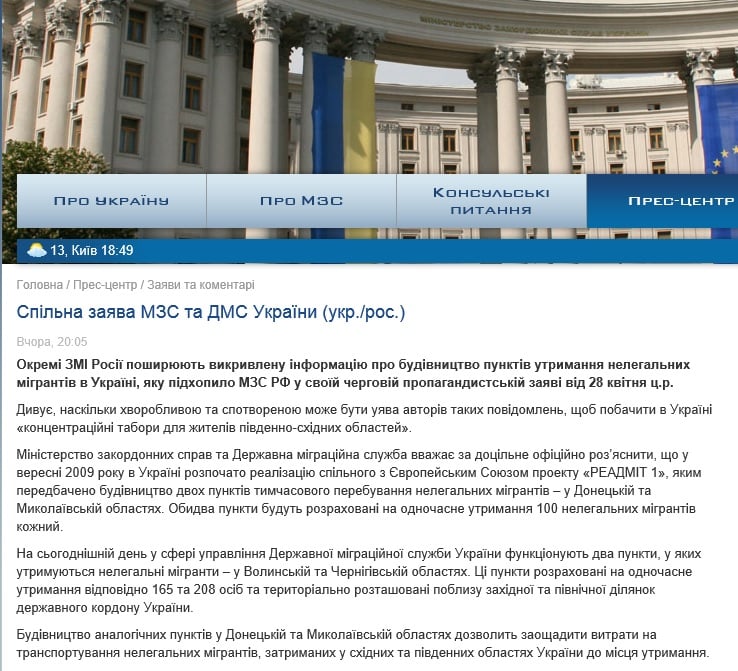 The head of Mykolayiv Region Directorate of Internal Affairs Yurii Sednev in his comments for «Prestupnosti.net» also rebutted claims of Russian MFA.
«Concentration camps are not being constructed. These are facilities for detention of illegal immigrants. It is like a filter for a large number of citizens from different countries In general, this is movement from Russia and the post-Soviet states. Kazakhstan, Uzbekistan, Tajikistan… all heading for Europe through Mykolayiv Region, » — said Yurii Sednev.
According to him, the construction of this centre was started several years ago by a Turkish company, but has not been finished yet. «Its territory is vast, round 10 hectares. There will be everything for men, women, and children. With all living conditions, showers, WCs, eating joint. It will also have medical treatment facility, » — he added.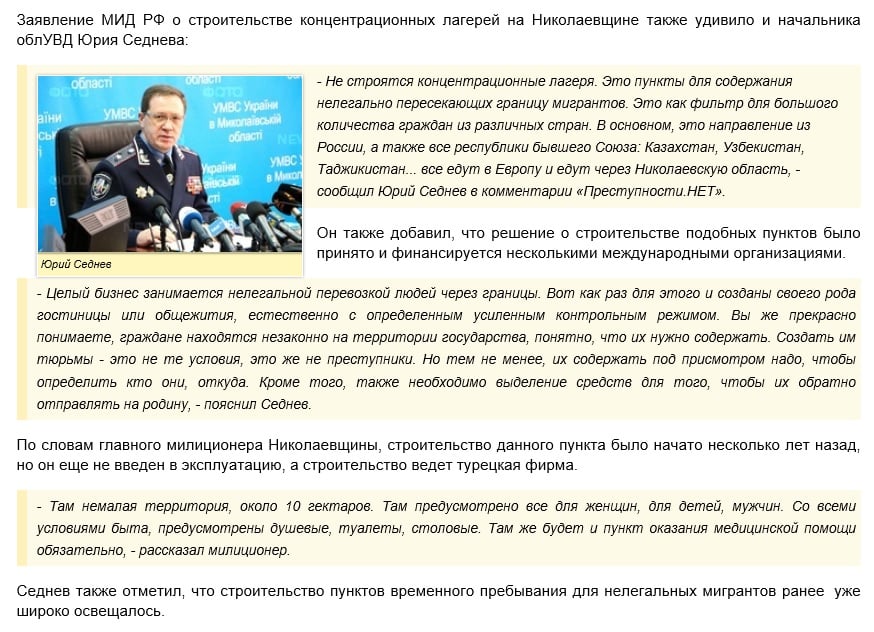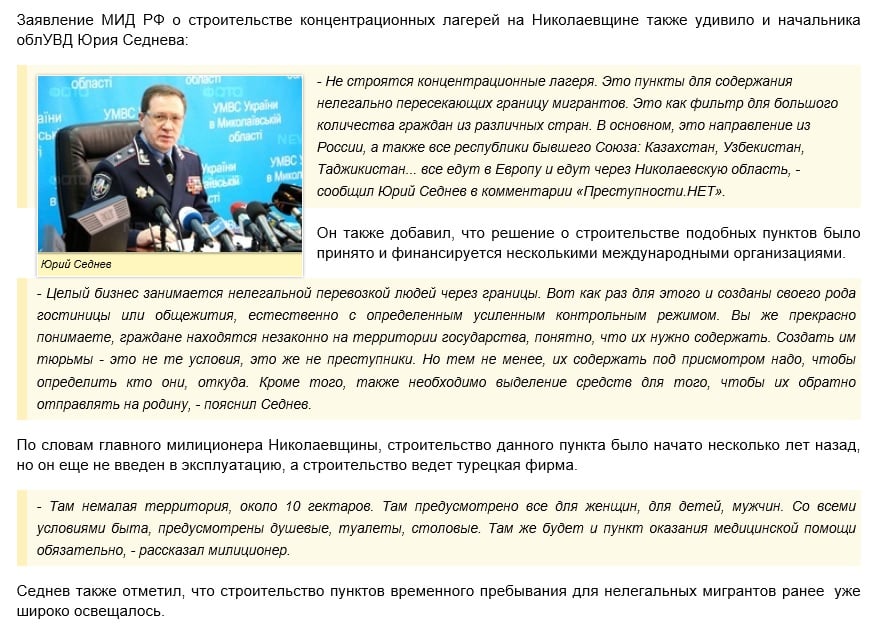 «There were several reports on TV about the already opened and functioning centre in western Ukraine, near the border», — said the head of Regional Directorate of Internal Affairs.
As it is known, Ukraine and the European Communities signed the agreement on the readmission of illegal immigrants, who illegally entered EU through its territory. This was the reason for building the temporary detention centers for immigrants.