On March 11, 2014 the Ministry of Culture of the Russian Federation website reported that more than a hundred Russian cultural figures supported the policies of President Vladimir Putin concerning Crimea. As of 15:00 March 13, 2014, there were already 300 signatories.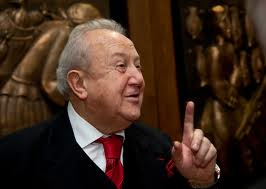 Later it turned out that one of the signatories listed on the Ministry of Culture of the Russian Federation website, the sculptor Zurab Tsereteli knew nothing about existence of such a list.
"Radio Svoboda"reported  this with reference to the Georgian news agency "Interpressnews."

The agency quotes Zurab Tsereteli's assistant Sergei Shagulashvili "Mr. Tsereteli has never interfered and does not interfere in politics. Never and nowhere. has he signed any political documents. And he did not sign this letter."
"The Ministry of Culture has listed Zurab Tsereteli in the list of signatories without his permission," – said Shagulashvili.
According Shagulashvili, the sculptor is now in the U.S. where he is working on a statue of Columbus.
This statement suggests that more signatories may have not known they were included in the list of support of Putin's policies in Crimea.