The Russia Today channel on the site 'RT in Russian' published information that the video of the Security Service of Ukraine (SSU) with testimony about attack of Mariupol by the Russian troops was disproved in the Ministry of Defense of the Russian Federation, having called it 'a crazy quilt'.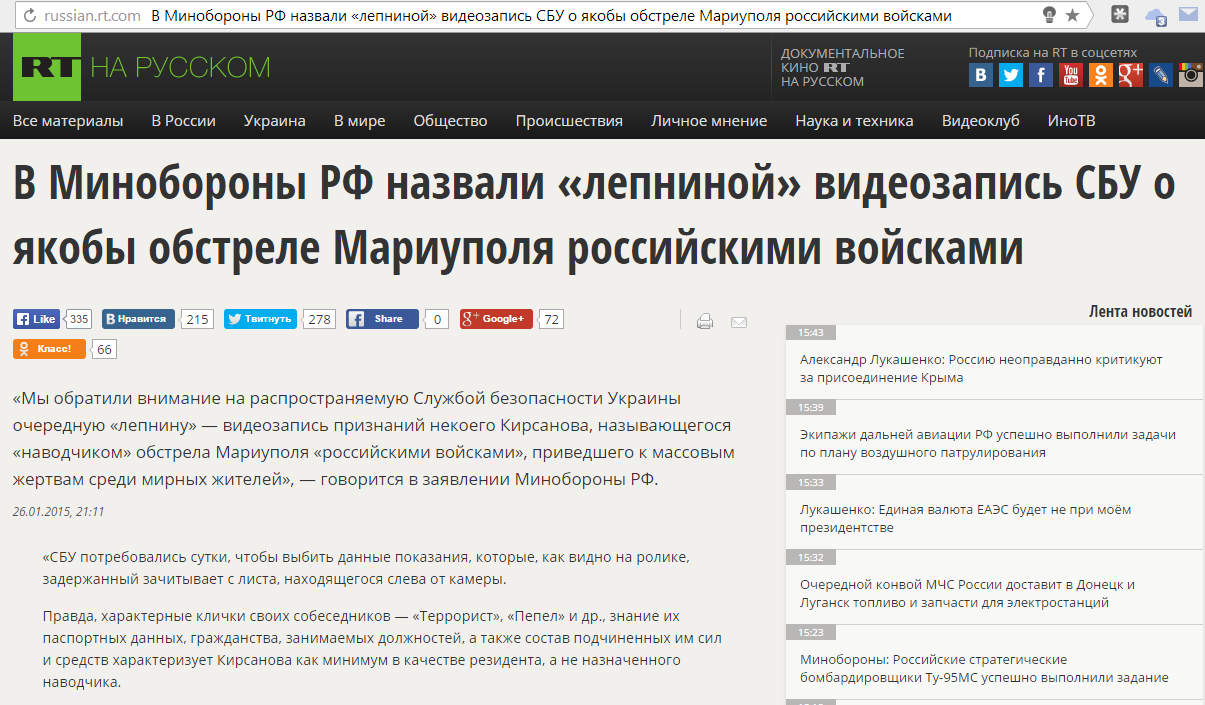 The source of this news is posted on the Facebook page of the Defense Ministry of the Russian Federation.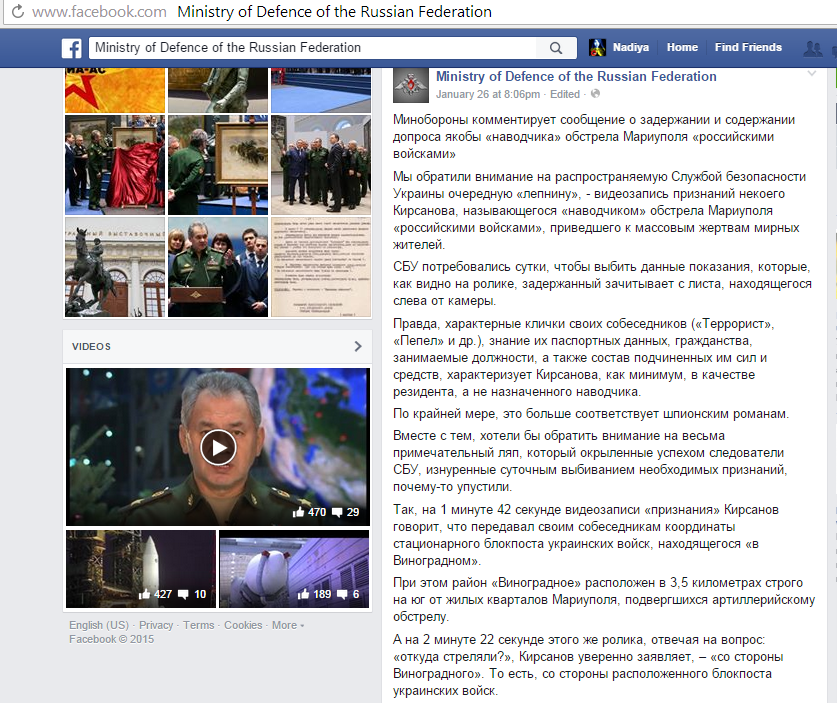 The article deals with the video of an interrogation of V.S. Kirsanov.
In the video the resident of Mariupol admits a cooperation with terrorists of DPR (the 'Donetsk People's Republic') and that he provided them with coordinates of places of dislocations of the Armed Forces of Ukraine (including a 'checkpoint on Vinogradnoe' (see video from 1:40)) on which then fighters' attack was made. Also, the man in this recognition says that he told to terrorists – 'shot was from Vinogradnoe' (see video 2:20).
At the end of the video Kirsanov indicates that the gunman nicknamed 'Pepel' ('Ashes') is the officer of the Russian army and directs an artillery battalion.
After the publication of the video the Defense Ministry was quick to try to catch the SSU of a gaffe. 'So, Kirsanov says at 1 minute 42 seconds of video record of 'recognition' that he transferred coordinates of the stationary checkpoint of the Armed Forces of Ukraine, which is 'in Vinogradnoe' to his interlocutors'. At the same time the area 'Vinogradnoe' is located in 3,5 kilometers due south from the residential quarters of Mariupol which were subjected to the artillery fire. And at 2 minutes 22 seconds of that video, Kirsanov confidently declares responding to a question from where it had been shooting that 'it was from Vinogradnoe'. That is from the disposition of the Ukrainian troops' checkpoint. Apropos, the investigators of SSU didn't pay attention to these of Kirsanov but they clear up a lot of things. After all, the minimum firing range at MLRS 'Grad' is just about 3 kilometers'.
But the Defense Ministry also has admitted gaffes in the so called 'unmasking'. First, the minimum firing range of MLRS 'Grad' is 5 km instead of 3 km.
Secondly, in the report of OSCE on shelling of Mariupol it is specified that attack was conducted from the MLRS Uragan from an easterly direction which were located in 15 km from Mariupol, near the village Zaichenko.

On the map it can be seen that from Zaichenko to the Olimpiiska Street in Mariupol is 14,9 km.

Besides, the firing range of the MLRS 'Uragan' is from 8 to 36 km.