TV channel Russia-24 in its news broadcast from July 8 informed that Ukrainian aviation had allegedly attacked the mine Petrovska in Petrovskyi region of Donetsk. "A coal mine and a neighboring plant were bombarded", says a news anchor.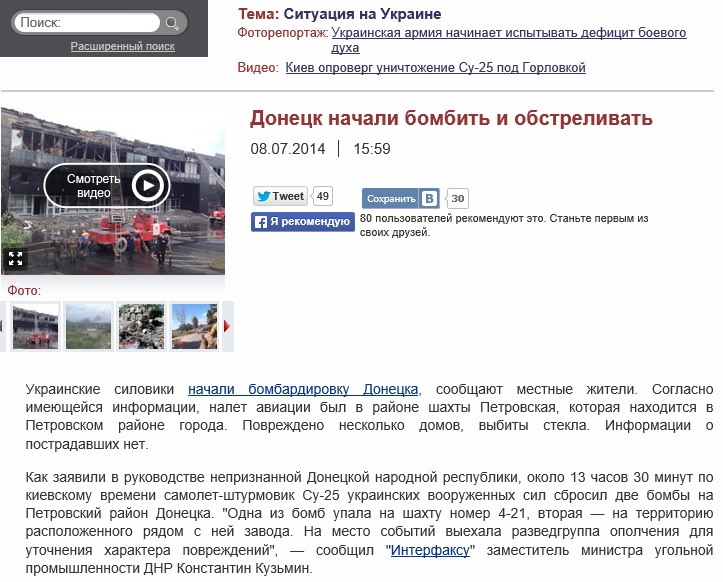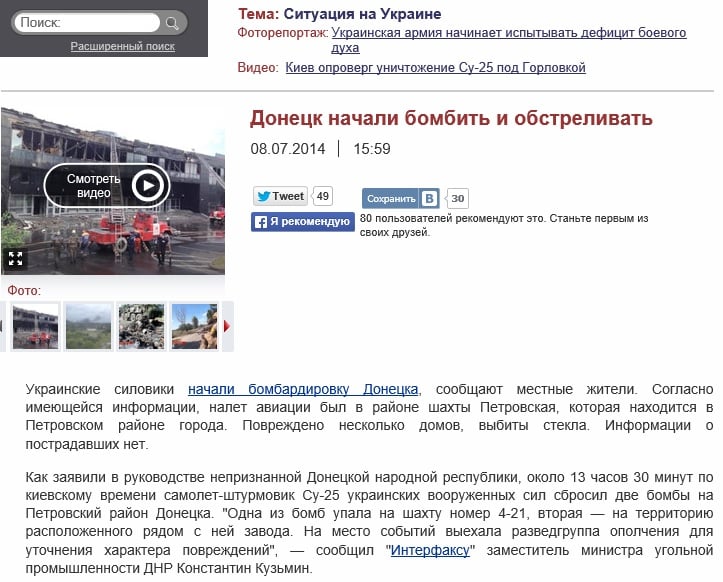 As it follows from the news item, the part of the building is destroyed. This is alleged by a photo that shows firemen extinguishing fire in a burnt building.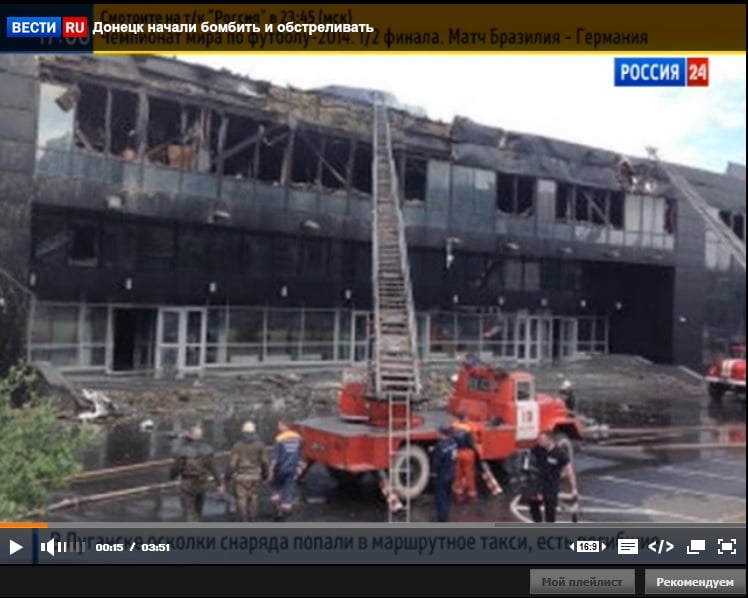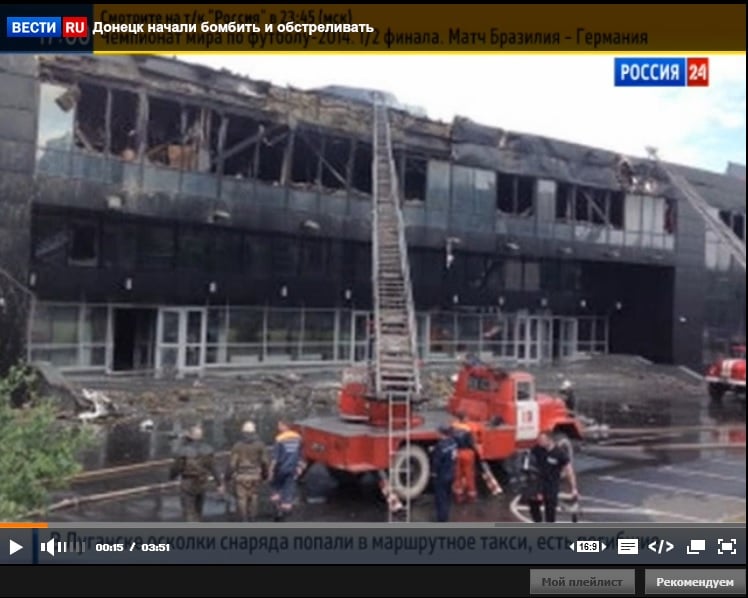 However, this photo was made not on July 8, but two months ago, on May 27, and in the other place. It shows the burnt ice palace "Arena Druzhba" (eng. – Friendship Arena) in Donetsk. "On the night of the 26th/27th of May armed men stormed into "Arena Druzhba", tied up guards, carried out office equipment, plasma screens, communications tools, a cash box that was in fan-store, drove away a company car. Besides they destroyed a server room, where information from surveillance cameras was kept. Finally they set the building on fire. A considerable material damage was done to "Arena Druzhba", informed the press service of the hockey club "Donbas" at that time.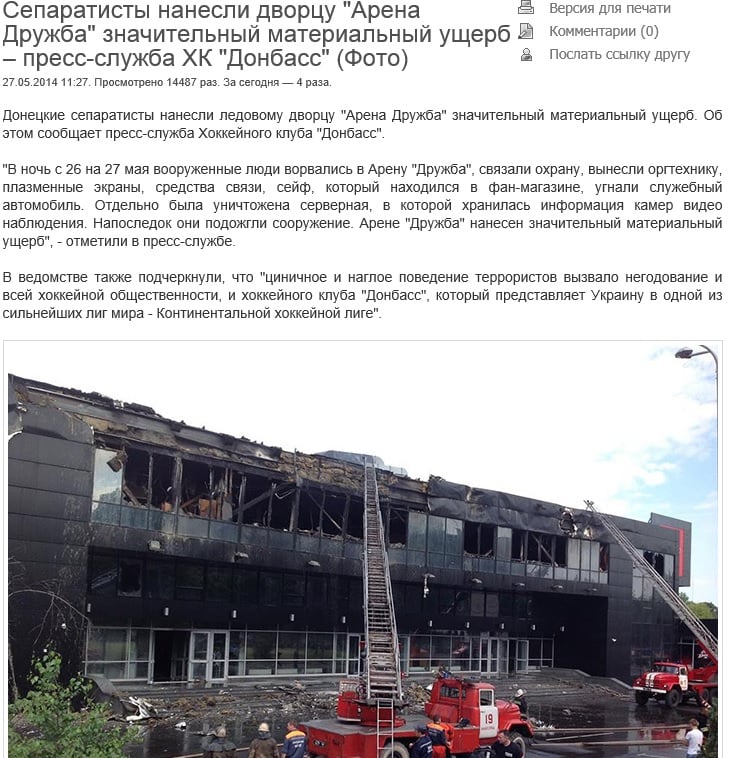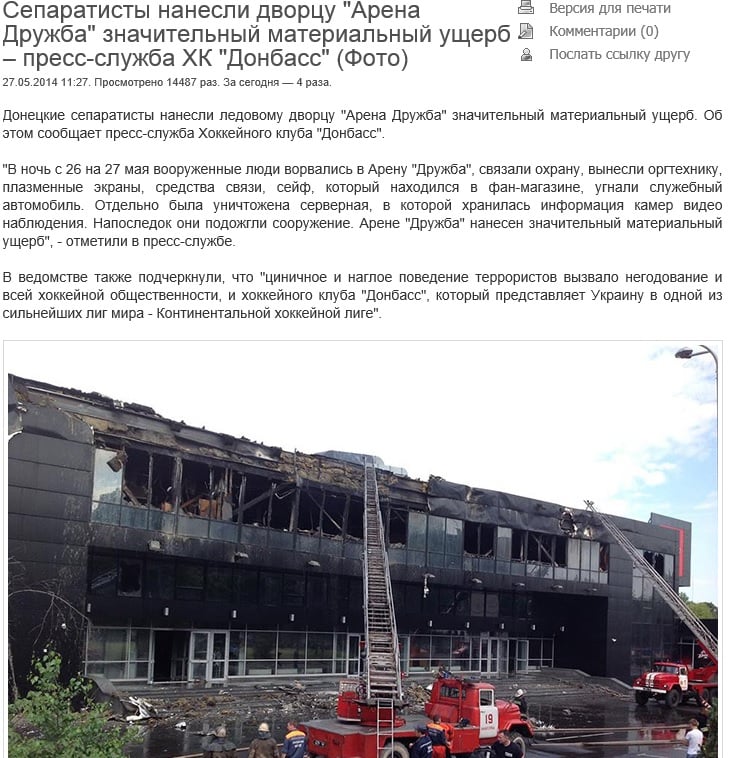 Apart from the photo there is one more alleged proof of the bombardment on the site vesti.ru: "As announced by officials of unacknowledged Donetsk People's Republic, at about 1.30 p.m. by Kyiv time a strike fighter Su-25 of Ukrainian army dropped two bombs on Petrovskyi region of Donetsk. "One of the bombs fell down on the mine № 4-21, the other – on the territory of a neighboring plant. A recon team of the citizen army visited the scene to specify the kind of damage", communicated to Interfax the Deputy Minister of Coal Mining Industry of the Donetsk People's Republic Konstantin Kuzmin".
The word "Interfax" links to the site of this Russian news agency. However, there is no such information on the site of Interfax. Moreover, we did not managed to find any reference to Konstantin Kuzmin.
Accounts of eyewitnesses, shown by Russia-24 in its news item, do not shed light on described events as well. "There was a plane at low altitude. And it fired rockets, or something like that, at the territory of the mine. Then everything started to tremble, all people panicked. Everyone ran to cellars…" says a man on camera.
The news item also contains live standup from the scene. A correspondent stands against the background of an inhabited building and tells about a considerable destruction near there. However, there can be seen no destruction. Instead of this, the photo of the burnt ice palace "Arena Druzhba" again appears in the video.
It is hard to tell what prevented a journalist to show on camera the place of the bombardment that he told about. Only in this case he would have indisputable proofs of the bombardment and the destruction of buildings.