On September 25, TV channel Russia One  issued the news item showing that Ukrainians were allegedly trying to spoil Russian tourists' vacations abroad. However this does not correspond to reality.
https://www.youtube.com/watch?v=1PfD4y4gPG4
Such conclusions are based on two materials. Firstly, on the interview with the chief editor of the magazine Ukrainian tourism, secondly on the news item of the Ukrainian TV program Abzats.
There is indeed an interview with the chief editor of the magazine Ukrainian tourism  Yuriy Samoylov on the site fakty.ua.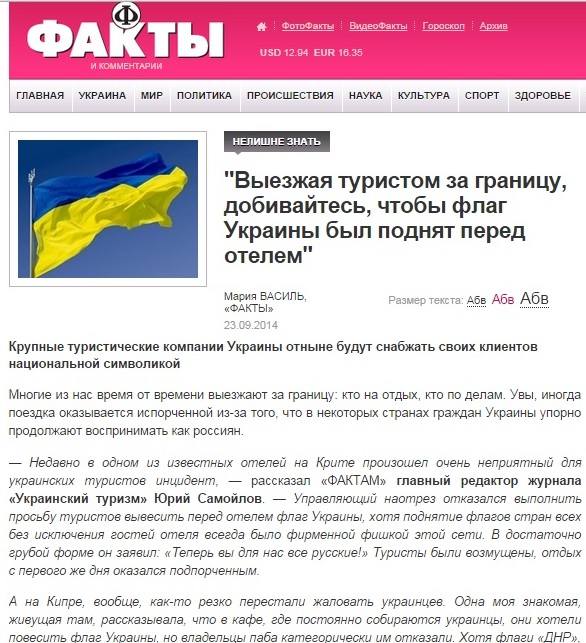 Indeed he said that "the main Ukrainian travel agencies would supply their clients with national symbols from now on". But TV channel Russia One omitted some important details told by Mr. Samoylov. "In Cyprus Ukrainians are not treated very well any more. A friend of mine, who lived there, told me that Ukrainians tried to hang out Ukrainian flag in a cafe where they were meeting, but were categorically forbidden by the owner. Though flags of Donetsk People's Republic, Russia and even Soviet Union hang there. Once you take out Ukrainian flag in order to take a photo with it that Russian tourists start calling police, that "fascists captured Cyprus". And sometimes police even respond to such calls…" This is one of the reasons that Samoylov gives advising Ukrainians to stand upon their rights, including the right to hang out Ukrainian flag where flags of other countries and even self-proclaimed Donetsk People's Republic are allowed.
Then – the program Abzats. The news item was showed by TV channel Novyi on June 25, that is three month earlier than by the Russian channel.
If journalists and editors of Russia One wanted to enquire about the program Abzats  or TV channel Novyi, they would surely visit the site of the Ukrainian channel and this program in particular and would read the following: the TV program Abzats  is an entertaining and informational project on TV channel Novyi. "The stress is not on a news topic itself but on a person that gives information and analyzes it. Correspondents will deal with their own view on certain events. The giving of information will be interesting for people and we will say things that wanted to say earlier but couldn't because of the format", says the editorial director of the project Diana Kozerovska. You can read more about Abzats  here.
It should be pointed out that the primary audience of the channel is students. This information can be found on the site. "Merry, original entertaining channel. Attractive for the young audience of 14-35 years old". So, the format of Abzats  is a popular nowadays "infotainment", firstly – entertainment, then – information.
By the way, the creators of the Russian news item decided to omit one very bright and very significant moment from the news item of Abzats:
"The journalist:
"Crimea is ours no matter how you would be against it".
Russian tourists:
"What do we need it for? We only have our taxes gone away there. Do we need this? We haven't recovered from Olympics yet".
The journalist:
"Is Russia ready to give Crimea back?"
Russian tourists:
"We are not Comrade Putin. Take it back".
One more important detail. The date of the news item is September 25. This is the end of summer vacation season. If Ukrainians really had been spoiling Russians' vacations this year, Russian TV Channels would have certainly known about this earlier.