Ukraine Did Not Supply North Korea with Missile Engines
On August 14 the New York Times published a story entitled North Korea's Missile Success Is Linked to Ukrainian Plant, Investigators Say. The article argues that having examined photographs of the North Korean leader inspecting new rocket engines, investigators concluded in a new report that the engines are similar to an old Soviet model and could have come from several post-Soviet states. The article focuses on the Yuzhmash Ukrainian rocket plant in Dnipro as the possible black market source of the engines.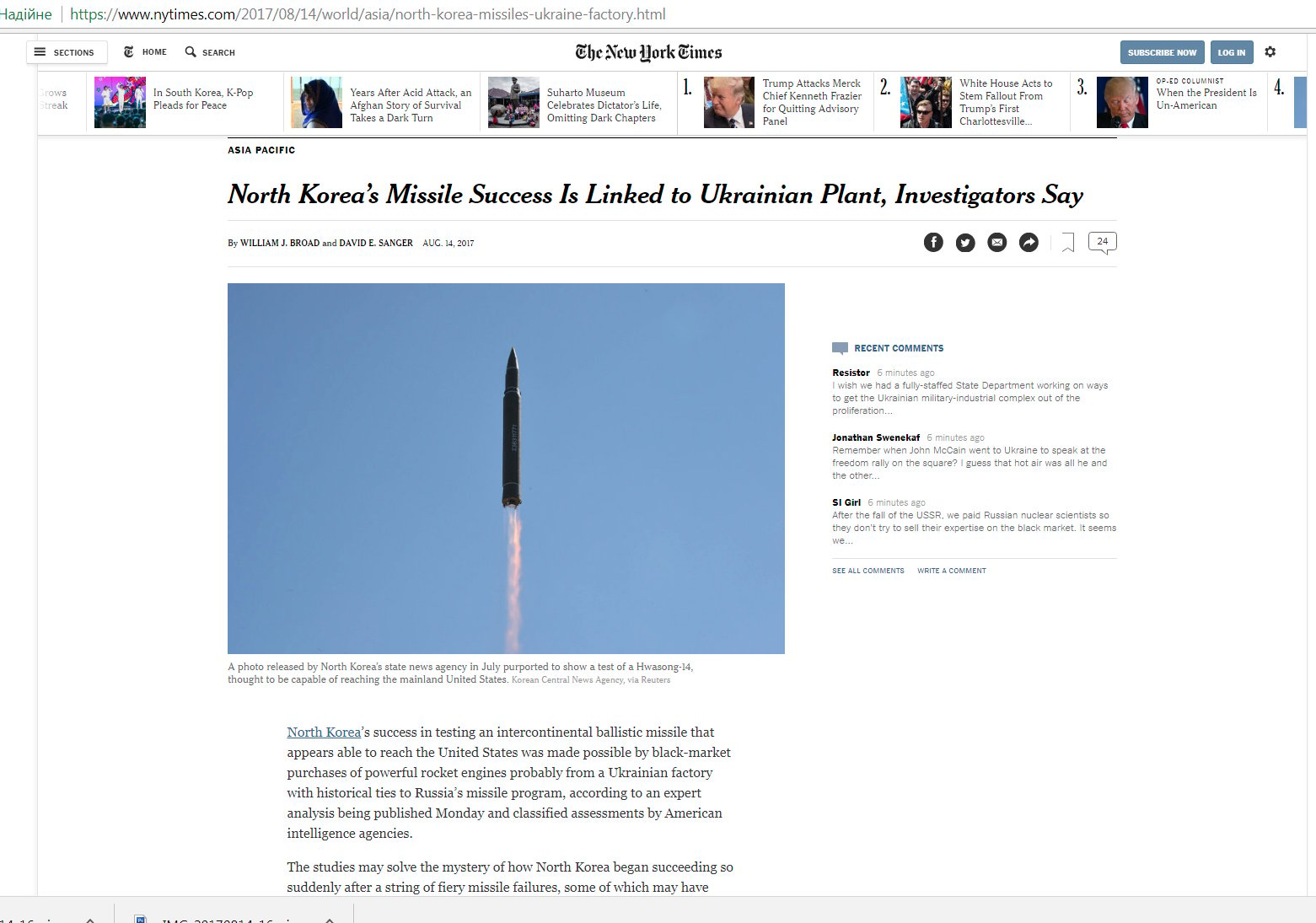 The Times story is based on a report by Michael Elleman, senior fellow for missile defense with the International Institute for Strategic Studies in the UK. Entitled The secret to North Korea's ICBM success the report examines how North Korea managed to achieve such progress with its rocket program in all of two years. The report suggests that North Korea could have acquired "a high-performance liquid-propellant engine from illicit networks in Russia and Ukraine".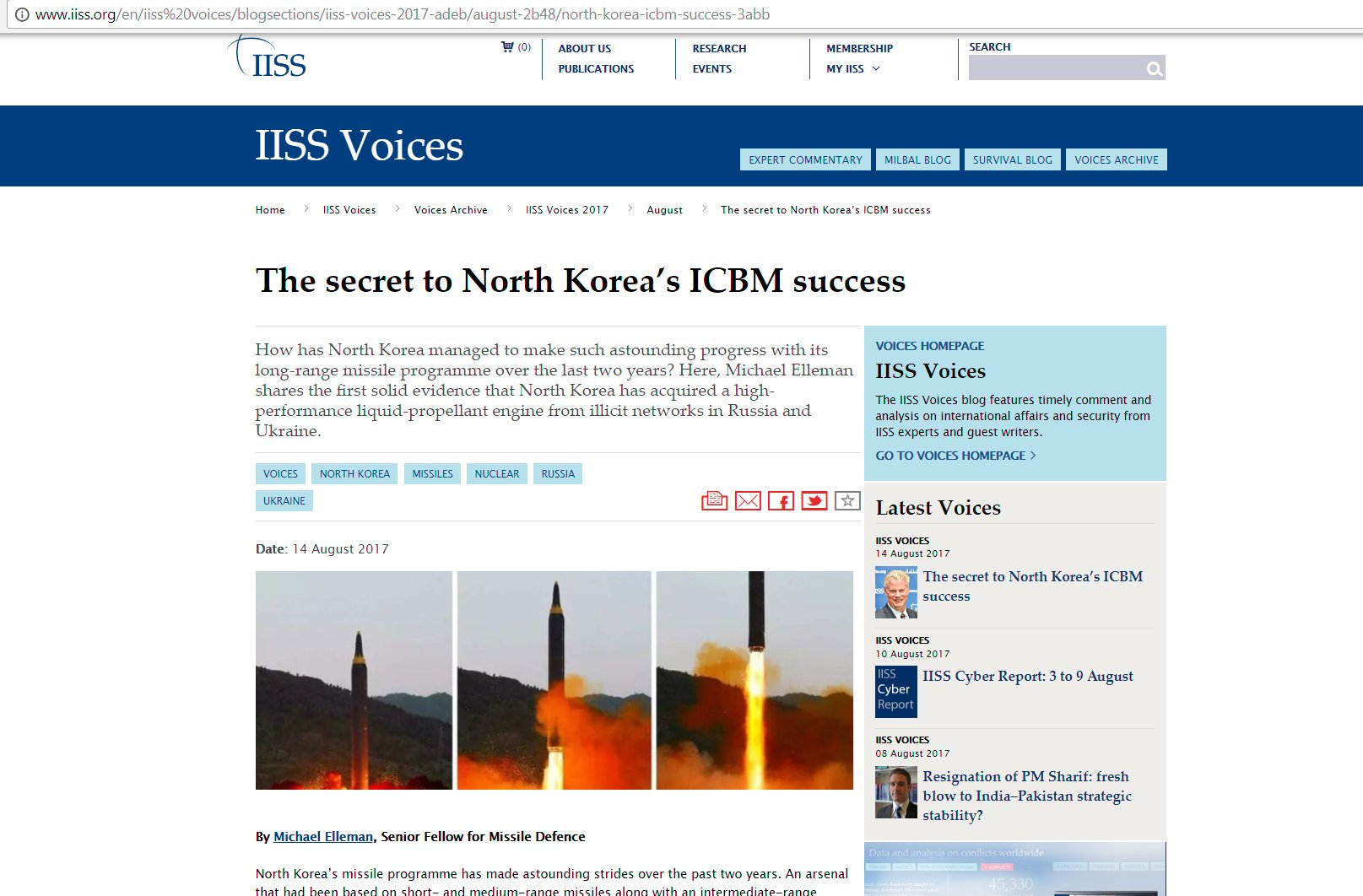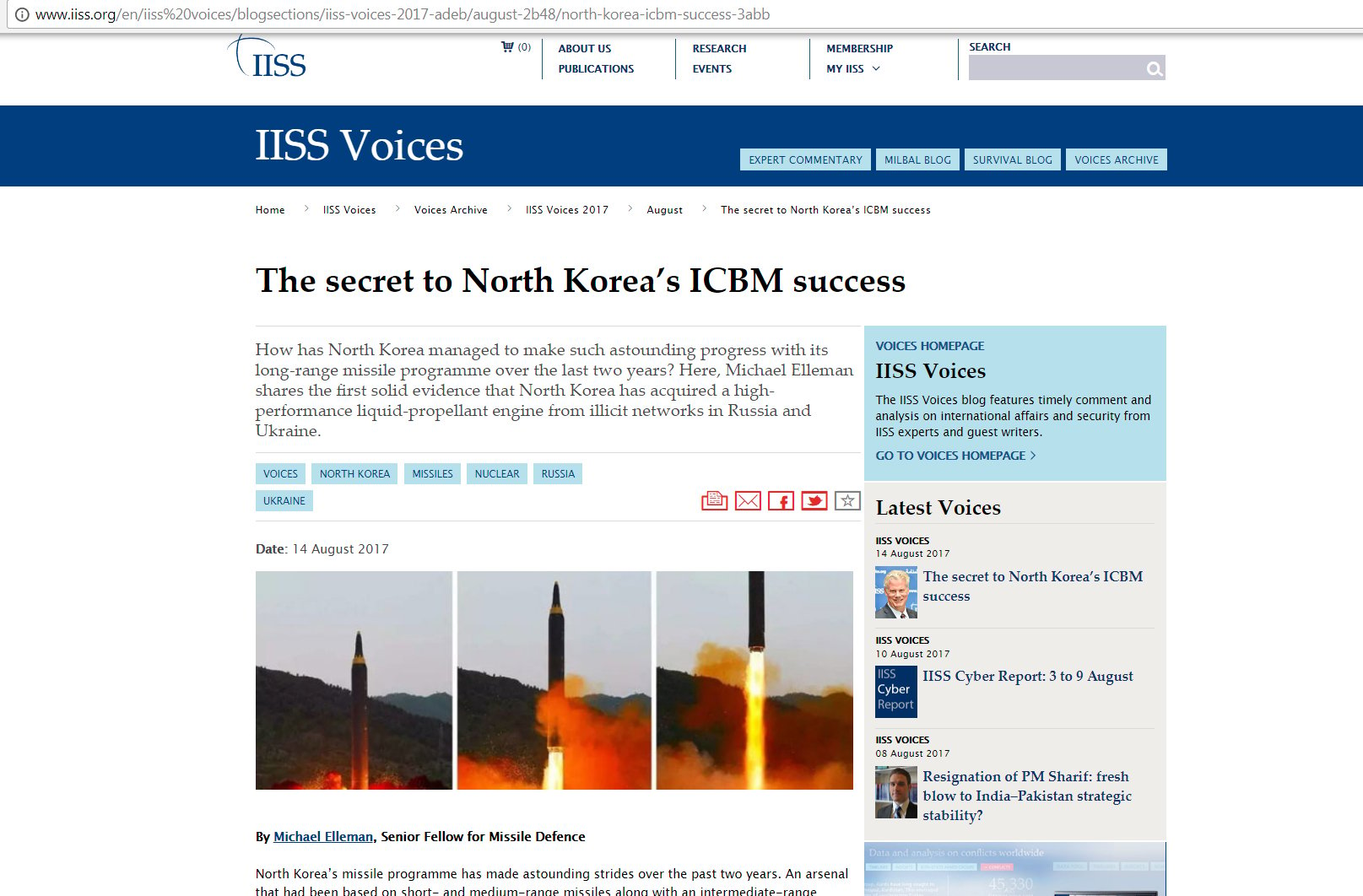 This story quickly spread through Russian and Ukrainian media.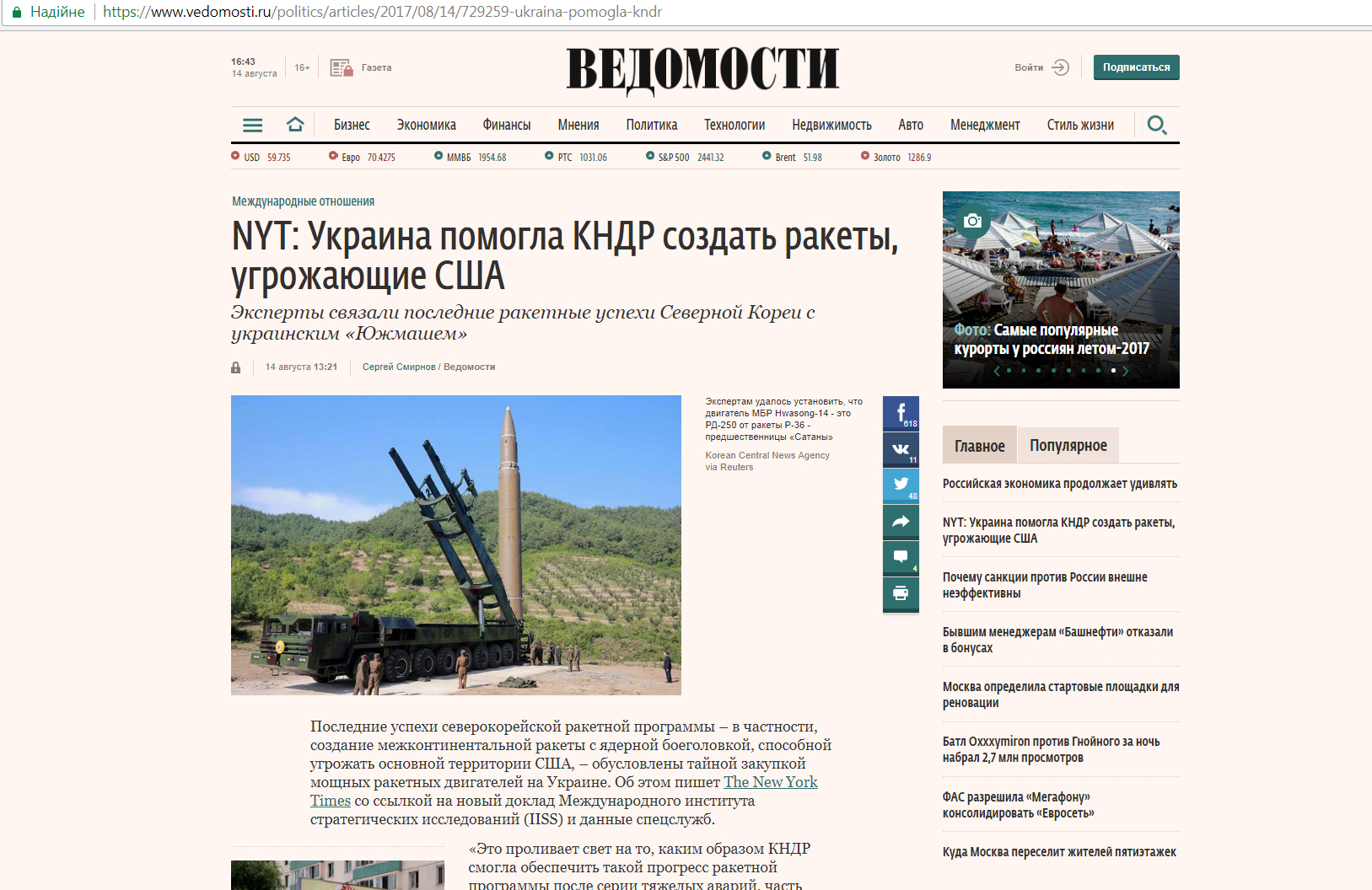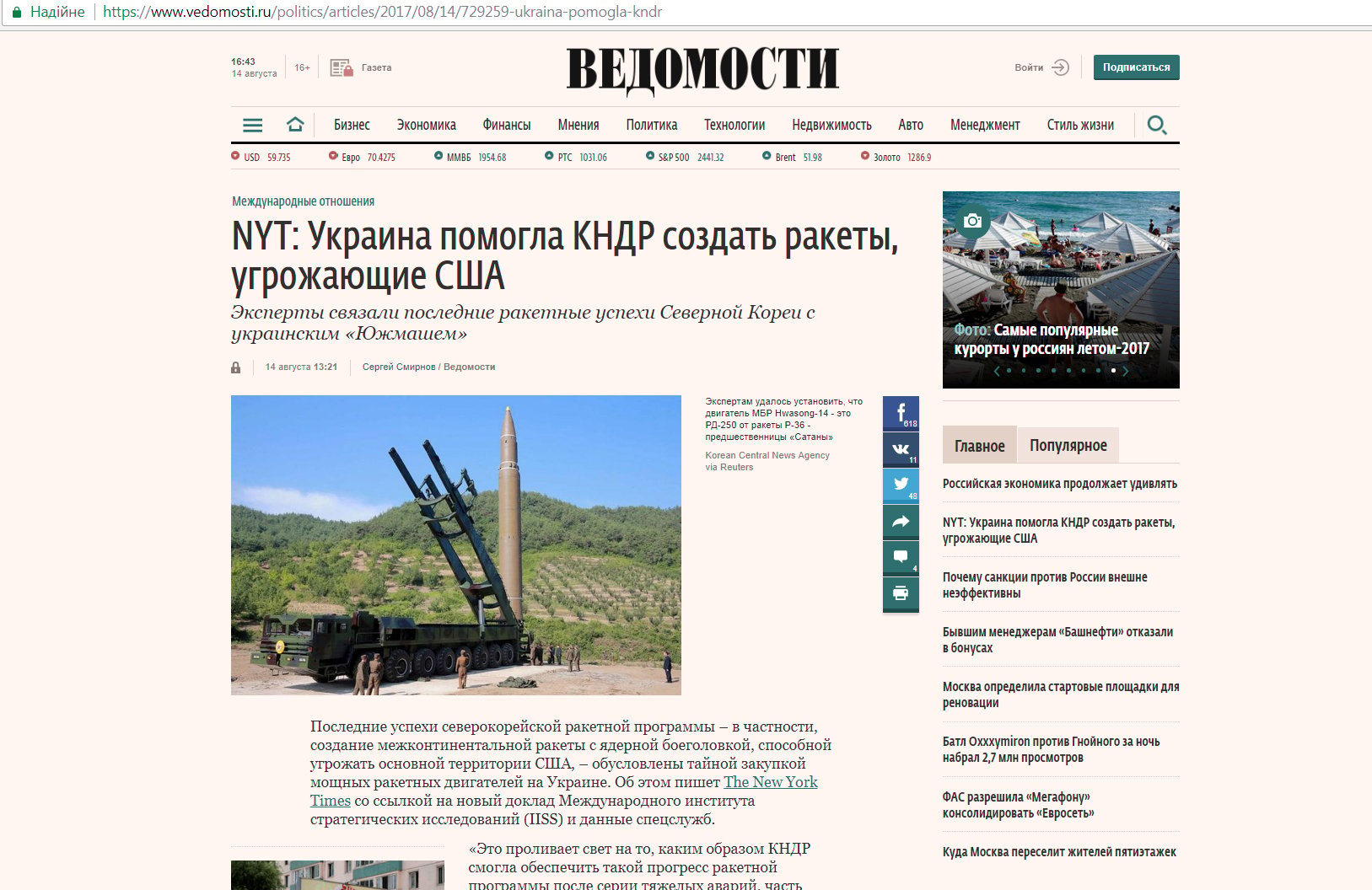 .
Ukrainian National Defense and Security Council chairman Oleksander Turchynov refuted the NYTimes story. Ukraine has always adhered to its international commitments and did not supply military technology to North Korea, he said. Claims that Ukraine's Yuzhmash rocket company transferred engine technology to North Korea is "not based on any grounds, provocative by its content, and most likely provoked by Russian secret services to cover their own crimes". Turchynov also emphasized that Ukraine considers North Korea to be totalitarian, dangerous and unpredictable, and supports all sanctions against this country". He also noted that since the outbreak of Russian aggression against Ukraine in 2014, "Ukraine completely stopped supplying weapons, military equipment, and military technology to Russia".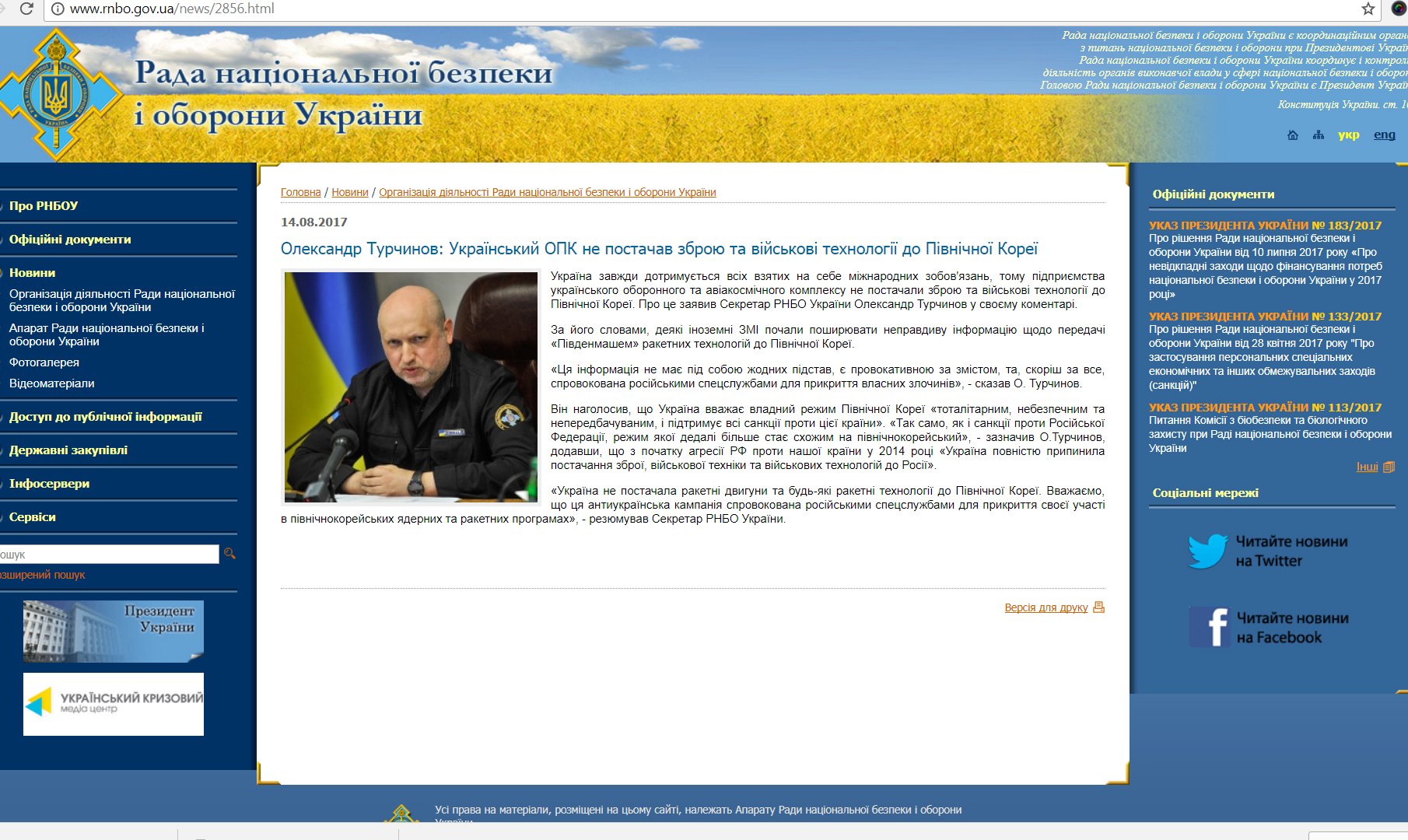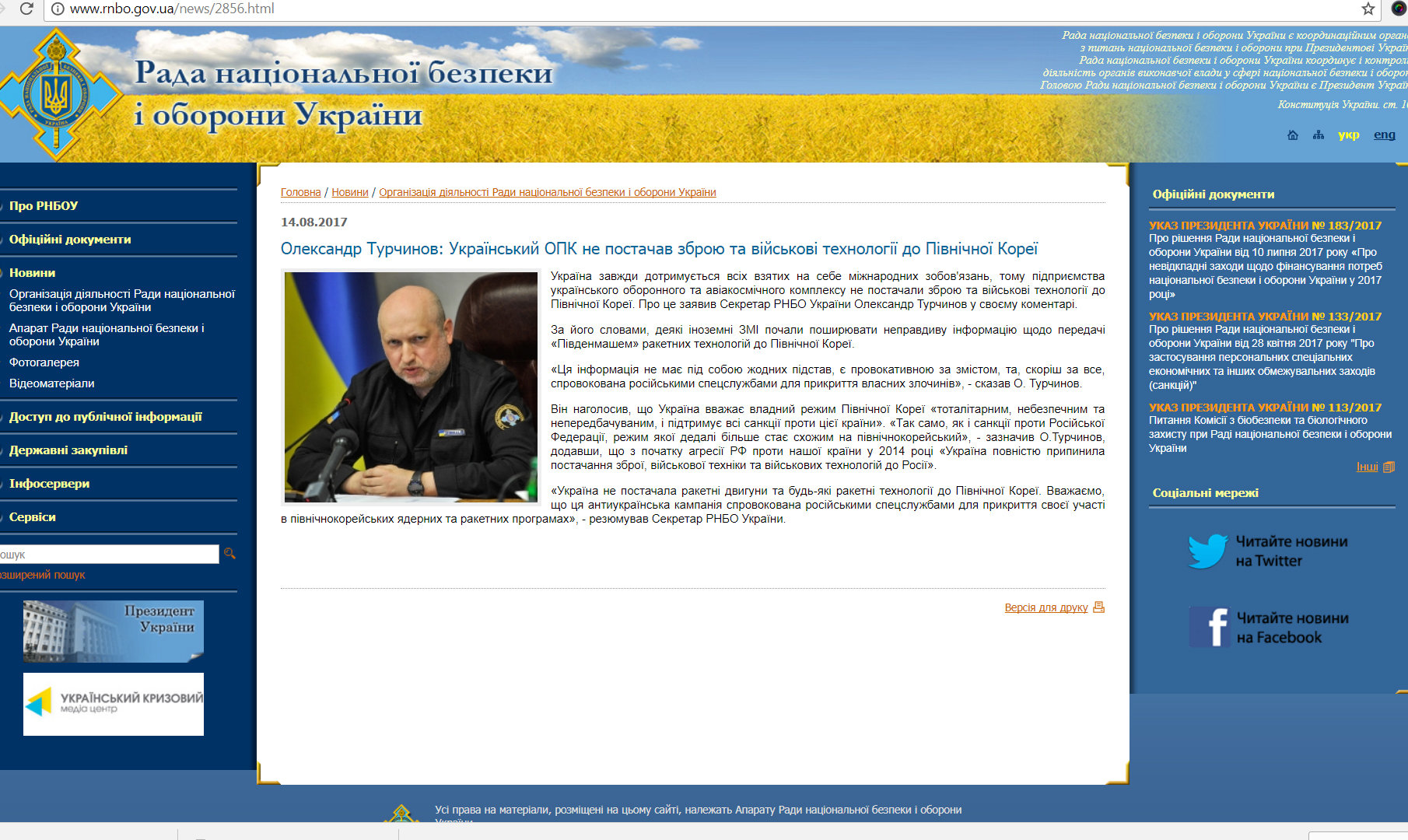 In a company statement Yuzhmash denied that it had provided North Korea with any rocket technology. The company is no longer the main manufacturer of rockets for the Russian Federation and does not provide Russia with any missiles, missile parts or components including rocket engines. Claims that there is a connection between Ukraine and North Korea's progress in rocket development have no grounds in reality, Yuzhmash said. The company does not have and never has had any connection to the North Korean rocket or defense program. According to the company web site, Yuzhmash has not produced missiles and missile complexes for military purposes since Ukrainian independence.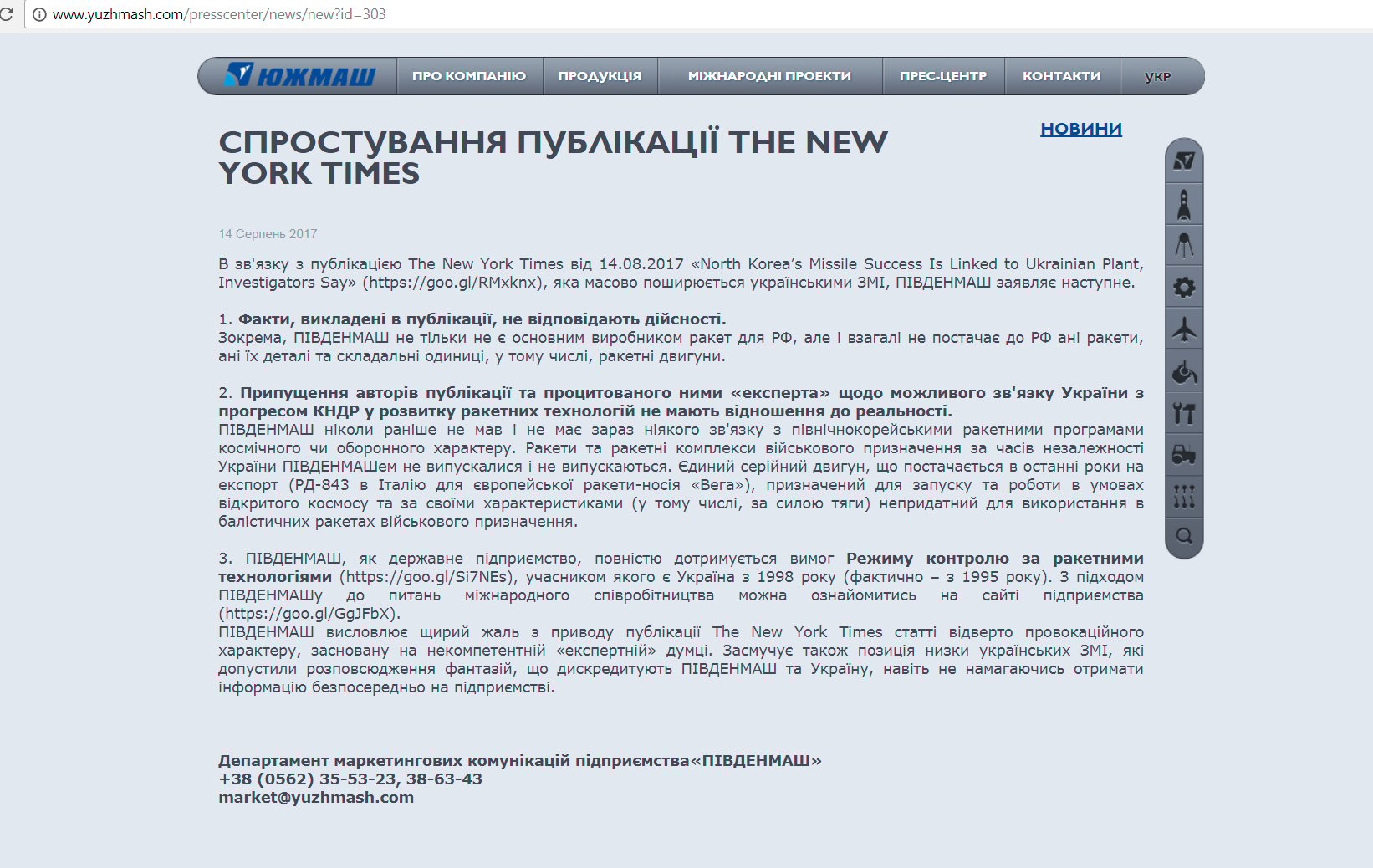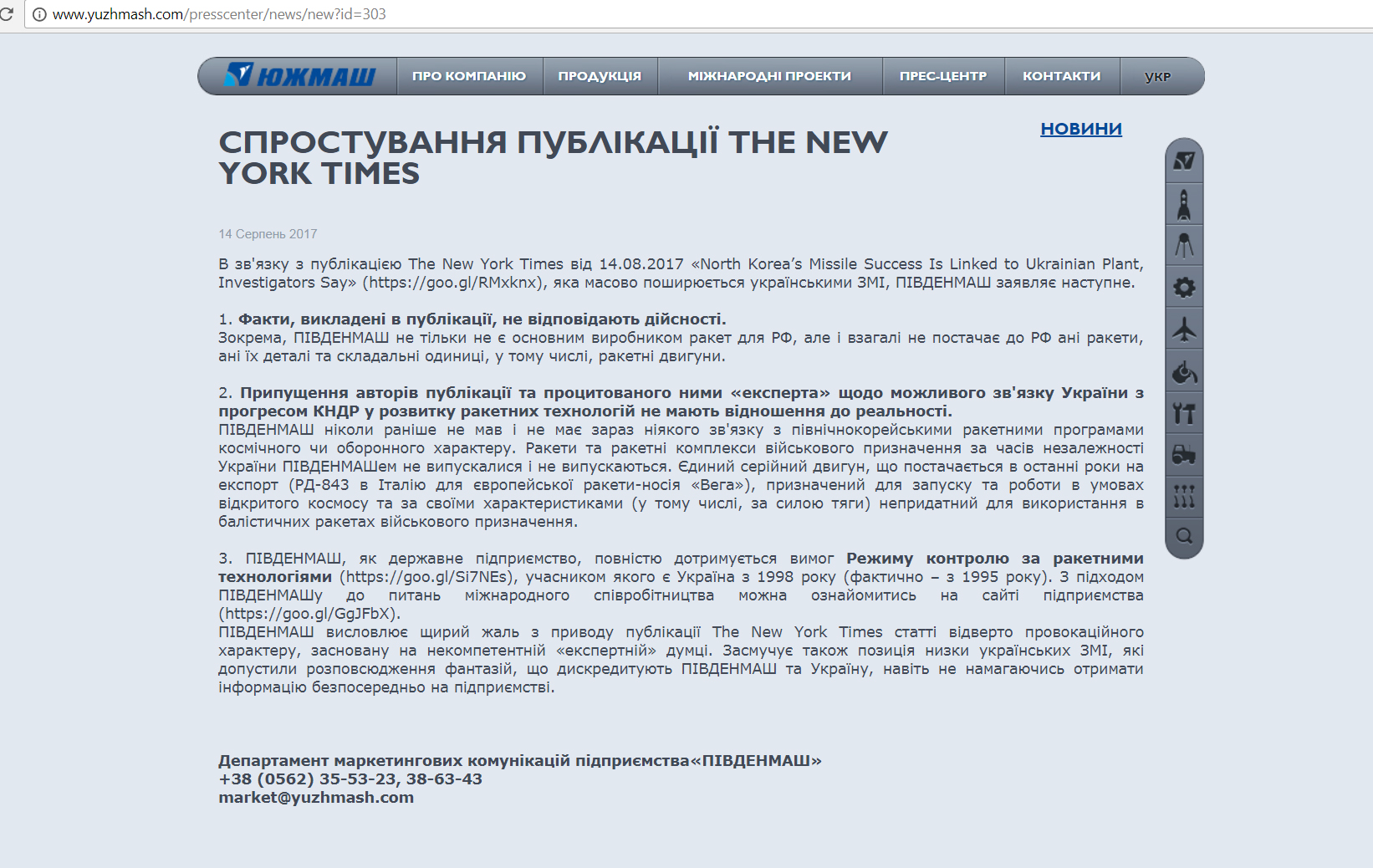 Ukraine's State Space Agency also issued a statement saying that any allegations that Ukraine transferred technology which could contribute to the development of ballistic programs to North Korea are absolutely unfounded.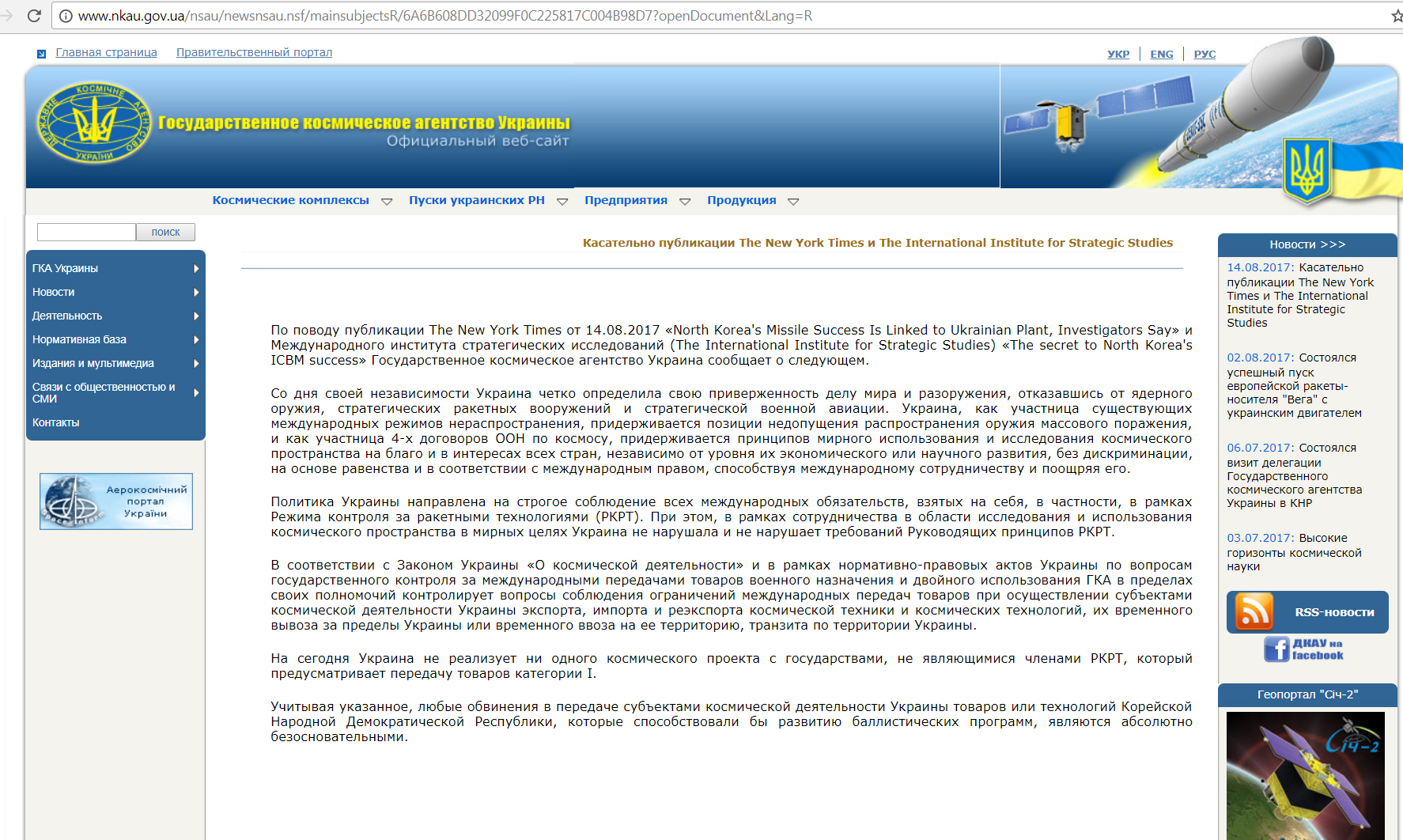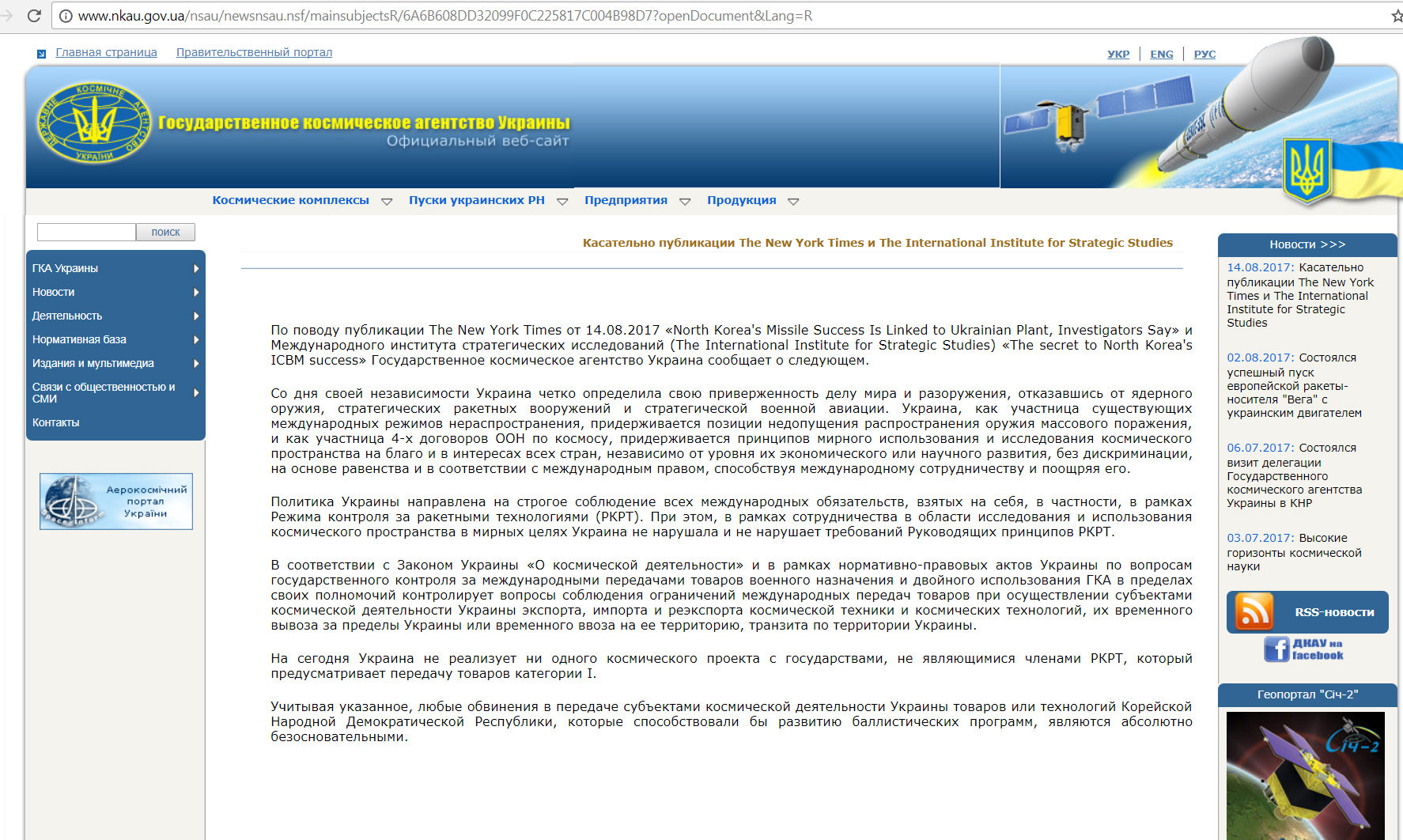 Michael Elleman's report does not make any accusations, rather his findings are assumptions: "An unknown number of these engines were probably acquired" and he goes out of his way to point out that the report does not "suggest that the Ukrainian government was involved).
Ukrainian experts are comparing these allegations to the  2002 charges that Ukraine sold a Kolchuha radar system to Iraq, others speculate that this is a false flag operation aimed to discredit Ukraine as a US strategic partner and disrupt plans to provide Ukraine with lethal weapons.
Ukraine is providing missile delivery systems to South Korea. According to the international trade data base ImportGenius in June 2017 Ukraine's defense export company Ukrspetsexport sold the south Korean Hanwha Corporation software for calculating heat transfer in a combustion chamber of a space rocket liquid engine and in November of last year – a sketch design of the upper stage of a carrier rocket.