Several Russian TV channels, as well as Ukrainian and Russian news sites, simultaneously reported that Ukraine was allegedly trying to leave Crimea without fresh water as the North Crimean water channel would be blocked with dam.
According to the news piece by the Russian Channel One, "The construction has already been started in the Kherson region about 40 km away from the border with the Russia territory. This is confirmed by the satellite images showing a barrier of concrete blocks under construction. The lift cranes and the tents of construction workers on the shore can also be seen."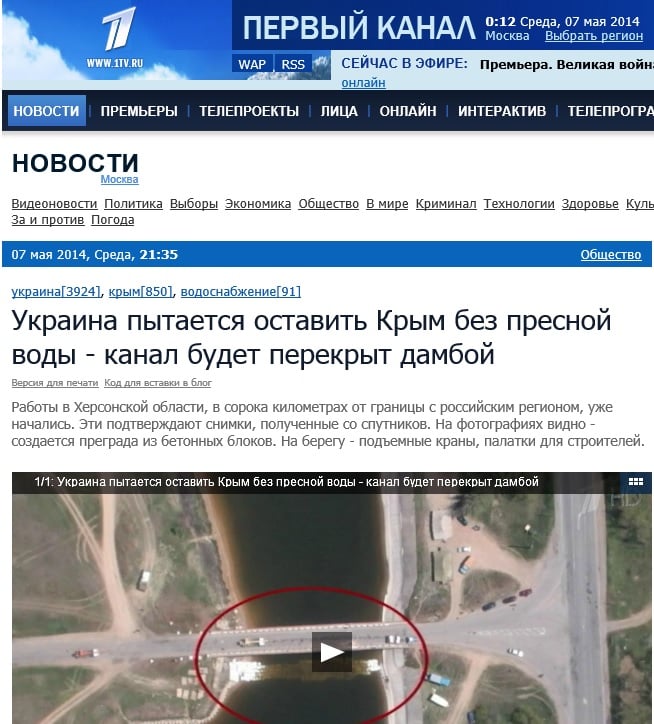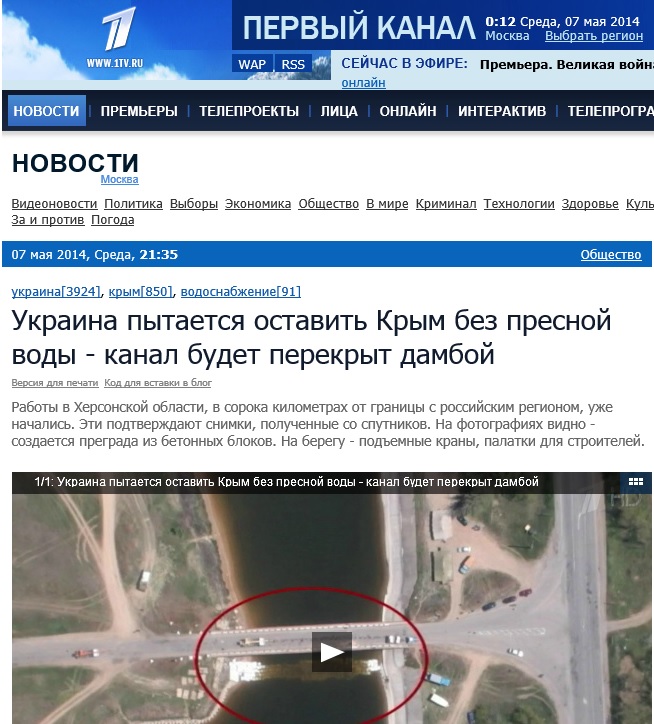 This statement was refuted by Yuriy Odarchenko, head of the Kherson regional state administration. As cited by the public affairs office of the Kherson regional council, Odarchenko reported that: "The information that a dam is being built in the Kherson region in order to cut off water supply to the peninsula via the North Crimean channel does not reflect reality."
"The Russian media distort the purpose of this construction", – says Yuriy Odarchenko, – "Indeed, at this moment a water metering station is being built at the North Crimean channel. However, it looks totally different from the "sandbags". Yuriy Odarchenko also highlights that the purpose of the construction is not to block water supply to Crimea, but to measure water volumes illegally transferred to the peninsula by the self-proclaimed Crimean authorities.
As explained by the head of the regional state administration, there was no need to have such water metering station while the North Crimean channel was under the jurisdiction of the Ukrainian authorities. This was because such stations were already operating at the channels supplying water directly to economic agents. In contrast, as of today the part of the channel covering the peninsula was seized by the unknown people naming themselves Cossacks or by the new authorities. According to Odarchenko, the main problem is that these people are simply unable to operate properly the channel constructions.
The head of the administration emphasizes that the lack of water supply to Crimea has been caused by irresponsible actions of the self-proclaimed Crimean authorities. There is still no legal relationship between Ukraine and the occupied Crimea, including the agreements on water supply to the peninsula.