According to the Kremlin disinformation machine, a new woe has befallen Ukraine, readers of Ukrainian books have simply disappeared. As is often the case, the exact opposite is true. Russia sanctions enacted by Ukraine have been beneficial to Ukraine's publishing industry and have resulted in increased interest in Ukrainian authors and national themes. Surveys show that most readers in Ukraine want to buy books only in Ukrainian.
In an article entitled "Anti-Russian sanctions are killing Ukrainian books" in the pro-Kremlin newspaper Vzglyad, Nikolai Storozhenko, one of its columnists, claims that Ukrainians want to read books in Russian, that on average, the Ukrainian speaking reader reads less, and is therefore not an interesting potential client for the publishing industry. Because sanctions have banned the import of Russian books from Russia, a Russian counterfeit industry has appeared, one that Storozhenko claims is more interesting and cheaper than domestic Ukrainian publications.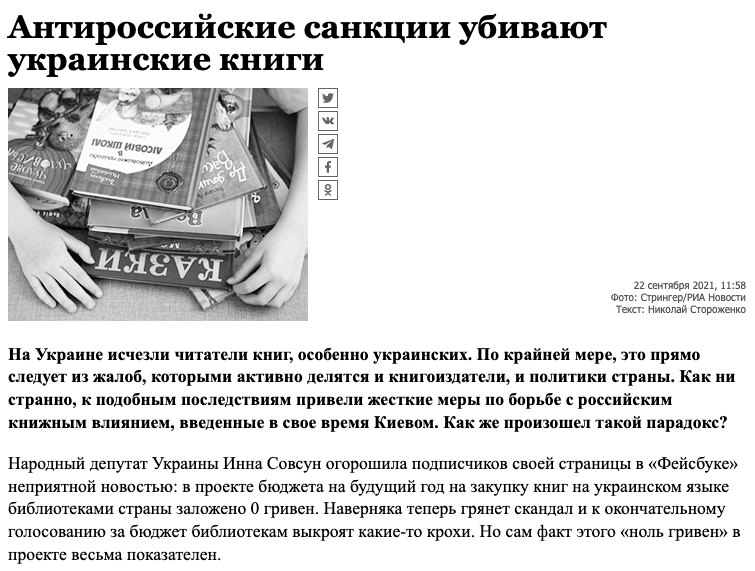 Storozhenko's Vzglyad article (one of many pointedly anti-Ukrainian stories he has written for this newspaper) is filled with assumptions and value judgments intended to convince the reader to believe in his conclusion, that by closing the "legal Russian book business", the "Ukrainian government, together with patriotic book publishers" have paved the way for illegal products, which are still more interesting for Ukrainians than their domestic publications. As a result, Ukrainians still want to read books in Russian and for this they are ready to buy counterfeit and contraband books, Storozhenko concludes.
The Ukrainian book market did indeed slow down in 2020, several publishing houses closed, and book festival visits slowed down as many book fairs were held virtually. Oleksandr Afonin, the president of the Ukrainian Association of Publishers and Book Distributors sees two explanations for the state of affairs in Ukraine's current book market:
External factors such as the pandemic lockdowns decreased Ukrainians' purchasing power, as did rising prices and the need to save money, as well as the absence of a systemic approach to combat publication piracy and intellectual property rights violations.
The internal factors that have impacted on Ukraine's book business are the low capitalization of Ukraine's publishing industry, lack of tax incentives for the publishing sector, a significant decrease in offline book sales due to the pandemic and the dumping of prices from several book market players.
All these challenges notwithstanding, Afonin does not believe that Ukrainians allegedly not wanting to read Ukrainian books is a reason for the current situation in Ukraine's book industry. He does not even consider that as a possible explanation.
In Strategy for the development of reading 2021-2025, a project developed by the Ukrainian Book Institute that aims to retain existing readers and introduce reading to non-readers as a good life strategy, experts assess the current state of the industry and note:
For almost 30 years of Ukrainian independence, a Ukrainian book market could not manage to fully form. For years Ukraine's book market was largely a market for Russian products. Because of unregulated imports of Russian books from the Russian Federation, Ukraine's publishers were forced to work almost as missionaries rather than full-fledged businesses. Unhealthy and uneven competition eroded the Ukrainian language publishing sector and for decades postponed the formation of a Ukrainian speaking readership majority. After restricting the import of books from the Russian Federation, Ukraine's book sector was finally given a chance to develop and Ukrainian books began to gain in popularity.
The Ukrainian Book Institute is a government body affiliated with Ukraine's Culture Ministry, whose job is to develop book publishing support strategies, promote reading and translation of literature, and promote Ukrainian literature abroad.
Popular Ukrainian writer and public intellectual Oksana Zabuzhko echoes the Ukrainian Book Institute's findings. Cited in a Radio Liberty article, Zabuzhko says that Ukraine's own book market failed to establish itself because of the expansion of cheap Russian book imports. According to Russian publishers' data, prior to the war in eastern Ukraine, Ukraine constituted 40% of the Russian book market, that is 40% of Russian book profits were earned in Ukraine, Zabuzhko points out. Such unregulated Russian imports created unfair competition where Ukrainian books were not sold in certain regions of the country and could not even be purchased for libraries.
Despite Russian propagandist claims that Ukrainians do not want to read books in Ukrainians and despite the difficult conditions that Ukraine's book industry has had to deal with for decades, Ukrainians in fact do want to read books in their national language.
According to a recent readers' poll commissioned by the Ukrainian Book Institute in 2020, the reason for the decrease in book purchases is economic, people have lost jobs, incomes have fallen, people have had to economize because of the economic turndown resulting from the pandemic. Lockdowns and quarantines have also impacted on bookstore visits, resulting in falling book purchases.
As for language, the poll showed that most Ukrainians prefer to read books in Ukrainian, 32% of respondents opted for the Ukrainian language, an increase of 8% from 2018. 27% opted for reading in Russian, a 1% decrease from 2018. While daily readers tie in Ukrainian/Russian language preference, the number of readers preferring to buy books in Ukrainian is higher.
As to what drives readers book choices, 34% said friends' recommendations, 24% opted for author popularity, book blurbs convinced 18% and only 12% chose a book based on language.