Ukrainian television channel ICTV falsely created "Russian military experts" who, using a special computer program, had allegedly come to the conclusion that the Ukrainian BM Oplot (T-84 Oplot-M) tank was the best in the world.
This was announced during the "Secret Front" program on August 19, with the claim that Russian engineers had created a virtual training area where they placed tanks from different countries. Then the technical characteristics of the tanks were imported into a computer program and this program allegedly decided the winner.
The ICTV journalist explained: "Tank experts imported into the computer game exact data about fire power, self-protection, and maneuver capability of battle machines. No human factor. The computer system itself decides the best tank […] This virtual training area was created by Russian engineers in March 2015 […] The Ukrainian tank BM Oplot won in this uncontrolled computer battle."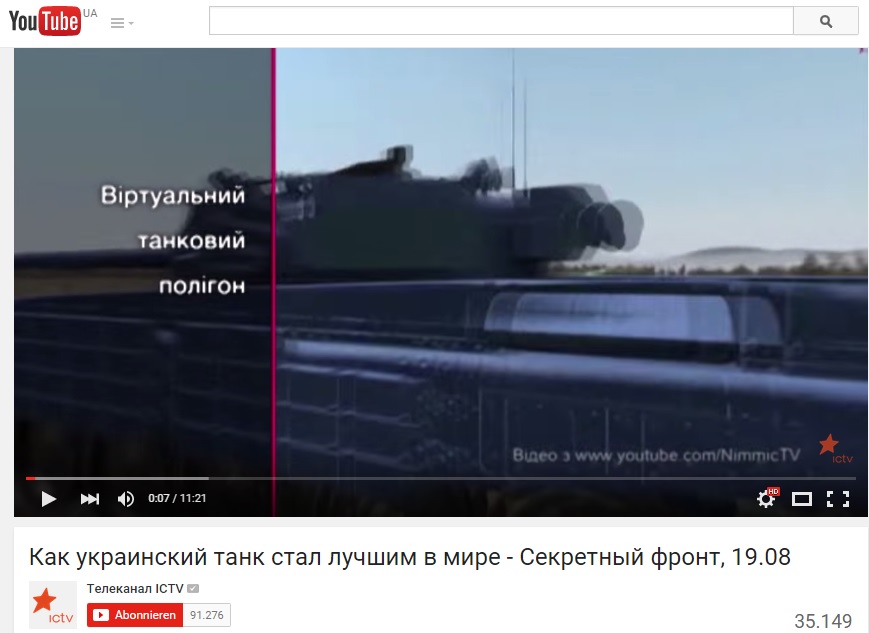 In fact, Russian engineers had nothing to do with the creation of this virtual training area. Early in 2015 a virtual tank biathlon was created by programmers on the platform of an online-game, with different teams of gamers taking part. The team behind the Ukrainian Oplot tank won. Obviously, this indicates nothing about the superiority, or lack thereof, of these tanks in reality, but only of the skill of a group of online gamers.
Here is the video of the online-game's finale:
https://www.youtube.com/watch?v=lKNli0YN2EY
The game's developer, "Viktor," made a statement concerning the ICTV report on the YouTube channel SoLIDA and confirmed that he is not an engineer.
https://www.youtube.com/watch?v=IAIyHZ91vGc
It should be noted that Ukrainian television channel 1+1 was the first to use the video and results of the virtual online game in a TSN newscast in May 2015 to demonstrate the superiority of Ukrainian tanks over Russian ones. And interestingly, the ICTV report follows this piece almost verbatim.