Russian and Ukrainian media have been speculating about the future relationship between the United States and Ukraine under President Biden ever since the Democratic Party candidate won the election last November. StopFake analyzed the main themes pro-Kremlin media have been disseminating on this topic, all of which feature the traditional constant of Russian disinformation on Ukraine – that the country is governed remotely by Washington.
Dependent Ukraine is simply waiting for the American government to start solving its problems and giving out directions, this is the main premise that Russian analysts and experts put forth when commenting on future relations between Ukraine and the new US administration.
Biden will be busy dealing with world problems, he's got no time for Ukraine, the NewsFront site declared, describing Biden as a boss who will punish everyone should something unexpected happen. Another Russian talking head proclaims that Biden will not deal with Ukraine at all, but will instead name an ambassador who will be responsible for Ukraine.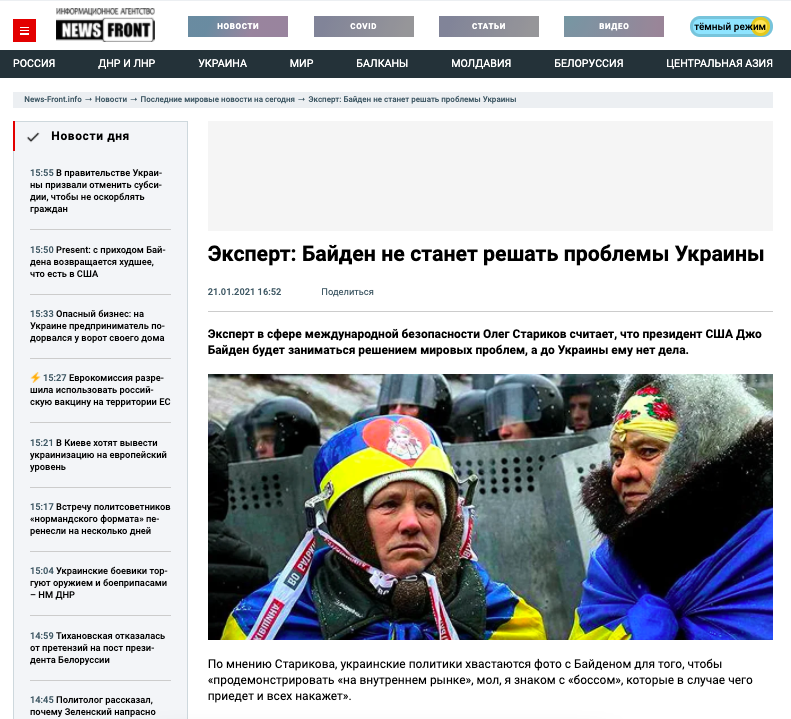 "Ukraine is being directly controlled by the US through its ambassadors. The Canadian ambassador has said that Ukraine has even asked for this. The most influential people in Ukraine were named and they are the G7 ambassadors," announced pro-Kremlin analyst, former Donetsk resident Vladimir Kornilov. As an example of this iron influence that the US wields over Ukraine, Kornilov brings up the Russian Covid vaccine. "In the autumn of 2020 Ukrainians were considering purchasing the Russian Sputnik vaccine. The US embassy didn't like this and the following day Ukraine said it would not buy the vaccine from the Russian Federation," Kornilov said.
More interference
Contradictory theses are a favorite Russian propaganda technique. While some Russian sites are predicting that Ukraine will be forgotten by Washington, others claim that the US will stop reckoning with Ukraine altogether and begin directly interfering in Ukraine's internal affairs.
"The Americans no longer have any reason to play democracy, to delve into the problems of their Ukrainian lackeys, to meet them halfway on certain issues. They will only demand and severely punish those who are unable to fulfill their demands efficiently and on time" says Kyiv born analyst Rostislav Ishchenko, who immigrated to Russia in 2014 and took Russian citizenship.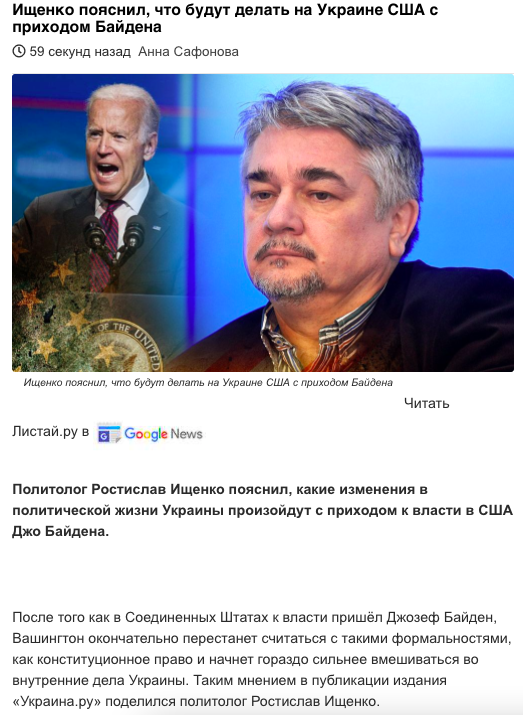 Ukraina.ru goes even further and predicts that the US will start molding a new political elite in Ukraine, which ideologically must be completely faithful to its handlers.
The current Ukrainian administration and its political future is a sub-topic of Russian media forecasts as to US-Ukraine future relations. According to the Russian media narrative, the Ukrainian government is completely dependent on the West and the US in particular, therefore the US can take steps to ensure that current Ukrainian President Volodymyr Zelensky disappears politically, Ukraina.ro posits in another article, citing Andrei Korobkov, a political science professor from Middle Tennessee State University.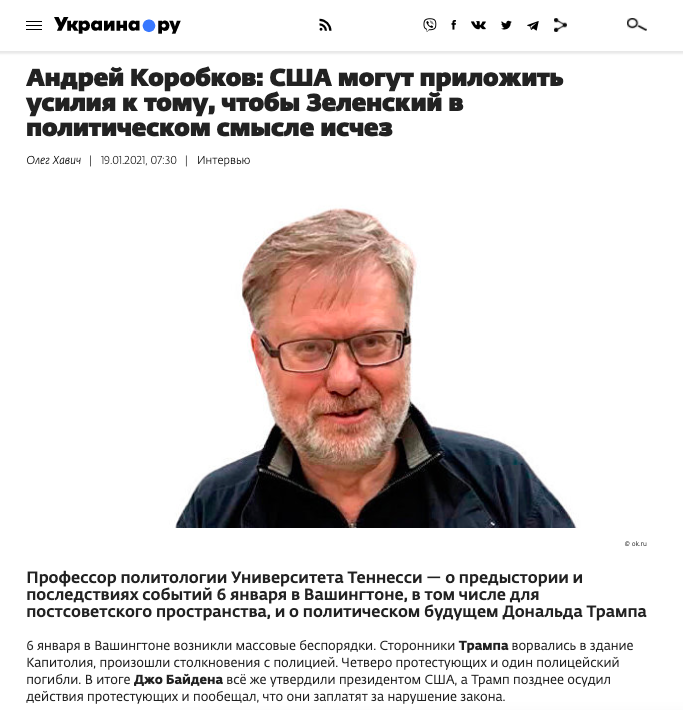 "Washington can take steps to ensure that Zelensky disappears in a political sense, and the first generation of post-Maidan politicians returns to power in Ukraine, with whom Biden was used to working during his vice-presidency," Korobkov says.
Svobodnaya Pressa heats the rhetoric up a notch and goes so far as to call Ukraine a US colony. "Most likely, the White House administration will come to the idea of the need to quickly replace Zelensky with a more effective top manager to run the Ukrainian colony," Svobodnaya Pressa writes.
War with Russia on Biden's orders
Some pro-Kremlin publications hypothesize what directions the US will issue for Ukraine regarding the war in Russian occupied Donbas.
The Svobodnaya Pressa site asks whether Ukraine will go to war against Russia on Biden's instructions and addresses the risks of renewed hostilities in the self-proclaimed Donetsk and Luhansk People's republics. Citing the Council on Foreign Relations Conflicts to watch in 2021 report, which classifies the likelihood of increased fighting in eastern Ukraine or a major military clash between Russia and Ukraine as moderate, Svobodnaya Pressa nevertheless insists that the new US administration "plans to send Ukraine off to fight against Russia". The publication also patently denies that Russia has been at war with Ukraine since 2014, calling the war a myth that has formed in Ukrainian public consciousness.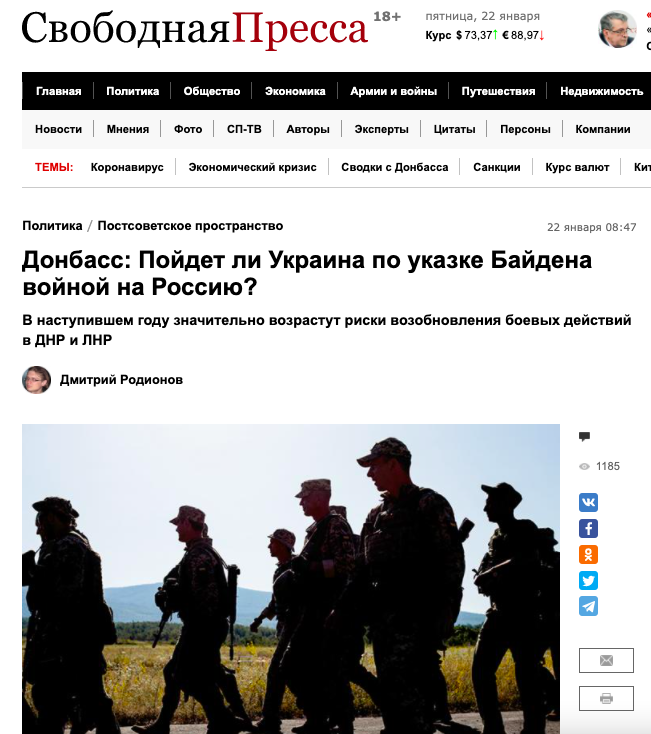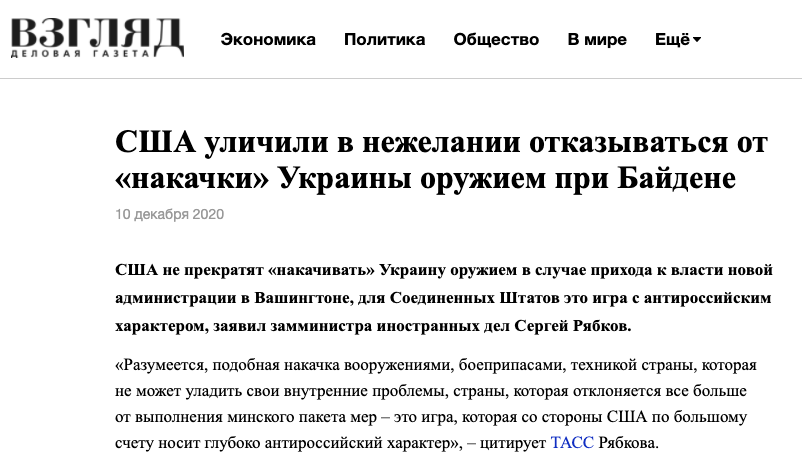 Meanwhile, on the pages of the online newspaper Vzglyad Russian Deputy Foreign Minister Sergey Ryabkov accuses the US of arming Ukraine and claims this will continue with the Biden presidency.
"…Such a proliferation of weapons, ammunition, and equipment into a country that cannot resolve its internal problems, a country that deviates more and more from the implementation of the Minsk peace accords, is a by and large a deeply anti-Russian game on the part of the United States," Ryabkov said.
According to him, for Russia it is obvious that the United States will not abandon this line, regardless of who will be in the White House.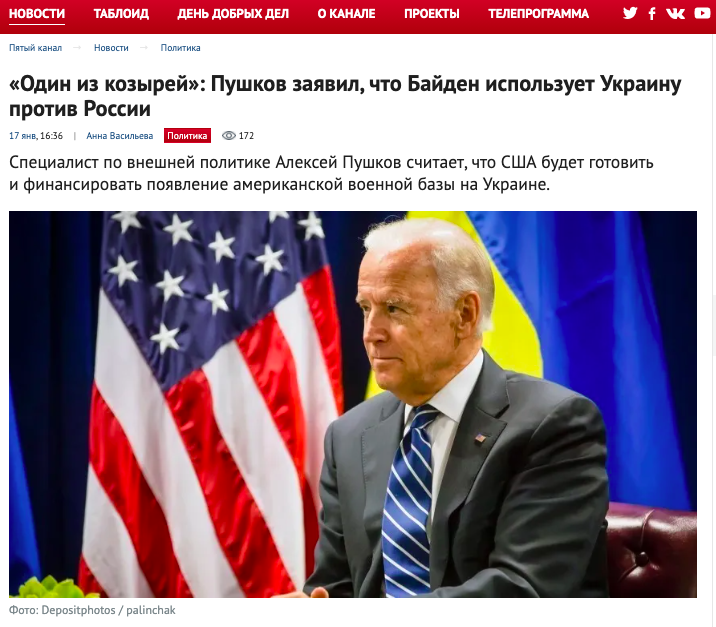 Russian MP Aleksey Pushkov, the chairman of the Federation Council Information Policy and Media Relations Committee went even further and declared that the Biden administration intends to use Ukraine against Russia. The Biden administration is preparing an American military base on Ukrainian territory, he said.