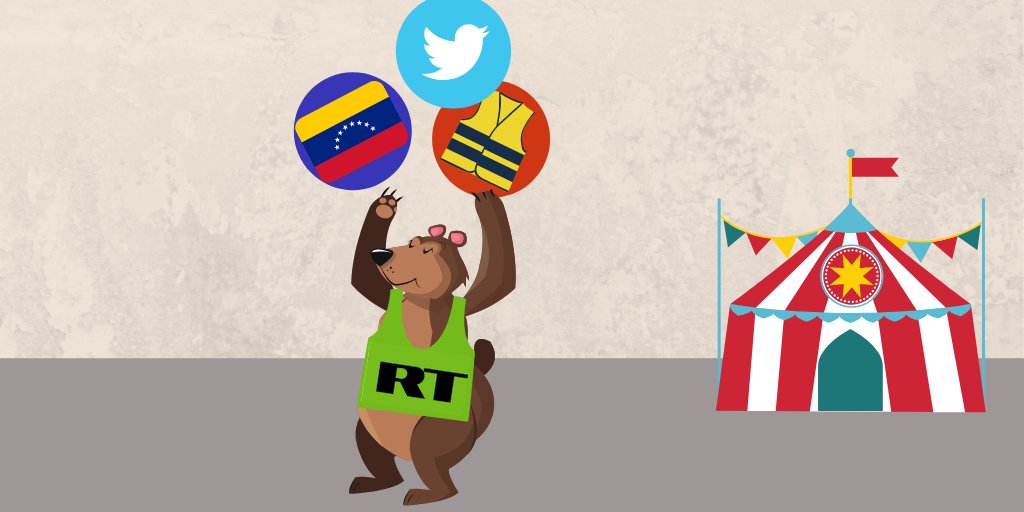 Top shares on Venezuela
Venezuela has dominated Russian portals, Russian newspapers and also Twitter this week, as analysis from our new data tool shows. A link to a story about the French President supporting the opposition in Venezuela but not at home received more than 4500 engagements on social media. Ignoring the fact that the last presidential elections in Venezuela were not free, fair or credible and also lacked democratic legitimacy, this is how the social media saw things:
According to the BBC, this account has been pushing many conspiracy theories about Syria. It boasts 154 000 followers and the aforementioned tweet received more than 1300 retweets and in excess of 2100 likes. The pro-Kremlin TV channels also followed the coordinated narrative to create a link between Venezuela and France.
Amongst links popular on Twitter and created by pro-Kremlin media outlets was also a story drawing on parallel accusations of US meddling in Venezuela and in Ukraine, falsely arguing that in 2014 the US and its EU allies pulled off a coup d'état in Kiev. This story received more than 2700 reactions on Facebook and Twitter.
As the Bank of England withheld Venezuelan gold reserves, some accounts on social media suggested that this was the work of Rothschilds, but the pro-Kremlin media brought out the "America is behind everything" argument and stated that it was because the UK is under the thumb of the US. This is a thumb so large it covers German foreign policy, German media, the European Parliament and Russia's accordance with the INF Treaty.
In addition to the American thumb, pro-Kremlin media also pointed to the US trigger finger, headlining that President Trump ordered the Colombian mafia to assassinate Nicolas Maduro. No proof was provided, but the link was still shared more than 600 times.
While Venezuela was a topic for RT and Sputnik in all available languages, it was their Spanish outlets that were the most impactful: since 1 December 2018 there have been 310 000 tweets about Venezuela that contain a link to RT or Sputnik, and more than three quarters were in Spanish. For example the pro-Kremlin narrative that the US is supporting the opposition leader Juan Gaido only because of oil interests was reinforced with the hashtag YankeesGoHome – it continues to occupy the top 10 hashtag list.
On Spanish RT's Twitter account, there are posts that have been retweeted thousands of times. The absolute record belongs to Inna Afinogenova – her video on Spanish RT's Twitter account including jokes on social media that focus on Juan Gaido has been watched 856 000 times and counting.
Whereas the European elections are still some months away, Estonia is now preparing for its parliamentary elections. This time the pro-Kremlin media compared apples to oranges and made unsubstantiated claims about e-voting benefitting only right-wing parties.
And even though the disinformation world's attention was focused on Venezuela, some outlets found time and space to devote to alleged Western activities in other parts of the world.
Belarus and Georgia, for instance, were portrayed as life rafts for the EU. Belarus – through being absorbed by the EU and thus rescuing it from collapsing. As for Georgia the claim is that the funds provided by the EU are in exchange for accommodating unwanted migrants from Germany.
Also, a case of the UK interfering in Ukrainian elections might raise some eyebrows, as, contrary to previous stories, it allegedly planned to bring to power an anti-Western president. How does that go with the well-known claims of the West meddling in Ukrainian elections and preparing a Ukraine-like scenario for Belarus? It's hard to tell, but consistency was never a strong suit of pro-Kremlin disinformation.