A number of Ukrainian and Russian websites spread the information about the Makeyevka, Donetsk region shelling, using this fake video.
On August 20, two Ukrainian TV channels reported that Makeyevka was fired by separatists.
Ukraine TV channel in the Events: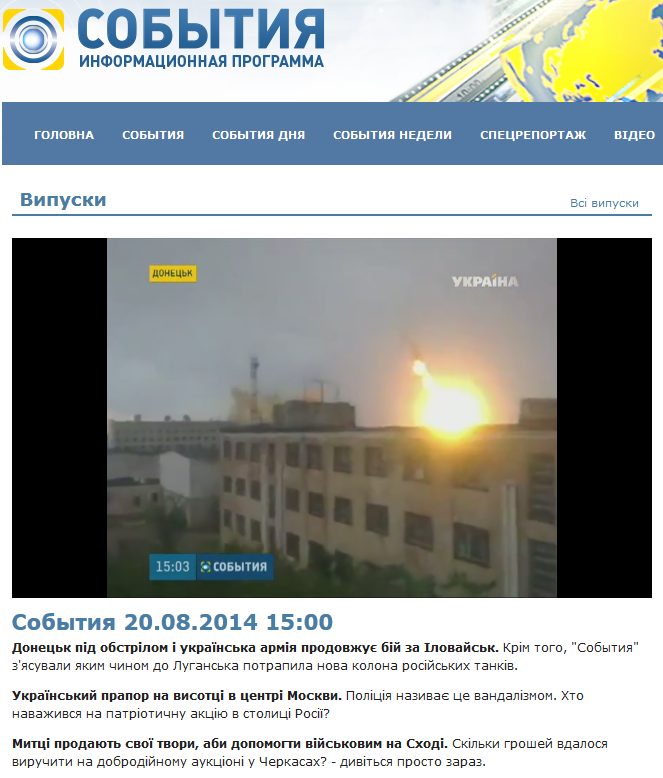 Inter TV channel in the Details: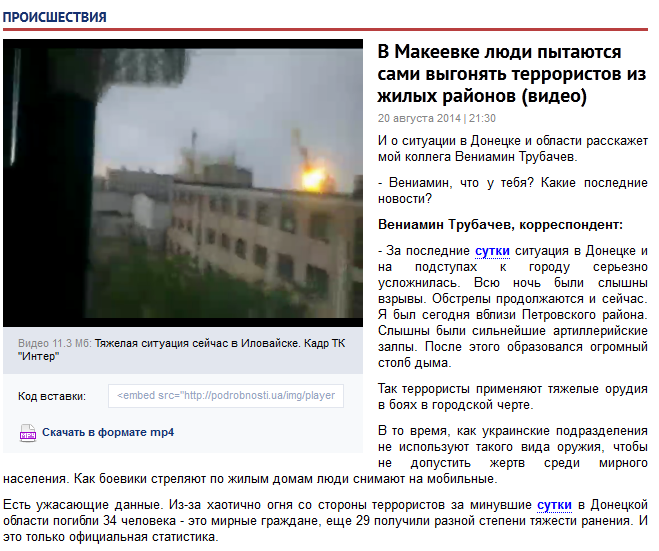 In turn, August 21 Russian Zvezda (Star) TV channel, which belongs to the Russian Federation's Ministry of Defense, issued a story that Ukrainian army struck Makeyevka village using the rocket launcher Tochka-U, firing ballistic missiles.
This story was also published on the website of the channel.
Here's the Star's plot:
"Ukrainian army stroked Makeyevka by Tochka-U rocket complex.  Precision-guided munitions were released under the supervision of Ukrainian military leaders.  Without having digital maps, talking about the selective defeat of the targets is impossible," says the voiceover.
https://www.youtube.com/watch?v=hEN3UzfjoLk
Actually, the demonstrated video is a fake.
Here is the original recording, which was used by all channels:
https://www.youtube.com/watch?v=kx4KqoRGUjs
Although the video is named "Proton-M rocket crash", it was published on YouTube only on August, 19 of this year, so distrustful users can not believe this.  However, a comparison of fire and clouds of gas that rise after the explosion in this video and on the other – which was filmed on July, 2, 2013 – shows that it is one and the same event.
Here's a video, which was filmed on fall of 2013:
https://www.youtube.com/watch?v=TCMSpzVhwRU
Here is a comparison of frames. Left one – from the subjects of the Makeevka shelling, right one – from the record of 2013: