Russian propagandist Margarita Simonyan admitted in her TV program that this video was created by the Russia Today team, and that they will continue to produce similar content.
Russian media and Telegram channels began to spread a clip resembling a horror film trailer. In its plot, the main character named Taras and his girlfriend move to a remote house in the middle of the forest to hide from mobilization. Creepy things begin to happen there: the girl sees a dead young man in the Ukrainian military uniform, the bloody inscription "Counteroffensive" appears on the house wall, and the couple is attacked by pig-headed monsters dressed in military uniforms. In the credits, it is stated that the Ukrainian Studio Kvartal-95 is working on the film.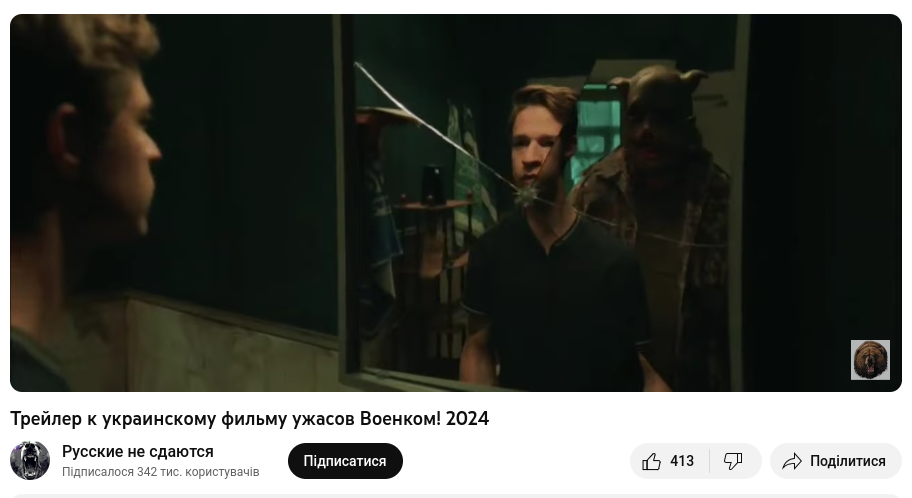 The fact that the video is a fake of Russian propaganda is indicated by several factors. First, the Ukrainian Anti-Disinformation Center managed to identify the actor who starred in the trailer. This is Roman Makarov, a Russian man who graduated from the Saratov Theater Institute and now lives in Moscow.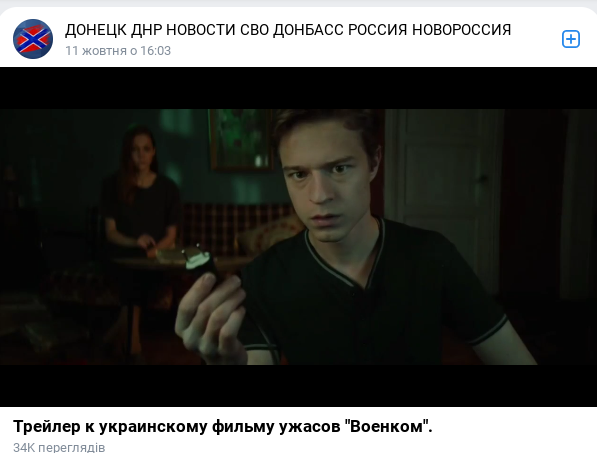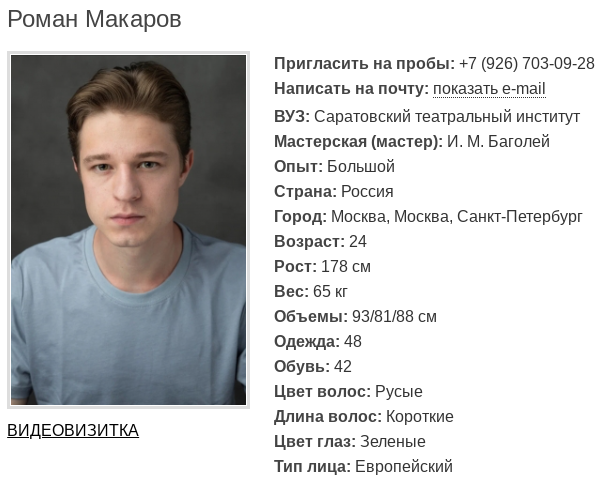 Secondly, it is suspicious that in the descriptions and comments of many publications sharing the video, the so-called Volga frequency is mentioned. The Russians use it to promote voluntary surrender among the Armed Forces.
Stopfake has reached out to Kvartal-95 Studio for comment. However, we did not even need to wait for their answer, as confirmation of the trailer's fakeness was provided by the editor-in-chief of Russia Today, Margarita Simonyan, in her TV program. The Russian propagandist said that the video, which "our people admire, and Ukrainians are outraged by," was created by the RT team. Simonyan, who is subject to sanctions in the EU, UK and numerous other countries, is convinced that such videos are raising a "rebellion" in Ukraine and has promised to continue producing fakes.
Remarkably, it is not the first time that Margarita Simonyan and the Russia Today team have publicly admitted to creating propaganda content about the Russian invasion. Previously, Stopfake reviewed the video Your last chance, which called on the Ukrainian military to voluntarily surrender. Just like the pseudo-trailer for the horror movie, the video was made professionally and filmed in Ukrainian.