A video showing a Chechen family being executed by Russian soldiers was falsely spread among Ukrainian social networks as a real event and viewed as many as 100,000 times.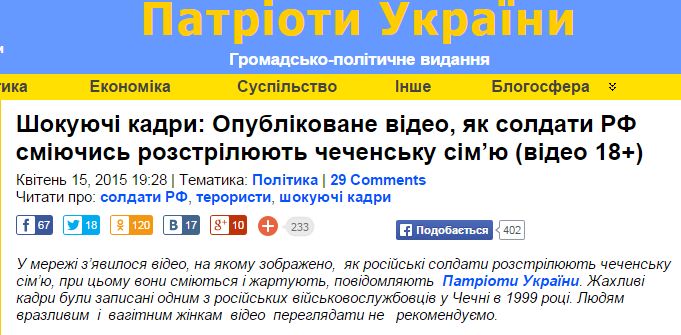 In fact, it is from a fictional film, The Search, by French director Michel Hazanavicius.
This was explained by the chief editor of the site bit.ua Vladyslav Nedohibchenko on his Facebook page: "A few years ago my friend Maksim Zapisochnyi acted in the movie The Search by Michel Hazanavicius (who also directed The Artist and OSS 117). Hazanavicius decided to film one of the episodes with a handheld camera to give it more authenticity. My friend acted the part of a Russian soldier who, with extreme cynicism, shoots a Chechen family."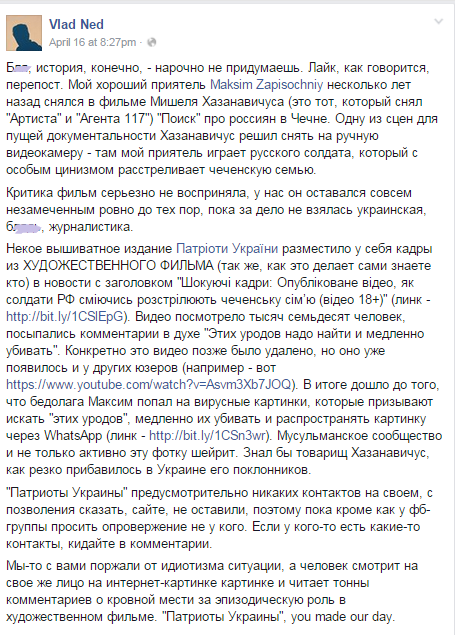 The fragment was first published by the site "Patriots of Ukraine," with the headline "Shocking Video: Laughing Russian Soldiers Execute by Shooting a Chechen Family." Later the video was removed. However, it had already been disseminated by other users.
The fact that this video is a fragment of the movie can be proved by the full version of The Search uploaded onto Youtube on April 12. According to the storyline, the protagonist of the film, ten-year-old Hadji, watches his parents being shot.
https://youtu.be/eXEsiZ9lNms
The actor Maksim Zapisochnyi, who played a Russian soldier in that episode, confirmed this to Stopfake. First, the whole movie appeared on Youtube, and then the fragment was cut from it and presented as an actual video taken from real life. "The episode was filmed in October 2013 in Georgia," he said. "There is scenery there like in Chechnya."
This is not the first time that footage from a fictional movie has been present as real among social networks. Last year Russian media presented a behind-the-scenes image from the film We Are from Future as a real photo of a Ukrainian soldier eating the hand of a Russian. And a girl in an image from the film Brest Fortress was presented as a victim of the war in Donbas.