On August 1, Russian state television channel Zvezda posted a fake video on their website depicting the shelling of Horlivka by Ukraine's National Guard, which allegedly took place the same day.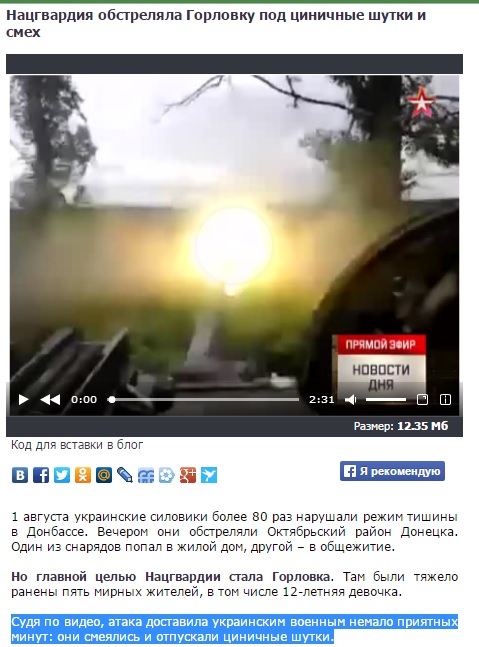 The video is entitled "National Guard Shelled Horlivka Laughing and Joking Cynically." During first fifteen seconds of the video we can see firing from an infantry fighting vehicle (IFV) in an unknown direction. This is accompanied by a journalist commenting: "The Ukrainian army attacks Horlivka, sporadic fire and cynical jokes."
Then a man in military uniform says that they are enjoying themselves, and then the IFV fires again.
https://www.youtube.com/watch?v=W–HqZUYXW4
"As judged by the video, the attack was a great pleasure for Ukrainian soldiers, [as] they laughed and joked cynically," the journalist reports.
The video also appeared on such sites as Maxpark.com (removed later, but remaining in the cache), Nesam.net.ua, and 24news.ru.
The bogus Zvezda video is in fact the compilation of two different videos that have nothing to do with the shelling of Horlivka on August 1. Both videos were published on a You Tube channel, ATO in Ukraine / АТО в Україні, but at separate times.
The first one, with the heading "The Ukrainian armed forces shoot at separatists from IFVs in subversive raid," shows an IFV firing in an unknown direction and was originally posted on June 30, 2015.
https://www.youtube.com/watch?v=S4jmKxSQIWo
The second, with commentary by a man in a military uniform (at nine seconds), runs with the headline "There is a fight on – tanks, artillery vs. small arms, July 2015" and was originally posted on July 22, 2015.