Throughout the week Russian propaganda used every possible pretext to claim that Ukraine was allegedly militarizing and preparing to go into active war for Russian occupied Donbas and annexed Crimea. And responsible for this escalation according to Kremlin message purveyors is none other than the US. "They are pushing Ukraine into battle. Which side are they on here? What if we roamed the Gulf of Mexico like that, or flew around Texas?" Russia's chief propagandist Dmitry Kislyov nervously asked.
Which narratives does the Russian propaganda machine resort to in order to inculcate Russians into believing in the possibility of a Ukrainian attack? And which Ukrainian media are actively helping them to do just that?
The concentration of Russian troops on the border with Ukraine, the migrant crisis on the Polish border, US Navy ships in the Black Sea, Russian bombers in Belarus – all these events have attracted the attention of Russian media and as never before, the spin put on these events is filled with extreme emotional tension and harsh value judgments.
Russian media have been raising panic about Ukraine allegedly choosing the path of aggravating relations with Russia since August of this year. In early September the pro-Kremlin Ukraina.ru site announced that Ukrainian President Volodymyr Zelensky visited the Zmijinyj Island to oversee its militarization. (Snake Island in the Black Sea near the Danube delta), neglecting to note that Ukrainian military have been permanently deployed on the island for considerable time. The Vesti newspaper cited Russian presidential spokesman Dmitry Peskov who pronounced that "Ukraine is turning into anti-Russia". Other pro-Kremlin publications widely disseminated claims that under pressure by the United States, Ukraine was leaving the Minsk Accords (2014-2015 agreements which sought to end the war in Donbas). The Izvestia newspaper focused on US arms supplies to Ukraine, particularly the Javelin anti-tank missiles. Other publications focused on Ukrainian politicians who allegedly confirmed Ukraine's readiness to attack Russian territory, engaging US help to settle the "Donbas conflict".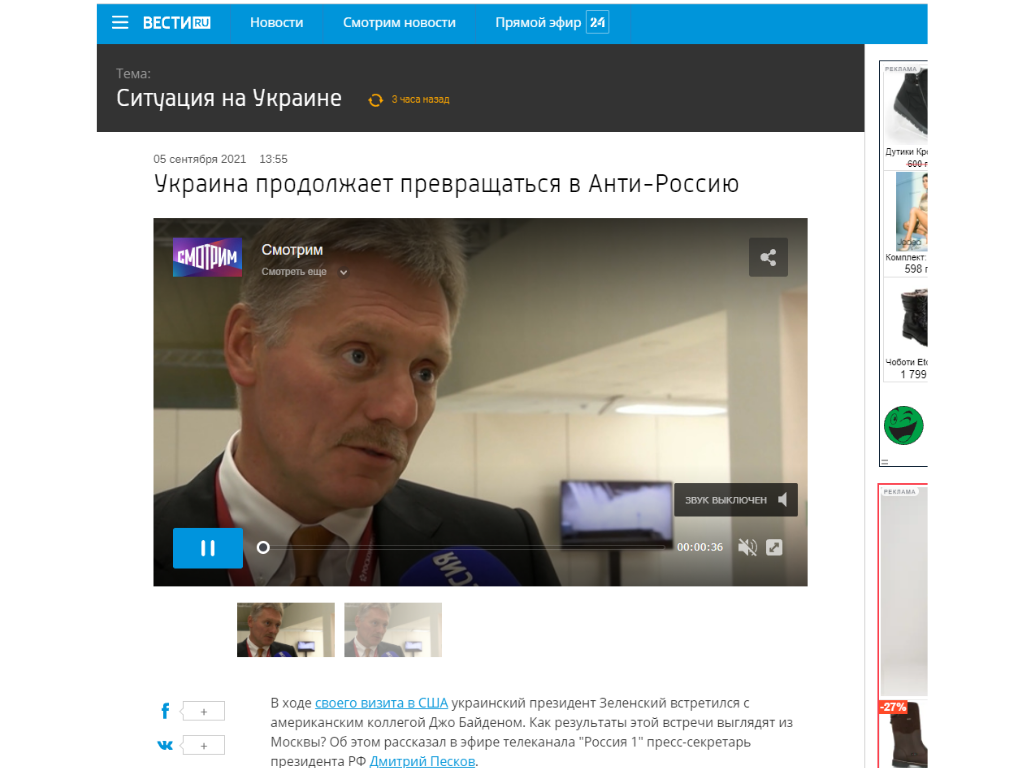 Russia has continued to raise the anti-Ukrainian rhetoric in its servile media notch by notch. A new wave of hysteria was unleased on October 30, when the American navy destroyer USS Porter arrived in the Black Sea for a routine patrol after participating in NATO exercises in the Aegean Sea. StopFake analyzed Russia's enraged media reactions to this move in this article. NATO exercises in the Black Sea are consistently portrayed by Russian media as "preparations for a possible Ukrainian invasion of Crimea with the participation of NATO forces", the groundwork for which is allegedly already in place.
The past week has seen countless stories pushing the narrative of "an aggressive Ukraine capable of moving to offensive operation in Donbas or Crimea with US support" and claiming that such a scenario is completely realistic. The military publication Zvezda (Star) in particular pointed out that on November 14 Ukraine received some 80 tons of ammunition from the United States as part of a $60 million aid package agreed on in August. Russia's ambassador to Washington Anatoliy Antonov called the signing of the Ukraine-US Strategic Partnership Charter "a set of harmful slogans" and reiterated that Moscow strongly opposes arms supplies to Ukraine. The detention of an alleged Ukrainian spy in Crimea gathering information about FSB personnel also caused a stir.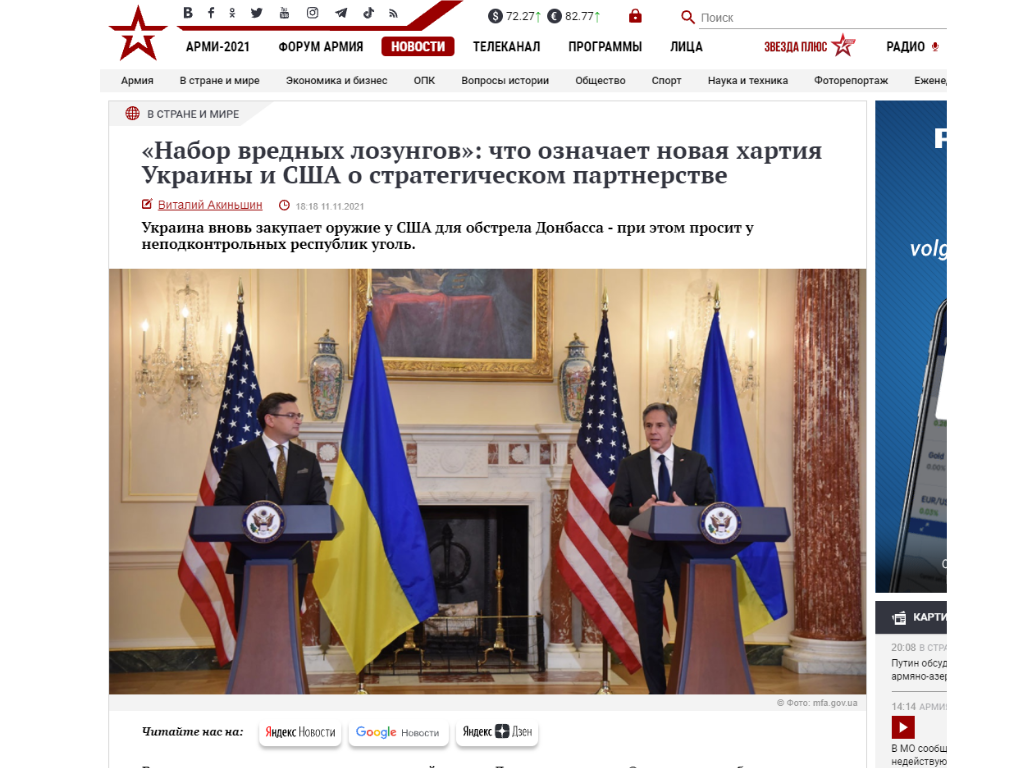 This story also made the rounds in Ukrainian media, demonstrating that Ukrainian intelligence is active in Crimea. The recent Russian media fake about Ukraine's 61st army brigade being ready "to shoot at migrants" was another narrative used to dehumanize Ukrainians. Almost every Russian Federation media ran this fake story, from Lenta.ru, to TASS, Moskovskyi Komsomolets, Regnum and many others. Russian Foreign Ministry spokeswoman Maria Zakharova also added her two kopeks' worth to this fake by declaring "Ukraine is not Russia, it is Europe" alluding to the "cruelty and hypocrisy" of Europeans.
Gaining momentum, Russian media continued to raise the level of tension and hysteria. "American veteran warns of nuclear conflict over Ukraine" wailed Vesti while Gazeta.ru announced that a US congressman admitted to the presence of US troops in Ukraine. Lenta.ru declared that Great Britain announced its readiness to send special forces to Ukraine. During one of his evening broadcasts Volodymyr Solovyov, one of the Kremlin's most loyal television propagandists welcomed "experts" who accused France and Germany of "indulging Ukrainian state terrorism" and the West of "leading Ukraine to slaughter".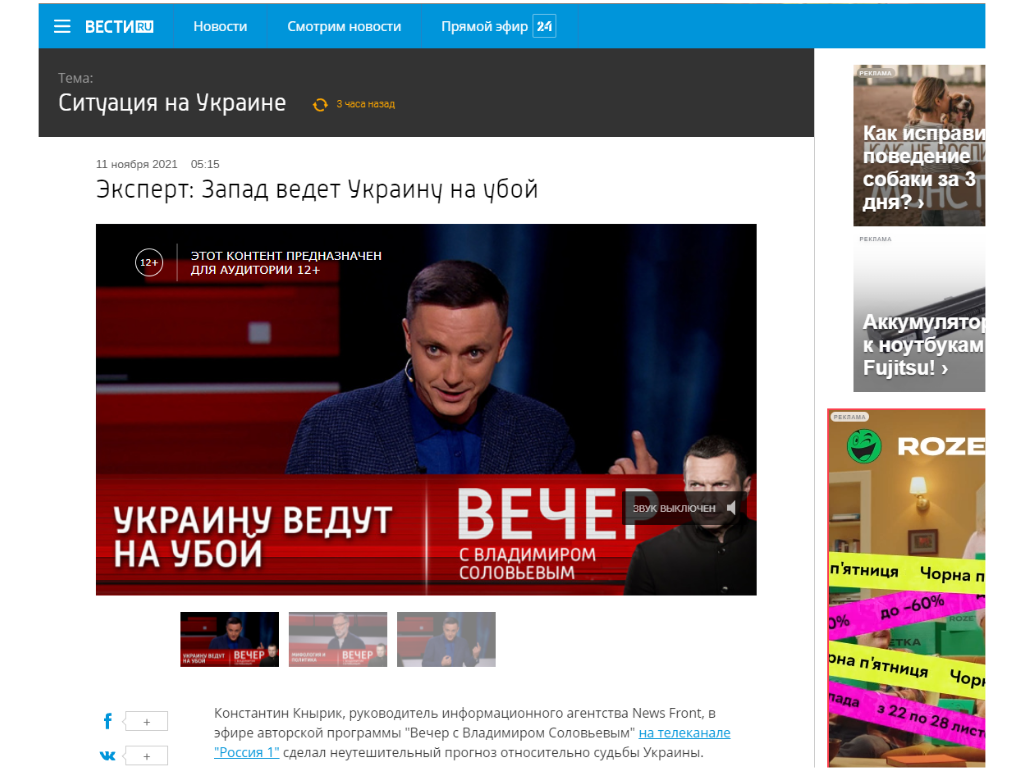 "I'm sitting and thinking, why do the Americans want war?" asks one of the guests on Solovyov's show. "Why do the Americans need to ruin Ukraine? They understand perfectly that they would ruin Ukraine. There is no other way out. Leave Ukraine like they left Afghanistan? That's one more strike against their reputation. They can't act this way, it won't do. And stay there? Small, petty, can't build anything. Whatever they've tried to change has failed, nothing happens with the new government, with that government, with the previous government."
These kinds of statements are traditionally used to fuel other Kremlin messages, that the West is tired of Ukraine, that, Americans and NATO troops or Western mercenaries are fighting in Ukraine.
That is why recent publications in Politico, Washington Post and Foreign Policy about Russian troop and equipment buildups on Ukraine's borders were not happily received by the Russian authorities.  These publications showed the world that Russian troop movements are not only happening but are noted and recorded by Western satellites. At a November 3 briefing Russian Foreign Ministry spokeswoman Maria Zakharova called these publications "a fake campaign in the US media" and even suggested that "American instructions didn't reach Ukraine because Ukraine's Defense Ministry openly denied the fabrications of American journalists". Ukraine's Foreign Minister Dmytro Kuleba later said the following:
"We do not disagree with the United States on the assessment of the security situation around Ukraine. There are differences in the terminology used in these comments. One thing is when troops (Russian, – ed.) are massively deployed. This is already alarming. But this is not yet evidence of an offensive operation decisive stage."
Ukrainian media also devoted considerable attention to the escalation in the Russian-Ukrainian war, but despite the overall alarm expressed in many of these stories, did not resort to the type of hysteria that was so prevalent in the Russian media. According to StopFake analytics, during the period from November 10 to 16 RBK Ukraina, Narodna-pravda, Slovoidilo, Dialog.ua and Vesti.us were those publications that most often quoted Russian media and commented on Russian authorities' statements on the situation. While the first three publications mainly covered the Kremlin view in the context a possible Russian invasion threat, others went a bit beyond the pale.
Dialog.ua in particular announced that "a Russian politician stated the need to organize a military coup in Kyiv". The publication also quoted Dmitry Polyansky, Russia's deputy envoy to the United Nations as saying that Russia would not stand by if its neighbors posed a real threat to Russia's territorial integrity. Russian media called such possible actions logical. Dialog was also the only Ukrainian publication that featured the opinion of RT propagandist Anton Krasovsky about Belarus being completely absorbed by Russia by 2023, in which Krasovsky told Belarusian to simply come to terms with this inevitability. Vesti meanwhile featured stories about "Russia reporting that Kyiv is preparing an offensive in the southeast" and that "a US reconnaissance plane was spotted flying over the Black Sea". According to the web analytics company Similarweg, Dialog.ua has an audience of almost 4 million readers, Vesti.ua – 3.5 million.
The official position of the Ukrainian Foreign Ministry on the consolidation of Russian troops near its borders, voiced on November 16 during a conversation with EU Foreign Ministers is as follows:
"One of the main purposes of the visit is to inform our friends and partners about security along the border between Russia and Ukraine, including the occupied territories Crimea and Donbas. My main message to the ministers was very simple: we should not see Russian military escalation and aggressive intentions towards Ukraine as isolated from other elements of Russia's strategy in Europe: the artificial migration crisis on the borders with Poland and Lithuania, the use of gas as a weapon against the EU, very concentrated disinformation campaigns in EU countries to sow discord between EU members and between the governments and societies of all member states."
Oleksandr Zamkovoi